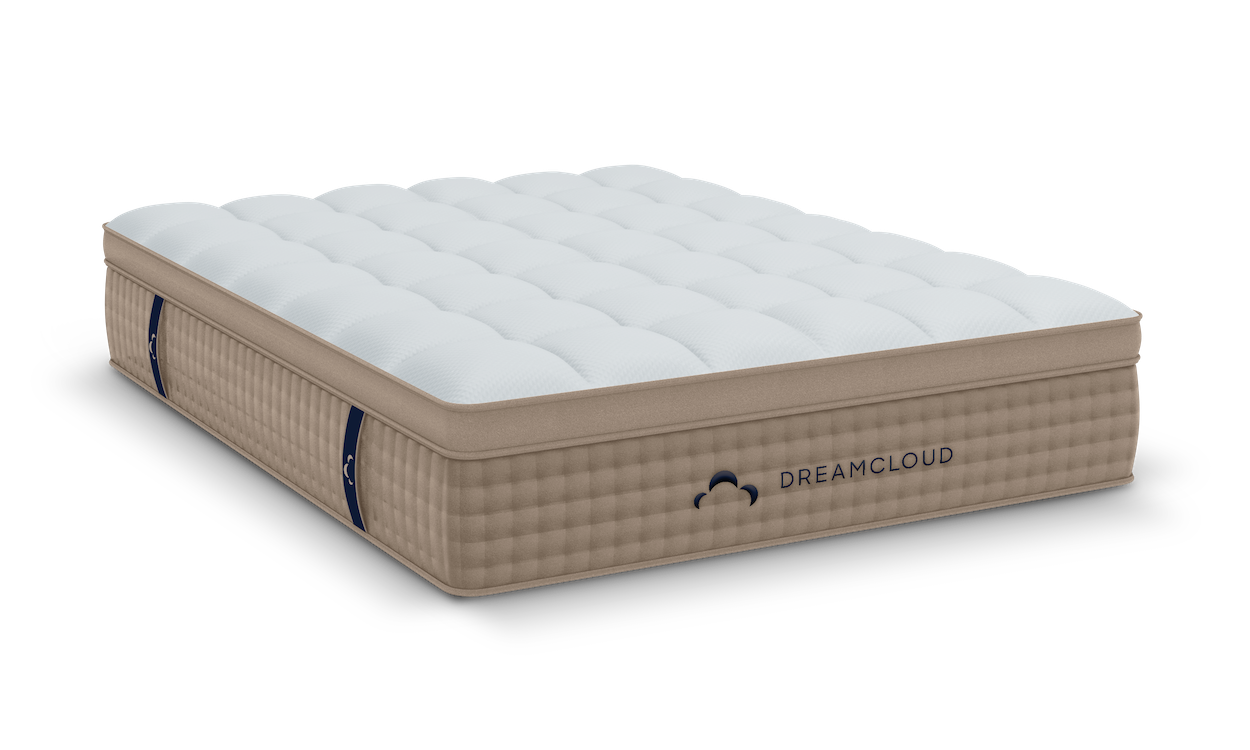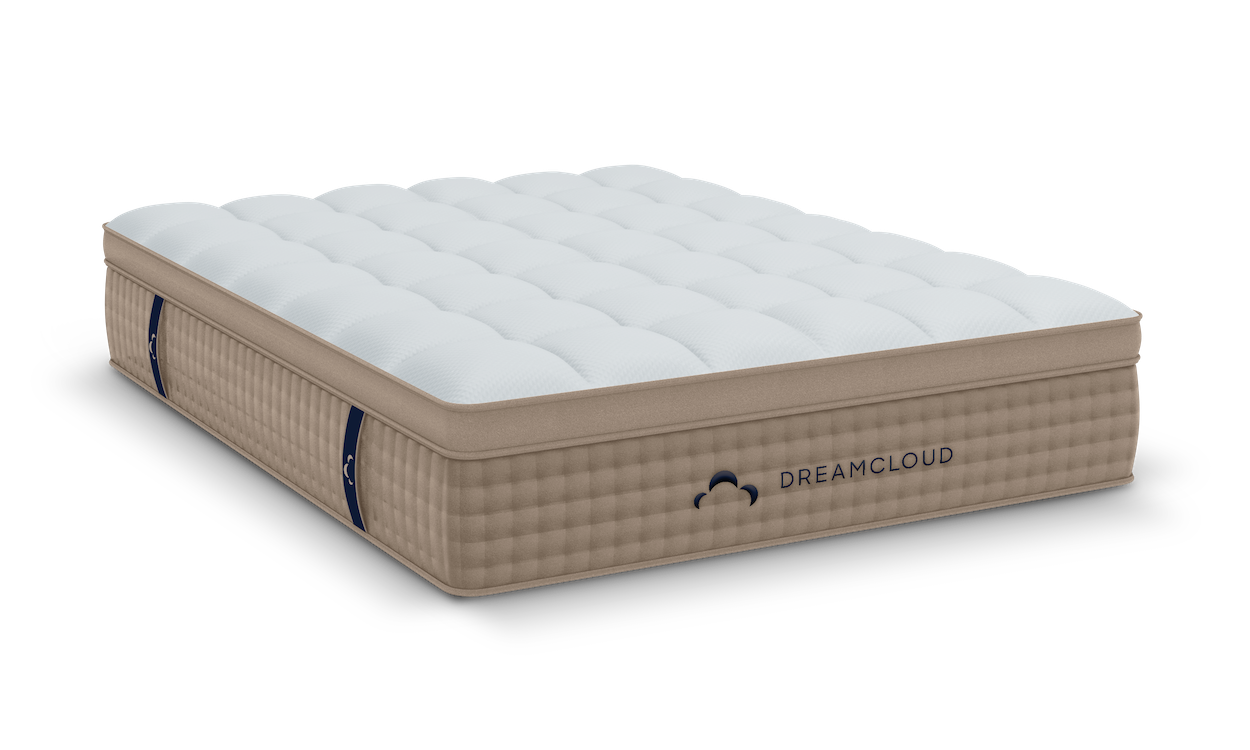 DreamCloud Mattress
$1,399
LUXURY HYBRID
CertiPur-US Certified
8 UNIQUE LAYERS

Hand-tufted, Cashmere Blend cover stays supportive and soft for a Lifetime of use.
Soft Comfort + Support
Our soft Cashmere Blend, high density foams and encased coils allow you to experience the best sleep ever.
Learn More
Sleep Cool
Never sleep hot again with our built in cooling system integrated into the supportive spring coils and lush foam layers.
Learn More
Support Where You Need It
Designed to offer the perfect balance of contouring comfort and pushback support. Recommended if you sleep on your side, back or stomach.
Firmness Scale
1Too Soft
5.5 – 7.5Just Right
10Too Firm
INTRODUCING
The 8 Layer System
Our DreamCloud 8 layer system and luxury design uses cutting-edge technology and premium materials to create the best support for your spine. There's no place so lovingly designed to cradle every inch of the human body and seduce it to sleep but our eight layers of soft Cashmere Blend, high density foams and encased coils give more than the gift of sleep. You won't just go to sleep, you'll go to DreamCloud.
Product Specifications
Construction & Materials
8-Layer Hybrid Design
Cashmere Blend Fabric Top Layer
Medical Grade Visco Elastic Memory Foam
Hi Core 9.2 Grade Foam
High Vegetable Base Super Core 5 lb Support Foam
Patented Spring Coils with 5 zoned encased micro coils
Measurements & Dimensions
TWIN 39" x 75" x 15"
55 lbs
TWIN XL 39" x 80" x 15"
68 lbs
FULL 54" x 75" x 15"
88 lbs
QUEEN 60" x 80" x 15"
94 lbs
KING 76" x 80" x 15"
109 lbs
CAL KING 72" x 84" x 15"
109 lbs
Certifications
DreamCloud is certified pure and better for you and the environment. DreamCloud's foams are CertiPUR-US® certified.
CertiPUR-US® approved foams are made without ozone depleters, PBDE flame retardants, mercury, lead and other heavy metals, formaldehyde, phthalates regulated by the Consumer Product Safety Commission. They are Low VOC (Volatile Organic Compound) emissions for indoor air quality (less than 0.5 parts per million).
Warranty & Shipping
This Limited Warranty is the strongest in the industry, and it's Everlong. We guarantee that the DreamCloud mattress will be free from defects in workmanship and materials for as long as you own and use the mattress.
Free shipping and free returns in the US. We ship via FedEx.
White Glove Service
We will hand deliver the mattress to your room and set it up. We remove all packaging and your old mattress so you don't have to.
Let us do the heavy lifting with our delivery service.
Learn More
Feel like goldilocks
Vanessa O.

I have always felt like Goldilocks when it came to sleeping. Spring mattresses were too hard, I'm allergic to latex, and memory foam were always too soft for me. I never felt like I would find my perfect mattress until I found DreamCloud. I now know what a perfect night's sleep is. I can't wait to get into bed.
Safe haven at home
Jesse V.

DreamCloud has become my safe haven at home. I find myself hitting snooze, and then sipping coffee in bed in the morning, and then skipping my couch at night to read in DreamCloud. The luxurious foams contour to my back so whether I am sleeping or sitting up, I always feel incredibly supported. I can't imagine my life before DreamCloud, and if I were to guess what actually sleeping on a cloud felt like, it would be DreamCloud.
Contouring memory foam and plush Cashmere Blend yes please
Mykala F.

Sinking into something like a cloud, DreamCloud's tufted top offered the most restful sleep I've ever had. I had never slept on a hybrid mattress before, but the combination of the contouring memory foam and the plush cashmere sounded incredible. DreamCloud felt so wonderful and is without a doubt the most enjoyable night's sleep I've had.
View All Reviews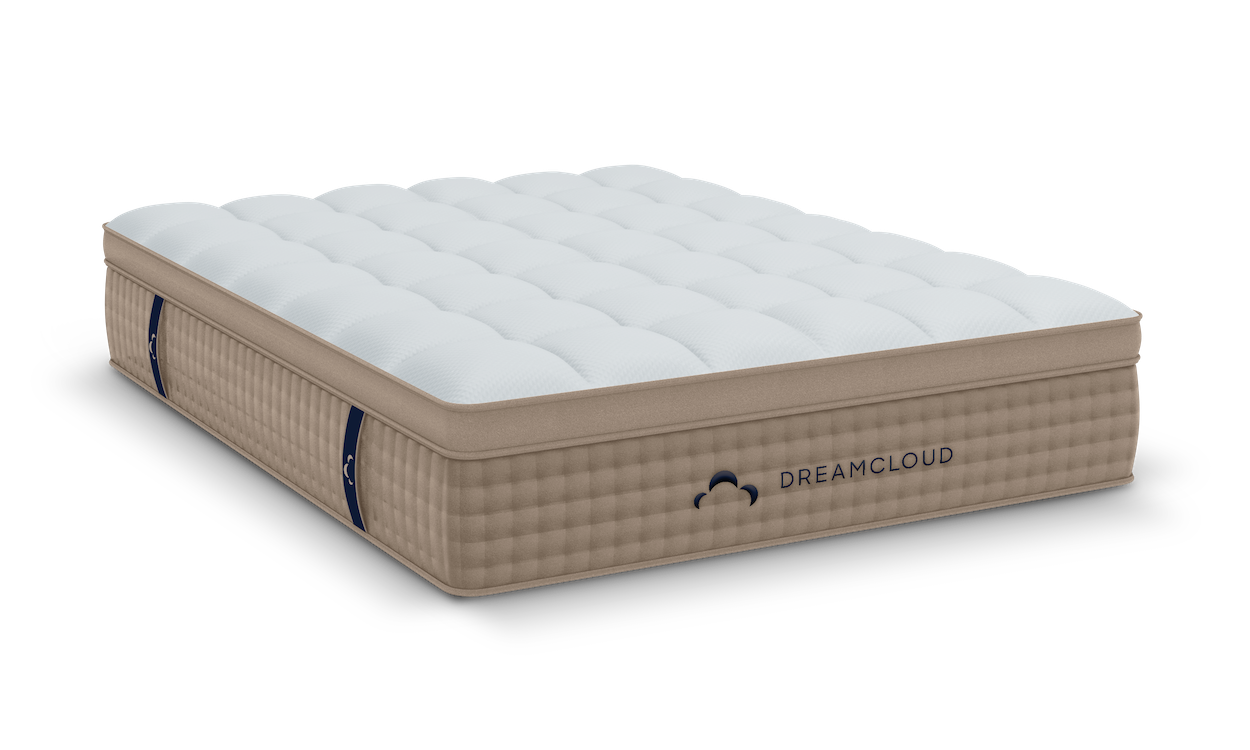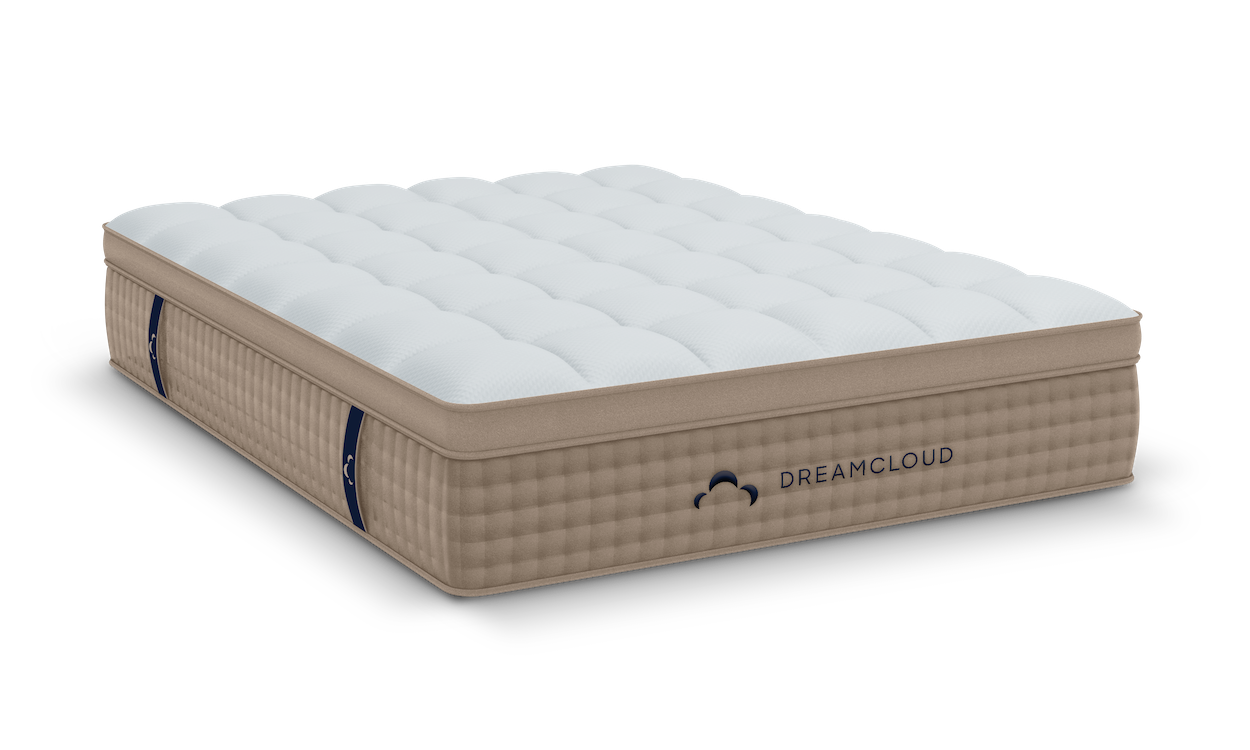 DreamCloud Mattress
$1,399
Frequently Asked Questions
Tell me more about the DreamCloud mattress?
DreamCloud is a 15" luxury hybrid mattress combining the best of latex, memory foam, hand crafted Cashmere, tufting and coil technology to provide the best sleep money can buy. The finest destination for exceptional sleep, there truly is no place like DreamCloud. DreamCloud is the most exceptional sleep experience, of unparalleled and unmatched value. The Finest Destination for exceptional sleep is not a five-star resort resting on a white sandy beach, or even an actual cloud… it's DreamCloud. DreamCloud is designed for every type of sleeper and arrives backed by our Full Comfort Guarantee and Everlong Warranty, plus a full year sleep trial so you can make sure DreamCloud is right for you, at no risk. DreamCloud arrives straight to your door and you'll discover there is no place designed to lovingly cradle every inch of the human body and seduce it into sleep. Dreamcloud floats at the intersection of sumptuous and luscious. With DreamCloud, you will enjoy the best mattress at a much better price. Night after night after night. Our community thinks that DreamCloud is the most comfortable hybrid mattress you can purchase. It truly is like sleeping on a cloud. If you like, we can setup your DreamCloud and remove your old mattress. And if you don't agree, we'll take DreamCloud back and refund your full purchase.
What is a hybrid mattress?
A hybrid mattress is one that combines the supportive infrastructure of a traditional box spring mattress with high density memory foams that offer supreme support. For many people, a hybrid mattress is the ideal choice for a mattress since it's considered to be the "best of all worlds." Hybrid mattresses allow sleepers to enjoy sturdy support of coils and the contouring comfort of the foam for a restful night's sleep. And with DreamCloud's plush hand tufted Cashmere cover, high density foams, heat-treated cotton pad to make sure you sleep cool, and and patent-pending encased coils to provide the ultimate support, it means you won't just go to sleep, you'll go to DreamCloud.
What is the 365 night sleep trial?
DreamCloud provides you with a full year, 365 nights, to enjoy DreamCloud and decide if DreamCloud is right for you. If you decide for any reason that DreamCloud is not your ideal mattress, we'll remove the mattress from your home and refund your payment. Our risk free trial is 3 times longer than any other we have seen. Fewer than 3% of DreamCloud sleepers return their DreamCloud. Our finance customers also enjoy the benefits of our 365 night trial. Some exclusions apply.
What setup do you recommend for the DreamCloud?
DreamCloud will be the dreamiest, most comfortable mattress you have ever owned and is very easy to setup on a suitable basic frame, box spring or even a flat floor. Please note DreamCloud is an extremely plush mattress, so make sure your frame can fit a 15" mattress. If you set your DreamCloud up properly, you will feel like you are floating on a bed of clouds every night. And if you need any help with setup, our White Glove Delivery option can help.
Do you offer financing?
Yes, we offer financing. We are proud of DreamCloud's financing option since we believe that everyone should have the opportunity to sleep in the clouds. DreamCloud's lease-to-own financing plan is easy and requires no credit check. If you have a bank account, credit or debit card and a source of income you can enjoy DreamCloud now and own DreamCloud with 6 months of low payments. Payments are easy to make and information is easy to update. We make it easy to own DreamCloud so you can experience the Plush Life and live every night like a dream.
When can I expect to receive my DreamCloud?
Allow 2 - 3 weeks for the shipment of your mattress. Shipping typically takes 1 - 5 days once your mattress has shipped, and could be arriving via a Freight FedEx delivery.
How does the DreamCloud feel?
Well, we have never slept on a cloud, but we think DreamCloud is probably the next best thing. DreamCloud is considered a premier hybrid mattress that combines soft cashmere, high density foams, and encased coils to bring you the best of all dream worlds. Our customer reviews agree that DreamCloud is "like a dream," and "a dreamy lifesaver for my sleep." DreamCloud is amazing to sleep on and DreamCloud sleepers often refer their friends and family to us, saying that it is the best mattress they've ever slept on. The best part? You don't just have to take our word from it, you can book your 365-night stay on Dreamcloud today.
What is the Everlong Warranty?
We guarantee the construction, materials, quality and durability of DreamCloud for the original purchaser- for Everlong. What is an "everlong" DreamCloud's are guaranteed by our Everlong Warranty that lasts forever. If you own a DreamCloud and sleep on a DreamCloud we believe DreamCloud should be the only mattress you ever need. We back up DreamCloud's quality in absolute terms, with no wishy washy legal speak, DreamCloud will last longer than you do if you treat DreamCloud right.
How do I return my DreamCloud?
It is rare for people to want to return their DreamCloud due to it being so plush and dreamy - there really is no place like DreamCloud - but when it happens, we make it easy. The DreamCloud Sleep Concierge will work with you to arrange pickup and refund your money once the pickup has been completed. Refunds usually post back to your account in 2 to 3 business days. Just give us a call or send us an email, and a DreamCloud support representative will make the process painless and fast. Finance order returns are subject to the purchase agreement completed at checkout.
VIEW ALL FAQs