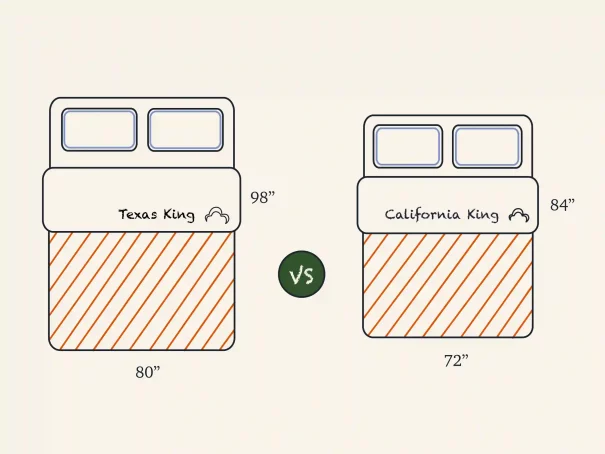 Texas King vs California King Size Mattress: What's the Difference?
Written by Dreamcloud Editorial Team
Last Updated on Mar 13, 2023
Sometimes you or your bedroom needs a bigger mattress or bed, and the standard king-size bed doesn't seem enough. So you look for bigger and spacious mattress options in such cases and often get confused finding a difference between Texas king vs California king. 
But what is the difference between Texas king and California king? And how many types of king beds are there? And the most popular question, which king-size bed should you choose? Read on to know more about Texas King and California King beds.
California King vs Texas King Mattress Size Comparison
You'll find variations in the standard king-size mattresses. These are commonly known as Texas King and California King. The names come from the sizes of these places. 
The Texas King mattress is 8 inches wider and 14 inches longer than the California King. The standard measurement of a California King mattress is 72 inches wide and 84 inches long. While the Texas King mattress is 80 inches wide and 98 inches long. 
These mattresses are significant variations of king-size mattresses for anyone who wants more space. Although finding these might become an issue as these are not readily available. 
Below is the table with not just the comparison of dimensions but also various other factors that would help you make a wise decision-
| Parameters | Texas King | California King |
| --- | --- | --- |
| Length | 98 inches | 84 inches |
| Width | 80 inches | 72 inches |
| Surface Area | 7840 sq. inches | 6048 sq. inches |
| Price | $2000-$3500 | $900-$3000 |
| Occupancy | 4 adults | 3 people without squishing |
| Ideal for | Tall people / Family / Couple with pets or kids | Tall people |
| Room Size | 12 feet by 14 feet | 13 feet by 12 feet |
Now that you know the various parameters of these mattresses, let's move on to their benefits, shall we? 
Texas King Mattress
There is no doubt that Texas king mattresses are bigger and larger than Standard king mattresses and California mattresses. Not just this, let's explore what the other benefits of owning oversized mattresses are. 
Pros
Great for taller people
Standard size mattresses do not fit the needs of taller people, especially someone who is above 6 feet. Finding a mattress or bed that gives them the leg space they need can be an issue; hence, people who need some should prefer sleeping in Texas king beds.
Ideal for families
If you have a family of 4 + 1 furry friends and you all like to sleep together, then look no further. A Texas king bed is all you need. These mattresses have plenty of room for your family to fit in.
Made for bigger rooms
A large room needs a large mattress. When looking for a mattress that fits perfectly in your room, look no further than Texas king. These are great for master bedrooms and add glam to your bedroom.
Cons
Not easily available
Since these mattresses are not among the standard mattress size group, finding them can be an issue. Not every brick-and-mortar store will have these mattresses. Thus, you'll need to be more specific when looking for a texas king mattress online or offline.
Needs a lot of space
It is no surprise that texas mattresses are larger than other standard mattresses and will need a lot of space. Make sure you choose a room that is big enough for these. Which means you'll need a room that is 104 inches wide or more.
Not that easy to install
As Texas king mattresses are bigger than Cal king mattresses, it is obvious that these are a bit hard to install. You'll need more people to transport this mattress.
Movement can be an issue
Well, it is no surprise that a large Texas king bed won't be easy to move. Besides, move if you have ample space in your room. Be sure to find the perfect space for this bed and try not to move it often.
California King Mattress
California king mattresses are also a great choice of king mattresses. These mattresses are highly spacious and can accommodate families easily. Let's look at the pros of having a Cal king bed.
Pros
Easier to find mattresses
Because California king mattresses are popular, you'll find no difficulties in finding these mattresses online or offline. You'll even find the bed accessories you need easily available in the market.
It doesn't need a big room
Unlike the Texas king mattress, a Cal king will not take up much space in your room. You can easily fit these mattresses/beds in your rooms and still have ample space. Just make sure not to put these beds in guest rooms as these will cramp up all the space.
Accommodates taller people just fine
For people above 6 feet, finding a bed that gives them the space they need can be hard. For that reason, taller people can choose a Cal king mattress that will not disappoint them for sure.
Cons
Expensive beds
We all know that king beds are expensive, and California king mattresses are costly. These cost more than other mattresses; hence, the budget can get a bit disturbed because these mattresses are a bit expensive.
Narrow builds
The narrow width can be a plus point; it can also be a minus. Especially when you are looking for a bed that can accommodate your family, this feature makes it perfect for couples who need space and one small child.
Hard to move
Unlike any king mattresses, moving a California king is not easy. This could be a considerable drawback of having a Cal king bed. You might want to reconsider before buying such a massive bed for yourself.
Related: Know more about the different mattress sizes available in the market. Read our latest blog on the Mattress size dimension guide.
How To Choose Between Texas King And California King Mattress
Now that you are familiar with all the pros and cons, let's understand other factors that are imperative in helping us make the right decision. 
Size of Bedroom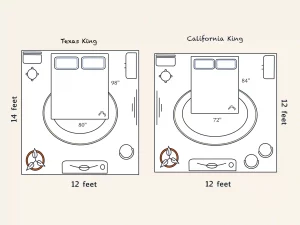 Once you have chosen the perfect mattress for your needs, it is important to check out room dimensions. For example if a Texas King size seems ideal in terms of comfort and support then make sure that there are at least 12 feet by 14 feet available (ideally three inches on all sides).
Budget 
The most important factor when choosing a mattress is your budget. Oversized mattresses, like the Cal King or Texas king size can be expensive and might not fit into other areas in terms of space. Hence, calculate well before making a permanent and a long-time investment.
Sleeping Partner 
Have you ever considered who will be sleeping on your new mattress? Is it just for yourself, or do the kids and your partner also get their own space. A Texas King is wider than a Cal king which makes this an ideal choice if co-sleeping with children and partner  because either of you won't feel cramped in any direction! And not just this, it would also be helpful if you and your partner have different sleeping styles, preferences and positions. This way either of you won't be disturbing the other and can be comfortable in your own space. 
Height
If you are over 6 feet tall, then a Cal King-sized mattress is perfect for your needs. It will give an extra 4 inches of space than what's offered by other sizes and provide enough room to sprawl out without feeling cramped or uncomfortable!
The Final Word
Now that you know the difference between Texas king and California king, choosing a mattress between the two won't be a problem for you at all. Both of these beds are super spacious and suitable for families. While they might be at a higher price, their features and benefits are entirely worth it. 
If you are looking for a bed that fits your needs, then explore all the possibilities of California king beds and Texas king beds. You should explore all the features, policies, and shipping charges before you purchase one.
Disclaimer: This website does not offer medical advice nor professional medical services; rather, it is provided solely for educational, informational, and/or entertainment purposes. Individuals seeking medical advice should consult a licensed physician. The information provided should not be used for diagnosis or treatment of any condition, disease, or injury. When you have a medical condition, you should always talk to licensed doctor or other certified medical professional. You should never delay seeking professional medical advice or treatment based on the contents of this website. Call 911 or immediately go to the nearest emergency room if you think you may have a medical emergency. The contents of this website are provided "as-is", Dreamcloud Sleep and its parent, subsidiaries, affiliates, employees, contributors disclaim any warranty of the information contained herein. Please contact support@dreamcloud.com to report any errors, omissions, misinformation, or abuse.
Shop Our Most Popular Bedroom Must-Haves