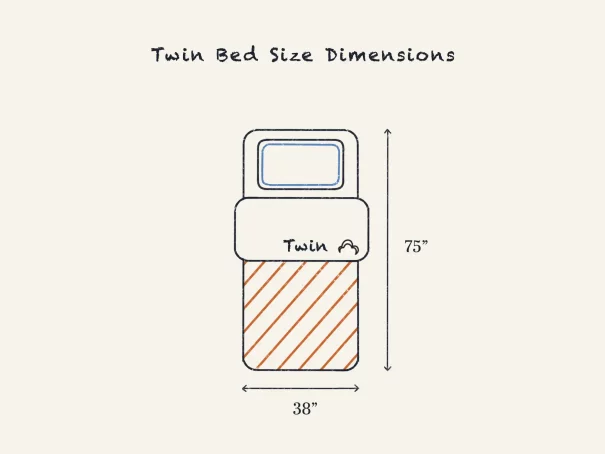 Twin Bed Size & Dimensions: Twin Size Mattress Buying Guide
Written by Mehran Uzair
Last Updated on Jul 21, 2023
The twin is the smallest standard mattress size today besides a crib. Also known as a single bed, it is one of the popular mattress choices in the US. It is versatile, can be used by anyone, and fits perfectly in any room! So, if you are looking for a new bed and are wondering if a twin is ideal, look at our twin bed dimensions guide so you know exactly what you are getting into! Keep reading for more. 
What Is A Twin Size Bed?
As aforementioned, a twin-size mattress is the smallest standard mattress size. What size is a twin bed? The twin-size bed dimensions are 38 inches wide and 75 inches long. 
A twin mattress can be suitable for children, teens, and college students. Even as an adult, you can easily get cozy on a twin-size bed if you don't need sprawling space. However, it may not suit people who toss and turn or couples. 
The minimum room dimension for a twin bed size must be 7 feet by 10 feet. So, they are also perfect for dorm rooms or guest bedrooms. 
Twin-Size Mattress Properties Chart
| Properties | Twin Bed |
| --- | --- |
| Length | 75 inches |
| Width | 38 inches |
| Surface Area | 2,850 inches |
| Compatible Room Size | 7 by 10 feet |
| Mobility | Easy to move around |
| Target Audience | Teenagers, Growing Children |
| Dreamcloud Price | $599 |
Who Should Sleep on a Twin Mattress?
A twin mattress size is ideal for any child's bedroom. In fact, even if you are going for bunk beds, twin-size mattress dimensions fit in seamlessly. It is also a perfect option because growing children need room, which a twin can provide. Ensure you go for a high-quality twin so that you don't have to keep buying mattresses repeatedly. 
Even as an adult, you can always go for a twin bed size if space is an issue. If you move a lot, the twin can be useful as it is lightweight compared to other variants. You can also use twin beds in guest rooms or as daybeds for a nap or even to watch a movie, all cuddled inside the blanket.
Types of Twin-Size Mattresses
There are three types of twin bed dimensions. They are;
Youth Twin Mattress
Youth beds or youth twin mattresses are smaller than standard twin mattresses. Youth  twin mattress dimensions are 33 inches wide and 66 inches long. It is 5 inches shorter than a standard twin. This is typically designed for young children. But chances are that your child will soon outgrow this one. Also, it must be custom ordered as most brands don't offer youth beds. 
Standard Twin Mattress
A standard twin mattress is what you commonly find in stores.  What are the dimensions of a twin bed? As mentioned earlier, it is 38 inches wide and 75 inches long. From children to single adults, a twin can be used by anyone. 
Twin XL Mattress
A popular variant of twins is the twin XL. It measures 38 inches wide and 80 inches long. While it is as wide as a twin mattress, it gives you 5 additional inches in length, making it ideal for taller individuals. In fact, if you put two twin XLs together, you get a king-size bed. 
Pros and Cons of a Twin-Size Mattress
Before investing in a twin, it is always ideal to understand its pros and cons. 
Pro of Twin-Size Mattress:
Doesn't Burn A Hole In Your Pocket
A twin mattress is the most economical choice. Even a high-quality twin mattress won't feel heavy on the pocket and can last longer. And since it is suitable even for adults, it can be used for a long-time. If not as a sleeping mattress, then as a day bed. 
Space Is Never An Issue
When you have to go for a king or a queen, one of the headaches you go through is to ensure that it will fit in your room. However, with a twin, you never have to worry. The minimum space requirement for a twin is 7 feet by 10 feet!
Finding The Accessories Is Easy-Peasy! 
Twins is a common mattress size. Therefore, finding the right accessories, such as comforters or sheets isn't a hassle. 
Evens Adults Can Use It
While a twin mattress is suitable for children and teens, it doesn't mean adults cannot use it. A single bed can give you a peaceful shuteye if you have less bedroom space or don't toss or turn too much. 
Best Beds For Children 
Once your child outgrows a crib mattress, you can start with a twin, which can last through their teens. A twin bed offers young children ample space for movement. 
Cons of A Twin Mattress 
Can Feel Too Narrow For People On The Heavier Side 
A twin may feel slightly cramped for heavyweight sleepers or someone too tall. It can also feel uncomfortable and may cause a sinking feeling resulting in body ache. 
Couples Will Not Fit In 
If you are single, a twin is great. But for couples, a twin is too narrow. Neither of you will be able to lie down comfortably, let alone sleep. You can always go for two twins or a full bed here!  
Things to Look for While Buying a Twin-Size Bed?
Most of us think mattress hunting is a complicated chore. But wait, hear us out! We bring you a few simple factors that you must consider before bringing home your dream twin-size bed. They are;
Layers
Each mattress is made of layers to create a cozy end result. Now, a few brands add quality layers that aid your sleep, while others just add random ones to make it feel expensive. The topmost layer of the mattress must be breathable to ensure heat doesn't get trapped. Next, see what the other layers bring to the table. Pressure relief, support, and even motion isolation are something your mattress must provide. 
Financing Options
Of course, this is optional. But financing can be a boon. Let's say, you find that perfect mattress match. It feels like it's made just for you. But when you look at the price, it feels a little out of budget. Here, financing options can benefit you. Look for 0% APR and easy installments so you don't burden yourself with debt. 
Weight Distribution
Not every individual is alike. Therefore, to ensure your mattress can cater to every body type, see if the mattress distributes your weight as you sleep. This is a vital feature because you will receive the right amount of firmness throughout your body, and you can bid goodbye to back aches. 
Temperature
This factor is especially crucial if you are a sweaty sleeper. Nobody likes waking up drenched in sweat and discomfort. So, look for a cooling mattress. And if you feel excessively cold, you can go for a latex or a traditional memory foam mattress. 
Motion Isolation
If you have pets or kids at home who tend to climb the bed when you are fast asleep, look for motion isolation technology so the movement won't interrupt your sleep. This can also be beneficial if you let two young children share the twin bed so they won't be disturbed by any tossing and turning. 
Benefits Offered
Look for valuable deals. In fact, if you don't see anything, you can always check if they have any offers or deals for you. You can also shop for a mattress online because online brands have some or the other deal going on which can save a hefty sum! 
Benefits of Buying Dreamcloud Twin-Size Bed
If you are looking for a plush twin-size bed, without burning a hole in your pocket, you can always go for Dreamcloud Hybrid Mattress. Let's look at the benefits it offers. 
High-Quality Construction 
Dreamcloud comes with a breathable cashmere cover, supportive soft foam, memory foam, individually wrapped coils, and a stable base layer. So, you get seven luxe layers that come together to give you the best sleep. 
Uninterrupted and Pain-Free Slumber 
Dreamcloud mattress comes with motion isolation and cooling technology that adjusts to the shape of your body without causing a sinking in feeling. It offers optimal pressure relief and gives you excellent spinal support. So, you enjoy uninterrupted and pain-free sleep every night. 
Excellent Warranty and Trial Period 
People are skeptical about buying a mattress online. But you don't have to worry about anything with Dreamcloud. Here, you get 365 trial nights. So, you can use the mattress for a year, through the four seasons to see how it works for you. If you don't like it, you can a full refund. And when it comes to warranty, it is not 10 or 20 years, you get a lifetime warranty with Dreamcloud!
Conclusion
A twin bed can be ideal for both children and adults. If you are trying to find the best twin mattress for yourself, Dreamcloud is all you need. From the best trial nights to the highest quality, it gives you the most satisfactory sleep! 
Disclaimer: This website does not offer medical advice nor professional medical services; rather, it is provided solely for educational, informational, and/or entertainment purposes. Individuals seeking medical advice should consult a licensed physician. The information provided should not be used for diagnosis or treatment of any condition, disease, or injury. When you have a medical condition, you should always talk to licensed doctor or other certified medical professional. You should never delay seeking professional medical advice or treatment based on the contents of this website. Call 911 or immediately go to the nearest emergency room if you think you may have a medical emergency. The contents of this website are provided "as-is", Dreamcloud Sleep and its parent, subsidiaries, affiliates, employees, contributors disclaim any warranty of the information contained herein. Please contact support@dreamcloud.com to report any errors, omissions, misinformation, or abuse.
Shop Our Most Popular Bedroom Must-Haves