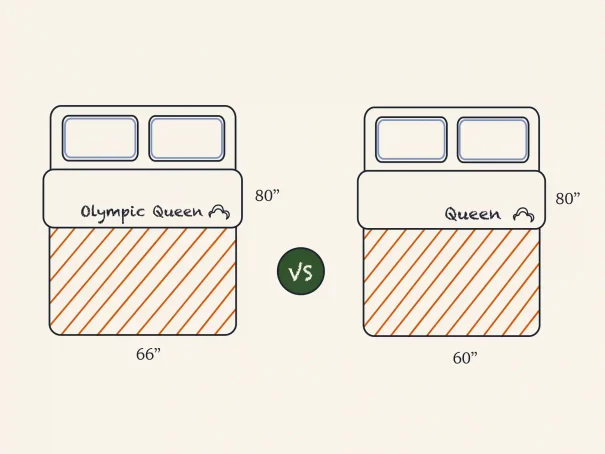 Olympic Queen vs Queen Size Mattress: What's the Difference?
Written by Dreamcloud Editorial Team
Last Updated on Dec 09, 2022
Queen-size mattresses are the most popular bed size available in the market. However, before purchasing a queen-size bed, one must look out for other not-so-common variants, like an Olympic queen bed. Yes! You read that right.
In this article, we will discuss Olympic queen vs queen size beds so you can determine which mattress size is best for you and your room.
Olympic Queen vs Queen Mattress Comparison
Olympic queen mattresses are 6 inches wider than the queen size mattresses while both mattresses have the same length. An Olympic queen-size mattress measures 66 inches wide and 80 inches long whereas a standard queen mattress is 60 inches wide and 80 inches long. The slight difference in width can help couples rest better and have a night of sound sleep on the olympic queen bed. Below attached is a comparison table between Olympic Queen vs Queen mattress to help you understand the basics well. Have a look:
| Parameters | Olympic Queen | Queen |
| --- | --- | --- |
| Length | 80 inches | 80 inches |
| Width | 66 inches | 6o inches |
| Surface Area | 5280 sq. inches | 4800 sq. inches |
| Price | $800-$2500 | $800-$3000 |
| Recommended Room Size | 10 X 10 feet | 10 X 10 feet |
| Ideal For | Single Adults and Couples and Couples with children | Single adults and Couples |
| Occupants | Double | Double |
What is an Olympic Queen Size Mattress?
There is not much difference between an Olympic queen-size mattress and a queen-size mattress when it comes to price. However, you have to spend a lot of time and effort to find your ideal Olympic queen bed and its accessories as it is not readily available, making it laborious work. 
For some rooms, a king-size bed can be huge and can occupy all the walking space; in that situation, an Olympic queen will be the right choice. It offers you and your partner an extra 3 inches each without taking up a lot of room space. 
The recommended room size for an Olympic queen-size bed is 14 feet x 10 feet. It also depends on how much walking space you want in your room and for furniture. Many couples prefer an Olympic queen bed size for guest rooms as they are inexpensive and fit two people with ease.
Pros
Provides additional personal space for couples

Couples can easily move and stretch their body while sleeping

Unlike a king-size bed, it doesn't eat the space of your bedroom
Cons
Uncommon to find

Is custom-made 

Hard to find bed frames and accessories

Expensive than queen-size bed
What is a Queen Size Mattress?
The dimensions of a queen-size mattress measure 60×80 inches. It is the most popular bed size among Americans. This bed size is ideal for couples who like to sleep close to each other or single people with their pets.  You can easily find this mattress in your go-to stores or online. Also, there are various options available when it comes to finding compatible bedding frames and accessories for a queen-size mattress. 
Single sleepers, as well as couples, prefer this bed size for their master bedroom or guest room. If you are someone who does not want to devote all their time looking for a perfect bed or finding its accessories, then a queen-size mattress is an ideal choice for you. Recommended room size for a queen-size mattress is 10 feet by 10 feet. This standard-size bed is more affordable, and its price range is $800-$3000, it depends on which manufacturer you are purchasing the queen-size bed. 
Pros 
Easily available at retail stores or online

It is inexpensive and you won't face difficulties while finding its accessories and bedding frames

You also get enormous options when it comes to finding bed sheets for a queen-size bed. 

It leaves plenty of space for furniture in your room
Cons
Even though it is made for couples, a queen-size mattress isn't wide enough to provide the adequate space for two

More suitable for guest rooms

Accessories are not easily available
Queen Size Mattress Variations
As mentioned above, before investing in a mattress you should see all the options available and queen size mattresses include 2 more sizes other than the standard queen size mattress and Olympic queen mattress. 
California Queen Size Mattress
It measures 60×84 inches. It is longer than 4 inches longer than an Olympic queen and queen size mattress. When it comes to width, it is the same as the standard queen-size bed. 
Short Queen Size Mattress
A short queen-size mattress measures 60×75 inches. This bed saves you a lot of room space while providing you with almost the same space as a standard queen bed. This bed is ideal for people who are under 6 feet tall.
Factors To Consider Before Choosing Queen Vs Olympic Queen Mattress
Let's look at various other factors that play an important role in choosing the mattress. 
Room Size 
One of the essential things to consider before buying a mattress is your room size. You must know well whether the options you are considering will fit into the room or not. Hence, have your room dimensions well measured before you make that long-term purchase. 
Budget 
Another factor is your budget. However, the prices of the mattresses vary on their brand, size, and materials it is made up of. So, if you are confused between these two, you will be good to go budget-wise. A queen mattress starts from $899, Olympic Queen is also available in a similar price range option.
Sleeping Position 
If you are someone who sprawls, or is a combination sleeper,  it means, there is less room left for your partner. Then an Olympic Queen can be an excellent choice because of the extra six inches it offers. 
Height 
For tall people, usually taller than 6 ft, a California queen can be an ideal choice for you because of the extra 4 inches of length it offers compared to a standard queen. So, one must consider their height while purchasing the mattress.
Sleeping Partner 
Always consider whether it is only you or someone who would be sharing the bed with you. Will you be co-sleeping with your partner, pet or children? These are important questions before buying a mattress. So, act accordingly.
Other Standard Mattress Size with their Variations
While shopping for a bed, you might have realized that almost every standard mattress size comes with variations that are slightly different in length or width. You can select between a standard size and their variations depending on your height, sleeping cost, cost, room space, and the number of people who are going to sleep in this bed. 
Twin vs Twin XL
Twin size beds are popular in beds for children, teens, and adults with small apartments. But before buying a twin-size bed you should also consider twin XL. There is no difference in their widths, but twin XL is 5 inches longer than a twin, which can make a huge difference for some people. 
Full vs Full XL
Full-size mattresses are wider in comparison with twin-size mattresses. So if you require more space than a twin-size bed can provide, then consider buying a full-size mattress or full XL mattress. The similarities between the two beds are their width, but they have different bed lengths. Full-size mattresses are 5 inches narrower than a full XL. 
King vs California King
King size mattresses are the most popular bed size after queen size beds. King size mattresses are suitable for people who sleep with their spouse, kid, or pets. When it comes to the king vs. California king bed, people assume that the California king would be larger, but it's not quite like that. 
What to know about other options available for you? Follow this link to know about other standard mattress sizes and their features so that you can find the perfect bed for your room.
Conclusion
In conclusion, look at several factors before deciding between a queen vs Olympic queen size mattress. These factors include room space, budget, transportation, availability, height, and sleeping positions. If you and your spouse are active sleepers who prefer enough space to sprawl out at night, then you should go for an Olympic queen-size mattress. Whereas, if you and your partner like to snuggle up while sleeping or the extra 6 inches would occupy a lot of your room space, then you should opt for a queen-size mattress. We have established that both these beds' prices do not differ much but if you are on a tight budget, then buy a queen-size bed.
Disclaimer: This website does not offer medical advice nor professional medical services; rather, it is provided solely for educational, informational, and/or entertainment purposes. Individuals seeking medical advice should consult a licensed physician. The information provided should not be used for diagnosis or treatment of any condition, disease, or injury. When you have a medical condition, you should always talk to licensed doctor or other certified medical professional. You should never delay seeking professional medical advice or treatment based on the contents of this website. Call 911 or immediately go to the nearest emergency room if you think you may have a medical emergency. The contents of this website are provided "as-is", Dreamcloud Sleep and its parent, subsidiaries, affiliates, employees, contributors disclaim any warranty of the information contained herein. Please contact support@dreamcloud.com to report any errors, omissions, misinformation, or abuse.
Shop Our Most Popular Bedroom Must-Haves