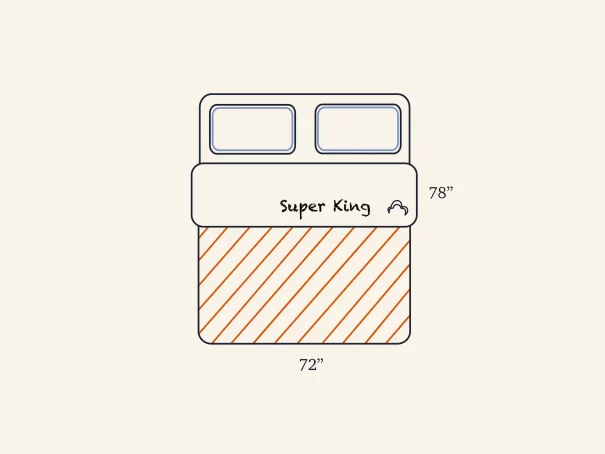 Super King Size Bed vs King Size Bed: What Is the Difference
Written by Dreamcloud Editorial Team
Last Updated on Mar 13, 2023
A king-size mattress is by far the most spacious and comforting mattress available on the market. But a few people might want to look for more space. So people might switch to other versions of a king mattress or a super king-size bed in such cases.  
You might be wondering, what is a super king-size bed? And why haven't you heard about it before? To be honest, it is a spacious king-size bed that isn't considered among the standard king bed sizes but is still readily available in the market. 
In this article, we'll explore what a super king-size mattress is, the difference between king and super king, and much more. Read on to learn all about the king or super king-size beds.
What Is a Super King Size Bed?
A super king-size mattress is an oversized mattress that is not more spacious than a standard king-size mattress. The dimensions of a super king bed are 72 inches wide and 78 inches long which makes it 4 inches narrower and 2 inches shorter than a regular king mattress. 
These mattresses are mostly custom-made, and you won't find them readily available at brick and mortar stores. So you'll probably have to get them customized. And since you'll have to get it made, the pricing won't be that cheap. 
People who are pure lovers of comfort and quality will see this as the best option. These can be said to be made for those who like to define their scale of sizes. Just like the mattress, finding bed accessories or bed sheets for the same won't be easy. It would be an excellent option to get the mattress and bed sheet from a single place. 
Let's explore who are the best people to use it
Who Is It Best for?
Anyone who feels they need more space has confused themselves between a super king-size bed and a king size. This is why this bed is ideal for people who seek more comfort and space. 
It could be new couples who can take time to adjust to sleeping next to each other. These people might need a larger bed to understand their sleeping habits as a new couple. It is also ideal for new parents who sleep with a newborn baby or a new furry friend. In both cases, these couples need space.
Super King Size Beds- Pros and Cons:
| Pros | Cons |
| --- | --- |
| Offers adequate sleeping space for couples, large families, and combination sleepers. | Slightly expensive as they are custom-made. |
| If well designed and planned the same bed can also serve as a storage unit. | Finding the right stores that can offer super king size bed is challenging |
| Avoids overcrowding your room and provides ample space. | Difficult to find compatible accessories and bedsheets in regular retail outlets. |
| Sprawling onto this mattress can help you relieve pressure points if you frequently suffer from body pain. | |
Where to Find the Oversized Mattresses and Other Specialty Beds?
As mentioned earlier, oversized mattresses are not easily available in the market. For that reason, you'll need to scan the market, ask people, find companies and manufacturers that are willing to make oversized mattresses. You'll have been through when looking for them. 
Most companies and manufacturers do not make custom mattresses, while some, on the other hand, a few companies or manufacturers do make some. When looking for oversized mattresses, you should get in touch with these companies/ manufacturers. 
Want to know more about mattress sizes? Read our latest blog on the mattress size guide. 
How to Choose the Right Mattress?
Everyone should follow the below steps when choosing a mattress size as there are various factors that form your decision. There are certain things or factors to consider when looking for a new mattress. Let's explore them, shall we? 
Room size 
Considering your room size is a must. Usually, the ideal room size should be 13 feet by 13 feet for king-size beds. After all, the newly purchased bed would be the one to add elegance or cramp up your space. Before you buy a mattress, make sure to check the room size just to be sure. You can even mark the bed dimensions on the floor just to check how much space the bed will be taking and how much space you'll be left with. According to that, you should plan your room accessories too. 
Budget
A budget is the first thing you should decide and try to stick to it. Most king beds would be affordable, but a super-size King bed won't be. The reason is it is mostly custom made and is not available easily in the market. Hence, when you are buying a super-sized king bed, make sure to spend more than other beds. 
Number of sleepers 
A very important question you should ask yourself when buying a new mattress is how many sleepers will be using the mattress? Or rather, for whom are we buying the mattress? Couples mostly require king beds, and for children, twin, single, or bunker beds work the best. 
These questions give you clarity, and you can focus on the mattresses that cater to your needs. This way, you narrow down the selection of a new mattress.
Features
This is probably the most important factor you should consider when purchasing a new mattress. Most mattresses have different features, types, and materials. Which materials suit you, give you comfort. Do you need a memory foam mattress or a hybrid spring?  
Make sure you understand what each mattress offers and what issues they resolve. After all, sleep is a very personal thing. A little disturbance can create deep-rooted impacts for longer durations. 
So, make sure which mattress supports your back better or relieves your joint pains. Another feature to absolutely consider is the mattress firmness. With age, the mattress firmness requirement changes, and you should understand what your body needs before jumping to buy any mattress.
The Final Word
With companies and manufacturers coming up with custom sizes, no one can put a size on your bed/mattress needs. All you have to do is, share super king's dimensions with them, and they will make it for you. The best bet will be to get a super king mattress if you want space. 
The market has many oversized mattresses that come in different sizes. These mattresses cater to the needs of individuals and families. The best thing about today's mattress makers is that they are willing to create custom sizes and directly cater to their needs. So, take account of your needs and find the right mattress. 
Disclaimer: This website does not offer medical advice nor professional medical services; rather, it is provided solely for educational, informational, and/or entertainment purposes. Individuals seeking medical advice should consult a licensed physician. The information provided should not be used for diagnosis or treatment of any condition, disease, or injury. When you have a medical condition, you should always talk to licensed doctor or other certified medical professional. You should never delay seeking professional medical advice or treatment based on the contents of this website. Call 911 or immediately go to the nearest emergency room if you think you may have a medical emergency. The contents of this website are provided "as-is", Dreamcloud Sleep and its parent, subsidiaries, affiliates, employees, contributors disclaim any warranty of the information contained herein. Please contact support@dreamcloud.com to report any errors, omissions, misinformation, or abuse.
References
Stockman, M. C., Thomas, D., Burke, J., & Apovian, C. M. (2018). Intermittent fasting: Is the wait worth the weight? Current Obesity Reports, 7(2), 172–185. Stockman, M. C., Thomas, D., Burke, J., & Apovian, C. M. (2018).
Intermittent fasting: Is the wait worth the weight? Current Obesity Reports, 7(2), 172–185.
https://pubmed.ncbi.nlm.nih.gov/29700718/

Michalsen, A., Schlegel, F., Rodenbeck, A., Lüdtke, R., Huether, G., Teschler, H., & Dobos, G. J. (2003). Effects of short-term modified fasting on sleep patterns and daytime vigilance in non-obese subjects: Results of a pilot study. Annals of Nutrition & Metabolism, 47(5), 194–200.
https://pubmed.ncbi.nlm.nih.gov/12748412/

Almeneessier, A. S., & BaHammam, A. S. (2018). How does diurnal intermittent fasting impact sleep, daytime sleepiness, and markers of the biological clock? Current insights. Nature and Science of Sleep, 10, 439–452.
https://pubmed.ncbi.nlm.nih.gov/30573998/
Shop Our Most Popular Bedroom Must-Haves