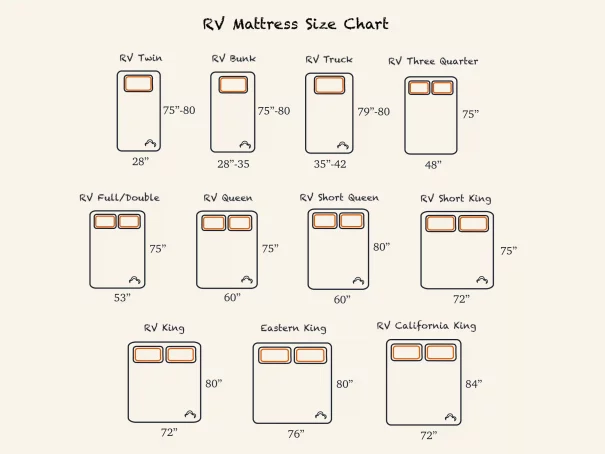 RV Mattress Sizes Chart :
| RV Mattresses | RV Mattress Dimensions (inches) |
| --- | --- |
| RV California King | 72 x 84 in |
| Eastern King | 76 x 80 in |
| RV King | 72 X 80 in |
| RV Short King | 72 X 75 in |
| RV Queen | 60 X 80 in |
| RV Short Queen | 60 X 75 in |
| RV Full/Double | 53 X 75 in |
| RV Three Quarter | 48 X 75 in |
| RV Bunk | 28-35 X 75-80 in |
| RV Truck | 35-42 X 79-80 in |
| RV Twin | 28 X 75-80 in |
RV Mattress Sizes
RV mattresses are available in ten different categories, and each of them has distinct sizes as well. Before delving into the details of each of the RV mattress sizes, let us check the dimensions.
RV Twin Size Mattress
The maximum number of beds that you have noticed in a camper or RV are mostly twin size mattresses. A twin-size mattress measures two sizes - 28 by 75 inches and 28 by 80 inches and is suitable for single sleepers, of course. These are brief, compact, and narrow beds that can suitably be placed side by side or as bunkers - if your camper has the option. Imagine how amusing it would be to sleep on those bunker beds while you're in the middle of a forest maybe? 
Truck Size Mattress
Wondering how a truck size mattress would fit a camper? Well, these mattresses were previously curated for semi-truck seats but are equally favorable for campers as well. These RV mattress sizes range from 35 to 79 inches and 42 to 80 inches in dimensions. If you are a tall sleeper and worrying about your feet not fitting in the tiny camper, not to worry, these truck-size mattresses would be the perfect fit. If you're concerned about your RV or camper consuming more space, it will not happen.
Bunk Size Mattress
Planning for a family trip this weekend? RV bunk mattresses are excellent for family-friendly RVs. These are compact and can be placed side by side to accommodate multiple sleepers. Due to their wide range, it's recommended to ensure the size of your RV bunk mattress matches the bed compartment. The mattress sizes of bunk size range from 28 inches by 75 inches to 35 inches by 79 inches. 
RV Three Quarter Size Mattress
It can be guessed from the name that a three-quarter mattress stands in the middle of full size and is larger than twin and bunk size mattresses. The RV mattress dimensions of a three-quarter mattress measure 48 inches wide versus 60 inches on campers or RVs that cannot accommodate enough space for a bigger mattress.  
If you have or are traveling in a camper or RV with a bizarre space, this three-quarter mattress is the perfect option. It can comfortably accommodate two kids. 
RV Full or Double Size Mattress
If you are an adult sleeper, this is the right fit for your RV. Before going on that long-awaited trip, ensure to purchase a dull or double-size mattress. These RV mattress sizes of full or double beds range from 52 inches to 75 inches. This is just an inch lesser in width than our regular home mattress.
RV Short Queen Size Mattress
Want to travel in the camper while cuddling your partner in the middle of the beautiful road? The RV short queen mattress is perfect for accommodating two adults or two to three children. An RV short queen mattress is 5 inches shorter than a queen mattress, but it's still spacious enough for a couple. It measures 60 by 75 inches are pretty space-saving as well. 
RV Queen Size Mattress
If you have a huge camper or RV that has space for a standard queen, simply proceed with a queen mattress. This mattress type mostly fits our homes since we get that space there itself. But if you have saved enough money and splurged it on a huge camper, why not put on a plush mattress as well?
Two adults or three kids - RV mattress sizes of the queen will seamlessly fit in all.
RV Short King Size Mattress
RV king mattress measures 72 by 75 inches and is more tapered and tinier than a standard king-size mattress. An RV short king mattress is a nice fit for two adults and even four children. You will need a bigger camper to lodge this bed in though. 
RV King Size Mattress
Do you know what completes a fun family trip? It is when you travel on a camper with a king-size mattress with loads of your favorite food, nice songs, and board games. RV mattress dimensions of a king measure 72 by 75 inches and 72 by 80 inches. This can be placed on a huge camper. In fact, some campers can even accommodate two king-size mattresses making it apt for big family time or a happening friends' day out. 
Eastern King Size Mattress
The eastern king mattress is the same as a standard king mattress. These are a good option for large families. It measures 76 by 80 inches and is pretty new in the campers these days. This mattress is ideal  for couples who need more space while sleeping or couple who sleeps with their kid. 
RV California King Size Mattress
RV Cal Kings are 4 inches longer but 4 inches narrower than eastern kings. It's ideal for a couple and a child, or 3 to 4 children. These large beds may be unfit for most RVs, double-check the measurements before buying an RV Cal King bed.
RV Mattress Types
It is important to consider what your RV mattresses are made of. Most camper and RV mattresses comprise foam mattresses with a thickness of 5 to 6 inches and don't resemble the ones in our homes. 
1. Memory Foam Mattress
Memory foam mattresses are great relievers of joint pains and distribute your body's weight coherently. Memory foam mattresses are highly durable and quite cost-effective as well.
The only downside of buying a memory foam mattress is its ineffectiveness in being airy, and thus unfit for humid areas without AC. To avert this burning sensation, simply opt for a cooling memory foam that has cooling gel or beads layered over it. You can also buy a gel memory foam mattress topper and save quite a bit of money.
2. Latex Mattress
A sustainable though expensive option when considering RV mattress sizes is an all-latex mattress. A latex mattress is quite a comfortable, and hypoallergenic mattress that eliminates mildew, mold, dust, dust mites, and more. Since these are pretty common while traveling to different places, latex mattresses can be a good choice.
3. Innerspring Mattress
Innerspring mattresses are economical ones in which a pillow top layer is concealed over the springs to protect the sleeper. This one is not a highly appropriate mattress for RV or campers because of the coils. When traveling to humid regions, the coil will tend to get rust leading to a replacement, yet again.
4. Air Mattress
Lightweight but not lasting, air mattresses have an economical price range. You may be inclined towards purchasing air mattresses but a single leak will vacuum out all the air. While on a beautiful road trip, you would definitely not want to fix your mattress in the middle of the road right.
Conclusion
Add comfort to your adventurous life with a perfect size RV mattress. As there are no standard RV or camper mattress sizes, remember to double-check the RV bed measurements. We recommend you get a small bed so that you have enough space to walk in your RV.
Disclaimer: This website does not offer medical advice nor professional medical services; rather, it is provided solely for educational, informational, and/or entertainment purposes. Individuals seeking medical advice should consult a licensed physician. The information provided should not be used for diagnosis or treatment of any condition, disease, or injury. When you have a medical condition, you should always talk to licensed doctor or other certified medical professional. You should never delay seeking professional medical advice or treatment based on the contents of this website. Call 911 or immediately go to the nearest emergency room if you think you may have a medical emergency. The contents of this website are provided "as-is", Dreamcloud Sleep and its parent, subsidiaries, affiliates, employees, contributors disclaim any warranty of the information contained herein. Please contact support@dreamcloud.com to report any errors, omissions, misinformation, or abuse.
Shop Our Most Popular Bedroom Must-Haves