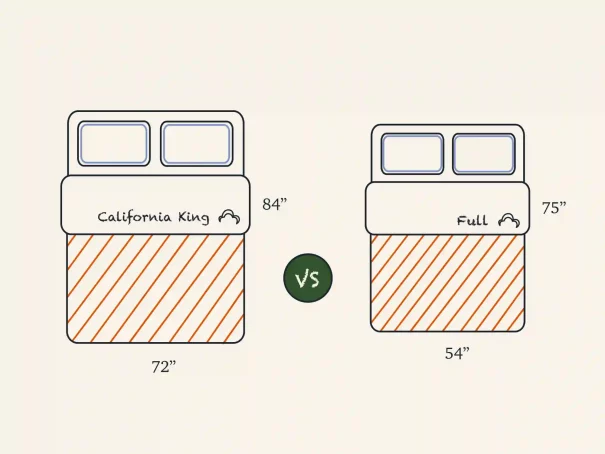 California King vs Full Size Mattress: What Is the Difference?
Written by Dreamcloud Editorial Team
Last Updated on Feb 07, 2023
If you are all wound up in the confusion of California king vs. full-size mattress, let us help you. California king mattresses are the longest mattresses. California king mattresses are a preference of the tall and ideally perfect for couples with smaller families or pets. 
But if you're confused between a Cal King and a Full size mattress, we have mentioned a detailed analysis of them both below. Enjoy reading!
What is the Difference Between Full Vs. California King?
A standard California king bed is 18 inches wider and 9 inches longer than a traditional full size mattress. In the table added below, we've underlined the differences between California king vs. full-size mattresses to help you make a wise decision. Have a look.
| Parameter | Full-Size Mattress | California King Mattress |
| --- | --- | --- |
| Length | 75 inches | 84 inches |
| Width | 54 inches | 72 inches |
| Occupancy | 2 Children/teenagers | 2 Adults + 1 child |
| Recommended Room Size | 9 feet by 10 feet | 12 feet by 10 feet |
| Price | $1000 - $1200 | $1500 - $2200 |
| Also known as | Double bed | Western King |
What is a California King Size Mattress?
California king-size mattresses are known to be narrow and long. They measure 72 x 84 inches in size and are called the western king. It is primarily due to its origin along the west coast. These are a classic pick amongst tall people. Those couples who like to sleep close must invest in this mattress because it is narrow. 
In the 1960s, the California king-size mattresses were used in villas and mansions. But with time passing, they have become increasingly popular. Since the living standards have risen, people can now afford to live in mansions and villas more than ever. One of the reasons California king mattresses became drastically famous and are an ideal best fit for large master bedrooms.
California king-size mattresses are best for couples with children. This bed is large enough to accommodate two adults and a child comfortably. Usually priced at an average of $1500 and above, the California king-size mattresses are available in various materials and layers. The mattress also has split versions with adjustable bases. Its split version is a savior for couples with varying preferences for the firmness of the mattress. 
Pros
Accommodates tall people due to larger leg space

Comfortable bedding for couples with children

Available in split versions personalized for couples
Cons
Expensive to buy

Limited variety and hard to find 

Occupy large area
What Is a Full-Size Mattress?
A large and spacious mattress measuring 54 X 75 inches in size is a full-size mattress. Full-size mattresses have been in use as double beds. Although called full mattresses, these cannot accommodate two adults at once. The bed is spacious enough for an adult and a child at most. A full-size mattress and twin beds share the same length. These can be unaccommodating for those who are very tall.
Full bed mattresses are ideal for kids' rooms. These beds can accommodate two children at once. They will remain in service in the long run, plus the children will not outgrow the bed too quickly. Another usefulness of full-size mattresses is in bunk beds. Bunk beds are not only space savers but also preferred by children.
Interestingly, full-sized mattresses can also be used comfortably by solo sleepers. They are a good choice for rooms with less space, like the guest room or small bedrooms. The main advantage of full-size mattresses is their compact body allows for easy transport and placement in rooms. This bed fits perfectly in studio rooms. Priced at an average of 1000 USD, these beds are more affordable than California King Mattresses. They are a good investment for your children, guestroom, or living area if you like to have an extended chilling space. 
Pros
Affordable in cost

Possible to use as a bunk bed

Requires less space

Perfect for children/teenagers
Cons
Not of much utility for adult couples

Not comfortable for tall people
Other Standard Mattress Sizes
There are plenty of other mattresses if a California King Mattress or a full-size mattress is out of your budget or requirements. 
One essential factor that you must consider before investing in a mattress is its long-term usability, space acquired, and space left in the room. For example, any bedroom must have enough walking space after arranging all the furniture. In addition, it gives your interiors a neat and clean vibe. 
We have given below bed sizes and usage of king-size mattresses, queen-size mattresses, twin-size, twin xl, and crib size mattresses.
Queen Size
Queen size mattresses are 60 x 80 inches in size. A queen mattress is large enough for a couple but compressed enough for smaller bedrooms. 

A queen-size mattress is also the most sold mattress nowadays.

These mattresses are larger than full-sized mattresses. 

They are also ideal for solo sleepers who need plenty of space while sleeping. 

Their size also makes them a popular choice among couples. These beds will leave enough walking space in the room after placement. 
King Size Mattress
King size mattresses are 76 x 80 inches in dimensions. These are the widest mattresses available.

King-size mattresses have enough space to accommodate two adults comfortably along with children. 

A king-size mattress is 4 inches wider than a regular California King Mattress and 4 inches shorter. 

The king-size mattresses are ideal for couples who want ample sleeping space. 

You can also get a king-size mattress customized. It has a split adjustable version made by placing two twin xl mattresses together. 

Two twin xl mattresses are combined to measure the same as one king-size mattress. 

The best feature of this split variation is that it prevents motion transfer. Your sleep will not be disturbed if your partner is switching positions.
Twin XL
A twin XL standard size mattress is 38 x 80 inches in dimensions. They are 5 inches taller than regular twin mattresses. 

It is a perfect mattress for young adults or teenagers who are tall and growing. These mattresses are common in college dormitories or children's rooms. 

These mattresses are half the measurement of a king-size mattress.
Twin Mattresses
Twin mattresses are 38 x 75 inches in dimensions. The twin-size mattresses are ideal for single sleepers.

Although 75 inches in length, these mattresses may still be unaccommodating for adults. Twin mattresses are a good fit for children. 

These mattresses work best in rooms with less space like guestrooms, children's rooms, or bunk beds. 
Crib
Cribs measure 27 x 52 inches in length. They are ideal for toddlers younger than two years of age. 

One notable factor while choosing cribs should be their firmness. As an adult, you might prefer a soft mattress. But, firm mattresses work the best for babies.

Babies find it difficult to move or flip over if they get sunk in the softness of the mattress. It reduces their movement and activity. Hence a firm crib allows children space to move. 

When a child crosses the age of 2 years, they can opt for a twin-size mattress or twin xl mattress if investing for a long-term.
Conclusion
Your requirements and usage will determine if you should go for a California king vs. full-size mattress. For example, if you are tall and like to spread your legs while asleep, you must invest in a California King mattress. They are large enough to give you a good night's sleep without worrying about your legs peeking outside the bed. 
On the other hand, if you are a solo sleeper who likes to have the entire bed by yourself, a full-size mattress is excellent. A full-size mattress is large enough to accommodate an adult with a pet or a child. If you are a young couple looking to invest in a good mattress, you must look for other alternatives. A full-size mattress will give couples just enough space to sleep straight and tight. 
Disclaimer: This website does not offer medical advice nor professional medical services; rather, it is provided solely for educational, informational, and/or entertainment purposes. Individuals seeking medical advice should consult a licensed physician. The information provided should not be used for diagnosis or treatment of any condition, disease, or injury. When you have a medical condition, you should always talk to licensed doctor or other certified medical professional. You should never delay seeking professional medical advice or treatment based on the contents of this website. Call 911 or immediately go to the nearest emergency room if you think you may have a medical emergency. The contents of this website are provided "as-is", Dreamcloud Sleep and its parent, subsidiaries, affiliates, employees, contributors disclaim any warranty of the information contained herein. Please contact support@dreamcloud.com to report any errors, omissions, misinformation, or abuse.
Shop Our Most Popular Bedroom Must-Haves