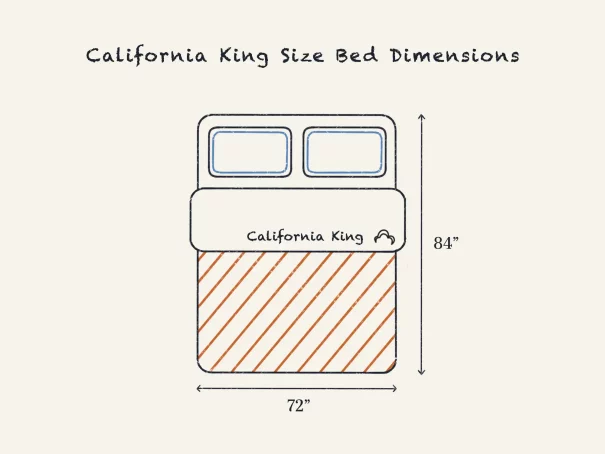 California King Size Bed Dimensions
Written by Mehran Uzair
Last Updated on Jul 21, 2023
Have you ever wondered why this long king-size bed is named after the Golden State? Well, according to the stories, shortly after World War II had ended, a Los Angeles mattress merchant thought that Californians, especially Angelenos who had huge homes, needed big beds. So, he built six feet wide and seven-foot-long beds for excellent comfort. Today, the California king comes in handy to tall individuals. But is it the right choice for you? Read about the California king-size bed dimensions to know more!
What Is A California King-Size Mattress?
A California king bed is longer than a king bed and is suitable for tall individuals who enjoy extra legroom. California king bed size is 72 inches wide and 84 inches long. Most people assume that a Cal king is bigger than a king. However, it is just lengthier. When calculating the width, a king is bigger, measuring 76 inches wide and 80 inches long. 
California king-size Mattress Properties Chart
| Properties | California King-Size Mattress |
| --- | --- |
| Length | 84" |
| Width | 72" |
| Surface Area | 6,048 square inches |
| Compatible Room Size | 13 feet by 19 feet |
| Mobility | Difficult to move |
| Target Audience | Couples, Really tall adults |
| Other Names | Western King |
Pros and Cons Of A California King-Size Mattress
Now that you are familiar with all the key properties of a California king bed, let's unpack its benefits and drawbacks. 
Pros of California King-Size Mattress
It's A Boon For Tall Adults 
Are you tall? Do you feel like there is not enough room for your foot as you try to get cozy? Well, with California king, you no longer have to worry! It gives you ample legroom to stretch and move your limbs however you want. There are no restrictions here. No more dangling feet. Seems like such a relief, doesn't it? This is because when it comes to standard mattress sizes California king bed dimensions are 72 inches wide and 84 inches long. In fact, even NBA players love their California kings. 
You Experience Ideal Pressure Relief 
When you sleep on a small mattress, you feel cramped and cannot opt for an ideal sleeping position. Maybe you end up positioning your leg at an awkward angle or your shoulders feel twisted. This may cause strain and the high points of the body, such as shoulders, neck, and hips may not experience ideal pressure relief for pain-free sleep. 
All The Space You Need 
Love to stretch and sprawl? Well, if you need space, then a California bed can be great for you! This is the perfect mattress for you unless you sleep with a partner. In fact, even if have a pet who loves snuggling near your legs, this is great! 
Cons of Cal King-Size Bed
Accessories May Not Be So Easy To Find 
Although California king is a standard size, not everybody goes for it. Therefore, you may find it slightly tricky to find accessories for the same. 
May Not Be Great For Couples
If you and your partner love personal space and enjoy tossing and turning throughout the night, then a California king may feel slightly congested, especially if both of you are tall or on the heavier side. 
Not Easy To Move
A California king mattress is large and heavy. So, if you move a lot, it may be too much work. 
Heavy On The Pocket 
It's not surprising news. It is one of the largest sizes out there. Therefore, California king is not the most affordable option out there. Also, some brands even charge extra shipping as transportation may charge extra. 
Things to Consider While Buying a California king Size Bed
Before you buy your California king, look at a few factors that will help you avoid any inconvenience after your purchase.
Room Size 
First and foremost, it is important to see if you can accommodate a Cal King in your room. Therefore, ensure your room is at least 12 feet by 12 feet so the bed doesn't feel claustrophobic. 
Budget 
Since a California king is one of the largest beds out there, it is not the cheapest one. Therefore, it is essential to see which brand falls within your budget and if they help you with a quality mattress. Also, you can always look for a brand that offers easy EMI options. 
Sleep Style 
If you are sleeping with a partner and you both need ample space, see if a California king is suitable for you. 
What to Look for While Buying a California king-size Bed?
A few things you must consider before buying a California king-size bed are;
Size
The first crucial thing to do is to see if the size of the California king is ideal for your room. A 12 by 12 room is the minimum requirement but a 12 by 14 feet room size is best. Also, check if your partner or you need extra width or length. 
Trial Period 
Especially if you are making a purchase online, a good trial period is essential. Why? Because you can test it out and if you don't like it, you can return it for a full refund. So, it is best to always opt for a mattress with at least a 3 months trial period. 
Warranty
A warranty is a guarantee the brand offers that a particular product will work for a certain period. Therefore, choose a brand that offers you a good warranty. 
Material 
The last criterion is that make sure it is a high-quality mattress. It should not emit any toxins and must give you the stability and support you need.
Benefits of Buying Dreamcloud California King-Size Bed
The Dreamcloud mattress brings you the best California king-size bed that helps you enjoy a peaceful yet dreamy shuteye. Read about all the benefits the mattress fetches. 
Plush Layers
A Dremcloud mattress gives you seven exotic layers that make you feel like you are sleeping on a cloud that ensures dreamy nights. Let's take a look at all the layers. 
The topmost layer comes with a breathable, cashmere blend cover that offers you peak comfort. 

Here, you get a contouring supportive soft foam. It is a CertiPUR-US certified layer with plush cushioning comfort and superior support. 

The third layer is a cooling-gel memory foam that hugs your body and adapts to your curves for responsive contouring and pressure relief for your neck, shoulders, back, and hips. 

The dynamic transition layer is the fourth layer, which helps with spinal alignment while the springs support you. 

The fifth layer brings you eight-and-a-half-inch innerspring steel coils. It promotes excellent airflow and reduces any motion transfer.

The sixth and seventh layers offer absolute stability and come with handles for easier movement.
Warranty and Trial 
As mentioned earlier, a warranty and good trial nights are essential. With Dreamcloud, you get 365 trial nights, which means you have the whole year to try the mattress before you say yes. And the warranty you get here is a Lifetime! 
Feels Right 
Dreamcloud is rated 6.5 on the firmness scale, which makes it medium-firm. It is neither too soft nor not too hard, making it just right. 
Pressure Point Relief, Support, and Motion Isolation 
Dreamcloud is a complete mattress that gives you everything you need. It comes with cooling gel technology and offers pressure point relief, ideal support, and even motion isolation. So, you enjoy a cool pain-free sleep without any disturbance. 
Conclusion
A California king mattress size is a perfect option for taller individuals. Now, you know the  California king mattress dimensions and can decide if it is the right fit for you. If you are looking for the best California king, you cannot go wrong with Dreamcloud.
Disclaimer: This website does not offer medical advice nor professional medical services; rather, it is provided solely for educational, informational, and/or entertainment purposes. Individuals seeking medical advice should consult a licensed physician. The information provided should not be used for diagnosis or treatment of any condition, disease, or injury. When you have a medical condition, you should always talk to licensed doctor or other certified medical professional. You should never delay seeking professional medical advice or treatment based on the contents of this website. Call 911 or immediately go to the nearest emergency room if you think you may have a medical emergency. The contents of this website are provided "as-is", Dreamcloud Sleep and its parent, subsidiaries, affiliates, employees, contributors disclaim any warranty of the information contained herein. Please contact support@dreamcloud.com to report any errors, omissions, misinformation, or abuse.
Shop Our Most Popular Bedroom Must-Haves