If you are looking to buy a bed for yourself, chances are you are muddled up in the single vs. twin bed debate. In the US, twin beds are nothing but single beds. The terms are used interchangeably, so choosing a mattress size for your twin vs. single bed might have left you confused. 
Let's find the difference between twin and single beds. And many such differences between twin and single beds. Read on to know more about them. How to understand what you need?
Single Bed Vs. Twin Size Mattress Comparison
>There is no difference in the size of a single and twin bed. Single bed and Twin bed both measure 38 inches wide and 75 inches long. People who live with their partners often buy twin beds to sleep comfortably. However, twin beds usually refer to a matching pair of single beds outside the US. They are placed in the guest room so that more than one guest can use them. Single or twin beds are mainly bought for children or teenagers who can have the entire bed for themselves. Single adults are also advised to choose a twin-size bed for themselves.
| Parameters | Single Bed | Twin Bed |
| --- | --- | --- |
| Size | 38 inches wide and 75 inches long | A twin bed measures the same but is a part of a pair of two singles |
| Occupancy | Mostly fits a single person | It is also kept in a guest room where two can accommodate |
| Recommended for | Kid's room / Hostel rooms / Dorms | Double bed hotel rooms / Guest rooms / Dorms |
How to Choose the Right Mattress Size?
You cannot compromise on a night of quality sleep. Therefore, choosing the right mattress size is a task that has to be done with utmost seriousness. If you consider these factors before making the final purchase, you will never regret your mattress choice. 
You must be aware by now that the mattress available for the single and twin beds is almost 38 inches wide and 75 inches long. Such a bed is suitable for a person whose maximum height is 6 feet. 
For people taller than 6 feet, twin beds won't be the right choice. They may go for a Twin XL mattress that is ideal for people above 6 feet. Buying a Twin XL mattress can help a tall person enjoy a good quality sleep.
Twin XL mattress provides 5 inches of extra cushioning, making it a good choice for tall people. On the other hand, average height people can go for a twin-size mattress. Buying a large mattress can use a lot of space and be a waste of money for some people. A twin-sized mattress in such a case will be ideal for them.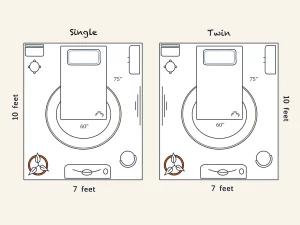 Choosing the right mattress and bed for your room can be a serious game-changer. One has to know the correct dimensions of their bedroom to choose the right bed for themselves.  
Single sleepers with spacious bedrooms can go for twin-sized beds as they are mainly designed to keep single sleepers in mind. Parents who have young children prefer twin-size mattresses for their kids. Single people also go for a single mattress so that their room doesn't look clustered. Twin size beds are ideal for rooms that have a study table, cupboard, and other furniture to fill up the room.
Some people like to keep their rooms filled with furniture, while others prefer a large-size bed that covers the room from all three sides. Their room looks spacious, which ultimately suits their taste.
Most people prefer to sleep on a bed that is somewhere between soft and tough in terms of hardness or thickness. People usually prefer their mattress to be at least 11 inches thick. This thickness is ideal for light sleepers who can enjoy continuous, non-disturbed sleep for 8 hours on the thick mattress. 
When choosing the right thickness for your bed, avoid a mattress that can increase snoring or backaches. You must make sure the top of your mattress should be 25 inches from the floor. A thin bed can make you uncomfortable and result in interrupted sleep patterns. 
A balanced height makes it easy and comfortable to get in and out of bed, as you can easily reach the floor from the edge of the bed.
Various mattresses are available in the market, depending on the composition. You may choose from an innerspring mattress to a foam and hybrid mattress. Here is the breakdown for you to make the right choice.
Starting with the Innerspring mattress, they are usually advised for people who need extra back support and comfort. They are made of soft materials such as natural fibers or foam to enjoy a good quality sleep. They are advised for people who sleep on their stomachs or backs. 
They are a great choice to make as they are budget-friendly. The only problem you may face is the springs can wear out and cause serious noise when you change sides while sleeping. 
On the other hand, Foam mattresses do not wear out as easily as Innerspring mattresses. They are made of softer material and can provide more comfort than the Innerspring mattress. They are usually advised for people who sleep on their sides and not on their back or stomachs.
Hybrid mattresses include the layers of both spring and foam mattresses. These are ideal for almost all kinds of sleepers but are mostly preferred by couples. They are ideal for people who prefer a medium softness in their mattress. 
You'll have to spend some extra time researching for a bed that suits your accessories. If you want a headboard for your bed, you'll have to match its size with your bed. Most headboards are designed especially for king and queen beds that enhance the overall look of your bed as well as the bedroom.
Check the Mattress Composition
Nobody wants to invest in a mattress with unsustainable materials. You should know all about the materials your mattress is made of. 
Be comfortable and understand what it is that you prefer- firmness or softness. Therefore, to understand the different compositions of mattresses, study below:
| Mattress Types | Firmness | Lifespan | Pricing |
| --- | --- | --- | --- |
| Innerspring | Medium-firm | 5-8 years | Budget to Luxury |
| Hybrid | Medium | 8-10 years | Mid to luxury |
| Memory Foam | Soft-medium | 8-10 years | Mid to Luxury |
| Gel-infused Foam | Soft-medium | 10-12 years | Mid to Luxury |
| Polyfoam | Soft-medium | 10-12 years | Mid to Luxury |
| Latex | Medium | 10-12 years | Mid to Luxury |
The Final Word
The right mattress is going to give you a peaceful and comfortable sleep. Choosing the right kind of mattress takes a lot of effort, but once you make a well-backed decision, it's all worth the pain. Make sure to do good research on your part so that you don't regret your choices.  
Now that you know the real difference between single and twin beds, keep in mind your needs. Adults who do not need ample space usually prefer to sleep in single beds and give twin beds to children.
Disclaimer: This website does not offer medical advice nor professional medical services; rather, it is provided solely for educational, informational, and/or entertainment purposes. Individuals seeking medical advice should consult a licensed physician. The information provided should not be used for diagnosis or treatment of any condition, disease, or injury. When you have a medical condition, you should always talk to licensed doctor or other certified medical professional. You should never delay seeking professional medical advice or treatment based on the contents of this website. Call 911 or immediately go to the nearest emergency room if you think you may have a medical emergency. The contents of this website are provided "as-is", Dreamcloud Sleep and its parent, subsidiaries, affiliates, employees, contributors disclaim any warranty of the information contained herein. Please contact support@dreamcloud.com to report any errors, omissions, misinformation, or abuse.
Shop Our Most Popular Bedroom Must-Haves