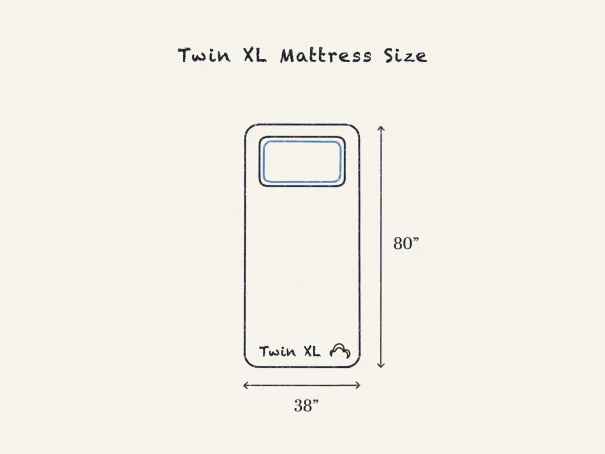 Twin XL Bed Size & Dimensions: Twin XL Size Mattress Buying Guide
Written by Mehran Uzair
Last Updated on Jul 21, 2023
Picking the ideal mattress size is essential for a good night's rest. If space is an issue and you need more legroom, a twin XL can be an excellent choice. But if you are wondering how a twin is different that a twin XL mattress, don't worry. We have you sorted. In this guide, we bring you a comprehensive twin XL mattress size guide to help you out. Keep reading to know more. 
What Is A Twin XL Size Bed?
What is a twin XL mattress? A twin XL is the same width as a twin but just longer. The twin XL mattress size is 38 by 80 inches. As it is 6 inches longer than a twin, it gives you extra legroom. They are also an excellent option for guests and dorm rooms. They are also affordable and can give you the extra comfort you need.
Twin-Size Mattress Properties Chart
| Properties | Twin XL Bed |
| --- | --- |
| Length | 80 inches |
| Width | 38 inches |
| Surface Area | 3,040 inches |
| Compatible Room Size | 8 by 10 feet |
| Mobility | Easy to move around |
| Target Audience | Teenagers, Growing Children, Single Adults, Tall Adults |
| Dreamcloud Price | $749 |
So what are the twin XL mattress dimensions?
Wondering how long a twin XL mattress is? The  twin XL mattress length is 80 inches. Their dimensions are 38 by 80 inches. If you are someone who is 6 inches or tall, it can give you a comfortable sleep.
Who Should Sleep on a Twin XL Mattress?
Twin XL mattresses are suitable for;
Children and Kids 
Twin XL mattresses are excellent for your children. They are affordable and make a fine long-term investment. Especially, if you are a tall family, a twin XL can be more comfortable and can last even when your children reach their teen years. They also take less floor space and even a few types of bunk beds can be compatible with a twin XL mattress. 
Guest Rooms 
If you are looking for an affordable mattress to spruce up your guest room, a twin XL can help you out. They fetch ideal comfort to your guests and their compact size makes it easier to fit in almost any room size. 
College Students 
A twin XL is an excellent choice for college students and can easily fit into smaller dorm rooms. It is also suitable for taller students. 
Single Adults 
If you are an adult and unfortunately have a smaller room, a twin XL can be perfect. It gives you room to stretch your legs and doesn't let you get all cramped up.
Benefits of twin XL Mattress
Twin XL mattresses come with significant benefits. They include;
More Legroom 
First and foremost, a twin XL fetches you 5 inches more than a standard twin mattress giving you more legroom to stretch and sleep comfortably. It is especially usually for taller individuals who feel cramped in a twin bed. 
Versatile
A twin XL is a versatile choice because anyone can use it. If your child has outgrown their toddler mattress, a twin XL mattress is a perfect transitional mattress. Some twin XL mattresses can also be used as lower bunk beds. And it can also perfectly fit your guest room or act as a day bed. 
Good For Adults
A twin or twin XL mattresses are affordable and won't burn a hole in your pocket. It is typically inexpensive compared to other large mattresses. So, a twin XL is an excellent choice if you want something inexpensive yet a mattress that will ensure a good night's rest. 
Compact
A twin XL mattress is excellent for smaller rooms. It fits comfortably in the corner of any small standard-size or dorm room. 
Benefits of twin XL Mattress
Dreamcloud brings you a perfect twin XL hybrid mattress, which starts at only $749. Let's take a look at the advantages this mattress brings you. 
Seven Layers of Plushness 
Dreamcloud brings you seven plush layers, each layer is designed to bring you the best. The mattress comes with a cashmere top that enables complete breathability and cooling gel technology for excellent sleep. It also offers pressure-relief, zero motion transfer, and excellent support for a dreamy sleep. 
Warranty
What's your ideal mattress warranty? 10 years? 30 years? Well, with Dreamcloud you get a Lifetime warranty and nothing can beat that! 
Trial Nights 
If you are not convinced, you can try it before you commit to it. Dreamcloud comes with 365 trial nights. It means you can use the mattress for a whole year throughout every season and see how well it does. Only when you are convinced, you keep it. Otherwise, you can return it for a full refund.
Ideal Firmness 
Dreamcloud brings you a medium-firm mattress, which is rated 6.5 on the firmness scale. It feels just right and neither too firm nor too soft. Therefore, you enjoy optimal comfort throughout the night.  
Buyer Reviews 
Users don't lie. Dreamcloud has a 4.6 average rating on a scale of 5 with more than 5000 reviews where buyers rave about the mattress. 
Conclusion
A twin XL mattress is beneficial to people looking for extra legroom yet an affordable mattress that fetches perfect sleep. If you want a cozy and comfortable sleep, Dreamcloud is your best choice. It helps you with dreamy sleep at an affordable price and is made of high-quality material. 
Disclaimer: This website does not offer medical advice nor professional medical services; rather, it is provided solely for educational, informational, and/or entertainment purposes. Individuals seeking medical advice should consult a licensed physician. The information provided should not be used for diagnosis or treatment of any condition, disease, or injury. When you have a medical condition, you should always talk to licensed doctor or other certified medical professional. You should never delay seeking professional medical advice or treatment based on the contents of this website. Call 911 or immediately go to the nearest emergency room if you think you may have a medical emergency. The contents of this website are provided "as-is", Dreamcloud Sleep and its parent, subsidiaries, affiliates, employees, contributors disclaim any warranty of the information contained herein. Please contact support@dreamcloud.com to report any errors, omissions, misinformation, or abuse.
Shop Our Most Popular Bedroom Must-Haves