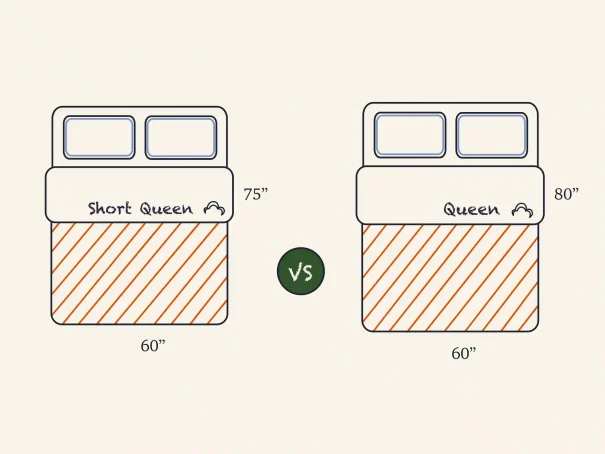 Short Queen Vs Queen Size Mattress: What Is the Difference?
Written by Mehran Uzair
Last Updated on Jul 21, 2023
Choosing a bed is not a simple task; that doesn't mean it is hard as well. You have to put more effort into finding the right and comfortable bed for you. 
We agree that many of you have issues when choosing the right-sized Queen mattresses. In fact, many of you would have ended up with the wrong sized mattresses too. But it can be easy if you have already narrowed your choice between Short Queen vs. Queen. 
Short queen is one of the most uncommon mattresses available in the market. You will not find it until you search for it. By the name, you can already understand that it is shorter than a queen mattress, but by how much? Read on to know more about short queen mattresses, who it is best for, and more!
Which is best- Short Queen vs Queen?
The Short Queen mattress is 5 inches shorter in length than the Queen mattress. It is a cheaper, lighter alternative to queen mattress. The short queen measures 60 inches wide and 75 inches long, whereas a queen measures 60 inches wide and 80 inches long.
Look at the table of comparison below to understand well all the differences-
| Parameter | Short Queen | Queen |
| --- | --- | --- |
| Length | 75 inches | 80 inches |
| Width | 60 | 60 |
| Surface Area | 4500 inches | 4800 inches |
| Price Range | $600 - $1500 | $1000 - $1800 |
| Occupancy | Adults | 2 Adults |
| Ideal for | A couple with average height | A tall couple |
| Minimum Room Size | 9.6 X 10 ft. | 10 X 10 ft. |
What is a Short Queen mattress?
As the name suggests, a short queen works very well for small spaces, like an RV or a camping tent. It can fit well in tiny homes. 
Using a short queen is highly recommended when you want to add more furniture to your room. 
Pros
It gives a perfect body-contouring experience

It has high resistance to motion transfer

Lightweight and easier to move

Can fit into RV and vans

Less expensive
Cons
Uncomfortable for tall people
What Is a Queen Mattress?
A queen mattress is a popular choice amongst couples and is readily available in the market. Queen-sized mattresses are smaller than a king mattress size but are larger than a full-sized bed. This can fit into any bedroom and can accommodate any sleeper. Queen mattresses are a bit expensive when compared to full-size beds and short queens.
The dimensions of the queen-size mattress make it one of the most affordable options. The Queen mattress can provide benefits equal to that of the king-sized mattress. It is comfortable enough for two people.
Pros
Works well for single adults or couples

Best choice for master bedrooms

Accessories are easily available in the market
Cons
More expensive compared to short queen

Cannot fit into compact or smaller spaces

Heavy in weight
Other Queen Mattress Variations
If you think there are only two types of queen mattresses available in online and offline stores, then you are mistaken. To your surprise, there are three variations in queen mattresses that are widely available in the market. Each of these mattresses has different sizes, features and cater to a variety of audiences. Let's explore these in a bit more detail, shall we? 
1. Standard queen
A standard queen is just the regular queen mattress with 80 inches of length and 60 inches of width. A split queen is a type of mattress that comes with the same dimensions as the standard queen mattress. But here, the mattress is split into two separate parts. Each part measures 30 inches by 80 inches.
2. Olympic queen
Olympic or expanded size queen mattresses come with 80 inches length and 66 inches width. This is the best choice for couples as it gives extra 3 inches of sleeping space to each person. It is 6 inches wider when compared to the standard queen mattress.
3. California queen
The dimensions of California queen mattresses are 84 inches long and 60 inches wide, and it is a popular mattress size in the market. It is 4 inches wider when compared to the standard queen mattress. This is the best choice for taller individuals who feel uncomfortable in a standard queen mattress.
Points to Consider Before Choosing Between Short Queen and Queen
The queen and short-queen mattresses each have their own place in your home. It's important to choose based on what you need from a mattress, so let's take a look at how they differ when matched up against some other options!
1. Dimensions
The difference in the sizes of a queen vs short queen is significant. The construction difference, however, seems almost negligible as well considering how similar they both are to one another. The length is all that matters if you are tall. For obvious reasons tall people prefer more leg space and if you are one of them then opt for Queen.
2. Budget
Mattress prices vary depending on the style and material used. On one hand where Queen costs are higher due to the extra length that it provides, you can find cheaper ones if your budget is tight - like a short queen size with less materials.
3. Firmness and Weight
There's a lot of difference between the firmness and comfort levels with a queen vs. short mattress. While both styles have their benefits, there is one major drawback: weight! The heavier fill material used in making Queens often makes them too bulky for narrow spaces. At the same time it makes short queen mattresses light in weight, easier to carry around.
4. Comfort
The mattress is a significant investment for any couple, and it's important to find one that suits both of your needs. The queen size offers more comfort with superior construction; in addition you have enough space even if tied down by two people!
If you are a singleton and short in height then go for Short queen for the most comfortable sleep.
The Final Word
Now that you know the difference between queen vs. short queen, choosing between them won't be an issue. Both are designed to accommodate an extensive range of sleepers, from couples to solo sleepers but want their specific things from the mattress. 
While standard queen mattresses are ideal for use in most rooms, sizes, and styles, it may be best for you to choose a shorter kind when using an RV or camping as it will allow you more space beneath your bed to store gear—also, because short queen beds/mattresses are made for RVs and smaller rooms.  
In the end, choosing a short queen or queen mattress majorly depends on your requirement and comfort. Both these are excellent options for bedrooms. These also make a comfortable bed for the guest rooms.
Disclaimer: This website does not offer medical advice nor professional medical services; rather, it is provided solely for educational, informational, and/or entertainment purposes. Individuals seeking medical advice should consult a licensed physician. The information provided should not be used for diagnosis or treatment of any condition, disease, or injury. When you have a medical condition, you should always talk to licensed doctor or other certified medical professional. You should never delay seeking professional medical advice or treatment based on the contents of this website. Call 911 or immediately go to the nearest emergency room if you think you may have a medical emergency. The contents of this website are provided "as-is", Dreamcloud Sleep and its parent, subsidiaries, affiliates, employees, contributors disclaim any warranty of the information contained herein. Please contact support@dreamcloud.com to report any errors, omissions, misinformation, or abuse.
Shop Our Most Popular Bedroom Must-Haves