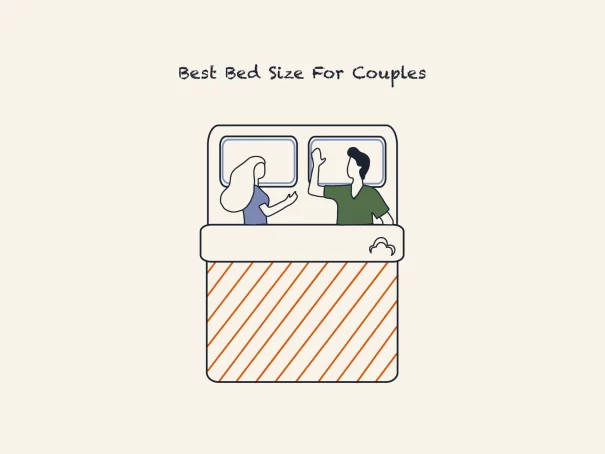 What Is the Best Bed Size for Couples?
Written by Mehran Uzair
Last Updated on Jul 21, 2023
When it comes to choosing the best bed size for couples, one can be overwhelmed by all the available bed sizes. 
Queen-size beds are the most popular among couples, as they can easily fit a couple and a small child or pet. In addition, they are easily accessible, which means no additional effort to buy their accessories or frames.
So, should you and your partner go with a full-size mattress or the most common bed size for couples available in the market, i.e., a queen-size bed?
If you are also unsure which bed size is best for you and your partner, then here is a guide to help you out.
Full vs Queen vs King Size Mattress Comparison
The most popular choices amongst the couples have always been king, queen, and then full. 
| Parameter | Full | Queen | King |
| --- | --- | --- | --- |
| Length | 75 inches | 80 inches | 80 inches |
| Width | 54 inches | 60 inches | 76 inches |
| Surface Area | 4,050 sq in | 4,800 sq in | 6,080 sq in |
| Price Range | $250-$2500 | $600 - $3000 | $1299 - $3000 |
| Occupancy | 2 People | 2 People | 2 People |
| Ideal for | Single adult with a kid / Couples who like to sleep close or cuddle. | Couple | Taller couple |
| Minimum Room Size | 9.6 x 10 feet | 10 x 10 square feet | 12 x 9.10 square feet |
| Other names | - | - | Eastern King |
When Should You Consider a Full Mattress?
Full-size mattresses, also known as Double Beds, measure 54 inches wide and 75 inches long. This bed provides 27 inches for both the partners, which means you and your partner will be able to sleep in this bed but not necessarily be comfortable. 
Twin size beds are not spacious for two people, but a Queen size bed may not be in your budget, or there is not enough space for it in your room. In these situations, couples go with a Full-size bed as a middle-ground solution. 
The full-size bed can easily be within your budget, and they leave ample walking space in your room. Also, if you and your partner prefer cuddling and aren't active sleepers, then a full-size mattress would be best for you. 
The only limitation of a full-size bed for a couple is that it doesn't provide you with the required personal space. 
Pros 
Not as expensive as a queen 

Offers more room for single sleepers 

Easily available
Cons 
Not ideal for couples as it can get congested
When Should You Consider a King Mattress?
A king-size mattress is the widest standard-sized bed that provides 38 inches to each partner, giving couples plenty of personal space. 
King-size beds are a popular choice among American bedrooms after queen-size beds for couples. This bed size is ideal for couples who would also like to sleep with a small child or their pets. 
King-size beds are expensive and best fitted for big rooms as they take up a great deal of space. But on the bright side, this bed would give you a sense of luxury. It will also give adequate space for you and your partner to sprawl and move at night without disturbing one another. 
Besides the standard king-size bed, you can also go with a California king, also known as the Western King, which is 72×84 inches. This bed size is suited for people who are tall, and it also occupies less room space than a standard king-size bed.
Pros 
Spacious for couples

Couples can sleep with their children and pets comfortably

Easily available since it is a popular option 
Cons 
Can be expensive when compared to a full 

Can be harder to fit into a smaller room
When Should You Consider a Queen Mattress?
Standard queen-size mattress dimensions are 60×80 inches. It is a very popular bed size in America and is preferred by couples for their bedroom or guest rooms. This bed provides 30 inches to each partner. 
If you are upgrading from a full-size bed and don't want anything very costly, then a queen-size bed for couple
would be an ideal decision. Also, you won't have any problem finding its accessories and bedding frames as this bed size is easily accessible. It will not take a lot of room space. 
With the popularity of queen-size beds for couples, it is recommended to consider its variants with slight differences but a significant one. 
Olympic queen mattresses are 66×80 inches which means 6 inches wider than a standard queen-size bed. In comparison, a California queen measures 72×84 inches. Both of these are great options for couples who want something wider than a queen-size, but neither have the budget nor enough room space for a king-size bed. 
The only limitations of these variation mattress sizes are that they are not easily available, and you have to put extra effort to find their accessories and bedding frames.
Pros
Doesn't take much room space

Easily movable

Convenient during the house shifting or cleaning

Cheaper than a king-size bed
Cons
Smaller than king size bed
Benefits of Having a Perfect Sized Mattress for Couples
While purchasing a bed, couples lookout for design and its aesthetic. But the key element to consider before buying a bed is its size. As it plays a crucial role in your and your partners' life. Here are some benefits of having a perfect size mattress for couples-
The most important benefit of having a perfect-sized mattress for couples is getting comfort and a good night's sleep. 
Large beds provide more comfort and space for couples. You or your partner can spread in a huge size bed without any restrictions or worries. 
If any couple feels comfortable sleeping close to each other and either of them isn't an active sleeper, then a small-sized bed would be the perfect mattress for them. 
A bed that is short for you and your partner will lead to restless nights because you would have to keep changing your sleeping position and readjust. It will eventually lead to back pain or several other health problems. 
To avoid any kind of health issues, one should plan carefully before buying your bed. A perfect-sized mattress should neither be small nor too big for a couple to sleep in. 
A perfect mattress size will provide you with peaceful sleep without any disturbance. An improvised sleep and relaxed body & mind will make you less irritated, reduce your chances of getting ill, and have a productive day ahead.
Does Bed Size Really Matter?
When the question arises regarding getting a relaxed and better sleep, then yes, bed size matters. You don't want to get a bed that doesn't have proper space and would make you toss and turn the whole night. 
By doing so, your partner can get easily disturbed, and it will also lead to restless nights and unproductive mornings. Eventually, it can also contribute to health issues. You can avoid these things from happening just by getting a perfect bed size for your bedroom.
You also don't want a bed that is too big where you and your partner will get ample space but feel apart from each other. You will feel the absence of your partner's warmth in this huge bed even when you are sharing the same bed. 
Is a Smaller Bed Better in a Relationship?
Often couples have different views on this thought as it depends on their taste, preferences, and sleeping position. If any couple prefers sleeping close to each other and snuggling all night, then yes, smaller beds are better for your relationship.
A full-size bed will provide you with enough space required to sleep close to your partner. At the same time, a queen-size bed will also be an excellent choice for that matter. 
However, many people think that huge beds keep you and your partner apart, and gradually that distance increases in a relationship. Well, it's not true for every couple. Suppose you or your partner is an active sleeper who moves a lot while sleeping. 
This could create disturbance for other partners if you had a small bed. But with a large bed, you get enough space to toss and turn. In situations like these, a King size bed for couples would be an ideal choice. Even many psychologists agree that to maintain a healthy relationship; one should opt for large beds that will provide them with enough personal space.
Conclusion
A couple should buy a bed based on their sleeping position, budget, height, body size, and room size. You should take measurements of your room and the doorways through which the bed is going to pass through. In a limited room space, a full-size and queen-size would be the best mattress size for couples. However, if you and your partner require ample personal space to sleep peacefully, then a king-size bed for a couple would be the right bed size.
Disclaimer: This website does not offer medical advice nor professional medical services; rather, it is provided solely for educational, informational, and/or entertainment purposes. Individuals seeking medical advice should consult a licensed physician. The information provided should not be used for diagnosis or treatment of any condition, disease, or injury. When you have a medical condition, you should always talk to licensed doctor or other certified medical professional. You should never delay seeking professional medical advice or treatment based on the contents of this website. Call 911 or immediately go to the nearest emergency room if you think you may have a medical emergency. The contents of this website are provided "as-is", Dreamcloud Sleep and its parent, subsidiaries, affiliates, employees, contributors disclaim any warranty of the information contained herein. Please contact support@dreamcloud.com to report any errors, omissions, misinformation, or abuse.
Shop Our Most Popular Bedroom Must-Haves