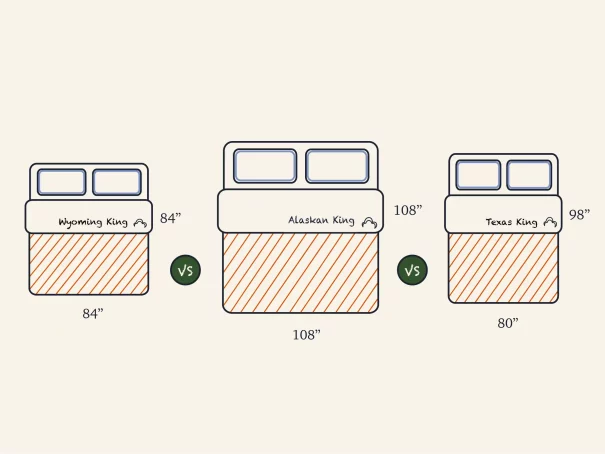 Oversized Mattresses : Wyoming King vs Alaskan King vs Texas King
Written by Dreamcloud Editorial Team
Last Updated on Mar 13, 2023
King size mattresses have traditionally been considered the ideal choice for people looking for more space in their beds. These are the largest among standard mattress sizes. However, even these mattresses may not prove enough in some cases or for some individuals.
In recent years, oversized mattresses have become quite popular as the bedding of choice for families, couples, and even individuals. Oversized mattresses are several inches to several feet bigger than regular king-sized mattresses and are the right choice for co-sleeping families, plus-sized couples, and uniquely-tall people. The extra sleeping surface of these mattresses ensures greater comfort and better support for the users, thus enhancing their popularity further.
The article helps buyers learn about each type of mattress in detail and understand their differences to make the right choice.
What are Oversized Mattresses?
The three types of oversized mattresses available in the market are Wyoming king, Alaskan king, and Texas king mattresses. Read further to know more about their dimensions, pros and cons, other features, and to know what best suits your needs.
| Features | Wyoming King | Texas King | Alaskan King |
| --- | --- | --- | --- |
| Length | 84 inches | 98 inches | 108 inches |
| Width | 84 inches | 80 inches | 108 inches |
| Surface Area | 7056 sq. inches | 7840 sq. inches | 11664 sq. inches |
| Recommended Room Size | 12 by 12 feet | 12 by 14 feet | 16 by 16 feet |
| Occupancy | 2 adults and a child | 4 adults | 2 adults and 3 children / 4 adults / families with kids and pets |
| Ideal For | Couples with personal sleeping space | Tall people who wish for extra legroom | Large co-sleeping families / couples with different sleep schedules |
| Price | $1500-$4500 | $2000-$3500 | $2500-$5000 |
| Mattress Shape | Square | Rectangle | Square |
Different Oversize Mattress Sizes
The choice of the most appropriate oversized mattresses depends on the room size, family size, and budget of the buyers. It is also essential to factor in the living conditions, the sleep habits, and the value they offer to make the right choice. Most importantly, these mattresses are too big to fit in a master bedroom and are also not readily available, impacting the buying decision.
Wyoming King
A Wyoming king mattress is the smallest oversized mattress and is still 8 inches wider and 4 inches longer than a standard king mattress. It measures 84 inches wide and 84 inches long. This makes the mattress spacious enough to accommodate a couple and an extra sleeper without making them feel cramped. Even though the Wyoming king mattress is not unreasonably large, it cannot fit in a room less than 12 square feet in size.
Pros
Comfort

 

The mattress can comfortably accommodate small co-sleeping families with one child without making them feel cramped.
Legroom
The mattress offers enough legroom for very tall sleepers and leaves some to spare even then.
These mattresses are incredibly convenient for couples with different sleeping habits.
Cons
These mattresses are not big enough for co-sleeping families with more than one child.
They are more expensive than the regular king-size mattress.
These mattresses are too big to fit in an average-sized bedroom comfortably.
Alaskan King
The Alaskan king is the largest oversized mattress and measures 108 inches wide and 108 inches long. The mattress is 24 inches wider than a Wyoming king and 10 inches longer than a Texas king mattress, making this square-shaped oversized bed spacious enough to accommodate a large family comfortably. Given the enormous size of these mattresses, one can fit them only in bedrooms that are more than 16 square feet in size.
Pros
The vast sleeping surface makes it an excellent choice for people whose sleeping partners can be extremely disturbing.
Being the biggest bed size, it is large enough to comfortably accommodate co-sleeping families with more than two kids.
This mattress is perfect for excessively tall sleepers and plus-sized couples with overweight kids.
Cons
The Alaskan king bed is the most expensive oversized mattress available.
Given its enormous size, the mattress fits only in a huge master bedroom.
Texas King
A Texas king is the second largest oversized mattress and has dimensions of 80 inches wide and 98 inches long. So even though these mattresses are narrower than Wyoming king mattresses, it is compensated by their 14 inches longer length. These family beds can comfortably accommodate two adults and two children and individuals who are more than 6.5 feet to 7 feet tall. The rectangular-shaped oversized bed is best suited for narrower bedrooms with a minimum of 14 feet by 16 feet. 
Pros
The mattress is best suited for people with relatively narrower master bedrooms.
A Texas king bed is a good option for co-sleeping families with one or two kids.
They are ideal for taller people craving some extra leg space.
Cons
They are the narrowest oversized beds which makes them unsuitable for large families.
They are not comfortable enough for even smaller families with plus-sized individual members.
Where to Buy Oversized Mattresses?
Buying oversized mattresses is not as simple as walking into a bedding store and choosing the preferred size of your mattress. A mattress larger in size than a California king size mattress is not readily available either in a physical store or online. Buyers may need to research to find a store offering these oversized beds at a reasonable price. Another option is to get an Alaskan king size mattress or other oversized mattresses custom-made from a local or online store.

However, buyers should ensure that the company offering such customization services can also deliver the specialty size bed to their home before placing the order. Lack of shipping options may cause a severe problem as moving these large mattresses, including the relatively smaller Eastern king bed, may be a major challenge. Moreover, the transportation of these mattresses may prove quite expensive, thus making the mattresses costlier than expected.
Where to Find Foundation and Bedding Accessories for Oversized Mattresses
Given the unusual size of oversized beds, especially the Alaskan king mattress, buyers often find it challenging to get the right foundation and bedding accessories. In most cases, the stores providing these excessive-sized mattresses may also be able to provide the appropriate foundation and accessories to match the bedding. Buyers may also search for specialty retailers and boutiques that offer made-to-order foundations and accessories for extra-large mattress sizes. 
It is also advisable to get foundations and accessories that are somewhat bigger than the actual mattress size. This will ensure a comfortable fit and will also accommodate the height of the mattress to provide comprehensive coverage. Most stores offering standard bedding options can direct customers to companies providing customized accessories and foundations for their oversized mattresses. The critical thing to remember is that these items may cost significantly more than the accessories for a California king bed as they would be using more materials.
Conclusion
While an oversized mattress is not something most people need; it is the right choice for co-sleeping families and tall or bulky people. However, it is also crucial for buyers to consider factors like space availability, budget, living situation, and sleep environment before making this significant investment decision. Moreover, since these mattresses are quite heavy and difficult to transport, they might not be the best choice for families who change homes regularly. Buyers should carefully consider all available options before investing in oversized mattresses.
Disclaimer: This website does not offer medical advice nor professional medical services; rather, it is provided solely for educational, informational, and/or entertainment purposes. Individuals seeking medical advice should consult a licensed physician. The information provided should not be used for diagnosis or treatment of any condition, disease, or injury. When you have a medical condition, you should always talk to licensed doctor or other certified medical professional. You should never delay seeking professional medical advice or treatment based on the contents of this website. Call 911 or immediately go to the nearest emergency room if you think you may have a medical emergency. The contents of this website are provided "as-is", Dreamcloud Sleep and its parent, subsidiaries, affiliates, employees, contributors disclaim any warranty of the information contained herein. Please contact support@dreamcloud.com to report any errors, omissions, misinformation, or abuse.
Shop Our Most Popular Bedroom Must-Haves