The queen mattress is 6 inches wider and 5 inches longer than a full mattress. A queen mattress measures 60 by 80 inches, whereas a full mattress measures 54 by 75 inches. It is often a go-to choice for people with bigger families. 
The market is filled with many mattresses, and choosing one can become overwhelming. Full-size mattresses and queen-size mattresses are the most competitive products available, and one may easily feel confused about them. You must know that your bed isn't just a room accessory. It is rather something that can lead you towards a healthy and wholesome life– both mentally and physically.
Moving forward, here are the significant differences between Full vs. Queen mattress!
Full vs. Queen Mattress Size Comparison
Full and queen-sized beds are beneficial for people who intend to share their bed with their child or pet, whereas full-sized mattresses are perfect for midsize apartments and compact spaces. Queen-sized mattresses are helpful for couples who want to share their bed with their child or pet.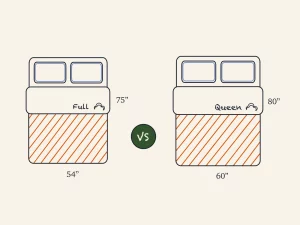 Full vs. Queen Size Comparison Chart
Parameters
Full Mattress
Queen Mattress
Length
75 inches
80 inches
Width
54 inches
60 inches
Surface Area
4050 square inch
4800 square inch
Price
$449 - $1499
$499 - $1499
Best for/ Ideal for
Adult with child or pet / Children
Couples / Adults with a single child or pet
Recommended Room Size
9*9.6 ft
10*10 ft
Full Mattress
The full mattress has dimensions of 54*75 which is an ideal dimension for a single person who intends to share their bed with their single child or pet but lacks comfort for two adults. These beds are seven and five inches smaller in width and length than queen-sized beds. But this does not end the full vs. queen debate as these are perfect for compact spaces and only suit single parents or people.
Pros of a full-sized bed
More affordable than queen-sized

Offer easy maneuverability with their smaller size 

Perfect fit for compact spaces like studios and apartments
Cons of a full-sized bed
Compact or small for couples who prefer some personal sleeping space

People over 6 feet in height find these mattresses uncomfortable due to inadequate length for them. Taller people face the problem of hanging feet.
Queen Mattress
The queen mattress has dimensions of 60*80, ideal for couples or parents who intend to share their beds with their children. The extra measurements also fall fruitful for taller people. The size of these mattresses is prevalent, which is helpful with the easy availability of accessories. The size of these mattresses is reasonably fit for rooms and large apartments.
Pros of a Queen Bed 
These beds provide good space for couples

Tall people, especially over 6 feet, find ample leg space

Accessories are easily available

Good for parents who sleep with kids
Cons of a Queen Bed
More expensive than a full-sized bed. 

The bed becomes heavier due to the large size and extra dimensions. 

Not a fit in compact spaces like studios and small apartments
Factors to Consider When Choosing Between a Full or Queen
Choosing a perfect bed size is a much more complex decision than it looks. Below mentioned are a few factors to consider to ensure the best pick for you. These factors will ease your selection between full vs queen.
Your Room Size 


When choosing a bed or mattress for yourself, you must consider the size of your room. A full-size mattress is a perfect fit for compact spaces like studios and small apartments of 10x10 ft generally, while a queen-sized mattress or bed should be a choice for people with a big room like 12x12 ft. Your room size holds crucial importance for selecting the perfect mattress that meets your requirements and every need.
Budget 
A mattress should be budget-friendly. If you are considering a queen-sized mattress or bed, you must be prepared for heavy expenses as these mattresses are expensive compared to the full-sized bed or mattresses. You can get a full-size mattress somewhere around $ 675- $ 2400 whereas a queen-size mattress is generally priced between $700 - $ 3000. 
Comfort 
While purchasing a mattress for yourself, you should always consider comfort. A comfortable sleep leads to a happy lifestyle and keeps several problems away. Your mattress holds the key to your back health. An uncomfortable mattress can bring you common issues like joint pain, back pain, and irritation. Experts also highly recommend it to go for the best comfortable mattresses.
Age 
Your age is another factor you should consider before purchasing a bed for yourself. Young couples find it uncomfortable to sleep on a full-size bed. Especially for taller people with a height of over 6 feet, queen size beds are the first choice. However, couples with a slightly older age prefer a full-size mattress as it does the job.
Accessories
Accessories are a crucial factor when selecting the perfect mattress for yourself. Accessories for Full-size beds are not a common size; hence the availability of accessories becomes tough.
In contrast, a queen-sized bed is a common size that makes getting accessories easier. 
The factors discussed above can provide you with the best product for you. It is recommended to always keep these factors in mind before selecting the best mattress for you. 
What's better full vs. queen?
The debate on full vs. queen is based on facts and figures of both mattresses. Both the full-size bed or mattresses and queen-sized beds or mattresses are intended for different people. If you are a single person and you intend to share your bed with your parents or child, then you must go with a full-size bed, or if you are a couple looking for a bed on mattresses, then you should go with a queen size bed or mattresses to offer you better comfort and a larger place. Apart from the number of persons, several other factors like the budget and the space play an important role in deciding what's better full or queen.
Disclaimer: This website does not offer medical advice nor professional medical services; rather, it is provided solely for educational, informational, and/or entertainment purposes. Individuals seeking medical advice should consult a licensed physician. The information provided should not be used for diagnosis or treatment of any condition, disease, or injury. When you have a medical condition, you should always talk to licensed doctor or other certified medical professional. You should never delay seeking professional medical advice or treatment based on the contents of this website. Call 911 or immediately go to the nearest emergency room if you think you may have a medical emergency. The contents of this website are provided "as-is", Dreamcloud Sleep and its parent, subsidiaries, affiliates, employees, contributors disclaim any warranty of the information contained herein. Please contact support@dreamcloud.com to report any errors, omissions, misinformation, or abuse.
Shop Our Most Popular Bedroom Must-Haves