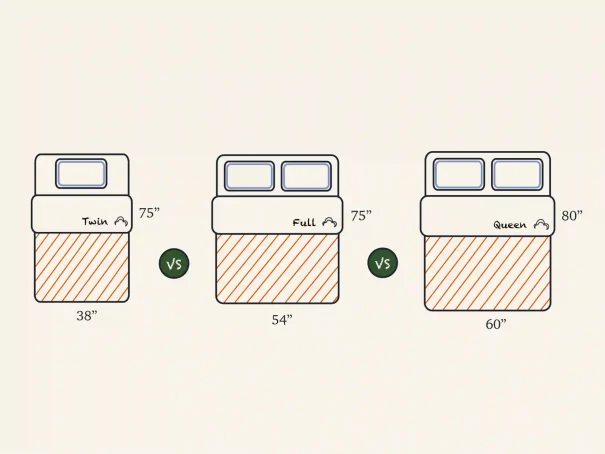 Twin vs Full vs Queen: Which Mattress Size is Right for You?
Written by Dreamcloud Editorial Team
Last Updated on Mar 13, 2023
Twin, full, and queen are the most popular mattress choices available in the market today. While the twin is the smallest standard mattress size, a queen is the largest of the three.
A twin and a full mattress are usually suitable for single sleepers, but a queen is the most popular choice amongst couples. If you are still confused between the three and want to know which mattress option is perfect for you, just read ahead as we will walk you through the twin vs full vs queen.
Difference Between Twin, Full, and Queen Size Mattresses
A twin is 22 inches smaller in width when compared to a queen while it is 16 inches narrower than a full mattress. Each mattress type comes with its advantages and disadvantages. Coming to their dimensions, a twin mattress is 38 inches wide and 80 inches long, a full mattress is 54 inches wide and 80 inches long, and a queen mattress is 60 inches wide and 80 inches long. The twin vs full vs queen size mattress specifications and comparison are mentioned in the table below to make it easier only for you.
| Parameters | Twin | Full | Queen |
| --- | --- | --- | --- |
| Length | 38 inches | 54 inches | 60 inches |
| Width | 80 inches | 80 inches | 80 inches |
| Surface Area | 2,850 square inches | 4,050 square inches | 4,800 square inches |
| Recommended Room Size | 7 by 10 feet | 9 by 9.6 feet | 10 by 10 feet |
| Price | $400-$1800 | $200-$1500 | $600-$3000 |
| Occupancy | Single | Single/Double | Double |
| Ideal for | Children / teenagers | Children / teenagers, / single adults / couples who like sleeping cuddled | Single adults / couples |
What is a Twin Size Mattress?
A twin-size mattress is ideal for toddlers and growing kids. It can be used as a single bed, or a bunk bed for kids' bedrooms, day-care centers, or dormitories. 
A twin bed leaves enough floor space for kids to have a play area and a small study. These bed or mattress sizes beautifully complement the low child-friendly furniture.
Pros
Can fit in compact spaces 

Good for children's room 

Affordable and not expensive 

Easy to move 
Cons 
Uncomfortable for adults or couples 

Cannot fit more than one person 
What is a Full-Size Mattress?
A full-size mattress is also known as a double bed, it is a size smaller than the queen bed and a size larger than the twin XL size mattress. 
The full-size mattresses are best-suited for adults with a relatively short height. Alternatively, it can accommodate two children and a pet, an adult with a child or a pet, or a teenager. It fits into small bedrooms and guest rooms that measure approximately 9 by 9.6 foot minimum. 
Pros 
Less expensive than a queen 

Offers more room for single sleepers 

Easily available
Cons 
Can get congested for combination sleepers
What is a Queen Size Mattress?
A queen-size mattress is the most preferred size for couples. It is one size bigger than a twin XL size mattress. 
It provides 30 inches of elbow space for having personal space while sleeping. Moreover, 80 inches in length, it covers the average height of a full-grown adult within 6 ft. Queen size mattresses can also accommodate two kids with a pet or three teenagers. Queen size mattress is the most recommended option for couples.
Pros 
Ideal for couples 

Easily available 

Fits a master bedroom
Cons 
Expensive

Difficult to move around
Variations in Twin, Full, and Queen Size Mattresses
All three types of mattresses come with a few variations and they can also be customized according to your liking. The readily available options are;
Twin XL 
A twin XL measures 38 by 80 in and is suitable for small rooms or a studio apartment. 
It is longer than a standard twin by 5 inches. This is especially beneficial for taller people for whom extra length is essential. 
Full XL 
Again, a full XL mattress is 5 inches longer than a standard full. It measures about 54 by 80 inches and just like the twin XL, it is more suitable for taller people. A full XL mattress fits a small room or a studio apartment and is also good for a single adult. 
Olympic Queen 
If you are someone who wants something slightly bigger than a standard queen, which measures 60 X 80 inches, an Olympic Queen offers the extra space. An Olympic Queen measures 66 X 80 inches. It is 6 inches wider than a traditional queen and can be suitable for a master room where it offers you the luxury of some extra space to move around freely. 
Split Queen
As the name suggests, a split queen is a standard queen mattress that's split in half.  It measures 30 X 80 inches on one side. Why this is done? Because most couples have different sleep needs. For instance, while you may enjoy a soft cozy firmness level, maybe your partner likes something more firm. Having a split mattress fulfills individual sleep needs and the measurements are the same as a standard queen mattress. 
When it comes to using a split queen, you can easily pair it with adjustable bed frames for optimal comfort. They come with a plethora of additional accessories that a normal bed frame cannot offer. This includes head and foot massagers, zero gravity position, and more.
Factors to Consider When Deciding Between a Twin, Full, or Queen Mattress
Now that you know all the essential details about twin, full, and queen mattresses, let's take a look at the factors you must consider before you go ahead with a purchase.
Room Size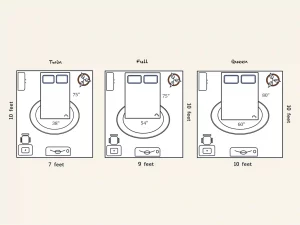 The minimum room size requirement for a twin-size mattress is 7 feet by 10 feet. Twin size beds can also be used as a single bed or a bunk bed. 
Both full-size and queen-size mattresses are best suited for families or hotels. Both full and queen-size mattresses can fit into a room size of 10 by 10 feet and upwards. 
Price 
The price range for all three mattresses is influenced by their size, accessories, materials used, and brand. Twin-size mattresses are the smallest and least expensive while the full are mid-priced. The full size is priced between $699 - $1700 while the queen size is larger than both sizes and is priced within a range of $909 to $1800. You can easily find a twin mattress below $699.
So, depending on your budget and requirements you can choose the right one for your room.
Bed Size
The bed size should be the same as the mattress size. In that way, a twin-size mattress will require a bed size with a 38 by 75 inches dimension. The full-size mattress will sit comfortably on a 54 by 75 inches bed and a queen mattress will have a 60 by 80 feet bed. 
Anything smaller or bigger in dimension will affect the comfort level while sleeping and will also damage the mattress. 
Height
The height of the occupants is a major determinant in this twin full queen feud. With 75 inches in length, a twin-size mattress and the full mattress can accommodate people who are shorter than 6 feet. The queen size bed on the other hand accommodates people with heights up to 6 feet. 
Accessories
Accessories for full vs twin vs queen depend on the space each of these mattresses provides. A twin-size mattress can accommodate just a pillow and a single-sized duvet suited for a single sleeper.
Both full and queen mattresses can be accessorized with two pillows, a couple of cushions, a small support pillow, and a duvet. The price tag for accessories of each bed size will vary according to the size, material, and brand.  
Who's Going To Use It 
The main question before buying a mattress is who's going to use it? Is it for your child, for yourself or maybe it's for the guest? Having an answer to this question will help you figure out the right mattress easily. For instance, if you are looking for a mattress for your child, a twin is perfect while for a couple, a queen is an ideal choice.
Which Mattress Size Is Right For You?
The dimension of twin vs full vs queen beds varies according to occupancy, room size, and space requirement. Queen and full size are suited specifically for homes. Twin beds can be used only by single sleepers and children.  
Lastly, a twin size is best suited for small rooms while the queen and full size can be placed in all standard master bedrooms. Understanding who the mattress is for along with all the other factors mentioned above, you will be able to choose the right mattress for you.
Disclaimer: This website does not offer medical advice nor professional medical services; rather, it is provided solely for educational, informational, and/or entertainment purposes. Individuals seeking medical advice should consult a licensed physician. The information provided should not be used for diagnosis or treatment of any condition, disease, or injury. When you have a medical condition, you should always talk to licensed doctor or other certified medical professional. You should never delay seeking professional medical advice or treatment based on the contents of this website. Call 911 or immediately go to the nearest emergency room if you think you may have a medical emergency. The contents of this website are provided "as-is", Dreamcloud Sleep and its parent, subsidiaries, affiliates, employees, contributors disclaim any warranty of the information contained herein. Please contact support@dreamcloud.com to report any errors, omissions, misinformation, or abuse.
Shop Our Most Popular Bedroom Must-Haves