The Ten Most Expensive Beds in the World
Posted By Ian on Oct 1, 2018
Your bed is your sleep palace. No matter where you lay your head, it's a cherished part of your life. Some people sleep better than others. While you don't have to break the bank for a great bed, sometimes it's interesting to see how the other half lives (and sleeps). Here are the ten most expensive beds in the world, see how your mattress measures up to these towers of sleep!
The Sphere Bed
Looking like something out of a Star Trek episode, the Sphere Bed is a mix of futuristic and retro design that conjures images of Captain Kirk on his day off. At $50,000, this is one of the most expensive beds in the world and has the amenities to prove it. Apart from its bizarre shape, The Sphere bed has a 22-inch LCD screen, surround sound speakers, and even a place to chill your champagne. It also has a massage unit built in under the mattress, which just sounds unnerving to this writer.
The Starry Night Sleep Technology Bed
Another weirdly futuristic-looking bed at 50k (why do all the most expensive beds look like they're from a space pod), the Starry Night Sleep Technology Bed is all about monitoring you while you sleep. Besides having two separate mattresses, so you and your partner can have customized sleep, this mattress will diagnose how much you're moving, your breathing patterns, and even how much you're snoring and adjust accordingly. It also features temperature regulation, a surround sound stereo, and a docking station for your iPad or projector.
The Monarch VI-Spring Bed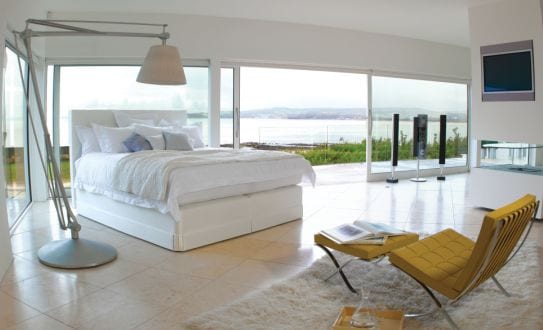 Vi-Spring is a name that's long been associated with luxury mattresses, so it's no surprise that their Monarch mattress clocks in as one of the most expensive beds in the world. This is much more a classic luxury than the previous beds though, and at $50,000 you're paying for some premium bedding. It's an environmentally friendly bed with a blended mattress filled with cashmere, lambswool, and mohair. Its natural hollow bamboo frame absorbs moisture and helps with ventilation, making it one of the most comfortable mattresses on this list.
Cosmovoide Bed
If you wandered into Elon Musk's secret underwater grotto, it's a good bet that you might find a Cosmovoide bed to curl up in and get some sleep. This egg-shaped bed mimics a hammock with it's suspending spring technology, has seven rainbow-colored LEDs for lighting, a telephone (what?), and electric relaxation bed frames. We aren't sure what that means, but it sounds fancy.
Majesty Vi-Spring Bed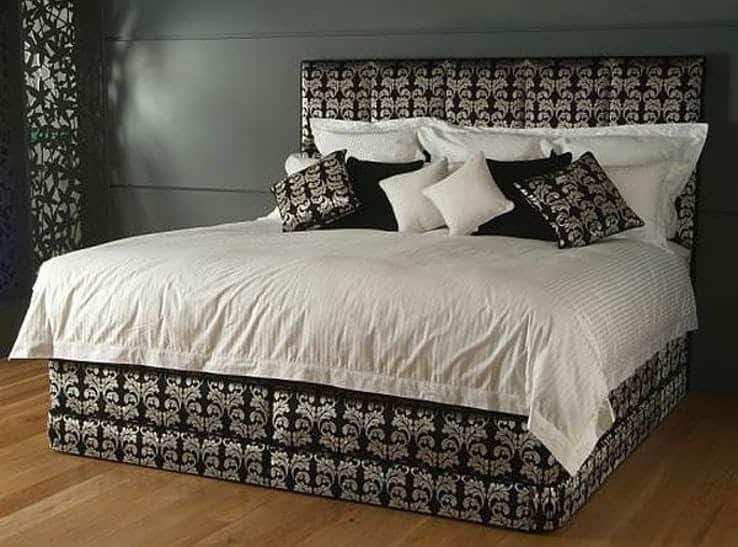 The Majesty Vi-Spring bed has a couple things over its Vi-Spring counterpart that appeared earlier on this list. First, at nearly 85k, it's almost double the price, but with that comes a custom-made, beautiful bed that was handcrafted by the famous mattress designer, Jab Anstoetz. It has more than six thousand springs and sustainable suspension. The real reason it's one of the most expensive beds in the world is a little more ornamental — it has layers of silver and gold added into the design of the bed.
Quantum Sleeper Bed
This one is a little more intense than the other beds on our list. The $160,000 price tag for the Quantum Sleeper comes not from luxury, but from the fact that this bed claims to protect the sleeper from "bio-chemical attacks, natural disasters, kidnappers, and is bullet-proof. It has water-tight sealing and backup power. If you're worried that you'd sleep throw the apocalypse, maybe it's time to shell out for this all-inclusive disaster bed. And if you're worried you'll have nothing to do, it also comes with a microwave, refrigerator, and a DVD player so you can wait out a disaster in style.
Parnian Furniture Bed
Maybe the most beautiful bed on our most expensive beds list, the Parnian Furniture bed is a great example of how superior materials and aesthetics can lead to an amazing bed. At over $200,000 you're getting three different types of maple wood, iPad holders, two LED touch light switches and a beautiful sunburst inlay woodwork that's completely handmade. While the price tag might be a turnoff, you can't argue with the beauty.
The Jado Steel Gold Bed
There's a reason this bed made the list. It costs $676,550 dollars and is made out of gold and Swarovski crystals. 'Nuff said.
The Magnetic Floating Bed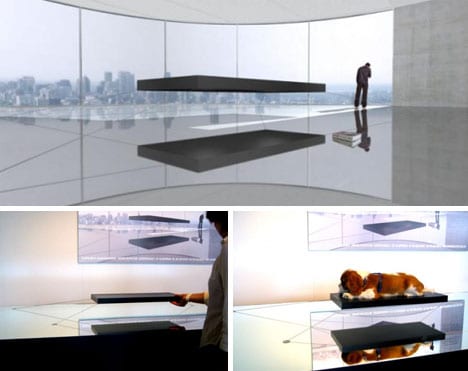 Another of the world's most expensive beds that wouldn't seem out of place in a superhero lair, the magnetic floating bed does exactly that — floats in the air through magnet technology. Don't worry, there are also strong wires to tie it to the wall so you won't float away as you drift off to sleep. At 1.6 million dollars, you wouldn't want to lose your bed!
Baldacchino Supreme Bed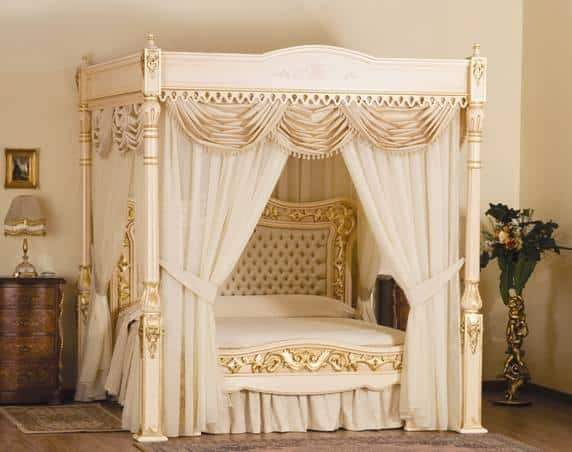 With only two made, the Baldacchino Supreme bed is not only the most expensive bed on our list but also the most exclusive. And unless you have a spare 6.3 million dollars lying around, it wouldn't matter much anyway. For that price tag you're getting a collaboration by a team of Italian furniture makers that is handcrafted with Italian silk curtains, carved from chestnut, and basically made for Italian royalty. If you can get your hands on one, let us know how it sleeps!
DreamCloud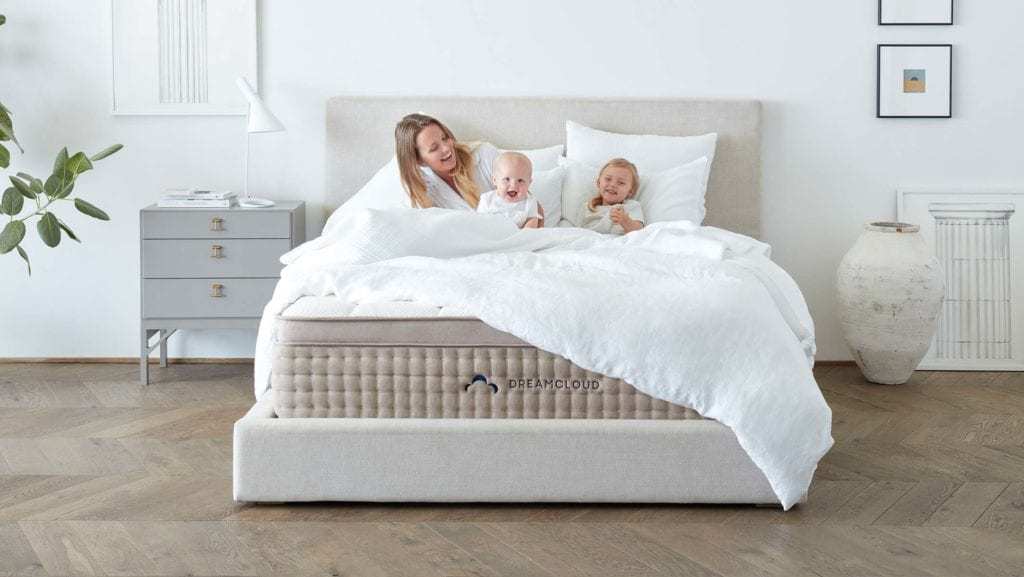 You might not find the DreamCloud on this list, but that doesn't mean it won't compete with beds that cost over ten times as much. This luxury hybrid mattress uses the best technology available to give you a thousand karat sleep for a price that's much more reasonable. It's got innerspring coil tech, five different kinds of memory foam, and a cashmere tufted topper. If it sounds nice, that's because it is. The savings come from the growing movement toward online mattresses, which save money by eliminating the middlemen. Definitely worth checking out if you want to live like a king, but don't want the price tag.