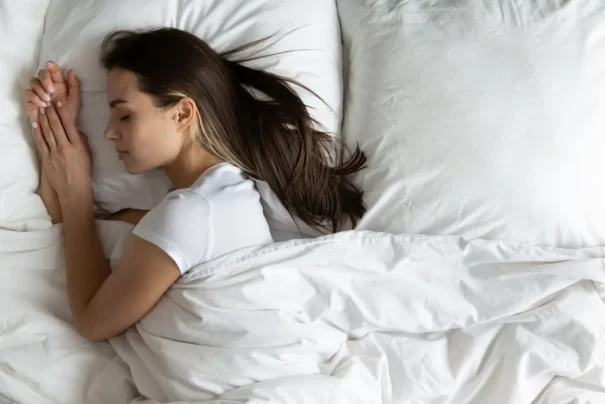 ❌
Dreamcloud Sleep Fact-checking Process and Editorial Standards:
At Dreamcloud Sleep, our goal is to provide readers with information that not only meets the highest editorial standards but is also reliable, accurate, and free of bias. Our team of editors and sleep experts fact-check every article while ensuring that we only use reliable sources. We have zero tolerance towards plagiarism and towards content written with the intent to mislead.
We only use reputable sources like medical journals, government-backed research and reports, and academic sites while writing our guides and articles.
Each article or guide has a bibliography of the citations and links to original articles that we have used. All scientific claims and information is backed by at least one reputable source.
Some articles feature links to other articles within the Nectar site. These links are provided to ease navigation and help you find relevant information about certain topics. These links are never cited as sources for scientific or medical data.
All information that cannot be verified or is found to be inaccurate is removed by the editorial team or the medical experts who review each content piece before publishing.
Plagiarism is against our policy and any writer or editor found violating the policy is reprimanded formally, while we work to rectify the content at once.
The ideal temperature for sleep is between 60 to 67 degrees Fahrenheit. Cool body temperature and good quality sleep go hand in hand. So, if your body temperature is too hot, you might struggle with sleep. You can find it difficult to fall or stay asleep. Getting hot while sleeping or hyperhidrosis is faced by many people worldwide. Regulating your body temperature can help you get a good quality sleep at night.  
Continue reading to learn about how to stay cool at night, ways to cool down a room, how to cool down before bed, and more. 
25 Best Tips to Stay Cool at Night
What you do before your bedtime can affect your sleep. This is why it's essential to have a good sleep routine. Try using the tips below to avoid getting hot at night.
1. Take a Warm Bath
A relaxing warm water bath or shower before bed can decrease your core body temperature. It initially increases your body temperature, but once later, it will lower your body temperature. A warm bath will help you sleep faster as well.
Although, make sure the water isn't too hot or cold. A cool bath will make you feel energized, and you may feel difficulty falling asleep, and a hot water bath will increase your body temperature. It's best to take a lukewarm water bath. 
2. Sleep in Cotton
Cotton will keep your body cool throughout the night. Consider using cotton pajamas, bedsheets, and undergarments to be cool throughout the night. Cotton is lightweight and sweat-wicking material, which makes it a perfect fit for nights. 
3. Wear Loose Clothes
How to stay cool while sleeping? It's always advised to wear loose cotton clothes to bed. Tight clothes decrease the airflow throughout the night and increase your body temperature. Tight clothes make your body sweat and uncomfortable, leading to sleepless nights. 
4. Use a Washcloth
Some nights, a shower can be a lot of work. Then, how to cool your body down? The common sweat areas are your head and face. You can keep them cool by freezing a washcloth and using it as a cold compress.  For this, wet a washcloth, and put it in a freezer for a while. After a few hours, use it as a cold compressor. You can also use water bottles as a cold compressor. Keep the water bottles in the freezer. After a few hours, just like washcloths, use them as a cold compressor.
5. Avoid Alcohol Before Bed
Alcohol cannot only lead to disrupted sleep, but it also causes hot flashes and night sweats. If you are craving alcohol, you can drink tea or milk instead. 
6. Workout in the morning
Working out around bedtime will not only make it difficult to fall asleep at night but can also make you sweat. After working out, your body temperature increases, and you hardly fall during the night. To avoid trouble, it's best to work out in the morning. 
7. Drink Ice Water
Keep a glass full of ice water beside your bed. You can have a sip when you feel hot at night. Sweating may lead to dehydration, so you should drink plenty of water during the day as well as at night.
8. Keep the Curtains Shut During the Day 
You should keep the blinds shut, especially if you are living in hot weather conditions. This can prevent getting heat trapped inside your bedroom. Using blackout curtains will be an even better option. Blackout curtains will restrict any kind of sunlight from entering your room and help to keep your room cool.
9. Have Smaller Meals at Night
Your body needs plenty of energy to break down heavy meals. Spicy food can also make you sweat. A good solution can be to avoid these meals and take up healthy and light meals instead. You can have fish, salad, or chicken. For midnight cravings, you can have popcorn or dark chocolate.
10. Avoid Getting a Lot of Sun
It's good to get VItamin D, but getting a lot of sun during the day can be bad for your sleep. Sunburn can lead to sweating at night and disturbed sleep. Wear sunscreen during the day and avoid getting a lot of sunlight. 
11. Flip Your Pillows or Sheets
You might have tried flipping your pillows and sheets over. If the pillow has become, flip it to the cooler side. This won't be a permanent solution, but it can help you get temporary relief. 
12. Sleep Naked
If you haven't tried sleeping naked before, it may feel weird for a few nights. Sleeping naked has many benefits, including keeping your body temperature cooler. It can definitely save you from overheating while sleeping.
13. Freezing Your Socks
Put your socks in a plastic bag and place them in a freezer 2 hours before bedtime. When it's time to sleep, take them out, wear them and go to sleep. This trick will help you stay cool throughout the night. You can do the same trick with a bandana. Wear the frozen bandana on your head or neck. 
14. Use Fans
How to cool down a room? A simple solution could be to use fans at night. Fans can give you a cooler feel while you sleep. Keep the fan near an open window for optimal benefits. You can also use old-school tricks for extra cooling. Keep an ice tray between you and the fan. The fan will give cooler air, keeping you sweat-free during the night.
15. Buy Cooling Technology
It's the age of technology, and it has everything to solve all your problems. Various products can help you prevent overheating at night. You can try cooling pillows, mattress pads. These may cost you as low as 15 dollars. 
16. Sleep on the Lowest Level of Your House
The lowest level of the house is the coolest level. If you have a 2 or 3 story house, consider sleeping on the lowest floor of your home. However, if you live in a one-story house, shift your mattress to the floor to avoid warm air.
17. Use the Egyptian Method
Egyptians used to soak their sheets in cold water to keep themselves cool at night. For Egyptian method use this procedure,
Soak the towel or bed sheet in cold water.

Squeeze it hard and put it in a washer.

Run it through a spinner.

The bedsheet will be wet but not dripping. 
18. Sleep Alone
Sleeping alone will prevent excess body heat. Your partner or your pet could be the reason you are sleeping hot during the night. Consider sleeping alone, especially on warm nights. If you cannot sleep alone, make sure there is enough ventilation in the room so the heat doesn't accumulate. 
19. Keep Your Skin Cool
What can be a better way to reduce body heat? You can keep your skin cool by using a cooling gel (like aloe vera) or a damp cloth on your skin. You can also use body wipes to get rid of sweat, have a cooling sensation, and prevent sweating. 
20. Change Your Sleeping Position
Your sleeping position can affect your body temperature. If you sleep on your back or while spooning your partner, you should change your sleeping position. As the mattress absorbs heat, the best way is to sleep on your side. If you sleep with someone else, avoid having contact. 
21. Use Ice Packs
With ice packs, you can cool off the pulse points in your body like ankles, wrists, back of your knees, and elbows. With that, the cooling effect will expand to the rest of your body. Do it for 20 minutes, and you will see the difference. 
22. Set Thermostat to 18.3 degrees Celsius
Setting the thermostat to the best temperature for sleep can help you avoid night sweats, especially during warm nights. You can keep the temperature to anything between 15.6-19.4 degrees Celsius as per your preference. 
23. Ideal Clothing Level
There is no standard answer to what you should wear to sleep. Some people prefer wearing pajamas, while some prefer sleeping nude or semi-nude. Experiment for some nights and figure out what works the best for you. Thick clothes can increase body temperature and sweat. So avoid wearing thick clothes, especially during hot and humid nights. 
24. Use Fans Strategically
How to make a room cooler? Adjust your ceiling fan to move counterclockwise to circulate cool air through the room. You can keep a table fan near the window to force hot air out. Using your fans strategically can create a chill breeze effect in your bedroom. 
25. Creating a Cross Ventilation in Your Room
To create good ventilation by preventing heat from entering and accumulating in your room. Use windows and doors to create natural cross ventilation. It's best if the open windows are located right across from each other. Have a larger window opening for air to leave your room and a smaller window opening to let air come in. This will increase the speed of the air resulting in a stronger cooling effect. 
The secret to getting good quality sleep has a cool body temperature. Getting hot and sweaty during the night can lead to sleepless nights. Try these tricks to avoid feeling hot while you sleep. 
Disclaimer: This website does not offer medical advice nor professional medical services; rather, it is provided solely for educational, informational, and/or entertainment purposes. Individuals seeking medical advice should consult a licensed physician. The information provided should not be used for diagnosis or treatment of any condition, disease, or injury. When you have a medical condition, you should always talk to licensed doctor or other certified medical professional. You should never delay seeking professional medical advice or treatment based on the contents of this website. Call 911 or immediately go to the nearest emergency room if you think you may have a medical emergency. The contents of this website are provided "as-is", Dreamcloud Sleep and its parent, subsidiaries, affiliates, employees, contributors disclaim any warranty of the information contained herein. Please contact support@dreamcloud.com to report any errors, omissions, misinformation, or abuse.
Shop Our Most Popular Bedroom Must-Haves