Houseplants help us create a healthy and beautiful space for living. Research says that plants reduce your stress and enhance your level of creativity and work productivity. There are plants that offer extra benefits when kept in a bedroom. Feng shui plants, for instance, charge you with positivity all around. Then there are air purifying plants for the bedroom, which according to the 1989 NASA study reduce indoor air pollutants such as benzene and formaldehyde. 
If you are fond of plants and wondering what plants to keep in your bedroom, this blog will help you choose the right one. This post also covers the benefits of keeping plants in the bedroom, how they help you sleep better, and the best plants for low-light bedrooms. 
10 Best Plants for Bedroom
1. Lavender (Lavandula)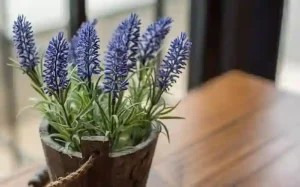 Lavender is one of the best indoor plants for the bedroom because it can survive indoors with minimum suitable conditions. This low-maintenance plant requires direct sunlight for a few hours every day. You need to water when the soil dries. Avoid overwatering, otherwise, it will rot fast and ruin. 
Benefits:
Control blood pressure

Reduce stress and anxiety

Helps you sleep better



2. Lady Palm (Rhapis excelsa)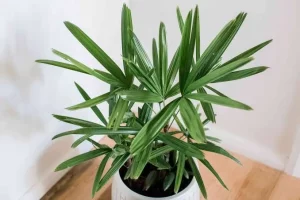 Another plant for jazzing up your bedroom decor! Lady Palm is a species of fan palm which is probably native to southern China and Taiwan. Lady palm has dark glossy, finger-like leaflets that fit in a small area indoors and it works as a natural air cleaner. It prefers bright indirect light and minimum water (only when the surface of the soil is dry). 
Benefits:
Remove toxins from the air like - ammonia, formaldehyde, xylene, and carbon dioxide.
3. Flamingo Plant
What's better than having a plant for your bedroom that produces beautiful flowers throughout the year and copious oxygen? Flamingo plants act as an air purifier that reduces the CO2 level in your space and provides fresh oxygen. It mainly requires enriched and well-drained soil with a good acidic level. Avoid direct sunlight for flamingos otherwise, it will shrink. 
Benefits:

Produce extra oxygen during the day

Increase humidity level in your environment 

Provides soothing environment

Prevent irritations and

respiratory infections
4. Areca Palm (Chrysalidocarpus lutescens)
Areca Palm adds aesthetic appeal to any indoor environment. It is one of the best plants for the bedroom because they remove carbon dioxide from the air. This tropical plant is ideal for spacious rooms because it grows 6 to 7 feet tall. It demands bright indoor light and requires light moisture -mainly in spring and summer. Also, it requires protection from the strong afternoon sunlight. 
Benefits:
Absorbs air pollutants like trichloroethylene

Easy to maintain and pet-friendly

Emits more oxygen at night

Reduce stress

Beneficial for people suffering from sinus problems
5. Phalaenopsis orchid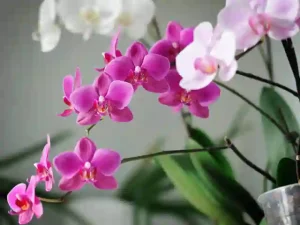 Orchids symbolize love, luxury, beauty, and strength. Phalaenopsis is always on the list of beautiful bedroom plants ideas! Keeping this orchid on your bedside table will make your room a center of attraction. Phalaenopsis orchid is not only elegant but well-adapted to indoor conditions and indirect sunlight. This plant blooms once a year for three months. It requires limited watering, protection from direct sunlight, and careful monitoring. 
Benefits:
Absorbs carbon dioxide from indoor air and release oxygen at night

Remove toxins like xylene from the air

Helps you sleep better
6. Boston Fern (Nephrolepis exaltata)
Boston ferns are incredibly popular as inexpensive, classic houseplants. Some call it diva indoors! Its lush ferns and arching, bright green fronds make the plant an ideal choice for home decor. Boston fern grows well in cool places but demands filtered shade or bright, indirect sunlight, and good parenting. Dry soil won't let the plant survive, so you need to water it regularly. 
Benefits:

Remove harmful air pollutants like xylene, toluene, benzene

Improve humidity levels in the environment

Offer a cool and soothing feeling



7. Snake Plant (Sansevieria trifasciata)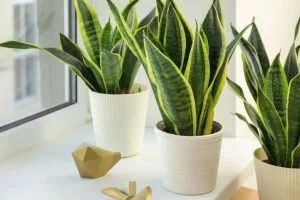 The snake plant, also known as mother-in-tongue, has sharply-pointed, sword-shaped leaves that are deep green with light grey-green horizontal stripes. This plant can grow from 8 inches to 12 feet high and its leaves are approximately two feet long. It grows well in partial sunlight and requires water only when the soil becomes dry. The plant can live for decades if placed under the right conditions. 
Benefits:

Convert carbon-di-oxide into oxygen during the night 

Remove toxic pollutants like benzene and formaldehyde from the air
8. Peace lily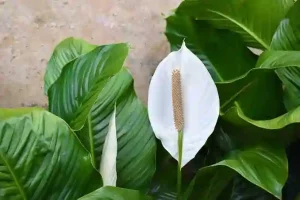 If you are looking for hanging plants in the bedroom, Peace Lily (Spathiphyllum) is an adorable and budget-friendly choice. It grows well in both high and low light areas and can survive without water for weeks. They can warn you when something is not right. For instance - leaves and flowers droop when they need water and return to a normal state when they have sufficient water. 
Benefits:
Control airborne microbes that can cause rashes and allergies. 

Filter or remove harmful toxins

Induce sleep
9. Spider Plant (Chlorophytum comosum)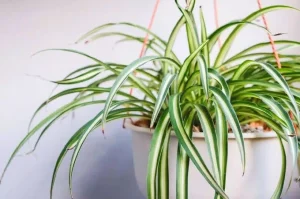 This classic indoor plant is in vogue right from the 70s and 80s! Even today it is worth keeping in your bedroom because it can survive in all types of lighting conditions. It features long grassy green-and-white-striped leaves growing from the center of the plant. It looks visually appealing especially when hanging in a basket. 
Benefits:
Cleanse indoor air 

Eliminate some toxins that you breathe 

Remove foul smell in your room

Reduce stress, depression, and anxiety

Benefits people with allergies



10. Pothos (Epipremnum aureum)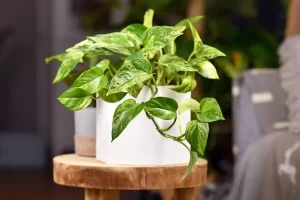 Pothos feature heart-shaped leaves and vining thin stems, which makes them visually appealing. This is one of the most common houseplants for your bedroom because it is easy to grow and maintenance is extremely effortless. Avoid direct contact with the sunlight otherwise, it will burn the foliage. Watering is good for pothos only when the topsoil is 50% dry.
Benefits:
Cleanse indoor air of toxins like formaldehyde, carbon monoxide, and benzene

Remove bad odors
Should You Have Plants In Your Bedroom?
Yes, you should have plants in your bedroom, if they are:
Easy to care for

Able to grow in all kinds of lights and irrigations systems

Not harmful i.e cause irritation or allergies  

Bringing in loads of freshness besides greenery

Friendly to pets and children

Offering health benefits 

Making your  room feel more alive

Eliminating harmful toxins from indoors

Producing a good amount of oxygen
If you are worried about plants producing carbon dioxide at night, please know that humans and pets produce far more carbon dioxide than plants. Moreover, carbon dioxide is less harmful than its cousin CO i.e carbon monoxide. 
Some plants are harmful and some are useful, while some are just good for interior decor. Whether you should have plants in your bedroom or not, depends on your purpose. 
What Is the Best Plant to Keep in Your Bedroom?
As mentioned above, your purpose and affordability determine what is the best plant for your bedroom.
If you are looking for plants that help you sleep better - buy lavender or peace lily

If you want to eliminate bad odors in your environment - go for pothos or spider plants

If you want to keep plants that produce oxygen during the night - opt for a snake plant or areca palm
It is recommended to look after the conditions in which a plant species can survive before you start growing them vigorously. Check out if you can provide direct sunlight to your plants or else you can pick up plants like Pothos or Aglaonemas that thrive well in indirect sunlight or filtered shades. 
Please compare different types of plants for their care tips and health benefits, so that you can better decide which bedroom plant is best for you. 
Benefits of Having Plants in Your Bedroom
Here are some scientific benefits of planting houseplants:
Can Plants Help You Sleep Better?
According to science, plants directly impact the humidity, oxygen, and CO2 levels in the environment, and can directly impact your sleep quality. As per the latest research, engaging with plants before bedtime can help you enjoy quality sleep. Houseplants help you sleep better, by improving your physical and mental health. 
If you are living in an isolated environment or very stressed in life, interaction with colorful or aromatic plants will calm your mind and help you fall asleep faster. 
What Are the Best Plants for Low-Light Bedrooms?
Are you afraid to keep houseplants just because you don't have a south-facing room in your home? Fear not! There are several houseplants for homes or offices that can vigorously grow with little or no natural sunlight.
Here is a list of a few low-light bedroom plants.
Bromeliad Plants

Prayer Plants

Pothos

Snake Plants

Parlor palm

Peace lily

Peacock plant 

Peperomia

Ivy

Staghorn Fern

Ponytail Palm

Lucky bamboo

Chinese evergreen

Monstera

Calathea
Small plants for bedroom plants are not limited to just adding greenery or making your interior presentable. They also play a significant role in purifying indoor air quality by eliminating the toxic elements that can be harmful to your health. 
Bedroom plants offer a soothing effect and induce a sense of comfort where you spend hours, for example, a workspace or bedroom, etc. Bedroom plants are like therapy, they increase your focus, make you feel energetic, and also increase your willingness to work with as well as improve your creative task performance. Various scientific studies validate that houseplants improve your living condition, benefit your physical and mental health, and improve your sleep cycle. 
Disclaimer: This website does not offer medical advice nor professional medical services; rather, it is provided solely for educational, informational, and/or entertainment purposes. Individuals seeking medical advice should consult a licensed physician. The information provided should not be used for diagnosis or treatment of any condition, disease, or injury. When you have a medical condition, you should always talk to licensed doctor or other certified medical professional. You should never delay seeking professional medical advice or treatment based on the contents of this website. Call 911 or immediately go to the nearest emergency room if you think you may have a medical emergency. The contents of this website are provided "as-is", Dreamcloud Sleep and its parent, subsidiaries, affiliates, employees, contributors disclaim any warranty of the information contained herein. Please contact support@dreamcloud.com to report any errors, omissions, misinformation, or abuse.
Shop Our Most Popular Bedroom Must-Haves