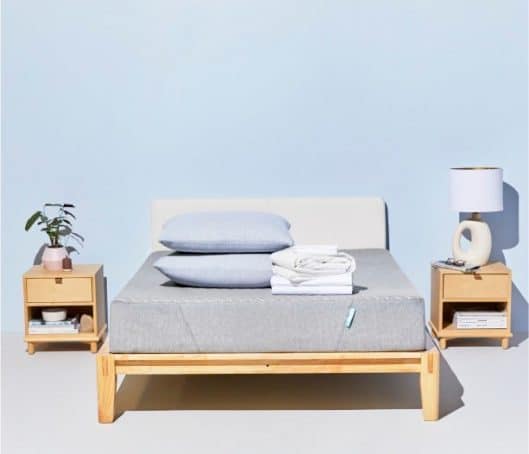 The Siena Mattress is a boon for anyone looking for optimum comfort on a tight budget. This Siena Mattress review 2022 will talk you through its features, performance, and everything you need to know before making a purchase. It is one of the most economical mattresses available in the market, without renouncing quality and comfort. Siena mattress achieves the best outcomes without relinquishing the materials, design, firmness, or pleasure. It comes with a 180-night home trial and a 10-year guarantee that is hassle-free. Furthermore, their free shipping, free returns, and easy return policy make it a mattress worth having! The Siena Mattress is 10" thick and comprises 5 layers of pure bliss, comfort, and warmth.
The Siena Mattress has garnered notoriety and affection in no time, owing to its cutting-edge bed technology and high-quality multi-layered materials that make every slumber a satisfying good night's sleep. This all-foam bed features unique layers, one of which perfectly and evenly conforms to the body.
Siena is one of the most affordable mattresses available online that offers mere comfort and leads a sleeper into a sound and deep slumber, providing an adequate amount of firmness level even while sitting, dreaming, or playing with your kids, or doing any other activity in bed. These 5 layers can be divided into the following categories:
The cover is a soft, comfortable layer:

A smoother, thicker, and more comfortable top fabric layer for a feather-like touch to the skin.

A memory foam layer that adapts to your body:

Memory foam cushions your weight, enabling your complete body to relax, unwind and soothe into a deep slumber.

The body's supporting layer:

A firm and thicker layer of polyfoam cushions that support your body even more for extended ease and backing.

The robust 5-inch foundational foam layer: Even if you're plump or obese, this layer will support your complete body, making it the go-to mattress for all shapes and sizes! Yes, it's inclusive, just like your thoughts!
The Siena Mattress can be included with any form of a bed frame, including
foundations

divan bases 

traditional frames 

adjustable bases, and

box springs
Mattress Pricing
While compared to its adversaries, Siena Mattress is a far more reasonable memory foam mattress that meets the demands of everyone. The overall cost of the bed and its great performance across numerous extents make it a fantastic choice for value-seekers and those who are on a rather tight budget. For example, a queen-size mattress costs $499, which is much less than the prices of similar types.
Here is the brand-specific math done so that you may make an educated and well-informed choice.
| Parameters | Siena | Casper | Tuft & Needle |
| --- | --- | --- | --- |
| Mattress | $499 | $1095 | $895 |
| Pillow | $75 | $78 | $64 |
| Protector | $99 | $80 | $56 |
| Sheets | $150 | $180 | $80 |
| Total Cost | $823 | $1433 | $1095 |
Performance
Sleeping on a Siena Mattress has two significant benefits: 
It keeps you cool all night and, 

allows you to sleep deeply even if your companion is awake or fidgeting around.
Motion transmission is significantly reduced with no springs and an additional motion-reducing layer. This means that even if one side of the mattress shifts and moves, the other will remain motionless. Furthermore, the mattress is silent. As a result, parents with small children and couples with restless spouses might consider buying this mattress without draining their savings. After all, it is worth having one!
Siena Mattress Fits All Types of Sleepers
The Siena Mattress is fantastic for side, hot, and medium-firm sleepers. It is the go-to mattress for
It's ideal for Hot Sleepers:

The gel memory foam present helps soak away any excess body heat, bringing you closer to a good night's sleep.

It's ideal for Cool Sleepers:

The air pockets between the layers let the mattress breathe from the inside out.

It's ideal for side sleepers:

It has a medium-firm rating of 6.5, signifying that anyone who prefers sleeping sideways is in for a treat– provided that the bed is neither too soft nor too hard to find utopia in it.
Takeaway Elements
Siena has a 6.5 firmness scale, placing it in the mid medium range of mattresses.

The buyer receives the mattress in a box that protects it from damage during delivery or installation. This makes the mattress easy to install and set up. 

People who find memory foam mattresses comparatively hot may find this Siena more comfortable, cool, and peaceful to sleep upon. This stands especially true for those who sleep mostly on their backs or stomachs. 

Even sleepers weighing more than 230 pounds may find this mattress to be firm and pleasant, satisfying all of their essential needs.
Mattress Installation & Setup
The Siena  Mattress can be set up in four simple stages. Setting up is so simple that even your child can do it in a flash. Now, just follow the steps discussed below:
Step 1:

Move it to the location in your room where you want to put it.
Step 2:

Carefully and slowly remove it out of the box.
Step 3:

Unroll it and spread it over your bed.
Wait for it to expand and witness the magic!
Trial, Warranty, and Shipping Policies
This Siena Mattress Review 2022 will highlight some of the most well-liked and well-maintained guidelines on trials, warranties, and shipping.
For problems:

If you discover any issues in the design or materials, please contact Siena Sleep through email or phone. The company will assist you through the refund or exchange procedures. At Siena, quality and continuous customer service have always been a top concern.

10-year policy:

Siena will assist you in obtaining a replacement if you discover a defect or flaw in the first 10 years of ownership. 

Free shipping & Free delivery:

You can now get your hands on this mattress without bearing any additional fees. Be it the shipping or delivery charges, both of the services come free of cost.

180-night home free trial:

Siena Mattress also comes with a substantial 180-night home trial that begins the day you receive it. Regrettably, the same cannot be said for most lower-priced mattresses accessible online under the budget rack of $500.
Falling for Siena Mattress is like falling in love at first sight-- right from the very first sleep to the years followed after-- every day is wholesome and restful with Siena. Its users swear to their experiences and satisfaction. 
However, if you aren't instantly captivated by this product, we advise you to wait for at least 30 days after initial use. This gives you time to adjust to your new mattress, which is especially important if this is your debut memory foam mattress.
Awards
Siena Mattresses are well-known for their many features, comfort, and customer support. The awards speak volumes about the delight and pleasure it gives to its customers. To name a few, some of the coveted 2022 awards that Siena won are:
Consumer Voice- Best Newcomer 2022

Slumber Beach- Affordable Mattress 2022

Mattress Report- Budget Mattress 2022

Sleepopolis- Sleepopolis Approved 2022

Naplab- Naplab Approved 2022

Sleep Foundation- Best Under $500
Siena users are feeling heads over heels for their mattress. And the reasons are numerous.
Review 1
"Siena has given me many wonderful nights of sleep and I am satisfied. I really liked the mattress at such a low price! I wholeheartedly endorse this."
Review 2
"I got the Siena mattress at an amazing budget and I am in awe! Within my budget and equally comfortable"
Review 3
"I simply can not believe how comfortable this bed is. It's soft enough that I don't sink in too deeply. My height is 6' 3 and I weigh 205 pounds. A not-so-little fellow! Furthermore, the pillows are really soft and comfortable. It is strongly encouraged."
Shop Our Most Popular Bedroom Must-Haves