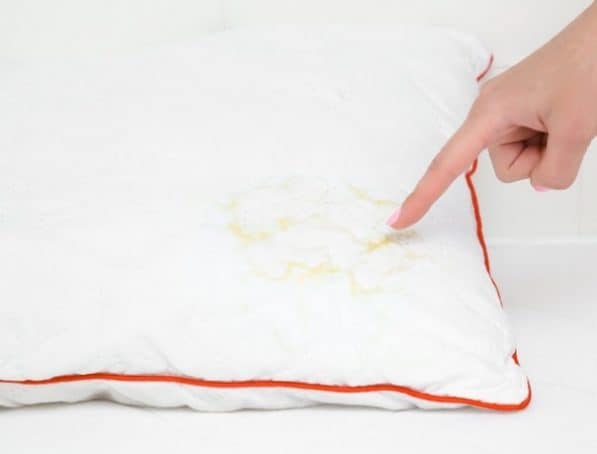 After a long exhausting day, the one thing that provides you solace is laying on your bed and resting your head on a nice and clean pillow.
But is your pillow even clean? Do you know how to wash pillows? Or how often to wash pillows?
All your questions will be answered as we guide you to a clean and hygienic pillow.
Can You Wash Pillows in a Washing Machine?
Whether you can wash your pillow in a washing machine or not depends on the filling of that pillow and the wear and tear of the pillow's fabric. So, make sure you have washable pillows.
While you can wash most pillows in a washing machine, some may need special attention. We have provided detailed instructions that you can follow to make sure your pillow is properly washed. 
When to Wash Pillows?
A regularly used pillow can harbor dead skin cells, sweat, body oil, and drool. All this filth accumulates over time and increases the probability of you having an allergic reaction.
Regularly washing pillowcases helps in the matter but not forever; you need to wash your pillows as well.
If your pillow is starting to form yellow rings, or you can smell some odor from your pillow. It is laundry time!
How to Wash Pillows in a Washing Machine?
Not sure how to wash bed pillows in a washing machine? Follow the steps stated below:
Step-1
The first thing you need to do when you want to wash your pillows is to look at the label of your pillow. The label will tell you if you can machine wash the pillow or not and what special attention you may need to pay to wash that pillow.
Step-2
Remove the pillows from the pillow covers and check for wear and tear. If the pillow is damaged, you cannot put it in the machine as the filling may come out. You will have to hand-wash that pillow.
Step-3
Fill your washing machine with water (you can add cold or warm water but keep in mind that the fabric may shrink in warm water.)
Add around half a cup of mild detergent to the water and mix properly. Make sure that the detergent is completely dissolved.
Step-4
You can now put your pillow in the machine. You should put two pillows at once if the size of your machine allows it as it will evenly distribute the load.
Step-5
Set your wash cycle on 'gentle' and put an extra rinse to ensure no detergent residue on the pillow.
Once the second rinse cycle is complete, you can take the pillows out.
For a washing guide based on pillow types, you can follow these instructions:
How to Wash Down Pillows
While you wash a down pillow, you have to keep the following things in mind:
Make sure the water temperature is not too hot as it may cause damage to the down in the pillow.

Use a low-sudsing detergent in lesser quantity than usual to ensure there is no detergent residue.
How to Wash Feather Pillows
Feather pillows are similar to down pillows and can be washed in the same way. Follow the exact instructions as the down pillow, and your feather pillow will wash fine.
How to Wash Memory Foam Pillows
Memory foam pillows require some extra love and care. Washing a memory foam pillow in a washing machine can damage the foam. It is better to wash it by hand.
You can hand-wash your pillow in a bathtub-
Fill it with warm water and a low-suds mild detergent.

Submerge the pillow in the water and allow the water to seep in.

Drain the soap water and refill with clean water, then submerge it again.

Take the pillow out and squeeze it gently to remove excess water.

Leave your pillow to dry in front of a window.
How to Wash Polyester Pillows
Polyester pillows are very easy to take care of. You can just wash them like you would any other pillow.
How to Wash Pillows With Buckwheat Hulls
Buckwheat hulls cannot be placed in a washing machine. Follow the following steps to wash your pillow with buckwheat hull-
Empty the buckwheat hulls in a big container and flatten them out on a smooth surface.

Place them under the sun to remove any moisture and odor from the hulls.

Put the fabric case in the washing machine and wash it in cold water.

Dry the case and return the hulls in.
How to Dry Pillows
You cannot dry all pillows in a dryer. Some pillows like memory foam pillows have to be air-dried. You can check the label of your pillow if it allows machine drying or not. If not, you can just air-dry such pillows in front of a window for a few hours.
For machine drying-
Put your pillows in the dryer and set the machine on low heat. ( for down and feather pillows, use a no-heat, air-dry setting.)

Use wool dryer balls or tennis balls to avoid any clumping.

Run the machine for several cycles and make sure the pillows are perfectly dry.
How Long Does It Take to Dry a Pillow?
It can take several hours for a pillow to thoroughly dry if you are air-drying it and at least one hour if you are machine-drying it. In any case, make sure the pillow is completely dry before using it.
How Often Should You Wash Your Pillows?
You should wash your pillows at least every six months. In case you live in humid conditions, you should half the time and wash your pillows every three months.
Also, do not forget to wash your pillowcases at least twice a month.
How Often Should You Replace Your Pillows?
A well taken care of pillow can last you for around three years. After that, you should replace your pillow.
If you can find any of the following signs with your pillow, you should replace it-
Even after washing the pillow, a strange odor still lingers.

The pillow does not return to its original shape after being folded in half.

Your neck or shoulder aches every morning.
Pillow is the one thing that comes in contact with our face the most, so it is only fair that we keep that pillow as clean and hygienic as possible.
Disclaimer: This website does not offer medical advice nor professional medical services; rather, it is provided solely for educational, informational, and/or entertainment purposes. Individuals seeking medical advice should consult a licensed physician. The information provided should not be used for diagnosis or treatment of any condition, disease, or injury. When you have a medical condition, you should always talk to licensed doctor or other certified medical professional. You should never delay seeking professional medical advice or treatment based on the contents of this website. Call 911 or immediately go to the nearest emergency room if you think you may have a medical emergency. The contents of this website are provided "as-is", Dreamcloud Sleep and its parent, subsidiaries, affiliates, employees, contributors disclaim any warranty of the information contained herein. Please contact support@dreamcloud.com to report any errors, omissions, misinformation, or abuse.
Shop Our Most Popular Bedroom Must-Haves