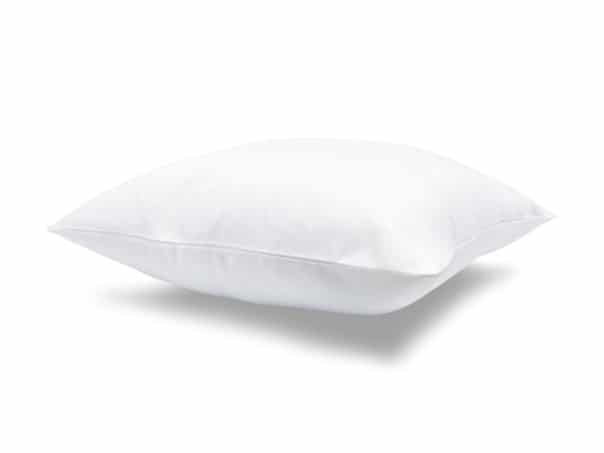 Who doesn't like fluffy pillows? Well, keeping your pillows fluffed not just adds to the overall aesthetics of your bedroom but also facilitates quality sleep. It also keeps your pillows clean and firm enough to support your head and neck throughout the night. The only challenge is learning how to fluff a pillow the right way. 
So today, we teach you how to fluff a pillow at home so that you can enjoy restful nights after each tiring day.
How to Fluff a Pillow by Hand
The constant weight of your head and neck compresses your pillow over time. You need to separate the layers and pull them back to their original position to fluff them up. 
There are quite a few ways to fluff your pillow, so let's start by discussing how to properly fluff a pillow by hand. 
1. Shuffle the Material
Start by laying the pillow flat on the bed. Then place your palm over them and push the material in, and pull it out immediately. Repeat this for at least 30 seconds to see a difference. 
2. Compression & Decompression
You can also place your hands on either side of the pillow, then compress and decompress it for at least 30 seconds. After that, lightly punch or knead the pillow for ultimate fluffiness.  
This technique helps the material inside spread evenly and improves the airflow within the layers.
3. Massage
If the previous methods don't work, you can also give your pillow a good massage. The massage will break up any clumps that hamper your pillow's performance. With an even material distribution, your pillow will be easier to fluff. 
These are the best ways of fluffing up your pillows at home, especially if you do not have any fancy equipment to do the job.
How to Fluff a Pillow in the Dryer
Fluffing your pillow by hand can be time-consuming and you might not want to go through this multistage process at the end of a tiring day. 
For people who want a quick fix for flat pillows, let's learn how to fluff a pillow in a dryer. 
Grab your flat pillows, strip off their cover, and put them inside your dryer. Then follow the brand guidelines to configure the dryer settings. 
Generally, manufacturers recommend keeping the settings to no-heat or low-heat when fluffing pillows. After all, without any moisture to dry, too much heat can burn up your pillows.
How to Fluff Pillow In Dryer Using Tennis Balls
To make pillows even fluffier, many people add a tennis ball in the dryer. 
The process of fluffing a pillow in the dryer remains the same as above. You just need to add a tennis ball wrapped in socks in the dryer along with the pillows. 
The ball kneads the pillow inside the machine, breaks up clumps of the material, and improves airflow within the layers.  
The number of balls you need is directly proportional to the number of pillows you are fluffing. The idea is to ensure that each pillow receives enough kneading from the tennis ball.
How to Fluff Pillows in Dryer Without Tennis Balls
Not everyone has spare tennis balls lying around their house. So if you want fluffier pillows without tennis balls, then you can use other household items that are heavy enough to knead your pillows. 
For example, you can use a clean pair of slippers, a t-shirt rolled in a ball, or even stuffed toys. Anything strong enough to hit your pillows inside the dryer and shuffle the material is good to go. 
Just make sure whatever object you choose should be dryer-friendly and safe on your soft pillows. 
How to Fluff a Pillow Outside in Fresh Air
Regular use isn't the only factor that makes your pillows go flat. If you sleep with wet hair, the material inside can absorb the moisture, causing the layers to stick together. 
The easiest way to recognize a moisture-laden pillow is to look for strange, damp smells. 
If this is the case, you need to dry the pillow in the fresh air. The heat from the sun rays will evaporate the trapped moisture and fight away all unpleasant odors. 
It should take about 3-4 hours for your pillows to fluff up in fresh air. Just make sure the air isn't too humid before putting it out. Extra humidity will defeat the purpose and might even make your pillows flatter. 
When Should You Replace Your Pillows?
Sometimes you could be doing everything in your power to fluff a pillow, but it will still go flat after a few uses. If re-fluffing your pillow doesn't work anymore, maybe it's time to replace it. 
Here is how you can know when your pillow needs to be replaced:
There are constant lumps no matter how much you fluff it.

It's uncomfortable to sleep on, and your head isn't cushioned well.

You wake up with neck ache no matter how well you sleep.
Old pillows also become laden with dust and bacteria. Hence, it's best to replace your pillows every 1 to 2 years.
Pillows are an essential sleep accessory and you definitely want them to be in good shape if you want to sleep well every night. Also, a fluffy and fresh pillow can help you stay fit and healthy over the years.   This quick fluffing guide is all you need to learn how to make pillows fluffy again. 
Disclaimer: This website does not offer medical advice nor professional medical services; rather, it is provided solely for educational, informational, and/or entertainment purposes. Individuals seeking medical advice should consult a licensed physician. The information provided should not be used for diagnosis or treatment of any condition, disease, or injury. When you have a medical condition, you should always talk to licensed doctor or other certified medical professional. You should never delay seeking professional medical advice or treatment based on the contents of this website. Call 911 or immediately go to the nearest emergency room if you think you may have a medical emergency. The contents of this website are provided "as-is", Dreamcloud Sleep and its parent, subsidiaries, affiliates, employees, contributors disclaim any warranty of the information contained herein. Please contact support@dreamcloud.com to report any errors, omissions, misinformation, or abuse.
Shop Our Most Popular Bedroom Must-Haves