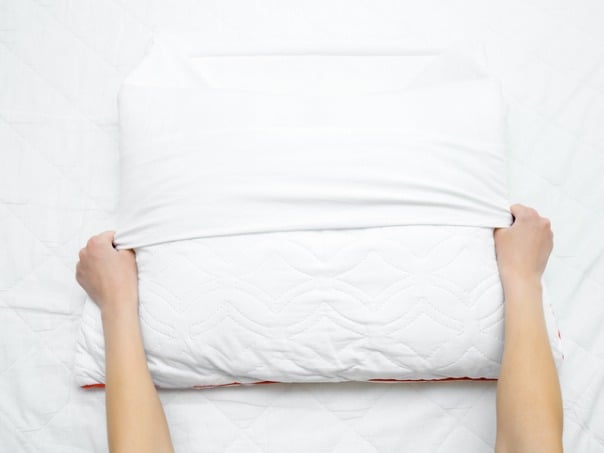 Pillowcase Sizes and Dimensions Guide 2022
Written by Faisal Mughal
Last Updated on Apr 26, 2022
Pillowcases are the outer covering that protect your pillow from gathering dust and dirt. They are generally made of cloth and are stitched on 3 sides to enclose your pillow inside a pocket like bag. The size of your pillowcase will mostly depend on the size of your pillow. This blog will walk you through the different pillowcase sizes so that you don't have any confusion while buying one for yourself.
Pillowcase Sizes Chart
This chart will cover all the standard pillowcase size and dimensions.
| Pillowcase Size | Measurement ( in inches) | Measurement (in centimeters) |
| --- | --- | --- |
| Standard | 20 inches * 26 inches | 51 cm * 56 cm |
| Queen | 20 inches *30 inches | 51 cm * 76cm |
| King | 20 inches *36 inches | 51 cm* 92 cm |
| Body | 20 inches *54 inches | 51 cm * 132 cm |
Standard Size Pillowcase
Standard size pillowcases measure 20 inches * 26 inches. The small size makes them perfect to fit pillows for twin and twin XL mattresses. Twin, Twin XL, and full-size beds come with a single standard pillowcase. However, a queen, king, or california king mattress will come with two pillowcases.
These days, you also get a super standard size pillowcase. It is two inches longer than the standard size and is perfect for pillows slightly larger than the standard pillow size.
Queen Size Pillowcase
Queen pillowcases measure 20 inches * 30 inches. They are perfect for queen size pillows. 
The larger size of queen pillows allows them to fit perfectly on a queen mattress. However, they fit nicely on a king and California king bed as well.
If you tend to move a lot in your sleep, a queen pillow might be your perfect companion. Since it is larger in size, it will ensure your head and neck stay supported.
Well, you can also fit a queen pillow in a standard pillowcase if you don't get a queen pillowcase. That's because the width is the same, and a standard pillowcase has some extra length.
King Size Pillowcase
King size pillowcases measure 20 inches * 36 inches. They are 10 inches longer than a standard size pillowcase and are too large for any pillow smaller than king.
Two king pillows can fit perfectly well on a king-size mattress. They will also fit on a California king mattress without trouble.
Using king pillows on smaller beds is not a great idea because they might hang over the edges of the bed.
Body Size Pillowcase
Body pillowcases measure 20 inches * 54 inches. They are the largest pillowcases available and designed to fit a body pillow.
A body pillow is a long i-shaped pillow that you can hug and wrap your legs around. They are your perfect companion if you are a side sleeper.
There are different body pillow sizes. So, you need to choose the pillowcase carefully so that it fits perfectly.
Are you confused about which size pillows will fit your mattress? Check out our mattress size dimensions guide to know your mattress size and choose your pillow accordingly.
Other Specialty Pillowcase Sizes
Apart from these regular pillows, you will also get some specialty pillows. These are custom pillows made for decorative or medical purposes. So, their pillowcases do not follow the standard guidelines. Thus, you need to research a lot to find the perfect pillowcase for these specialty pillows.
Euro
Euro pillowcases are suitable for euro pillows. These are square pillows measuring 26 inches by 26 inches.
Euro pillows were first popularized in Europe, hence the name. However, these days, they are quite popular in America for decorative purposes. You can also use these pillows to rest your back while watching TV or reading a book.
Some people don't use a pillowcase while decorating their rooms with euro pillows. However, using a case will protect your pillow from dust and stains.
Travel
Carrying your regular pillows while traveling might be troublesome. Travel pillows can come to your rescue since they are small and compact. They measure 11 inches by 16 inches.
These days, you will also get C-shaped travel pillows that wrap around your neck. These pillows are more comfortable since they provide a cozy little place to rest your head.
Travel pillows are convenient to carry. However, they do not compromise with your comfort, and provide the same level of comfort as a regular pillow.
Throw
Throw pillows are square decorative pillows that can instantly uplift the appearance of your room. You will get throw pillowcases in several vibrant colors and designs. Pick one according to your taste and add some life to your living room.
Orthopedic
Orthopedic pillows are designed based on orthopedic guidelines to maintain your cervical alignment. Doctors recommend these pillows if you have shoulder and joint pain.
These pillows are not of a single type. Some pillows are for resting your head and neck, while others are for keeping under your legs. They maintain the proper alignment of your body, thus easing your pain.
Getting an orthopedic pillowcase is difficult due to its uncommon shape. So, it's better to check with the manufacturer if the pillow comes with a case.
Do Pillows Always Need a Pillowcase?
Generally speaking, all pillows need a pillowcase. A pillowcase protects your pillow from dirt, dust, and sweat, extending its lifespan.
You can also use a pillow protector. It is waterproof and will protect your pillow against spills and stains from liquids.
Some pillows, however, don't need cases. They are either decorative pillows or come with built-in cases. Orthopedic pillows have a specific contour to ease your joint pain and might not require a case.
Even wedge pillows don't require pillowcases. They have a hard cover around their filling. 
How to Make a Pillowcase?
If you are unable to get the right pillowcase size, you can make one for yourself. Follow these simple steps to make your own pillowcase in less than 30 minutes.
Cut out two identical pieces of fabric according to your pillow measurement.

Create a seam for the outer edges of your pillowcase by folding it a few inches. Now, iron over the folded part and pin it to keep it in place.

Repeat this step for the other piece of fabric.

Put the right sides of the fabric together and sew them.

Now pin the other sides leaving an opening towards the cuff.
There you go. Your brand new handcrafted pillowcase is ready for use.
How to Choose the Right Sized Pillow?
The perfect size of your pillow will depend on your needs and preferences.
If you have a twin or twin XL bed, it is better to go for a standard size pillow. It will fit in your bed without any trouble. Two standard pillows would be perfect for a full size bed.
A queen bed can hold queen size pillows. These pillows are also perfect if you move a lot in your sleep. They ensure that your head stays in place and gets proper support.
King size pillows are exceptionally large. Thus, they might look out of place on smaller beds. However, you can use them on king and California king beds.
If you are a side sleeper, a body pillow will help you get a cozy night's sleep. You can hug iy=t for warmth and comfort.
What if you travel a lot? These regul;ar pillows won't be convenient to carry. So, you should opt for travel pillows that are easy to carry wherever you go. 
Final Word
Now that you know the different pillowcase sizes, it will be easier to choose the right pillowcase size. Make sure your pillow fits nicely within the case. Otherwise, it might slip out of place causing you discomfort while sleeping.
So much about your pillowcase, but you cannot ignore your pillow quality. Buy the premium Dreamcloud memory foam pillow to get the feeling of sleeping on the clouds. So, make your nights cozier without further delay.
This article is for informational purposes and should not replace advice from your doctor or other medical professional.
Shop Our Most Popular Bedroom Must-Haves