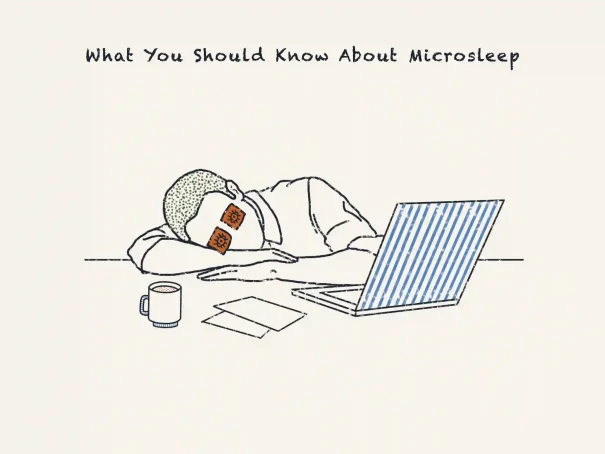 6 Things To Do When You Can't Sleep
Written by Mehran Uzair
Last Updated on Jul 21, 2023
Are you the one who wonders why I can't sleep at night? If you're struggling to sleep at night because of insomnia, stress, and overthinking, like most Americans, you need techniques and activities to unwind your mind.
The best way to sleep is through relaxation. Research shows that the relaxation response is a physiological process that positively impacts both the mind and body.
This article teaches you about the best relaxation techniques and things to do when you can't sleep at night.
Key Elements to Cultivating Relaxation
Important factors that boost the relaxation response include:
A Peaceful Environment
In addition to assisting you when you can't sleep, a peaceful environment encourages higher-quality sleep. Eliminating harsh, distracting noises and replacing them with soothing music or sounds can be helpful.
A Focus of Attention
Having a "stress buster" is good—a word, phrase, mantra, or visual image that captures your attention and diverts your stressful thoughts.
A Passive Persona
Realizing that it's normal for your mind to overthink or have concerns about different things and then guiding it back to calm and sleepiness.
A Relaxing Position
Knowing the sleeping posture that makes you most comfortable and at ease, choosing that position to have a cozy and better sleep. 
A Relaxing Sleeping Environment
Bedding is the most important factor in a relaxing sleep environment. The most calming music or sounds will only help if you complement a comfortable mattress, pillow, and blanket.
Relaxation Techniques for Sleeping
Your daily worry of "I can't sleep" is now getting over. Follow these relaxation techniques to have a peaceful night's sleep:
Controlled Breathing
Why It Works:
Taking slow, deep breaths shuts down your mind and increases calmness in your body. Another name for this technique is pranayama. Since it diminishes the brain's excitatory response, it relieves nervous-system stress and makes it easier to nod off.
How to Do It: Dr. Andrew Weil's 4-7-8 Method
For the breathing exercise, place the tip of your tongue close to the ridge behind your front two teeth.

Close your mouth and count four while slowly inhaling through your nose.

Hold your breath like this and count seven.

Gradually exhale through your mouth while counting eight.

Repeat this technique 3–4 times at night if you can't fall asleep easily.
What It's Great For:
The best relaxation technique for beginners is controlled breathing. Also, if you struggle with visual imagery, mantras, or other things.
Meditation And Mindfulness
Why It Works:
You are not the only one who lay in bed for hours, can't sleep, and stays up all night worrying. Mindfulness is the art of sensing or feeling at the moment through intense breathing, without being judgmental. It helps you keep centered and reduces anxiety and stress in your mind. Studies show that it has many other positive health benefits, including reducing insomnia.
How to Do It:
There are different types of mindfulness meditation, but the easiest and most popular one is body scan meditation.
Keep your eyes closed and inhale and exhale to feel relaxed and comfortable.

Notice the position of your body while performing this technique. 

Feel the sensations you have in your leg, feet, and other body parts.

The goal is to perform the body scan and discover your feelings without judging.

Start from your legs and move upwards towards your head.

Your entire body scan will initially feel difficult, but with time, it will make you calm and relaxed. The worries and stress you feel go away.
Who It's Great For:
Meditation is good for everyone, but it will take time to understand and practice it daily. Therefore, at least five minutes of daily meditation is recommended to sleep peacefully and quickly.
Progressive Muscle Relaxation
Why It Works:
Wondering and searching about, "Why can't I sleep?" Reasons are many—stress, anxiety, overthinking. The solution is progressive muscle relaxation. By gradually contracting and relaxing the muscles in your body with controlled breathing, this method can help you mentally and physically relax.
How to Do It:
To begin, take a few deep breaths in and out.

The next step is to tense your facial muscles (lips, eyes, and jaw) for ten seconds. Then, again, take a few slow, deep breaths in and out.

Then, tighten your shoulder muscles for 10 seconds, then release that tension. Take a few deep breaths in and out once again.

Do the same with your other muscles; you'll soon notice a difference. Feeling relaxed and calm, ready for sleep.
Who It's Great For:
It works best for people with insomnia. If used carefully, people with arthritis or any other physical pain will also find this technique helpful. For people with uncontrolled cardiovascular issues, it is not advised.
Imagery
Why It Works:
Focusing on a happy mental image from the past and taking in all of its details will help you unwind. The ideal solution for what to do when you can't sleep at night is to recall pleasant memories, as it won't require much effort.
How to Do It:
Close your eyes and lay on your bed in a comfortable position.

Now, start remembering your favorite peaceful memory from the past, like a beautiful mountain view, to relax. 

Slowly, start to think about all the details and things you did at that time in the past with controlled breathing. 

Keep adding the details to that close-to-heart memory and soon you will start absorbing the calmness of this happy energy.
Who It's Great For:
Visual thinkers and those who love to recall memories with details must use this technique for bedtime relaxation.
Other Tips to Help Fall Asleep Quickly
Even after being so tired, we can't fall asleep easily. Why? Because of worry, stress, overthinking, sleep disorders like insomnia, and other reasons. In addition to relaxation techniques, here are things to do when you can't sleep at night:
Reading a Book
If you're so worried about the future (or things to do) and feel like "I can't sleep," read a book. When you lose yourself in a good book, you enter another world and release all your worries. Also, if you're reading an ebook, read in night mode. Blue light brings focus and alertness and takes away your desire to sleep.
Keep a Journal
Writing about whatever you're experiencing or feeling is the best way to reduce anxiety and fall asleep quickly. In a research study, people with anxiety were asked to jot down their feelings for a month, which they did. They reported less mental stress and improved quality of life after just one month.
Use Some Essential Oils
Using sleep-inducing essential oils like lavender helps you relax if you can't fall asleep. The essential oil of lavender helps regulate a neurotransmitter, GABA, that reduces anxiety and relaxes your muscles.
Drink Herbal Tea or Warm Milk
What to do If you can't sleep? Drink herbal tea or warm milk. Why? Because milk is a fantastic source of magnesium and boosts the production of the sleep hormone, melatonin. Also, herbal tea helps with mind relaxation and promotes sleep because it has no caffeine. Herbs like chamomile, valerian, and lavender are best to have before sleep.
Perform light stretches
Light stretches with your muscles relax your mind and turn your focus towards your body rather than the next day's tasks to accomplish. Avoid physical activities like weightlifting, running, etc., which increase alertness. 
Avoid Scrolling Through Your Phone

It can be challenging in today's world, but resist the urge to start scrolling through your phone if you can't fall asleep. Blue light from phones, laptops, and other electronic devices increases alertness of the brain and reduces melatonin production.
Conclusion
Sleep is another important factor for having a quality life, similar to food and water. But because of stress, anxiety, sleep disorders, or various other reasons, people are having trouble falling asleep. What to do if you can't sleep at night? Start using relaxation techniques, read a book, write a journal, and explore many other ways to sleep peacefully and quickly. 
Disclaimer: This website does not offer medical advice nor professional medical services; rather, it is provided solely for educational, informational, and/or entertainment purposes. Individuals seeking medical advice should consult a licensed physician. The information provided should not be used for diagnosis or treatment of any condition, disease, or injury. When you have a medical condition, you should always talk to licensed doctor or other certified medical professional. You should never delay seeking professional medical advice or treatment based on the contents of this website. Call 911 or immediately go to the nearest emergency room if you think you may have a medical emergency. The contents of this website are provided "as-is", Dreamcloud Sleep and its parent, subsidiaries, affiliates, employees, contributors disclaim any warranty of the information contained herein. Please contact support@dreamcloud.com to report any errors, omissions, misinformation, or abuse.
Shop Our Most Popular Bedroom Must-Haves