The prevalence of upholstered beds has been quite widespread for the last few years, and hence it has made many buyers interested in what is an upholstered bed or what is an upholstered bed frame.  
An upholstered bed is defined as any bed frame (including the foot and headboards) that comprises materials other than wood, such as velvet, faux leather or suede etc.
The best thing about an upholstered bed is that it looks stunning; hence, the shift will be quite stylish for your bedrooms. The decor for your bedroom is essential to make you feel rejuvenated after a day of hard work, and hence we say that it is the best makeover you can get for your bed. The beauty of an upholstered bed is that it comes in tons of options.
What Does Upholstered Mean?
Before we discuss the formal upholstered bed definition, it is crucial to learn what an upholstered bed frame means. As stated above, upholstered usually means that the bed, including the headboard and the footboard, will have genuine fabric coverings like either velvet or even faux. However, this does not mean that wood is ideal for upholstered beds because the material must be some fabric.
The bed's look is often enhanced with the help of specific inclusions like either a sophisticated button or even luxurious lining, which gives it a gorgeous look. Sometimes there are extra paddings, which makes the bed look more elegant.
What Are the Benefits of an Upholstered Bed?
Now that we have fairly understood what upholstered means, it is equally important to analyze the benefits of this particular variant and why we should invest in the same. Some of the significant benefits of the upholstered beds are:
Variety of Options
If you love a lot of variation to choose from, then the upholstered beds are the perfect choice for you. Not only that, you can very well decide to design your very own upholstered bed, which will be unique in design.
Range of Fabric Styles
Usually, the fabric choice comes with various options like cotton, velvet, and various other specialized forms. In addition, there are ruffles and printed fabrics that will ultimately enhance the look of your upholstered bed.
Comfort
If you invest in an upholstered queen bed frame or even a king bed frame, it will keep your pillows in position and allow you to hold more heat in your bed. This produces a warm and soothing environment, which is great for sleeping. It also offers you better support, ensuring that your body has a much more relaxed and comfortable sleep to make you feel energetic.
Soft Visual Effect
Our bedrooms often have a lot of wooden items, be it our beds or even the cabinets or dressing tables. Simply replacing it with an upholstered bed will enhance the look and make it look comfortable and cozy.
Durable and Low Maintenance
Most upholstered beds are made of strong, high-quality hardwood that lasts a long time. The padded cushions further serve to protect the bed structure from outside influences that could damage it. Thus, you do not have to do much to maintain the longevity of your beds.
Easy Cleaning
Last but not least, cleaning your upholstered bed is not a big deal because it is very easy to handle. The commonly used upholstered fabrics are mostly stain-resistant and can easily be taken care of.
Different Types of Upholstered Beds
Upholstered beds come in different varieties. Below are a few of them.
Standard Beds
It is the basic form of an upholstered bed and mostly contains a box spring. Depending on your additions or subtractions, it can change the specifications from minimalistic to contemporary.
These typically start at $800.
Platform Beds
The major difference between an upholstered platform bed frame and the standard Beds is that the former does not require any special kind of box spring and is easy to install. Therefore, it is the perfect option if you do not have a very big bedroom space.
These typically range from $359 to $1,119.
Storage Platform Beds
As the name would suggest, this particular form of bed is ideal if you want to store extra things beneath your bed to save on space. The upholstered bed frame with storage comes within built cabinets which ensures that the bed rises a bit from the ground.
These typically start at $1,000.
Canopy Bed
The canopy bed is just like the formal meaning of a canopy with tons of layers on the top to give it a more comfortable and cozy appearance.
These typically cost around $500.
Wingback Bed
It looks more like a luxurious setup, and there are protruding wings from the bed, which makes it look taller than it already is. The wingback bed is often designed in a very fancy fashion, and it looks exuberant.
These typically range between $500 and $1500.
Panel Bed
The upholstered bed adds a panel to the bed, making it look much more plush and comfortable.
These typically cost around $600 and $700.
Sleigh Bed
Although the upholstered bed often overlooks the footboard, that is not the case with the sleigh beds. The footboard is similar to a sleigh here, and the buttons add to a more comprehensive look of the bed.
These typically start at $400 and go up to $2000.
Material Of Upholstered Beds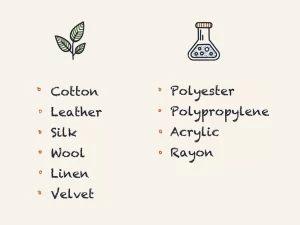 You may use different materials for upholstered beds. You can either choose natural fabric or synthetic fabric based on your requirements.
Natural Fabrics
Natural fabrics make for the best choice when it comes to upholstered beds. Here are a few options of materials you may use. 
Cotton
It is the most frequent fabric choice and is inexpensive but very comfortable and long-lasting.
Leather
Leather adds to a classy look; however, it is more expensive and does not fall under the category of affordable beds. However, it is resistant and durable.
Silk
It is the most expensive natural fabric choice for your upholstered bed; however, the look provided is majestic. In addition, it tends to come in many beautiful embroideries and can be customized.
Wool
It is the warmest fabric and makes your luxury beds comfortable. Also, it is effortless to maintain and, in most cases, quite resistant to stains and marks.
Linen
Linen is perfect for adult couples because it could be a little bit difficult to maintain because it easily catches stains. However, it looks beautiful.
Velvet
Velvet luxury bed frames look royal, and these are quite easy to maintain.
Synthetic Fabric
Many individuals prefer using synthetic fabric for their upholstered beds. Here are a few options you may choose from. 
Polyester
Polyester is a mixture of cotton and other fibers. It is durable and lasts you long.
Polypropylene
It is often called olefin; it looks glossy and easy to clean because of its water and stain-resistant qualities.
Acrylic
Although it gives off the look of a wool upholstered bed frame, it is not. However, it is pretty resistant to stain issues.
Rayon
Rayon is an easily procured raw material and was launched to compete against the traditional silk or linen but in a smaller price range.
Things to Consider Before Buying an Upholstered Bed
You must consider a few essential aspects before buying an upholstered bed so that it compliments the space where you place it. 
Size
The size of the upholstered bed is a significant factor to consider. You can very well choose to opt-in for the standard size, which is between 40-44 inches and can even go higher depending on your specifications.
Fabric
There are tons of fabrics available for an upholstered bed. However, we would suggest that you try to match the look of your room and then choose the Upholstered Bed fabric because it is a long-term investment.
Pet-Friendly Material
Having pets at home could invite scratches or even years on your upholstered bed. Hence choose a material that is resistant to the nails and will not allow easy damage.
Complementing Your Space
You have to choose a bed design that goes with the look of your room and does not make it look too exuberant. You may also consult an expert or research more before you choose your upholstered bed frame.
Colors
Although opting in for the gray variant is most common, you can easily opt-in for the pastel undertones, which look subtle and add to the vintage charm of your bedroom.
Volume
Before you buy an upholstered bed, be sure of the volume of your room. People often purchase bigger variants like the upholstered king size bed when ideal options should be smaller ones.
Conclusion
Investing in an upholstered bed is a long-term plan. So, you must not make your decision in haste. Instead, consider your requirements like the people who will be sleeping in it, the available space in your room, and also the overall decor of the house before spending on upholstered luxury bed frames. 
Choose wisely to ensure all the comfort in bed.
Disclaimer: This website does not offer medical advice nor professional medical services; rather, it is provided solely for educational, informational, and/or entertainment purposes. Individuals seeking medical advice should consult a licensed physician. The information provided should not be used for diagnosis or treatment of any condition, disease, or injury. When you have a medical condition, you should always talk to licensed doctor or other certified medical professional. You should never delay seeking professional medical advice or treatment based on the contents of this website. Call 911 or immediately go to the nearest emergency room if you think you may have a medical emergency. The contents of this website are provided "as-is", Dreamcloud Sleep and its parent, subsidiaries, affiliates, employees, contributors disclaim any warranty of the information contained herein. Please contact support@dreamcloud.com to report any errors, omissions, misinformation, or abuse.
Shop Our Most Popular Bedroom Must-Haves