Many times, we came across words that advised us not to be near bright colors before going to bed. Of course, this is true, but there is some knowledge about what color lights help you sleep. Yes, certain lights help you sleep better. This is because our body's sleep cycle is majorly functioned by the melatonin hormone. Now, specialized photoreceptors send the signal to our brain whenever there is any light and thereby influence the brain. 
It is according to 2017 studies that have stated how people were most sensitive to lights having wavelengths of 450 to 480 nanometers. And, for maximum people, this color tends to be blue. 
However, limited research has been conducted about the other lights and their effects on sleep cycles. But according to whatever number of researches conducted, the answer to what color light helps you sleep can be concluded to be warm colors. It aids in a better sleep cycle.
Most Relaxing Light Colors For Sleep
The answer to what color light helps you sleep is not only red. There are certain light colors that soothe you to sleep, and also have certain other purposes. When knowing what color promotes sleep, we need to know what functions each color posses. Before that, it should be noted that each color has its own charisma when it comes to characteristics. 
Under warm colors, we have red, orange, pink, brown, and yellow. And under cool colors, we have blue, green, gray, turquoise, purple, and more. According to the aforementioned studies that we have encountered, it can be plainly said that warm colors are the most suitable for sleeping or resting.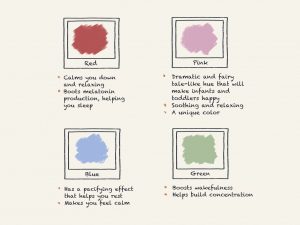 Let us now study what color light helps you sleep so that you can decorate your room accordingly. 
Red Light:

The perfect light to calm you down before sleep or even during it. If you are someone who cannot sleep with lights turned off, opting for the red light is the most decent choice you will make. It will calm you down, and boost your melatonin production, helping you to sleep. If you're wondering what color LED light helps you sleep, clearly select red. For someone who likes relaxing their nerves by practicing some yoga, guided breathing, white noise exercise, meditation, and so on. 


Pink Light:

Pink color is a dramatic and fairy-tale-like hue that will make your infant and toddlers go happy. This light is perfect to put on when the sunrise is too early. It is one of the most relaxing light colors for sleep and gives you a soothing effect. Moreover, this color is quite unique as well. If you are looking to revamp your yoga room, children's room, or your own bedroom, then a pink color light would be pleasant to go. Your children will definitely love you for this. 


Blue Light:

Blue light and sleep? Nay! But it does go with certain moods. Does blue keep you awake? Mostly yes. But this color provides a very pacifying effect that aids you to rest. You will often see blue lights turned on in rooms during the evening times and instantly feel very calm. Restaurants and cafes often have blue lights that help people relax while they eat and drink. Even blue LED lights are also widely available in the market, you can pick one to set in your drawing-room. 


Green Light:

You might have often come across green color lights in rooms of professional gamers and the reason is, that green lights boost wakefulness. Since playing games requires immense concentration, the light provides exactly the same. Intense gaming sessions and crucial game competitions mandate using green light colors. The green color works best in darkness because it pierces through darkness most efficiently. This is why placing them in a dark background lightens up the place and skyrockets alertness and enthusiasm.  If you are someone who likes to change between colors and wishes to shift from blue or white to something more powerful, then green is the option. 
After reading the article about what color light helps you sleep, we all know that red is the one. Red would be perfect if you wish to have some 'me-time' before sleeping off, practicing some yoga or listening to music, and pursuing similar activities. Whereas, pink is more suitable for a children's room because of the fairy-tale feel they would definitely enjoy. If you are a gamer and need to stay alert, then green is the color. Blue, though is not the most suitable color to lull you to sleep but is definitely quite relaxing in itself. Therefore, choose the one you feel like only after considering your wishes.
Disclaimer: This website does not offer medical advice nor professional medical services; rather, it is provided solely for educational, informational, and/or entertainment purposes. Individuals seeking medical advice should consult a licensed physician. The information provided should not be used for diagnosis or treatment of any condition, disease, or injury. When you have a medical condition, you should always talk to licensed doctor or other certified medical professional. You should never delay seeking professional medical advice or treatment based on the contents of this website. Call 911 or immediately go to the nearest emergency room if you think you may have a medical emergency. The contents of this website are provided "as-is", Dreamcloud Sleep and its parent, subsidiaries, affiliates, employees, contributors disclaim any warranty of the information contained herein. Please contact support@dreamcloud.com to report any errors, omissions, misinformation, or abuse.
Shop Our Most Popular Bedroom Must-Haves