Have you ever dreamt of falling off a cliff or robbers chasing you? You might wake up feeling anxious and disturbed. But why do you get weird dreams? Nightmares are common in kids. But grownups also are haunted by them. Research shows that about 29% of adults experience disturbing dreams. Several reasons might lead to this condition. We will take you through them in this article.
What Do Dreams Mean?
According to Sigmund Freud, dreams indicate your repressed thoughts when awake. So, your dreams express those thoughts you push to the back of your mind while awake. It might be a lofty desire or socially unacceptable behavior.
Another psychologist Carl Jung argued that dreams tell you about the neglected parts of yourself. Thus, they boost your self-awareness and provide insights into your mind.
Therefore, dreams can be an excellent bridge between your conscious and unconscious mind. It is not a wise idea to ignore them as insignificant. Your strange dreams might try to give you a signal. You never know.
7 Major Causes of Weird Dreams
You must have wondered, "Why are my dreams so weird?" Experts are yet to find a definite answer. But here are some exciting reasons that might lead you to have nightmares.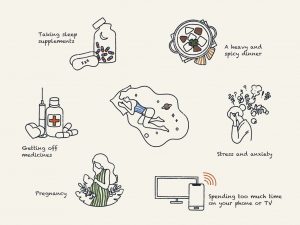 1. A heavy and spicy dinner
What you eat impacts your sleep. If you have a spicy dinner, you might have trouble falling asleep. As a result, you might get some crazy dreams.
Your meal size also matters. For instance, you gobble up tons of delicacies at your friend's birthday party. What would be the effect? You might end up tossing and turning in your bed. That is the ideal condition for disturbing dreams.
Does eating late cause weird dreams? Well, having your dinner late will not give enough time for digression. Thus, you will go to bed with incomplete digestion. It can raise your body temperature and prevent you from getting sound sleep, causing unpleasant dreams.
2. Stress and anxiety
A lot of events in daily life cause you anxiety. Some of them are quarrels with friends, office politics, and financial difficulties. They might even give you scary dreams.
A study conducted with 147 participants shows a direct relationship between anxiety, depression, stress, and nightmares. Thus, the more stressed out you are in your wakeful life, the higher the chances of getting bad dreams.
Post-traumatic stress disorder can also induce nightmares. PTSD is a condition where some shocking and stressful events continue to haunt you long after their occurrence. Survivors of traumatic events with PTSD are more likely to get vivid dreams. And those can be the exact recollections of the events.
3. Spending too much time on your phone or TV
If you love binge-watching your favorite shows before sleeping, you might get weird dreams every night. Watching a TV show might be an excellent way to relax after a tiring day. But the blue light emitted from your devices can do the foul play.
Children often struggle to fall asleep after watching something scary. That is because they cannot differentiate between the real and virtual worlds. Do you remember those haunting fictional characters from your childhood? Some of them could send shivers down your spine.
Studies, however, show that even adults find it hard to sleep after watching horror movies and shows. Thus, scary events strike us hard, whether in the virtual or real world.
Limiting your screen time before going to bed might be a good idea.
4. Substance Abuse
Alcohol and drug addiction can lead to dreams and nightmares. Too much alcohol consumption can mess up your sleep and take you to the land of not-so-pleasant dreams.
Using recreational drugs or even experiencing a withdrawal from drugs can lead to strange dreams.
5. Taking sleep supplements
Sleep supplements like melatonin can help you fall asleep in no time. However, they are one of the leading causes of weird dreams.
A 2015 case report looked at the effects of melatonin on a person who has insomnia. It shows that the person started having nightmares while consuming the drug. However, it stopped as soon as they discontinued the medicine.
Experts are yet to find a definite answer to this. However, it might be because melatonin induces a stronger REM cycle, leading to intense dreams. But more research needs to be done on the effects of melatonin on your dreams.
Natural sleep aids are far better. So dump supplements and take magnesium for sleep instead.
6. Getting off medicines
Suppose you are taking antidepressants and the doctor suggests discontinuing them. Unfortunately, that might have several side effects, including vivid weird dreams.
Antidepressants alter the level of neurotransmitters in your brain. So, stopping these medicines all of a sudden will affect how these neurotransmitters behave. And that can influence your dreams.
7. Pregnancy
Many women report having weird dreams during pregnancy. It might be because pregnancy causes several hormonal changes in the body. That, in turn, can lead to emotional disturbances, causing unpleasant dreams.
Weird Dreams During Pregnancy
According to psychiatry research, in 2008, vivid dreams are most likely influenced by the women's mood swings during pregnancy. And the fluctuating hormones can be the cause of weird dreams.
During pregnancy, the hormonal changes can sometimes cause irreverent stress; intense emotional reactions over trivial things like sobbing because someone ate the leftovers or that ice cream pint is nowhere to be found. These irrelevant causes and intense emotions can also be why weird dreams during pregnancy occur.
In addition, pregnant women are often advised to eat more because now they are "eating for two," which is necessary since it requires energy for the fetus to grow and mothers to carry them. However, women may eat more than necessary; instead of eating three fulfilling meals, the fourth meal slides in late in the night.
But does eating late cause weird dreams? The answer is simply yes, while the emotions are the height, some inadequate choice of emotional eating can surely result in weird dreams. Studies examined that certain foods can influence sleep quality and dream experience.
According to Tore Nielsen's research and study, dairy products were commonly seen as the instigator of strange dreams. Other types of food, including spicy, starchy, meat-heavy meals, and sweets, are more likely the culprits for crazy dreams.
How to Stop Vivid Dreams in Pregnancy
Dreams during pregnancy can have many possible explanations, and the most reasonable ones are mood swings and hormonal changes in the woman's body. And based on these limited explanations, the following are some tips on how to stop having weird dreams or at least simmer them down during pregnancy.
If the dreams are overly disrupting and causing stress, it is better to talk it through with your doctor or family.


Avoid eating spicy and heavy meals at supper.


Avoid eating sweets like chocolate or pudding near bedtime. They can potentially disrupt sleep quality and cause weird dreams.


Listening to soothing music might help alleviate some stressful and distracting thoughts.


Deep breathing and meditation can also prove to be helpful when woken up stressed and disturbed.


Watching unpleasant tv shows or movies right before bedtime may also contribute to vivid dreams. However, there isn't any solid proof if watching these kinds of movies or shows will affect the baby or not since there isn't much research or deep studying.


Furthermore, vivid dreams during pregnancy can be the mind's way of sorting emotional feelings and thoughts of women, which can be both positive and negative.  
How to Stop Having Weird Dreams
If you are thinking about how to stop having weird dreams, here are some superb tips for you.
Manage your stress and anxiety
Stress and anxiety are like your loyal partners in everyday life. However, you have to cope with them well. Here's how you can cope with stress like a pro.
Deep breathing

Meditation

Exercise

Going for walks

Connecting with nature

Indulging in your hobbies

Use

essential oils
You should also get enough rest every day. That will prevent your mind from getting overwhelmed with too many thoughts.
Eat healthily
A healthy and balanced diet will solve half of your problems in life. So, cut down on those unnecessary carbs. You can include more fruits and vegetables in your diet. That will keep you energetic and fresh throughout the day. Also, make sure you drink a lot of water and stay hydrated.
What are the foods that cause weird dreams? Well, oily and spicy stuff or anything hard to digest can affect your dreams.
Get medical attention
You have tried everything under the sun. But you are still wondering, "Why are my dreams so weird and random?" Then it is time for you to seek medical help. Some physical or mental health problems might be troubling you.
Your doctor will be able to guide you best in solving your problem. They don't usually recommend medication. However, if the problem is stress and anxiety, they might suggest some antidepressants or mood uplifters.
Final Word
You must never ignore your dreams. They can make you aware of an underlying condition. And, when you take care of it, you can lead a better life.
Now that you know why do we have weird dreams, you can work towards preventing them.
Disclaimer: This website does not offer medical advice nor professional medical services; rather, it is provided solely for educational, informational, and/or entertainment purposes. Individuals seeking medical advice should consult a licensed physician. The information provided should not be used for diagnosis or treatment of any condition, disease, or injury. When you have a medical condition, you should always talk to licensed doctor or other certified medical professional. You should never delay seeking professional medical advice or treatment based on the contents of this website. Call 911 or immediately go to the nearest emergency room if you think you may have a medical emergency. The contents of this website are provided "as-is", Dreamcloud Sleep and its parent, subsidiaries, affiliates, employees, contributors disclaim any warranty of the information contained herein. Please contact support@dreamcloud.com to report any errors, omissions, misinformation, or abuse.
Shop Our Most Popular Bedroom Must-Haves