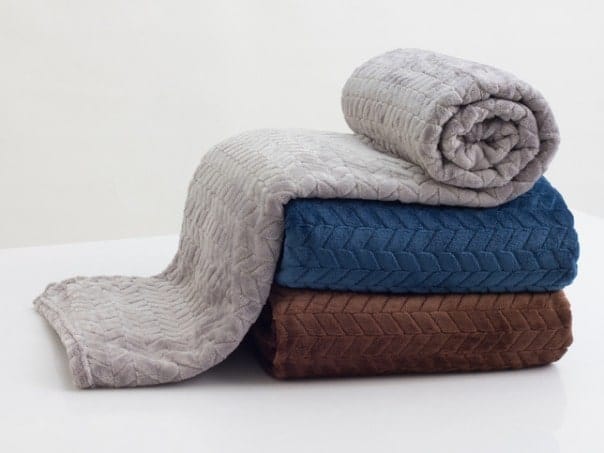 Whether it's a breezy summer night or a chilly winter day, all we need is a blanket to make us feel cozy and relaxed in bed after a hectic day. While we think of blankets as a piece of linen that exists to keep us warm, there are a variety of blankets that serve different purposes. 
If you are on a hunt for the best blankets, you are at the right place. However, the best blanket for a kid might not be the same for an adult. And the best one for summers would certainly not be the same for winters. Based on the benefits they offer, we will cover a few most popular types of blankets in this article. 
Different Types Of Blankets
From a coverlet to a comforter and everything in between, below are different types of blankets with pros and cons to help you evaluate the ideal one for you.
Duvet
A duvet is like a blanket with a few differences in thickness, warmth, and softness. It is generally more thick and soft. A duvet has two pieces, an outer cover and an insert whereas a comforter is just one piece. And since it comes with an outer case, it's warmer than a comforter which is used without one. 
Moreover, it comes in various sizes (check out the size guide), making it ideal for every bed. 
Pros 
It is easy to clean as you can change the cover 
You can opt for a variety of colors, fabrics, patterns, and designs for the cover
Perfect for cold weather or surroundings
Highly durable
Cons 
The filling can be bunched together
It cannot be used without a cover
Comforter
A comforter is made using two large fabrics stitched together to form a pouch and filled with feathers, polyfill, or cotton. Most commonly, a comforter comes with a blend of polyester and cotton covering.
It is one of the most common types of blankets. It varies in softness based on the filling and fabric used.
Pros:
It is soft and keeps you warm
It is lightweight
Looks stylish
It can be used with duvet covers
Cons:
Not ideal for summers
Not suitable for machine-washing
Quilt
A quilt is made up of small and multiple colorful fabrics stitched together to make a 3-layer piece. While the top and bottom layers are of a fabric, it is stuffed with cotton, wool, or polyester in the middle, providing warmth.
Since quilts are also made from cotton, you can use them in summer or light winters.
Because of its unique stitching pattern and the availability in various sizes, fabrics, and designs, you can give your room a distinct touch by adding some of your favorite ones.
Pros:
It is cooler than comforters
It can be carried easily while traveling
Cons:
Not easy to clean at home, dry-cleaning is required.
Throw Blanket
A throw blanket is an easy-to-use, lightweight blanket that is used for decorative purposes. It generally acts as a light cover over beds and sofas.
Although throw blankets can be made from various materials, mostly those are made using light ones.  Apart from using them for decoration purposes at home, you can carry them for picnics and feel funky.
Pros:
Ideal for wrapping around yourself while relaxing any time of the day
Light in weight and easy to carry on trips
Can groom your room
Cons:
Don't give much warmth
It can't be used by multiple people at a time 
Coverlet
This one type of blanket is purely used for decorative purposes rather than to keep you warm. It is usually put on the top of your bed over other blankets that keep you warm. The sides of the covering can be tucked in or left hanging down a few inches to the box spring.
Pros:
Lightweight and easy to carry
Adds elegance to the bed and room
It can be washed easily
Cons:
It doesn't provide warmth.
Weighted Blanket
As the name suggests, weighted blankets are bulky as they are filled with heavy materials like plastic pellets or glass beads.  They are also known by the name gravity blankets and are used by therapists for their patients. These blankets give a soothing feel to people who wish to improve their sleep quality by not tossing and turning around.
Occupational therapists use weighted blankets to reduce anxiety, depression, and other similar disorders in their patients. 
Pros:
Helps with sleep apnea and restless leg syndrome
Improves mental health by reducing stress and anxiety
Help ADHD patients focus and stay calm 
It helps children with autism
Cons:
Not easy to carry while traveling
Cleaning isn't effortless
Electric Blanket
Made with heavy wiring material, electric blankets are a popular choice for chilled winters. The blanket's temperature can be controlled using a remote and made warmer and cooler based on the requirements. Since they use a wiring system to provide excessive heat, there are certain hazards like fire or current. To prevent the same, they are made of polyester and acrylic material.
You shouldn't leave this blanket plugged in when you aren't using it. Moreover, you should try to check for damages in the fire and replace them as soon as possible
Pros:
A great choice for excessive winters
Relieves pain
Help you sleep better by improving your mood
Cons:
Can cause accidents - fires and burns
Different Types of Blanket Materials
Blankets and comforters are available in a variety of fabrics. If you are confused about the blanket fabric or blanket material types that would suit your needs best, we've simplified it for you. Learn what is the best blanket material and pick the ones most suited to you. 
Cotton Blankets
Cotton blankets are hypoallergenic and breathable blankets made using a single 100% cotton fabric. They are ideal for infants and kids and anyone with sensitive skin. The best part about them is they can be used all year - irrespective of the season. You can use them in winters as a bedcover, or on cold summer nights, or even on a hot summer day while using an air conditioner.
Down comforters
Although lightweight, down comforters, are warm as they are made using the soft feathers of birds. The down filling is used in comforters, duvets, and blankets. Blankets are less warmer and thinner than comforters. So, the down blankets are ideal for people who find the comforters too warm.
Wool Blankets
Wool is one of the warmest blanket materials that have been in use for centuries. Blankets made of wool are either knit or woven and finished with a fringe.
They are good insulators that keep warm air in and cold air outside the blanket while making them breathable.
Fleece Blankets
A fleece blanket is the most common type of blanket used over or below a bed cover. Made using polyester or cotton fabric, fleece is an excellent alternative to wool and possesses anti-allergic properties. 
The material is light but yet keeps you warm during winters.
Microfiber Blankets
A microfiber blanket is made using multiple fibers like polyester, rayon, and nylon to make it the softest, smoothest, and most clean fabric. It can be seen as a finely-woven polyester blanket with dust particles that cannot penetrate or enter it, making it hygienically the safest to use. Like a cotton blanket, a microfiber blanket is soft and comfortable to use, making it ideal for skin allergies.
Acrylic Blankets
Made using fossil fuels like petroleum, the acrylic blanket is light-yet-warm. It has a wool-like texture and feels that keep it warm. For this reason, it a less breathable.
But unlike wool, it would never attract moths and can be stored for long periods. And in fact, it is easy to wash and dry with warm water without getting them damaged. They come in a variety of elegant colors and styles. But they are not environmental-friendly and, in fact, cause cancer.
Polyester Blankets
Polyester is commonly found in most blankets, even if in little quantity. Usually, it is blended with cotton and serves as the most popular choice in coverings. The best part about it is its ability to be washed and dried several times without losing its shape and color. 
Bamboo Blankets
Excellent at absorbing sweat, a bamboo blanket is one of the most innovative products for regulating heat at night. It keeps your body dry and insulated while trapping the warm air in the fibers. 
With a huge variety of blankets in the market, it's difficult to say which one would be perfect for everyone. However, you can make the most out of the details given above to choose the one that matches your requirements. Moreover, we've answered a few commonly asked questions to help you get more specific answers and choose the best for yourself.
Disclaimer: This website does not offer medical advice nor professional medical services; rather, it is provided solely for educational, informational, and/or entertainment purposes. Individuals seeking medical advice should consult a licensed physician. The information provided should not be used for diagnosis or treatment of any condition, disease, or injury. When you have a medical condition, you should always talk to licensed doctor or other certified medical professional. You should never delay seeking professional medical advice or treatment based on the contents of this website. Call 911 or immediately go to the nearest emergency room if you think you may have a medical emergency. The contents of this website are provided "as-is", Dreamcloud Sleep and its parent, subsidiaries, affiliates, employees, contributors disclaim any warranty of the information contained herein. Please contact support@dreamcloud.com to report any errors, omissions, misinformation, or abuse.
Shop Our Most Popular Bedroom Must-Haves