Blanket Sizes and Dimensions: A Complete Guide
Posted By Vaibhavi K on Aug 4, 2021
We cannot neglect the influence of blankets in comforting us on cold nights and giving our beds an aesthetic look. Blankets, although essential, can come in different shapes, sizes, materials and confuse a potential buyer. Fortunately, blankets are grouped into various sizes to make choosing one easier for the consumers.
In this blog post, we will discuss everything about blankets and blanket measurements.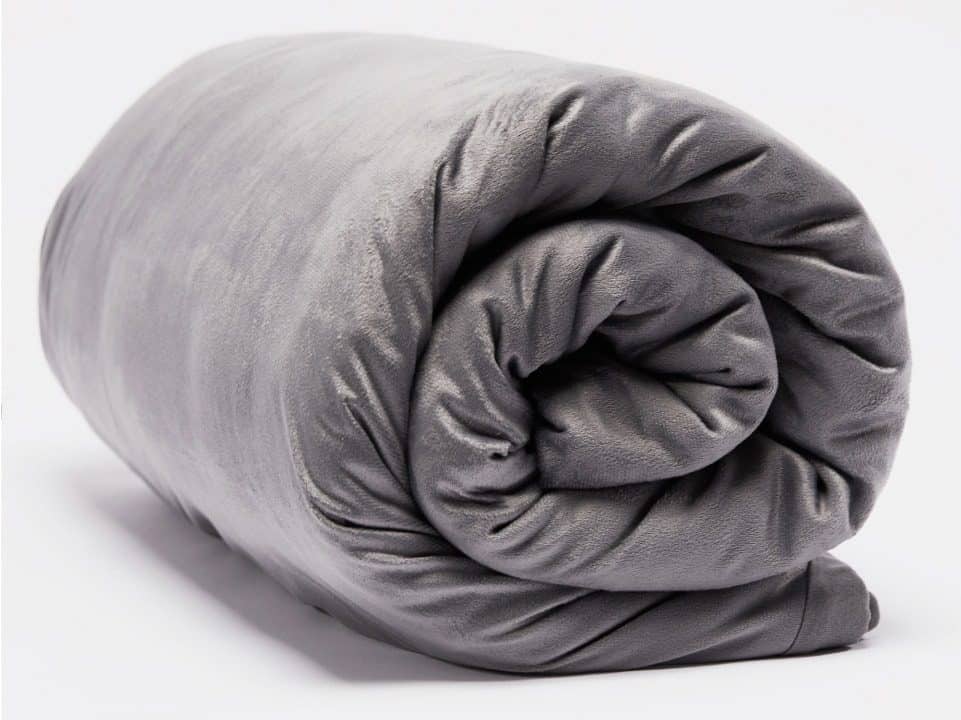 Check Out Dreamcloud Serenity Sleep Weighted Blanket
Standard Blanket Sizes Chart
| | | |
| --- | --- | --- |
| Blanket Type | Blanket Sizes in inches | Blanket Sizes in CM |
| Lovey | 12 by 12 inches | 30 by 30 cm |
| Baby | 14 by 16 inches | 36 by 41 cm |
| Cradle | 14 by 30 inches | 36 by 76 cm |
| Premie | 18 by 24 inches | 46 by 61 cm |
| Stroller | 22-30 by 30-36 inches | 51-76 by 76-91 cm |
| Lapghan | 36 by 48 inches | 91 by 122 cm |
| Receiving | 40 by 40 inches | 102 by 102 cm |
| Crib | 45 by 60 inches | 114 by 152 cm |
| Throw | 50 by 60 inches | 127 by 152 cm |
| Afghan | 50 by 65 inches | 127 by 165 cm |
| Twin | 65 by 90 inches | 165 by 229 cm |
| Double | 85 by 90 inches | 216 by 229 cm |
| Queen | 90 by 90-100 inches | 229 by 229-254 cm |
| King | 108 by 90-100 inches | 274 by 229-254 cm |
Lovey
Loveys are perfect for at least 1-year-old infants and toddlers. These are 12 by 12-inch security blankets with soft toys attached to them. Security blankets provide infants psychological support and are preferred by toddlers.
As per a study by the American Academy of Pediatrics (AAP), children under one year should not use lovey.
Baby
Baby blanket sizes are 14 by 16 inches. These are usually crocheted by hand. Baby blankets come in various sizes and designs to provide the proper comfort for your toddler.
Cradle
Cradle blankets are primarily used to keep infants warm throughout the night. A cradle blanket measures 14 by 30 inches, which is a perfect size for a cradle.
Premie
These 18 by 24 inches blankets are for babies in the Neonatal Intensive Care Unit. Premie blankets are warm enough to wrap the babies for the time they are in the NICU. These blankets are usually made from yarn.
Stroller
Stroller blankets are generally for babies in their stroller or car seats. They are similar to throw blankets for adults.
Lapghan
Lapghan measures 36 by 48 inches. Lapghan blankets are also known as lap-size Afghan, wheelchair blankets, and hospice lap blankets. Wheelchair users commonly use Lapghan blankets to keep them warm.
Receiving
Receiving blankets are light, delicate, and specially made for infants. They measure only 40 by 40 inches but can easily cover the baby.
Crib
Crib blankets are specifically made for toddler beds. These super soft blankets help your baby sleep comfortably.
Throw
Throw blankets are primarily used for decoration. You can arrange them over your couch or on your legs while watching a movie. However, these blankets are not large enough to cover your whole body while you sleep. Throw blanket sizes approximately 50 by 60 inches.
Afghan
As the name suggests, these blankets originated in Afghanistan. Afghan blankets are beautiful, as well as cozy. Afghan blanket sizes do not have a regular measurement. But in most places, you can find 50 by 65 inches Afghan blankets.
Twin
Twin size blankets measure 65 by 90 inches. The blankets can easily fit on twin beds and twin XL mattresses.
Double
As the name suggests, they are suitable for double or full-size mattresses. Full-size blanket dimensions are 85 by 90 inches.
Queen
Queen size blanket dimensions are 90 by 90-100 inches. Queen blankets are an excellent fit for queen size beds.
King
King blankets are 108 by 90-100 inches. King size blanket dimensions go well with a standard king-size bed and a California king bed.
Difference Between a Comforter and a Blanket
In simple words, all comforters can be used as blankets. However, we cannot use blankets as comforters.
Blankets are a single layer of fabric without a filling. On the other hand, comforters are made of two layers of fabric with filling inside them.
Most sleepers use a comforter as the main warm blanket and a single-layer blanket as a throw on the top.
Conclusion
As we have learned, there is a blanket for every need. The right blanket not only gives an aesthetic look to your bed but also gives you the comfort you deserve. We suggest understanding your requirements and buy the perfect blanket for yourself.
FAQs
What is the best type of blanket?
The best blanket for a baby may not be the best one for an adult. The answer lies in your needs and mattress dimensions in some cases. For instance, If you require a blanket for a standard king-size bed, we will recommend a King size blanket.
How heavy should a weighted blanket be?
According to experts, a blanket can weigh 10% of your body weight. However, consider your preference and pick the one that suits you the best. If you want to learn more about the ideal blanket weight.
Can you wash the blankets in a washing machine?
You can machine wash blankets weighing up to 20 pounds in cold water with a mild detergent. If possible, avoid using bleach and fabric softeners, as they may ruin the fabric quality.