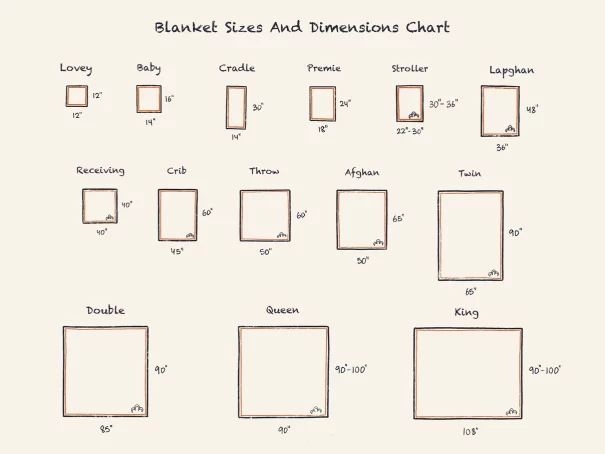 Blankets are such diverse products. Imagine sleeping without a blanket for a week; you probably can't! Many of us cannot survive a night without a blanket because of all the comfort and a secure feeling it provides. This is why you need to focus more on blanket sizes and pick the right one. If you have recently moved to a new house, you will be perplexed by all the blanket sizes available. Don't worry! Simply remember your mattress size and pick blanket sizes adhering to that. You may go one size up while buying, but not more than that. 
Blanket sizes differ in purposes, just like babies will need a lovey, cradle, crib, receiving, stroller, or similar ones. On the other hand, blanket sizes for your sofa or bed decor will vary. You might buy Afghan blanket sizes because of all the detailed handwoven designs it contains. 
What is a Blanket?
A blanket is the most wanted and basic necessity for your bedding. Consider the blanket as the best accompaniment for your mattress. Blanket sizes are abundant in number because mattresses are equally eclectic - full, king, queen, twin, twin XL, and so on. From providing the much-needed warmth to protecting your mattress, to being a decor piece, to resulting in prolonged longevity of your mattress - a blanket is indeed a blessing to your bedding. 
Blanket Sizes Chart
| Blanket Type | Blanket Sizes in inches | Blanket Sizes in CM |
| --- | --- | --- |
| Lovey | 12 by 12 inches | 30 by 30 cm |
| Baby | 14 by 16 inches | 36 by 41 cm |
| Cradle | 14 by 30 inches | 36 by 76 cm |
| Premie | 18 by 24 inches | 46 by 61 cm |
| Stroller | 22-30 by 30-36 inches | 51-76 by 76-91 cm |
| Lapghan | 36 by 48 inches | 91 by 122 cm |
| Receiving | 40 by 40 inches | 102 by 102 cm |
| Crib | 45 by 60 inches | 114 by 152 cm |
| Throw | 50 by 60 inches | 127 by 152 cm |
| Afghan | 50 by 65 inches | 127 by 165 cm |
| Twin | 65 by 90 inches | 165 by 229 cm |
| Double | 85 by 90 inches | 216 by 229 cm |
| Queen | 90 by 90-100 inches | 229 by 229-254 cm |
| King | 108 by 90-100 inches | 274 by 229-254 cm |
Baby Blanket Sizes
If you are a would-be parent or just had your little bunch of happiness, you would be delighted to read the following blanket sizes explained in terms of sizes, comfort level, and also age-wise.  
Lovey Blanket Size 
The blanket you notice a newly born baby snuggled in with a stuffed animal or toy attached to it is a lovey blanket. These blanket sizes measure 12 inches wide and 12 inches long and act as a security blanket for those delicate humans. However, AAP recommends that this blanket be used only when your child is a year old. 
Baby Blanket Size 
A crocheted piece measuring 14 inches wide and 16 inches long, these baby blankets are suitable for infants and toddlers and act as a security blanket during their early ages. It comes in diverse designs and fabrics to attract their eyes.
Cradle Blanket Size 
As can be understood from the name, cradle blankets are made for infants and measure 14 inches wide and 30 inches long. 
Premie Blanket Size 
A special blanket, a premie blanket, is specially curated for premature babies in the Neonatal Intensive Care Unit (NICU). The blankets guard them till they are mature enough to leave the NICU. The blanket sizes of a premie blanket are 18 inches wide and 24 inches long. 
Stroller Blanket Size 
A stroller blanket acts like a lapghan or throw blanket for babies. It measures 22-30 by 30-36 inches and is perfect for tugging your baby when they're in a car seat or a stroller. 
Receiving Blanket Size 
Smaller than the regular swaddling blanket, still big enough for swaddling, acts as a burp cloth, changing mat, or tummy time blanket; receiving blanket size is 40 inches wide and 40 inches long. Majorly used for infants and toddlers, this blanket is sold in packs.
Crib Mattress Size 
A crib blanket is highly suitable for a toddler bed or maximum cribs. The blanket sizes of crib blankets are 45 inches wide and 60 inches long. This blanket also acts as a changing station if you're ever in trouble.
Decorative Throw Blankets
Here comes the favorite part for home décor enthusiasts. Decorative throw blankets are one of the most multi-functional products available. They are not only intricately designed but also serve the objective of providing warmth to the user.  
Lapghan Blanket Size 
Lapghan blankets are beautiful crocheted pieces measuring 36 inches wide and 48 inches long. Lapghan blankets serve a unique purpose of providing warmth to especially wheelchair users, hospice lap blankets, or bedridden people. This is why you will often come across hospitals taking handwoven lapghan blankets as donations. 
Afghan Blanket Size 
Probably the most pleasing of all decorative types of blankets, an Afghan blanket is an immensely charming piece of art. It is made in Afghanistan using the most delicate crocheted designs and karakul wool. The blanket dimensions are 50 inches wide and 65 inches long. They are not just charming but offer immense comfort. This might act as an immaculate idea to decorate your sofa. 
Throw Blanket Size 
This is precisely the throw blanket you always see when visiting a home decor outlet. It is characterized by the pop of color, elaborate designs, and mattress dimensions of 50 inches wide and 60 inches long. You can also place it at the end of your bed or simply throw it on your lap while watching Netflix and chilling. Though, it is to be noted that a throw blanket doesn't cover your entire body.
Standard Blanket Sizes for Mattresses
The standard blanket size depends on the size of your mattress. You don't wish to buy a shorter or dangling blanket from the ends of your mattress. The perfect size can only be determined after studying the different blanket sizes. A few inches bigger or shorter will pose a considerable sizing difference on your bedding. 
Twin Size Blanket Dimensions 
If you have a twin size bed, simply opt for a twin size blanket measuring 65 inches wide and 90 inches long. Not only twin size mattresses, but it will also suffice twin XL mattresses. 
Double(full) Blanket Size Dimensions 
As can be comprehended from the name, a double or full bed is suited for a full size mattress. The blanket dimensions are 85 inches wide and 90 inches long.
Queen Size Blanket Dimensions
Own a queen size mattress? Opt for queen blanket sizes measuring 90 inches wide and 90-100 inches long. Queen blanket size will also fit a thick full bed or a thin king bed. Therefore, if you own either of them, you save quite some amount.  
King Size Blanket Dimensions 
The most enormous one of the different blanket sizes. A king size blanket comes at measurements of 108 inches wide and 90 to 100 inches long. If you are someone owning a California King size bed or a standard king, select a blanket size that has longer ends as the Cal King bed is elongated in the ends by 4 inches. 
Specialty Blanket Sizes
Considering the diverse types of blanket sizes, some specialty blankets are not solely used for covering the mattress. For instance, the premie blanket is exclusively made for premature babies in the Neonatal Intensive Care Unit (NICU). Then, on the other hand, a lapghan blanket measuring 36 inches wide and 48 inches long is suitable for wheelchair users, hospital patients, and similar ones.
How to Choose the Right Blanket?
Choosing the right blanket size is quite crucial because of your mattress. If you are looking for blankets for your mattress, you can utmostly opt for a blanket size one size up and not more than that. It will mostly dangle at the ends of your bed. If you buy a mattress for your baby, consider their age, like a crib or cradle or similar ones. 
If you wish to purchase a multi-purpose blanket, simply choose something large and adaptable. That blanket size will suffice when your baby is a newborn until they are toddlers. 
For decoration purposes, an Afghan or lapghan or throw blanket will be more relevant. 
Blanket sizes are plentiful in count, but understanding what you need is the deal. You need the best for your baby, therefore, consider all sizes, starting from lovey to crib size. If you don't wish to change from one blanket size to another constantly, consider opting for slightly bigger blanket sizes.
Disclaimer: This website does not offer medical advice nor professional medical services; rather, it is provided solely for educational, informational, and/or entertainment purposes. Individuals seeking medical advice should consult a licensed physician. The information provided should not be used for diagnosis or treatment of any condition, disease, or injury. When you have a medical condition, you should always talk to licensed doctor or other certified medical professional. You should never delay seeking professional medical advice or treatment based on the contents of this website. Call 911 or immediately go to the nearest emergency room if you think you may have a medical emergency. The contents of this website are provided "as-is", Dreamcloud Sleep and its parent, subsidiaries, affiliates, employees, contributors disclaim any warranty of the information contained herein. Please contact support@dreamcloud.com to report any errors, omissions, misinformation, or abuse.
Shop Our Most Popular Bedroom Must-Haves