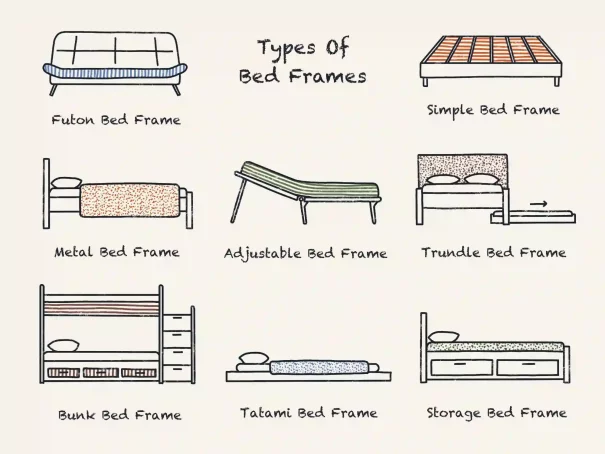 26 Types of Bed Frames & Styles Explained
Written by Mehran Uzair
Last Updated on Jul 21, 2023
Choosing the perfect item while shopping is a dilemma in itself. And when it comes to house furniture, there can be so many choices and colors and aesthetics to choose from, where bedrooms are the hardest to furnish; considering it is one's safe zone, making it homey and comfy is the top priority. 
However, it won't take much longer to decide on other furniture if one knows what kind of bed frame is suitable for their room. But, with numerous types of bed frames is like searching for the brightest and biggest diamond among the common rocks. 
Anyhow, to buy a frame, it is important to know what a bed frame is?
What Is a Bed Frame
A bed frame is a framework designed to support the mattress and box spring. It refers to the railing that holds the mattress; some features include a headboard and footboard.
Bed frames help mattresses keep them safe from molds, moisture, and dust. However, bed frames come in various types and different styles, such as low bed frames, single bed frames, double bed frames, high bed frames, modern bed frames, bed frames with headboards, bed frames with drawers, and floor bed frames, etc. 
With this many choices, everyone prefers a good and the best one among them; however, to know what makes a good bed frame, one must first know the types of bed frames.
All the bed frames are structured according to the standard sizes of bed, as shown in the table below:
| Standard Bed Frame Size | Dimension (Inches) | Dimension (cms) | Surface Area | Minimum room size |
| --- | --- | --- | --- | --- |
| Twin | 38" x 75" | (97 x 191)cms | 2,850 sq in | 7 x 9 sq fts |
| Twin XL | 39" x 80" | (99 x 203)cms | 3,120 sq in | 8 x 10 sq fts |
| Full | 54" x 75" | (137 x 190)cms | 4,050 sq in | 9 x 9.6 sq fts |
| Queen | 60" x 80" | (152 x 203)cms | 4,800 sq in | 10 x 11 sq fts |
| King | 76" x 80" | (193 x 203)cms | 6,080 sq in | 12 x 9.10 sq fts |
| California King | 72" x 84" | (183 x 213)cms | 6,048 sq in | 13 x 13 sq fts |
Types of Bed Frames
There are various types of bed frames, not to mention every now and then, the hybrid versions of two different types of bed frames pop up. However, here are the 26 best types of bed frames, with the pros and cons. 
Simple Bed Frame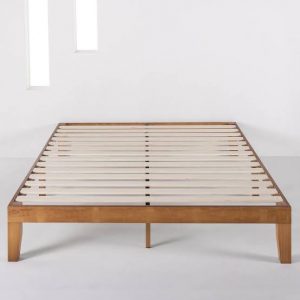 Simple bed frames have the most basic structure. It has four legs that hold the framework and the beams. It does not come with a headboard or footboard, which can be bought separately. 
Pros
Simple bed frames can be one of the cheapest types of wooden bed frames. They don't necessarily occupy extra space and provide average storage space beneath. It is affordable and can be an easy DIY. 
Cons
The durability, sturdiness, and cost depend on the material it is made with. The higher the quality, the more durability and costs. 
Who Should Buy
It is ideal for people who want a wooden bed frame that will not cost as much because of the affordable price.
Metal Bed Frame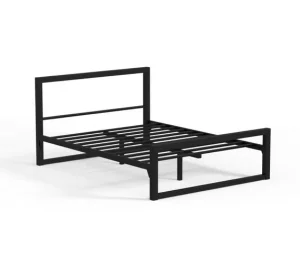 Metal bed frames are made of metal and can stand more weight. There are other types of metal bed frames made of aluminum, iron, brass, or steel. They sometimes come in with a headboard and a simple design. Their prices can range from $200 to $1500.
Pros
Metal bed frames are, without a doubt, strong and sturdy. And even the standard metal bed frame is less prone to damage. They are long lastingly durable and affordable. 
Cons
Besides being sturdy, metal bed frames can also be uncomfortable, and if the design and material choices are flimsy, they may not support the mattress properly. Plus, they can rust easily if exposed to humidity.
Who Should Buy
Metal bed frames are popular among sleepers that value affordability and durability. And because of its robust structure, it is good for children.
Upholstered Bed Frame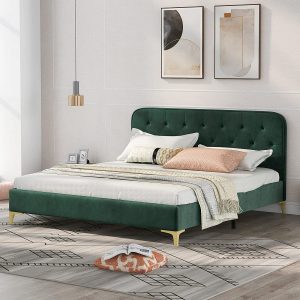 Bed frames, including baseboards, sideboards, and headboards covered in fabrics like faux leather or suede, velvet, or other materials, are called upholstered bed frames. Depending on the size and quality, the prices can range from $500 to $2000.
Pros
Due to the padding and fabrics, they provide cushioning. Plus, they come in various designs and are often found with embroidery or buttons studded on them.
Cons
They are high-maintenance and need constant vacuuming and cleaning. And since they are fabric coated, they are highly susceptible to damages like grease spots, tears, and dents.
Who Should Buy
It is perfect for rooms with classic and traditional themes or a large master bedroom that requisites the cozy vibes. 
Adjustable Bed Frame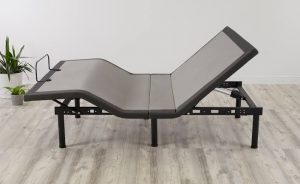 Adjustable bed frames are designed to support every part of the body by adjusting its positions. It elevates the night experience by providing comfort and adequate support. The prices can range from anything over $800, excluding the mattress cost.
Pros:
It can be adjusted as per comfort, improving sleep quality and reducing snoring. The adjustable bed provides adequate positions that help cure and lessen chronic pains.
Cons
They are costly. Plus, the regular mattress is not compatible with an adjustable bed frame adding to the cost. And with various quality and types of adjustable bed frames, choosing the right one can be hard.
Who Should Buy
They are usually used in hospitals and bought for people who have chronic pains or illness and for motion-challenged patients.
Platform Bed Frame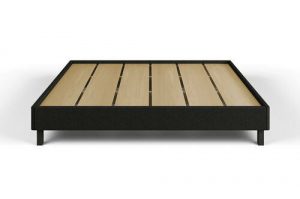 A platform bed frame features a base like a built-in spring box with flexible wooden slats that helps support the mattress alone, and four small legs slightly elevate the whole frame. Depending on the material and quality, the prices can range from $300 and go up to $1000 and more.
Pros
Although there are other types of bed frames that require box spring, a platform bed does not. Since the raised wooden slate helps support the mattress. Plus, it will give a sleek touch to the room.
Cons
The mattress sits directly on the wooden slates; they get hardened. And the height of the bed can be relatively low.
Who Should Buy
It is a good choice of bed for people with small spaces. And with its low profile, it will not look too crowded.
Ornate Bed Frame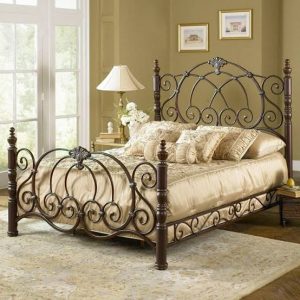 Ornate bed frames are usually made of iron or other types of metals. And come in with elaborated designs on headboards and footboards. The price ranges from over $900-$1000.
Pros
They are luxurious and regal, adding a charismatic touch to the room with their antique designs.
Cons
Since they're mostly custom-made, they can cost a fortune or two.
Who Should Buy
The ornate bed frames were very popular in the 18th century, but as of now, it has gone down because of the many other possible options. However, antique collectors can find it a perfect collectible.
Wrought Iron Bed Frame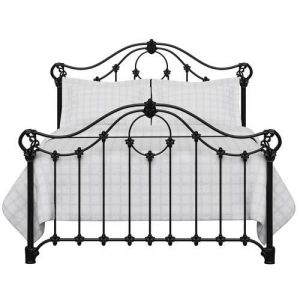 Wrought iron bed frames are made of the strongest metals and have a sturdy framework. They come in an array of designs. The prices start from over $500 and reach up to $4000- $5000. 
Pros
Wrought iron beds do not require consistent cleaning and caring and last longer. Along with being low maintenance, they are lightweight and easy to move.
Cons
Though they are made in various designs and styles, it can be hard to change the room's aesthetic at wish. 
Who Should Buy
Although it is not one of the ideal kids' bed frames, they can serve as one; also in the guestroom since it is better to keep rooms that need low maintenance.
Sleigh Bed Frame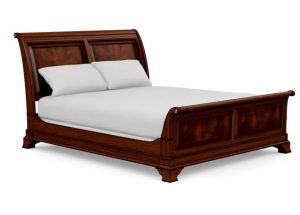 That's right. It's a bed frame shaped like a sleigh. The curved framework gives them the name. Sleigh beds are classic bed frames that were created in the 19th century. 
The unique design has withstood the test of time and will probably stick around for more years to come. And depending on the quality and material used in manufacturing, the prices can range from $300 to over $2000.
Pros
Sleigh bed frames come in an array of designs, all ranging from high-quality wooden styles to upholstered versions with more elegant silhouettes.
Cons
Some people consider their design to be bulky and crowded, and though they provide storage underneath, the space isn't much to cover up its occupancy.
Who Should Buy
The robust and sturdy structure of sleigh bed frames is good for regular use and gives luxurious and regal vibes to the room. Hence it is good for the master bedroom and guest rooms.
Spindle Bed Frame

Spindles are a minimalist bed frame and a mid-century design. The framework is simple that has spindles incorporated in the headboard and sometimes in the footboard. The headboards are a touch taller than other bed frames. Their price range starts at $300 and can reach over $1000.
Pros
The space between the spindles gives a light and breezy feel. Spindle bed frames are more lightweight than other solid headboard bed frames.
Cons
Ironically, the unique feature of the bed is also the flaw it possesses. Since the headboard is all wood with interstices, it is uncomfortable to lean against the headboard. And due to the limited design, it is difficult to change the room's aesthetics at will.
Who Should Buy
It has a modern farmhouse appeal; since the spindle headboards can be painful and may lead to certain back issues, it isn't suitable for people who like to read.
Murphy Bed Frame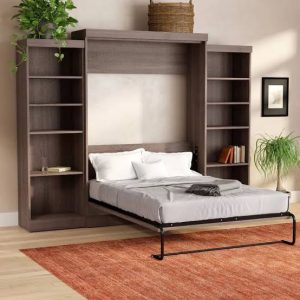 The Murphy bed frames are like wall beds, but they consist of shelves for use when folded up against the wall, unlike wall beds that display a plain wall. The price ranges from $1000 and goes up to $4000.
Pros
It can be folded up against the wall when not in use; a great way to gain more space in a small room or apartment. They can also be used when guests stay over.
Cons
Murphy bed frames are not durable; they can be dangerous if not used properly. They also take up more wall space and, in some cases, do not go along with the interior designs of the room. Plus, they are costlier than their durability.
Who Should Buy
Murphy beds were much more popular in the 80s and 90s compared to now. Even so, it can be perfect for people living in a one-room apartment or having a small room. 
Poster Bed Frame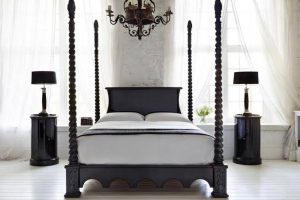 Poster beds are varied from classic to contemporary, and each type showcases it beautifully. Following are the types of poster bed frames,
Types of Poster Bed Frame
Below are different types of poster bed frames:
Four Poster Bed
Four-poster beds are known for the thick posts that rise at each corner of the bed; they can be carved into various designs, from rustic to regal.  
Low Poster Bed
They are similar to four-poster beds. However, the only difference is the size of the posts, which are a few inches shorter than four-poster beds. And the low posters, too, have designs carved on them.
Pencil Poster Bed
Again, similar to the usual poster beds, however, here, the posts are thinner than the other two poster beds. 
Half Poster Bed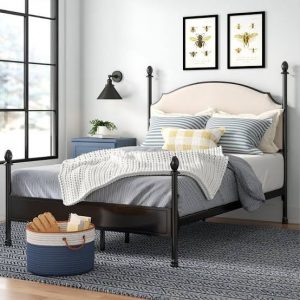 The last family member of the poster family is just as unique. Among the four posts, the ones at the footboard are much shorter, even shorter than the low poster bed; however, the posts at the headboard are of regular size.
Pros
Poster beds give the whole room a traditional yet contemporary appeal. In addition, their structures are sturdy and durable.
Cons
Although poster beds are durable, they are costly; their price ranges from $900- $1000 to $20,000. They may take more space than necessary and are high maintenance. 
Who Should Buy
The poster beds were used for nobles and royalties. However, they can be a regal addition to a larger bedroom. 
Canopy Bed Frame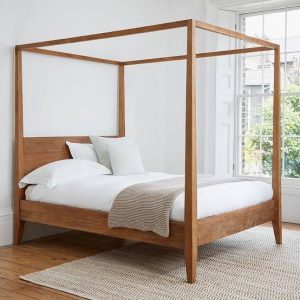 Canopy bed frames are similar to poster beds, where four posters rise on each corner of the bed. However, the posters hold up a frame above the bed in the canopy bed, which is typically used for canopying for more privacy. 
The canopy bed's prices range from anything over $1000 to $2000. Furthermore, there are different types of canopy bed frames, each with a unique style showcasing its era.
Types of Canopy Bed Frame
Below are different types of Canopy bed frames:
Traditional Canopy Bed
Traditional canopy bed frames consist of thick posters holding up the frame, usually made with wood, both the posters and frame, with an intricate design.
Contemporary Canopy Bed
Contemporary canopy bed frames are modern versions of canopy beds where the posters and the frame above are much thinner than traditional canopy beds. Contemporary canopy beds are manufactured with a variety of materials to match the aesthetic of a particular room.
Half Tester Bed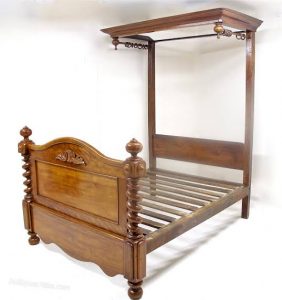 Unlike the other two, the canopy does not extend to the foot and is limited to half the bed's length from the headboards. Moreover, the feet of the bed are low. 
Pros
With various styles and designs, they can easily blend into the room's theme. And the drapes can be used to control the temperature according to the seasons for a comfortable night experience.
Cons
Considering their size, they can be challenging to move around and need constant cleaning and caring. Although they fit into both small and large bedrooms, one still needs a tall ceiling to afford it. 
Who Should Buy
Ideal for people with large rooms with constant natural lighting, therefore perfect for a master bedroom or lofty spaces. 
Japanese Bed Frame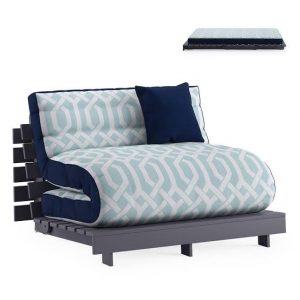 Japanese design beds as per their need. Their modern and low-profile designs are popular because of their simplicity. These bed frames can cost over $1000. Plus, there are different types of Japanese beds, out of which two are mentioned below.
Types of Japanese Bed Frames
Below are different types of Japanese bed frames:
Tatami Bed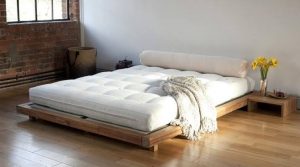 Tatami beds are commonly known as Japanese platform bed frames. Since the Japanese are used to sleeping on the floor, they designed a low profile, sturdy, and firm bed. It is made of 100% parawood.
Futon Bed frame
Futons are Japanese creations that are now worldwide popular. A futon bed frame folds into a sofa during the day and then unfolds into a bed at night. They are much more comfortable than pull-out sofas.
Pros
Japanese beds are economical and easy to handle. Also, they provide many health benefits like improved posture, better blood circulation, and promotes better rest.
Cons
One of the major cons is that people used to sleeping on high western beds could find them burdensome. And Japanese beds may not contribute much to the room's aesthetics since they are simple and all straight lines.
Who Should Buy
Japanese bed frames can be a good choice for people living in small spaces since these beds can be folded to make up spaces, plus they are comfortable.
Trundle Bed Frame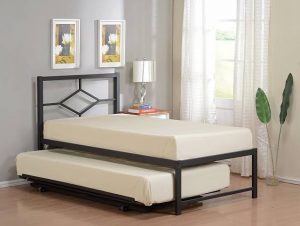 A trundle bed is a compact bed frame where a bed is hidden in drawers under the actual bed frame. It is typically low to the ground and can be rolled out. Depending on the quality and sizes, the prices can range from $500 to anything over $1000.
They are the types of bed frames for full-size beds but can also be found in twin sizes and occasionally in queen sizes.
Pros
Its space-saving technology provides extra sleeping spaces at night since it has wheels attached to it, making it easy to roll it out and then back in. 
Cons
When not in use, the trundle bed mattresses do not get much ventilation. And in some cases, trundle beds need specialized mattresses.
Who Should Buy
It is ideal for people who want to accommodate guests comfortably in their limited spaces. It can also be used in the kids' room when they have sleepovers or when the parents allow their kids to share a room.
Bunk Bed Frame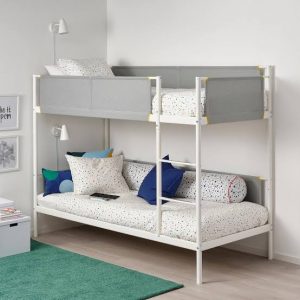 A bunk bed consists of at least two beds stacked one upon the other. A ladder is usually attached to the bed frame for easy access to the upper bunk. And depending on the size, type, and quality, it can cost anything from $250 to $800 or more.
Types of Bunk Bed Frame
Below are different types of bunk bed frames:
Cabin Bunk Bed
It's a playful bed ideal for kids where the bunk is shaped like a cabin, similar to a treehouse. It even has a window and roof, so the kids pretend to be in the woods and dream of their new adventures.
Futon Bunk Bed
Futon bunk beds are ideal for small rooms or studios. It's a versatile design where lower space can be incorporated as the study space and an extra bed for when guests stay over.
3-Sleeper Bunk Bed
As the name suggests, it provides sleeping spaces for three people, where the lower bunk is a full-size bed and the upper bunk.
Pros
It provides spaces for two people in a one-bed frame space. In addition, they can be affordable and easy to assemble.
Cons
Although bunks beds are used essentially in the children's rooms, they can be prone to accidents since children love jumping and running.
Who Should Buy
A family living in a small apartment or the parents who allow sharing of bedrooms can find this an ideal bed frame that saves space in their limited room area.
Storage Bed Frame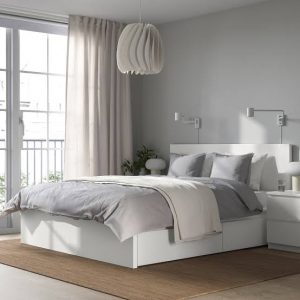 A storage bed frame has storage spaces to make up for the bed occupancy in the room. They usually come in with drawers. However there are also other types of bed frames with storage spaces, but they are quite different from storage bed frames. 
The Ottoman bed frame and divan are two other popular bed frames that provide storage spaces. Depending on the type, size, and quality, their prices can range anything from $400 to $1000.
Pros
The major advantage of a storage bed frame is the storage space. In addition to it, since they are made of wood, they are quite sturdy.
Cons
Along with being sturdy, they are expensive and high maintenance. The screws used for building can become loose or fall off and need constant repairing and caring.
Who Should Buy
Modern rooms, especially apartment bedrooms where the storage spaces are limited, make up for it. Also, it can be used in children's rooms, where extra storage is always welcomed.
Different Bed Frame Styles
Every bedroom has a specific aesthetic that needs a certain style of furniture, and bed frames are no different. 
Traditional Bed
Traditional beds mostly include bed styles from past eras, such as canopy, poster beds, etc.; they are usually made of dark wood, making them timeless.
Rustic Bed
A rustic bed is quite popular in a cabin or homes with vintage-style rooms. They give the room rough, vintage, and natural appeal.
Country Bed
Country beds usually have panels at the foot and head of the bed frames. They give the room an outdoorsy and vintage appeal.
Modern Bed 
Modern beds are sleek, simple, and up to date with the trend. They can fit in any room to make it look comfortable and trendy. 
Industrial Bed
They are factory-inspired beds that have statement pieces of wrought iron, giving a rustic look. And are ideal for contemporary homes.
Retro Bed
They are somewhere in between old-fashioned and modern, which works for mid-century modern homes. Retro beds give vintage and antique appeal to the room.
Mission Style Bed
Mission-style beds are usually made of natural wood, which makes them look simple and elegant. They consist of flat panels with horizontal or vertical lines.
Cottage Bed
Cottage beds have a vintage appeal, whereas the headboards have intricate and elaborate design work. They work better in beach-style houses, farmhouses, or country houses.
French Bed
French beds usually come in with extravagant upholstered headboards and sometimes with a footboard too. They look basic but beautiful.
Distressed Bed 
As the name suggests, distressed beds are made out of distressed wood. They are intentionally made imperfect to get a vintage look.
Different Bed Frames by DreamCloud
"Simplicity is the ultimate sophistication" - Leonardo da Vinci
DreamCloud features many affordable contemporary and fascinating bed frames that are also comfortable
Foundation 
DreamCould's foundation bed frame is drool-worthy and comfortable. They are made from naturally sourced woods and provide optional legs for custom heights. They are a perfect fit for any of the same-size mattresses and are easy to assemble. They are long-lasting, and with this in, say bye-bye to the traditional box spring. 
Platform Bed Frame
Here platform bed frames are simple and sophisticated. They have slightly angled 10 inches high legs that support the classic wood slates. They come in full, queen, and king sizes, and with their deliciously detailed beveled edge and classy design, they work in any home decor. 
Adjustable Bed Frame
The adjustable bed frame is not ordinary; they help achieve the ideal rest position with their high technology and provide a next-level sleep experience. Plus, the wireless remote makes it easier to position the bed; the massager and zero gravity position helps relieve pressure and unwind after a long day.
The Move Adjustable Bed Frame
Find the perfect position with move adjustable bed frames, which were designed to give you everything you need from a bed; whether it's sitting up, elevating the head, or lounge with extra support are just a click away. 
Foldable Metal Bed Frame
These foldable metal frames will support the mattress without the box springs, without allowing them to sag. The sturdy and straightforward design is long-lasting, and with the simple and elegant design, it fits in with any decor.
Frame with Headboard
The dreamy frame and headboard by DreamCloud are durable and give luxury a different meaning. With the upholstered, button-tufted headboards, sturdy frame, and chic wooden slate foundation, there is no need for any box spring. 
DreamCloud Storage Bed 
It's all in the details. The storage bed has a clean and simple look that keeps the room elegant. The upholstered sturdy frame and headrest with stain-resistant fabric and not to forget the smooth-rolling drawers make it durable.
Things to Consider While Buying a Bed Frame
There are quite a lot of things to consider while buying a bed frame, such as bed size, room size, height, budget, and aesthetics.
Bed Size
With a variety in sizes, it is in the buyer's best interest to first know what bed size they are looking for. With the table mentioned above, know the difference between all sizes available.
Room Size
Getting a queen size bed for a room that can only fit a twin or full-size beds can make the room look cluttered. Plus, the chances are that it won't leave space to move around the room. Therefore considering a room size before the bed is vital.
Height and Features
Some may not consider this while buying, but the height of the bed frame also matters. Since it may be a problem if it is too high for children, and if it's too low, it may not be ideal for people with knee problems.
A bed frame sometimes comes in with beneficial accessories like storage compartments, adjustable features, etc., and whether you need these features are not, decide accordingly.
Budget and Aesthetic
Finding a budget-friendly and sturdy bed frame is important. But they should also complement other furniture and the room's theme.
Final Thoughts
A bed frame can potentially make or break the room's aesthetic and sleep quality; buying hastily might not be in your favor. Also, note an important point that a tall bed frame signals more of a traditional aesthetic while the low-rise bed frames exceed the modern appeal.
Disclaimer: This website does not offer medical advice nor professional medical services; rather, it is provided solely for educational, informational, and/or entertainment purposes. Individuals seeking medical advice should consult a licensed physician. The information provided should not be used for diagnosis or treatment of any condition, disease, or injury. When you have a medical condition, you should always talk to licensed doctor or other certified medical professional. You should never delay seeking professional medical advice or treatment based on the contents of this website. Call 911 or immediately go to the nearest emergency room if you think you may have a medical emergency. The contents of this website are provided "as-is", Dreamcloud Sleep and its parent, subsidiaries, affiliates, employees, contributors disclaim any warranty of the information contained herein. Please contact support@dreamcloud.com to report any errors, omissions, misinformation, or abuse.
Shop Our Most Popular Bedroom Must-Haves