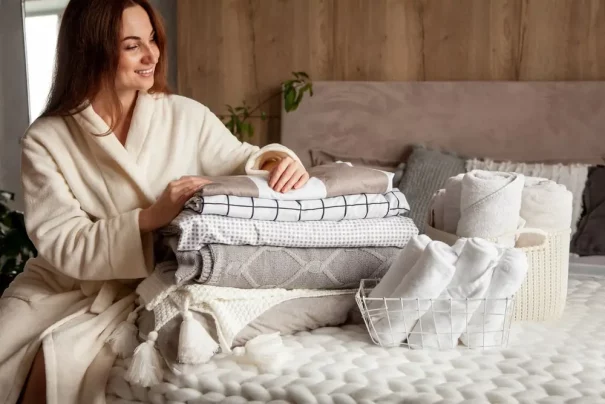 8 Different Types of Bed Sheets
Written by Mehran Uzair
Last Updated on Jul 21, 2023
Today we'll solve bedtime's biggest mysteries - How to buy sheets? There are countless different types of bed sheets available in the market, so it can be a little overwhelming. Plus, the jargon used in the markets, namely staple length, weaves, thread count, ply, etc., can make shopping even more difficult.
But no need to worry, for we are here. We have explained below all these terms and how you can choose the best bed sheets for yourself.
Staple length is the average length of a spinnable fiber. It characterizes the quality of natural fibers like cotton and wool. Long-staple fibers or Extra long-staple fibers produce better quality sheets than short or medium staple fibers.
Cotton
Cotton is by far the most popular fiber used in making sheets, and it's not without reason. It is affordable and easy to wash. Just place the sheets in the washing machine, and it will wash out all the stains. It also gets softer after each wash. Cotton is excellent all year round, especially in the summer since it's cool and lightweight.
But not all cotton sheets are made equal, and some are better than others. The quality of your Sheet relies on the type of cotton used.
Following are the different types of cotton sheets:
Egyptian
Egyptian cotton is the highest quality cotton available in the market. Egyptian cotton and regular cotton are two different plants, so their properties are distinct.
Egyptian cotton is made with Extra Long Staple (ELS) cotton fabric and has more delicate threads that produce a softer sheet. But quality comes at a price. Genuine Egyptian cotton sheets are pretty expensive.
Pima or Supima
Supima is the trademarked name for American Pima cotton, long-staple cotton grown in America. It is considered second to Egyptian cotton in quality and reputation. It is high quality, durable, and soft without the exorbitant price tag. 
Upland
Upland cotton is the most common cotton type available in the markets. Around 97% of the US cotton production is Upland cotton. It consists of short or long-staple cotton. If your sheet tag does not specify the type of cotton, it is most likely made of Upland cotton.
While it is not as durable and soft as Egyptian or Pima cotton, it is inexpensive. So if you are shopping on a budget, you might find it helpful.
Flannel
When the weather gets colder, switch your cotton sheets with flannel sheets. The cotton is brushed to fluff up the fibers, so flannel sheets trap body heat. Unlike other fabrics, flannel is measured in Grams per Square Meter (GSM) instead of thread count. A higher GSM means better quality and more warmth.
Jersey
Imagine sleeping in your favorite t-shirt. Jersey fabric is soft and stretchy and usually reserved for clothing. One can use Jersey sheets all year round as they will keep you warm in the winters but won't get too hot.
But jersey sheets are not durable, and they can stretch out over time.
Bamboo
As one of the most sustainable and environment-friendly crops globally, bamboo fiber is quickly becoming popular in the bedding industry. Bamboo is a hypoallergenic material, and bamboo sheets are soft and durable.
Most bamboo sheets you can find in the market are bamboo rayon made through the viscose process. The use of chemicals during the process can destroy most of the natural properties of bamboo.
So, if you are buying a bamboo sheet, make sure to check that the tag says '100% natural bamboo.'
Polyester
Polyester is a synthetic fiber usually derived from petroleum. 100% polyester sheets can be rough and uncomfortable to sleep on, so polyester is usually blended with cotton to make sheets. Poly-cotton sheets are soft, wrinkle-resistant, and durable while costing less than good cotton sheets.
Linen
First used in ancient Egypt, linen is a fabric made from flax plants. Linen is thicker than cotton and has a lower thread count. It is naturally cooling and hypoallergenic.
Linen sheets have a little rough feel to them, and they wrinkle very quickly, which some people don't like. But they get softer after every wash.
Tencel
Owned by an Austrian company Lenzing, Tencel is the brand name for a pair of fibers- lyocell and modal. Tencel comprises cellulose of sustainably-sourced eucalyptus trees and eco-friendly procedures. The closed-loop system used in its production recycles the chemicals used, leading to minimum waste generation.
Tencel sheets are incredibly soft and durable but not as breathable as cotton sheets. These sheets are a good option if you are concerned about the environment.
Silk
Silk is a protein-based natural fiber produced by the larvae of a moth. Silk sheets are world-renowned for their soft and luxurious feel. But luxury doesn't come cheap. Silk is costly and challenging to take care of. The sheets may not be ideal for everyday use, but you can adorn your bed with them once in a while.
Microfiber
Microfiber is a finely woven and softer form of polyester. Microfiber sheets are a great budget-friendly option if you are not a hot sleeper because these sheets can trap heat. These sheets also resist stains well, so they can be a good choice for your kid's bed. 
Also, check out microfiber vs. cotton sheets.
Satin
If you love the silky and shiny feel of silk sheets but don't want to shell out for the real deal, buy satin sheets instead. Satin sheets are made out of a different mix of materials. The sheets are prone to snags and can be challenging to take care of.
Types of Weaves in Bed Sheets
Weave refers to how fibers are woven together to make a fabric. There are different interlacing patterns; hence, there are different types of weaves. Weave style affects the feel, durability, and breathability of the fabric.
The most common weave types are:
Percale
Also known as a plain weave; percale is a traditional one-yarn-under and one-yarn-over pattern. Most percale sheets are tightly woven cotton fibers to give them a matte finish and a cool and crisp feeling. The sheets soften after every wash and are best for warm weather.
Sateen
Sateen, not to be confused with satin, is a type of weave that uses a one-yarn-under and many-yarns-over pattern. Sateen sheets are soft and silky and also wrinkle less when compared to percale sheets.
Twill
Twill is a distinctive diagonal weave that gives its fabric a visible texture. Twill sheets follow a two-yarn-over and two-yarn-under pattern. Twill sheets are pretty thick, which makes them less prone to wrinkles. The uneven surface of the weave also helps in hiding the stains.
Dobby
Dobby weaves are produced on a dobby loom. They have small geometric patterns that give a texture to the fabric as these patterns are slightly raised. It provides the sheet with a 3D feeling. This weave is generally used to add a decorative accent to the sheets.
Patterned
Patterned weaves are intricately detailed and are used to create luxurious decorative bedsheets. Two popular patterned weaves are- Damask and Brocade.
Damask weave- It is known for its intricate and reversible pattern.

Brocade weave- It creates an illusion that designs have been embossed into the fabric.
Bed Sheet Thread Count
Thread count is the measure of threads woven into one square inch of fabric. It is the sum of horizontal and vertical threads. It is used to measure how fine the fabric is. The higher the thread count, the finer the fabric.
Generally, sheets with a higher thread count are considered better quality, but that is not the case every time. While thread count does matter to determine the quality of the fabric, it is not the end all be all. The quality of a sheet depends on other important factors, like the quality of the fabric, staple length, weave type, ply, etc.
While there is no such thing as the best thread count for sheets, generally, a 300-400 thread count sheet is considered pretty good.
Ply
Ply refers to the number of fibers twisted together to make one thread. Single-ply sheets have one fiber creating a single thread. Similarly, two-ply sheets have two. Even though it sounds like two-ply sheets would be better, this is not usually the case.
Two-ply sheets are typically made with cheaper low-quality materials. Companies can use two-ply threads to inflate the thread count.
Instead of ply and thread count, focusing more on the quality of the material and the weave is better.
Bed Sheet Sizes
Since there are no standard bed sheet sizes, they vary depending on the brand. The most common bed sheet measurements are:
| Size | Fitted Sheet (Inches) | Flat Sheet (Inches) |
| --- | --- | --- |
| Twin | 39-40 X 75 | 60-75 X 90-102 |
| Twin XL | 39-40 X 80 | 60-75 X 102-114 |
| Full/Double | 54-55 X 76 | 84-90 X 90-96 |
| Queen | 62 X 82 | 92-102 X 88-115 |
| King | 78 X 82 | 102-110 X 88-115 |
| California King | 73 X 84-85 | 108-111 X 102-114 |
Flat Sheet vs Fitted Sheet
A typical bed sheet set comes with both - a fitted sheet and a flat sheet. Both of these sheets are designed for different purposes.
Flat sheets are also known as top sheets, and fitted sheets are sometimes referred to as bottom sheets.
The significant difference between a fitted sheet and a flat sheet is the fit. A fitted sheet has four elastic corners which wrap around the mattress for a snug fit. At the same time, a flat sheet is a plain rectangular sheet that lays down flat on the bed.
The fitted sheet covers the mattress, and a flat sheet goes on top of it. The flat sheet protects the fitted sheet, and the fitted sheet protects the mattress.
A fitted sheet stays tucked under the mattress even if you move around a lot, whereas a tucked flat sheet can come off if you do the same.
Flat sheets take very little space in the storage. You can fold them flat and make a packet. But fitted sheets have elastic, so they cannot be appropriately folded, so storing takes more space.
How to Choose Bed Sheets
Bedsheets are an essential part of our sleep but choosing the best type of bed sheets is difficult. You should consider the following factors before you purchase a new sheet:
Fabric
Fabric is the most crucial factor you need to consider before buying a bedsheet. If you are looking for silky smooth sheets, you can purchase silk or satin sheets. If you are worried about the environment, you can buy Tencel or bamboo sheets.
If you are confused about the fabric, you can go for cotton. It is considered the best fabric for sheets by some people.
Thread Count
A higher thread count sheet is typically considered better quality, but that is not always the case. Generally, a thread count of 300-400 is considered pretty good.
Weave
The type of weave you choose will determine the fabric's feel, durability, and breathability. Percale and sateen are the two of the most common weave types.
Size
Bed sheets come in different sizes. You should measure the size of your mattress before buying a bed sheet to make sure it fits properly.
Color
You can match the color of your bedsheet with that of your room walls or with your other bedding. 
Pocket Depth
Mattresses are getting thicker by the day, and your standard sheets may not be able to envelop them properly. Make sure you buy a deep pocket sheet if your mattress is more than 13" thick.
There is a bedsheet for everyone. You just have to look for it. Each person's preference would be different, so there is no best bed sheet. Choosing bed sheets can be tricky, but you can make an informed decision with all the information mentioned above in mind.
Disclaimer: This website does not offer medical advice nor professional medical services; rather, it is provided solely for educational, informational, and/or entertainment purposes. Individuals seeking medical advice should consult a licensed physician. The information provided should not be used for diagnosis or treatment of any condition, disease, or injury. When you have a medical condition, you should always talk to licensed doctor or other certified medical professional. You should never delay seeking professional medical advice or treatment based on the contents of this website. Call 911 or immediately go to the nearest emergency room if you think you may have a medical emergency. The contents of this website are provided "as-is", Dreamcloud Sleep and its parent, subsidiaries, affiliates, employees, contributors disclaim any warranty of the information contained herein. Please contact support@dreamcloud.com to report any errors, omissions, misinformation, or abuse.
Shop Our Most Popular Bedroom Must-Haves