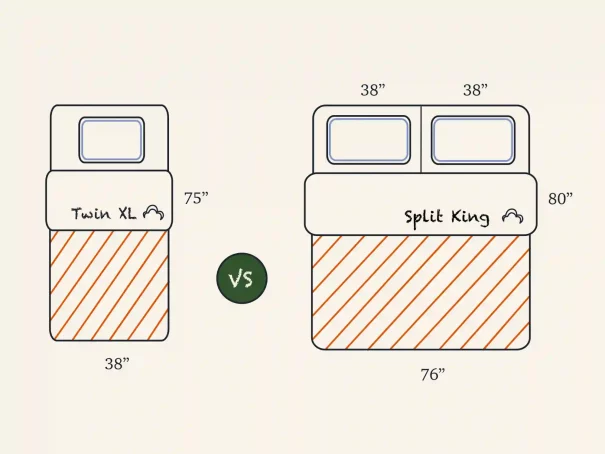 Split King vs Twin XL Size Mattress: What Is the Difference?
Written by Dreamcloud Editorial Team
Last Updated on Mar 13, 2023
A twin XL and a split king are essentially the same dimensions, but a split king is used as one of two mattresses that form a king-size bed. A Split king is two twin XL mattresses put together to form a king-size bed.
A twin XL mattress is 38 inches wide and 80 inches long, making it the perfect choice for kids or teens who sleep alone and are taller than the average. Meanwhile, a split king mattress measures 76 inches wide and 80 inches long and is ideal for couples who like to customize and personalize their bedside. 
Split King vs Twin XL Mattress Comparison
| Parameters | Twin XL Mattress | Split King Mattress |
| --- | --- | --- |
| Length | 80 inches | 80 inches |
| Width | 38 inches | 76 inches |
| Surface Area | 3040 sq. inches | 6080 sq. inches (combined) |
| Price | $799 | $1,138 |
| Occupancy | 1 adult / teenager / children | 2 adults and a pet |
| Recommended Room size | 7 ft by 10 ft | 12 ft by 12 ft |
| Ideal for | Taller adults / teenagers / Single sleepers | Couples with different sleeping habits / Adults with pets / People who prefer adjustable bed frames |
What Is Split King Mattress?
A split king mattress size is similar to a standard king-size mattress but has a split in the middle and is 2 inches wider than a king-size bed. 
Split king-size mattresses have an adjustable base and accommodate two twin XL mattresses of different variants. If you join two twin XL beds, it will form a split king bed. It is ideal for couples with different sleeping preferences. 
Pros
Best-suited for couples with varying choices of mattress

Negligible motion transfer and sleep disturbance
Cons
More expensive than twin XL

Accessories are not readily available

It can only fit in large rooms, like the master bedroom
What Is a Twin XL Mattress?
As a for mentioned, twin XL mattresses are five inches longer than the standard twin and are the exact dimensions of a single split king mattress. It is an excellent option for children, teenagers, and even single adults who prefer compact sleeping spaces. 
Pros
Ideal for tall teenagers

Can fit into small rooms

Costs less than other sizes like full, queen, and king-sized mattresses

Offer easy mobility

Accessories are readily available
Cons
Not suitable for couples

Does not have much space for accessories
What to Consider When Choosing Between a Split King or Twin XL?
Room Size
Twin XL mattresses are convenient and can fit into compact rooms like dormitories, small apartments/studios, hostels, and bunk beds. 
A split king mattress fits well in the master bedroom, primary bedroom, or a room bigger than 12 feet by 12 feet. 
Accessories
Split king mattresses are 38 inches wider than twin XL mattresses. Therefore, the number and size of accessories that can fit on split king mattresses will be more than a twin XL. A twin XL mattress can fit a single pillow, whereas a split king can fit two pillows, some throw pillows, and other accessories. However, accessories for a split king are not readily available and will be more expensive than accessories for a twin XL. 
Budget
A split king mattress can cost twice as much as a twin XL mattress. Apart from the size and type, a mattress's price also depends on several other factors like the manufacturing material- such as memory foam, hybrid, and not just that, but the brand also affects the cost of the mattress. 
Bed Size
A bed needs to be the exact size of a mattress to accommodate it. Anything smaller or larger than the actual size would ruin the mattress's life in the long run, spoil the aesthetics of your room, and most importantly, affect your physical health. 
 A split king mattress needs a split king adjustable bed frame that has a split down the middle for a couple to enjoy complete freedom of customization. You can also integrate two twin XL beds and keep them side by side to form a single split king bed. 
Sleeping Partner
A split king mattress allows you to share your bed with your partner without causing motion transfer. This means that if you turn into a master gymnast through the night, tossing and turning, your partner will not feel it. The split in a split king is designed so that you and your partner can choose the mattress type, the sheets, and the accessories for your respective sides while sharing the bed.
A twin XL cannot be shared with a partner, a pet, or a child because the dimensions of a twin XL are too small for two people to share.
Conclusion
Twin XL mattresses are best-suited for single sleepers, whereas couples should opt for split king mattresses. This is one of the significant differences between twin XL vs split king. Choosing the right mattress is a difficult decision. You have to consider many factors, especially who will be using the mattress and their sleeping behavior. So, keep your requirements in check and buy a mattress that best suits your needs.
Disclaimer: This website does not offer medical advice nor professional medical services; rather, it is provided solely for educational, informational, and/or entertainment purposes. Individuals seeking medical advice should consult a licensed physician. The information provided should not be used for diagnosis or treatment of any condition, disease, or injury. When you have a medical condition, you should always talk to licensed doctor or other certified medical professional. You should never delay seeking professional medical advice or treatment based on the contents of this website. Call 911 or immediately go to the nearest emergency room if you think you may have a medical emergency. The contents of this website are provided "as-is", Dreamcloud Sleep and its parent, subsidiaries, affiliates, employees, contributors disclaim any warranty of the information contained herein. Please contact support@dreamcloud.com to report any errors, omissions, misinformation, or abuse.
Shop Our Most Popular Bedroom Must-Haves