Since you are planning to buy a house and wish to know the difference between a twin XL and a full-size mattress, we are stating the major line of difference between the two. A twin XL bed measures 38 inches wide and 80 inches long, whereas a full bed measures 54 inches wide and 75 inches long. This article will cover enormous information about how twin XL differs from full size, and which one should you proceed with.
Twin XL vs Full Mattress Comparison
A full size bed is 16 inches wider and 5 inches shorter than a Twin XL size bed. A twin XL bed measures 38 inches wide and 80 inches long, whereas a full bed measures 54 inches wide and 75 inches long. Have  a look at the comparison table below to know all the points of differentiation between twin XL and full size mattress. 
| Parameters | Twin XL | Full |
| --- | --- | --- |
| Length | 80 inches | 75 inches |
| Width | 38 inches | 54 inches |
| Surface Area | 3040 sq. inches | 4050 sq. inches |
| Price | $600-$2500 | $500-$1500 |
| Occupancy | 1 child/ teen/ adult | 1 adult |
| Ideal For | Who need more leg space | People who want more personal space |
| Recommended room size | 8 feet by 10 feet | 10 feet by 12 feet |
What Is a Twin XL Size Mattress?
A twin XL mattress size is what you generally find your tall brother sleeping on, taking up the entire space because it is just so perfect for single tall sleepers. Hail the twin XL mattress only because you no more hear your brother nag about how his legs are coming out of the bed. Wondering how come this twin XL mattress fit him so well and the previous twin bed didn't? 
You can save some extra cash and select the latter for a family having children and choosing between full vs twin XL. The reason is that twin XL mattresses are excellent for children. They can be used as bunk bed frames to provide more space to play for their little ones. College dorms are perfect examples of twin XL mattresses.
Pros 
Difference between twin XL vs full beds lie in the former offering more length; therefore, taller people you know your purchase

If budget is a constraint, don't overthink about twin XL vs full, simply opt for the first one

It can easily fit in narrow bedrooms such as dorm rooms

Selecting the right mattress size for your growing children, the right pick is always a twin XL
Cons
Twin XL accessories are pretty limited in number

A twin XL mattress occupies more space and costs more than a twin mattress
What Is a Full Size Mattress?
You recently noticed that your brother is a combination sleeper, and the twin mattress is not suiting him. Why not gift him a full mattress? The main difference between a twin XL and a full mattress lies in the dimensions of 16 inches greater space to loll around the bed.  This bed size is suitable for many people but specifically for teenagers, combination sleepers, and young adults. 
If you own a studio apartment with limited space, but you wish to have a cozy bed to yourself, the length of a full bed would be appropriate. On another note, you don't want your guests to stand while you're hosting a house party, why not get a full bed in the guest room for them to relax?
Though, one thing to remember is that couples might not be very comfortable out here. 
Pros 
Spacious enough for a single person

The extra space can easily accommodate a small pet

Multiple options for accessories and bedding 

Cheapest mattress size for adult single sleepers 
Cons
It cannot accommodate a couple comfortably

Shorter than a twin XL, so not suitable for tall individuals 

It cannot fit in a narrow bedroom

More expensive than a twin XL mattress
Factors to Consider When Deciding Between a Twin XL or Full Mattress
Twin XL vs full - is this decision making you pull your hair out? Hold on, we have got you covered by listing all factors you can consider when choosing between twin XL and full bed.
1. Price:
Budget is undoubtedly the driving factor that can completely change your mattress buying decision. You can opt for the twin XL mattress instead of the full mattress if you are slightly frugal. If you like your mattress all fancy and filled with natural materials, then it will definitely cost more. Just like organic materials or zoned support layers will cost higher.
2. Your Height:
Taller ones have to make a separate decision to decide between twin XL and full. Now, wonder if a full bed is larger, and everything, but a person with a height of 6 feet and below can rest there. For a person above that, simply opt for the twin XL mattress. The twin XL mattress comes 6 feet 8 inches long, and therefore, you also get ample room to sleep with your pet or your big teddy. Now you can go shopping for snuggly pillows that you eyed in the bedding store.
3. Room Size: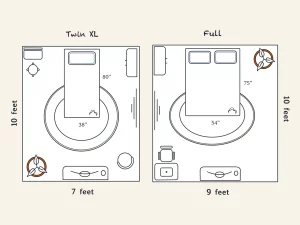 Another significant factor is determining the room size. You cannot have a massive bed in a tiny room, right? Similarly, placing a tiny bed in a huge room will be equally bizarre. Both twin XL and full mattresses are impeccable options for small to medium-sized rooms. Now, you need to remember that the width of a full mattress or twin XL shouldn't be greater than one-half the width of your bedroom. This is why, if your room size is 8 feet by 10 feet, twin XL mattresses will suit them best. Wondering what would fit your 7 feet room size? Worry not; a twin XL mattress is again the option because it is narrower than a full bed. If your room size amounts to 10 feet by 11 feet or greater, then a full bed is a perfect choice.
4. Sleeping Partner:
The decision of choosing between twin XL vs full highly depends on the person you are sharing your bed with. If you are sharing your bed with your partner or child, blindly trust the full bed mattress since the added width leads to comfort. On the other hand, a twin XL mattress would be an excellent option for single sleepers because of the extended length in the end. This means your pampered pet can now nap at the end of the bed while you can sleep peacefully.
5. Accessories:
Similar to twin XL and full mattresses prices, the accessories of twin XL are less expensive than full be accessories. Though, full bed accessories are more plentiful than a twin XL bed. Though the pillow size requirement for both twin XL and full mattresses is the same, the sheet sizes and prices differ.
Should I get a twin xl or full bed?
Both twin Xl and full size mattresses are ideal for single sleepers. Twin XL mattresses are better for tall teens and college students, while full mattresses are meant for adult single sleepers. Keep the contributing factors in mind before deciding between full vs twin XL.
Disclaimer: This website does not offer medical advice nor professional medical services; rather, it is provided solely for educational, informational, and/or entertainment purposes. Individuals seeking medical advice should consult a licensed physician. The information provided should not be used for diagnosis or treatment of any condition, disease, or injury. When you have a medical condition, you should always talk to licensed doctor or other certified medical professional. You should never delay seeking professional medical advice or treatment based on the contents of this website. Call 911 or immediately go to the nearest emergency room if you think you may have a medical emergency. The contents of this website are provided "as-is", Dreamcloud Sleep and its parent, subsidiaries, affiliates, employees, contributors disclaim any warranty of the information contained herein. Please contact support@dreamcloud.com to report any errors, omissions, misinformation, or abuse.
Shop Our Most Popular Bedroom Must-Haves