Detailed Mattress Comparison
A twin size mattress is 38 inches wide and 75 inches long. It is one size smaller than the twin XL size mattress. The length of twin XL is 5 inches longer than the twin variant. Width-wise there is no difference between a twin and twin XL mattress.
Both twin and twin XL beds are meant for single sleepers and can be converted into bunk beds. Both the mattresses fit into homes as well as shared living spaces such as day boarding, youth hostels, and dorm rooms.
Here is a some parameters that will help you decide between twin XL vs twin
Here is a list of all vital parameters at a glance that will help you decide between twin vs twin XL.
Parameters
Twin Mattress
Twin XL Mattress
Size

| | |
| --- | --- |
| IN: | 38" X 75" X 7" |
| FT: | 3.16′ X 6.25′ X 0.58′ |
| CM: | 96.5 X 190.5 X 17.78 |

| | |
| --- | --- |
| IN: | 38" x 80" x 11" |
| FT: | 3.16′ X 6.67′ X 0.92′ |
| CM: | 96.52 X 190.5 X 27.94 |

Price
$699
$799
Bed Size (Inches)
38″ x 75″
38″ x 80″
Ideal Room size (Feet)
8′ × 10′
8′ × 9.6′
Comfortably Fits

Children who have grown out of cribs
Teenagers
People shorter than 6 ft

Children/teenagers
People with height up to 6 ft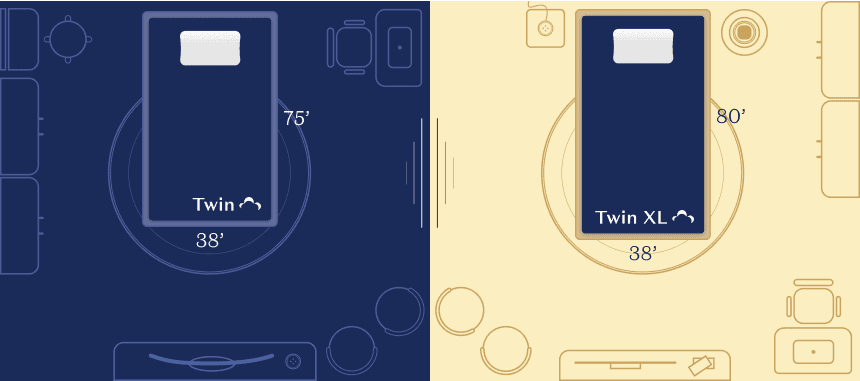 What is a Twin Size Mattress?
A twin size mattress is best suited for a growing child, a teenager, or a young adult shorter than 6 feet. The dimensions of a twin mattress are 38 inches by 75 inches.
A standard twin mattress is preferred for kids' rooms and dormitories. It can also be converted into a space-saving bunk bed. It fits well in small rooms that are at least 7 by 9 feet. A twin sized bed in a kid's room leaves enough floor space to accommodate child-friendly furniture, a play area, and a small study as well.
Pros
Can be moved by a single person
Allows for a lot of floor space even in small bedrooms
Can be converted into bunk beds
Cons
Can be used by a single person only
Cannot be used by grown adults
Can not accommodate tall adults or teenagers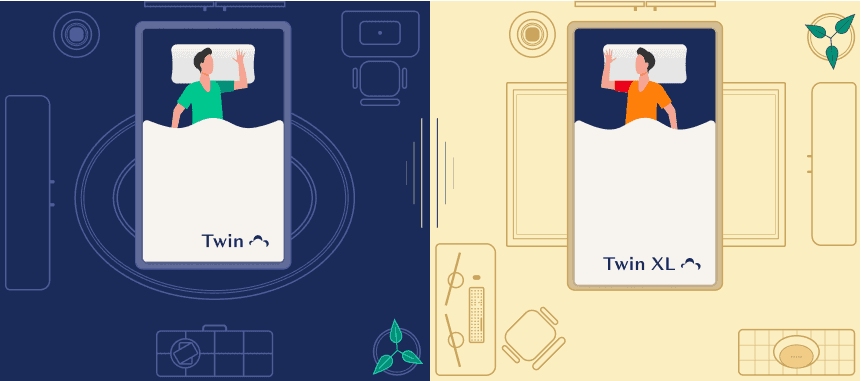 What Is a Twin XL Size Mattress?
A twin size mattress is 38 inches wide and 80 inches long in dimensions. While the width of twin xl and twin size mattresses is the same, their lengths vary by 5 inches. A twin xl mattress is one size bigger than a twin size mattress.
A similarity in twin xl vs twin is that both are single beds. It can be used by a young adult or a teenager who is up to 6 feet tall. The recommended room size for such small mattresses is 8 feet by 10 feet. It fits into small master bedrooms, guest rooms, kids' rooms, and college dorm rooms.
Pros
Can be moved around easily
Fits into small bedrooms and dormitories
Can be converted into bunk beds
Cons
Can not accommodate more than one person
Not an ideal choice for large bedrooms
---
Things to Consider Before Deciding Between Twin Size vs Twin XL Size Mattress
Room Size
The ideal room size for a twin xl bed would be between 7 by 9 feet and 8 by 10 feet. You can place two twin beds parallelly if possible or convert it to a bunk bed for double occupancy. This mattress size is also used in dormitories and youth hostels.
The difference between twin and twin xl bed lies in the length. Therefore, twin xls fit into rectangular rooms with a minimum dimension of 8 by 10 feet. It needs those extra inches at the base of the bed. Both these mattresses are meant for growing kids. So, having enough floor space that supports playing around is important.
Budget
Twin size beds are marginally lower in price compared to twin xl size beds. The starting range of a twin bed starts from $629 and can go up to $ 1599 depending on the material used and the brand name.
A twin xl mattress starts from $650 for standard size and goes up to $1899 for a hybrid one.
Bed Size
It is best to get a bed size similar to the dimensions of the mattress. Going by this rule, the ideal bed size for a twin mattress would be 38 inches by 75 inches and the dimensions for a twin xl size would be 38 by 80 inches.
Height
The height of the sleeper should be considered before choosing between twin and twin xl. With just a little above 6 feet in length, the twin bed comfortably accommodates people with height between 5.2 feet to 5.5 feet.
The twin xl bed measures 6.67 feet in length and can accommodate people who are tall up to 6 feet.
Accessories
Both twin and twin xl size mattresses are of the same width. Hence, anything more than just one pillow and single-sized duvet will make it feel crowded or stuffed.
---
More on Mattress Sizes
---
Choosing Between Twin vs Twin XL
Before drawing a conclusion about the appropriate bed size for yourself or your family, you need to consider the room size, age, and height of the person who will use the bed and of course your budget.
Both the mattress sizes are versatile and can be joined together to facilitate co-sleeping. They can also be converted into space-saving bunk beds to facilitate double occupancy. Both these beds beautifully fit into small bedrooms and can also be used in shared living spaces such as youth hostels and dormitories.
We hope the comprehensive guideline we presented through this article helps you to pick the right mattress for your home or dormitory.
---
How we compare to other Brands?
We offer a 365-day trial period and a warranty that lasts forever! If you don't believe us go ahead and compare our offer to other brands. Apart from being one of the largest mattress sellers in the United States, we give you 9 reasons why nectar may be your best and the last mattress you purchase.
Sleep Trial
Warranty
Free Shipping *
Free Return
2 Free Pillows
Free Sheets
Free Mattress Protector
Price (Queen)
Total Price
DreamCloud Hybrid Mattress
365 Nights
Forever Warranty™
$999
$999
Shop Mattress
Casper Wave Hybrid
100 Nights
10 Years
$178
$139
$95
$1,095
*$1,507+
Purple Hybrid
100 Nights
10 Years
$196
$99
$1,149
*$1,444+
Shop Mattress
*Price reflects the subtotal of mattress protector, sheets and two pillows (Single pillow for twin/twinxl) compared to the current promotion on Nectar. Additional shipping fees may apply in AK and HI. Price may not reflect any current promotions or discounts. Last Updated: Mar 2021.
---
FAQs
How soon should you change your mattress?
A good quality mattress that is well protected from getting wet and is supported by a well-fitted bed frame remains in perfect shape for a long period. Regular cleaning and sanitizing also help to extend its life further.
Why is it important to get the bed of the same dimension as the mattress?
The mattress must fit into the frame of the bed. If it is larger than the bed frame, it will hang from the edges which will damage it in the long run and affect sleep quality. If the mattress size is smaller than the bed size, it will create a gap. This gap will attract dust and other residents and can lead to unhygienic sleeping conditions.
Can I co-sleep with my pet on a twin xl bed?
A child aged between 10 to 14 years of age can sleep with a large pet. But it won't be a spacious sleeping arrangement.
Can I put two toddlers in one twin bed?
Considering that toddlers have a tendency to twist and turn all, putting two toddlers in a twin bed might not be a good idea.
Is it possible to convert two twin xl mattresses to form a king size bed?
Yes, putting two twin mattresses gives you the same space as a king size bed. But for a more settled and comfortable sleeping arrangement, it is better to pick a king bed as twin xl's will have a gap down the middle.