Detailed Mattress Comparison
A twin size bed is ideal for Twin beds are also known as single beds. They are suitable for children who have outgrown their cribs. It is the best option for teenagers.
Queen beds are ideal for couples and most prefer these beds. They are spacious and they are cheaper than king size beds.
Let's dive deeper to better understand the differences between Twin vs Queen
Parameters
Twin Mattress
Queen Mattress
Size

| | |
| --- | --- |
| IN: | 38" x 75" x 11" |
| FT: | 3.25′ X 6.25′ X 0.92′ |
| CM: | 99.06 X 190.5 X 27.94 |

| | |
| --- | --- |
| IN: | 60" x 80" x 11" |
| FT: | 5′ X 6.67′ X 0.92′ |
| CM: | 152.4 X 203.2 X 27.94 |

Price
$699
$999
Bed Size (Inches)
39″ x 75″
60" x 80"
Ideal Room size (Feet)
7′ x 10′
10′ × 10′
Comfortably Fits

Children growing out of cribs
Teens

Couples who prefer spacious beds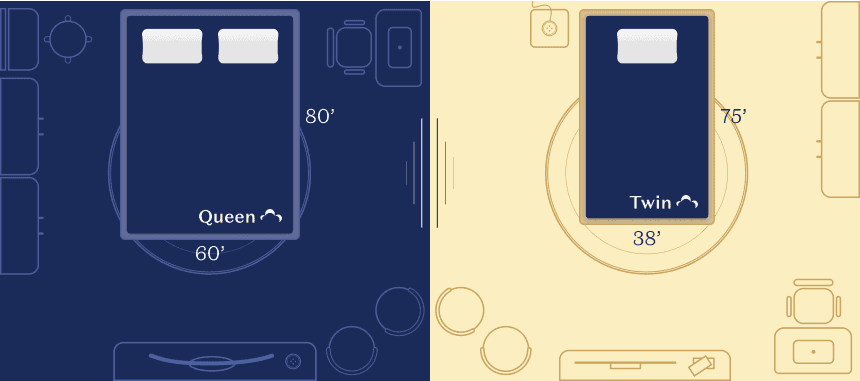 What is a Twin Size Mattress?
Twin bed is a single bed and it is ideal for teenagers who are less than 6 feet and these beds can be chosen for smaller rooms too.
People generally choose these twin-size mattresses for guest rooms or for bunk beds. They are also extensively used in dorms. You can choose two twin beds in case you need to accommodate more than a single sleeper.
Pros
It is budget friendly
Can be moved around easily
You save on space too for smaller bedrooms
Cons
It is not good for couples
Very narrow and ideal for petite adults
Suitable only for smaller bedrooms
Not suitable for couples as the mattress is too narrow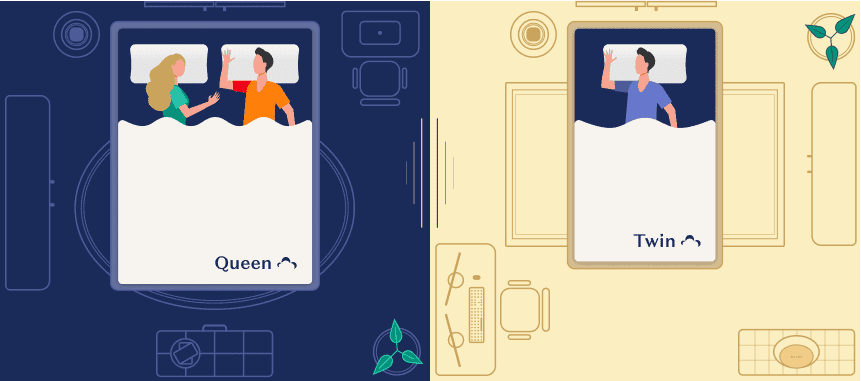 What is a Queen Size Mattress?
It is the most preferred bed by couple, that leads to comfortable sleep. Each person gets a space of 30 inches and it could be used by even single sleepers. This queen mattress also does not occupy much space in a room. Single sleepers can easily sleep with a pet in this queen-sized bed.
Pros
Comfortable for couples or for two sleepers
You can fit this into smaller guest rooms too
Spacious
Fits into all standard sized beds
Ideal for guest rooms
Cons
It is heavy
It is difficult to move
It costs more
---
Things to Consider Before Deciding Between Twin Size vs Queen Size Mattress
Room Size
Twin beds comfortably fit into room sizes of 7 feet by 10 feet. You can even go in for two beds for a bigger room and it would not occupy much space.
Queen mattress will comfortably fit into a room size of 10'x10' and in bigger rooms you will get a lot of space to move around.
Prices
Twin size mattresses are definitely affordable and they cost about $ 699 though the prices greatly vary from brands to brands. The type of material used also determines the price ranges.
The price of queen beds starts at $999 and it may vary according to brands and the materials used. The accessories used for queen beds are also on a higher side when compared with the twin beds.
You can purchase these beds during sales to get at a cheaper rate.
Bed Size
Before going for the popular mattress sizes make sure that the mattress fits into your bed. This is an important factor to be considered as there is no- one- size which fits all types of beds. Some brands even offer extra large mattresses in certain categories. 
The dimensions of a queen bed are 60''wide and 80'' long. Queen sized beds are always preferred than twin xl mattresses.
Height
A twin mattress is not suitable for individuals who are of 6 feet or more. It is good for teenagers who are not tall enough.
Queen size beds are best options for taller people or for those who are taller than 6 feet. You need to look into the height of the individuals before getting a mattress.
Accessories
For a twin bed you need to get a single pillow or a cushion where as for a queen mattress you need to get two pillows and cushions. The mattress protectors also cost high when they are of bigger sizes.
---
More on Mattress Sizes
---
Choosing Between Twin vs Queen
You need to measure the dimensions of your room size before making the purchase. A queen bed in a smaller room will make the room congested and you will not have space to move around. Place an order after analyzing your requirements and your room size.
---
How We Compare to Other Brands?
We offer a 365-day trial period and a warranty that lasts forever! If you don't believe us go ahead and compare our offer to other brands. Apart from being one of the largest mattress sellers in the United States, we give you 9 reasons why nectar may be your best and the last mattress you purchase.
Sleep Trial
Warranty
Free Shipping *
Free Return
2 Free Pillows
Free Sheets
Free Mattress Protector
Price (Queen)
Total Price
DreamCloud Hybrid Mattress
365 Nights
Forever Warranty™
$999
$999
Shop Mattress
Casper Wave Hybrid
100 Nights
10 Years
$178
$139
$95
$1,095
*$1,507+
Purple Hybrid
100 Nights
10 Years
$196
$99
$1,149
*$1,444+
Shop Mattress
*Price reflects the subtotal of mattress protector, sheets and two pillows (Single pillow for twin/twinxl) compared to the current promotion on Nectar. Additional shipping fees may apply in AK and HI. Price may not reflect any current promotions or discounts. Last Updated: Mar 2021.
---
FAQs
Which is the most popular mattress?
The queen mattress is more popular as it is good for couples or two sleepers. It is not as costly as king beds and it does not occupy much space too. This mattress fits into most master bedrooms and it is ideal for big guest rooms too.
Why should you buy a twin mattress?
A standard twin bed is 39''x 74'' and people go for this when they cannot afford a bigger frame and mattress. They can also go in for twin xl mattress for more length. The dimensions and options of mattress may vary with brands.
What should be looked into before a purchase?
A twin bed is ideal for a smaller room and it is best for kids or teenagers who are not very tall. If you purchase a twin bed for a master bedroom then it will look too small and you will lose out on aesthetics. You can purchase two twin beds for a master bedroom to make it look fuller. The dimensions of the bed also need to be considered.
Should you consider the price factor?
Yes. It is very necessary because with a mattress you also go in for accessories. Bigger mattress cost more and it is the same with accessories too. Bigger frames, mattress protectors and bigger sheets all cost more. Make sure of the affordability because it is a whole package.
What determines the quality of the mattress?
It should be cool, well supported and comfortable. Most companies offer trial versions for up to a year and they are too sure about their quality that such mattresses are the best. The coils and the foam used determine the quality of the mattress.
What are the dimensions of a king-sized bed?
The king size beds is 76'' x 80'' and it is bigger and costly than a queen mattress. So, if a queen mattress is sufficient go for it to avoid wastage of money. This is the standard size offered by most brands and some have bigger sizes too.