The main difference between a queen vs twin mattress is the size. While a twin mattress is the smallest size available, a queen is the second-largest mattress available on the market today.
Also known as single beds, twin mattresses are suitable for children who have outgrown their cribs. It is also an excellent option for teenagers. Whereas queen beds are ideal for couples or single adults who love more space. And this is where all your confusion lies. But, don't worry- we are here to help you out. Read ahead to know all about twin vs queen.
Difference Between A Twin And Queen Size Mattress
A queen mattress is 22 inches wider and 5 inches longer than a twin mattress. A queen measures 60 inches wide and 80 inches long, whereas a twin measures 38 inches wide and 75 inches long. Here is a comparison table between a twin and a queen-size mattress to make it easier for you to decide.
| Parameters | Queen Mattress | Twin Mattress |
| --- | --- | --- |
| Length | 80 inches | 75 inches |
| Width | 60 inches | 38 inches |
| Surface Area | 4800 sq. inches | 2850 sq. inches |
| Recommended Room Size | 10 ft × 10 ft | 7 ft x 10 ft |
| Price | $800-$2500 | $300-$1500 |
| Ideal for | Small rooms, guest rooms, dorms, and kid's rooms | Guest rooms, small rooms, and master bedrooms |
| Occupancy | 2 adults | 1 adult, child or teenager |
What Is a Queen Size Mattress?
It is the most preferred bed by couples because of its size and price. A queen mattress is 60 by 80 inches, where each person gets a space of approximately 30 inches. But, if you live with a furry friend or want more than ample space for yourself, a queen can also be used by even single sleepers. This queen mattress also does not occupy much space in a room. 
Pros 
Comfortable for couples and even single sleepers 

Additional accessories are easily available

You can fit this into smaller guest rooms too 

Spacious 

Fits into all standard sized beds 

Ideal for master rooms 
Cons 
It is heavier than a twin and full 

It can be slightly difficult to move 

It is somewhat more expensive than a full
What Is a Twin Size Mattress?
A twin bed is a single bed ideal for teenagers under 6 feet. However, they are also suitable for dorms, and a single adult can use them. These beds can be chosen for smaller rooms too. 
People generally select these twin-size mattresses for guest rooms or bunk beds.  You can choose two twin beds if you need to accommodate more than a single sleeper and a queen seems more expensive. 
Pros 
It is budget-friendly 

Can be moved around easily 

You save on space for smaller bedrooms
Cons 
It is not suitable for couples because of the space constraint 

Very narrow and ideal only for petite adults 

Suitable only for smaller bedrooms
Factors to Consider When Deciding Between a Twin or Queen Bed
Before making a purchase, taking into account the below factors will ensure that you end up with the right fit.
Room Size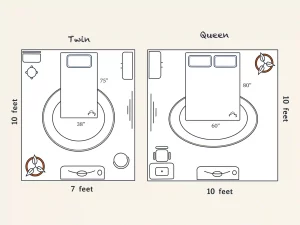 Twin beds comfortably fit into room sizes of 7 feet by 10 feet. You can even go in for two beds for a bigger room, and it would not occupy much space. The Queen mattress will comfortably fit into a room size of 10 feet by 10 feet, and in bigger rooms, you will get a lot of space to move around. 
Price
Twin-size mattresses are affordable, and they cost about $699 through the prices greatly vary from brand to brand. The type of material used also determines the price ranges. The price of queen beds may vary according to brands and the materials used. The accessories used for queen beds are also on a higher side when compared with twin beds. You can purchase these beds during sales at a cheaper rate. 
Bed Size 
Before going for the popular mattress sizes, make sure that the mattress fits into your bed. This is an essential factor to be considered as there are no one-size-fits-all types of bed sizes. Some brands even offer extra-large mattresses in specific categories. The dimensions of a queen bed are 60 by 80 inches. Queen-sized beds are always preferred over twin XL mattresses. 
Height
A twin mattress is not suitable for individuals who are 6 feet or more. It is ideal for teenagers who are not tall enough. Queen size beds are the best options for taller people or those taller than 6 feet. You need to look into the height of the individuals before getting a mattress. 
Accessories: 
For a twin bed, you need to get a single pillow or a cushion, whereas, for a queen mattress, you need two pillows and cushions. The mattress protectors also cost high when they are of bigger sizes.
Should I get a twin or queen bed?
It all depends on your personal preference. Take into consideration all the above factors to decide, such as room size, bed size, and more. 
Disclaimer: This website does not offer medical advice nor professional medical services; rather, it is provided solely for educational, informational, and/or entertainment purposes. Individuals seeking medical advice should consult a licensed physician. The information provided should not be used for diagnosis or treatment of any condition, disease, or injury. When you have a medical condition, you should always talk to licensed doctor or other certified medical professional. You should never delay seeking professional medical advice or treatment based on the contents of this website. Call 911 or immediately go to the nearest emergency room if you think you may have a medical emergency. The contents of this website are provided "as-is", Dreamcloud Sleep and its parent, subsidiaries, affiliates, employees, contributors disclaim any warranty of the information contained herein. Please contact support@dreamcloud.com to report any errors, omissions, misinformation, or abuse.
Shop Our Most Popular Bedroom Must-Haves