Protein shakes are popular health supplements that are generally consumed as a breakfast drink or after a hard workout session. But in recent years, the trend of consuming protein shakes before going to bed has increased significantly.
So, is consuming a protein shake before bed different from consuming it at any other time of the day? Most people are surprised to learn that altering the time of drinking their protein shake can offer major health benefits. Read on to know more about the various benefits of drinking a protein shake before bedtime.   
How Much Protein Does The Body Need
Proteins are the most important nutrient component required by the human body. They are the body's building blocks and help repair damaged cells, create new ones, and are essential for building and maintaining muscle. Protein is essential for children's and teens' growth and development and brings great benefits to pregnant women. That is why proteins should form at least 10% to 35% of the daily calorie intake of an average healthy adult.  
Based on the findings of various studies, it is recommended that a person should consume at least 0.5 grams per pound of body weight of protein every day. So, an individual weighing 170 pounds needs to consume at least 85 grams of protein per day. However, the actual requirement may vary according to the body type, the activity levels, and the health needs of the individuals. For instance, the individuals engaged in high-intensity exercise and weight lifting will need at least 0.7 grams per pound of body weight.
Here's a dietary protein intake chart you can refer to:
| Fitness Level | Protein Needs Per Day |
| --- | --- |
| Average / Sedentary | 0.5 grams of body weight |
| Adults in an active fitness regime | 0.7 grams of body weight |
Why Drink A Protein Shake Before Going To Sleep
A protein shake helps compensate for any deficits in the intake of this essential macronutrient as a part of a regular diet. Consuming the drink before going to sleep is known to provide a wide range of additional health benefits. They include improved strength, better muscle gain, faster cell recovery, and even promoting weight loss. Consuming protein before bed ensures that it is digested slowly overnight. This ensures better absorption of amino acids, which helps repair muscle tissue and provides faster post-exercise recovery.
Benefits of Drinking a Protein Shake Before Bed
Most people feel doubtful about whether or not ingesting protein right before going to bed is safe. The best way to answer the question, "Is it bad to drink a protein shake before bed?" is by learning about the benefits of doing so. The most important of these benefits include the following: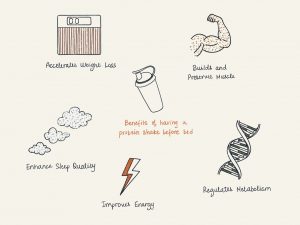 Builds And Preserves Muscle
The human body constantly goes through various chemical and biological processes. Muscle protein synthesis (MPS) and muscle protein breakdown are two such processes. While MPS helps the muscles grow and recover and enhances their strength, MPB does the opposite.
Exercising increases the rate of MPB, which creates a sort of protein imbalance. This results in faster depletion of the body's amino acids, the molecular foundation of muscle building. A lack of enough amino acids creates a negative muscle balance, resulting in decreased muscle growth. 
However, consuming good protein shakes before sleeping can help restore this balance. When combined with adequate rest, such protein intake helps stimulate MPS, ensuring better muscle growth and preservation during sleep.
Lean muscle mass impacts the body's energy levels quite significantly. Protein consumption right before bed promotes muscle strength and growth. It also helps improve the adaptive response of the skeletal muscles, which is indicative of the body's endurance level for rigorous exercise and resistance training.
Consuming healthy protein shakes before going to bed also helps increase muscle recovery and regeneration rate. This increases the body's ability to perform longer workouts and enhances performance during training sessions. Enhanced energy levels also help people feel good and stay focused, besides improving their overall efficiency. For getting the best result, it is advisable to consume 40gms of protein before bedtime.
Consuming protein shakes before sleeping is known to help promote weight loss. Digesting and absorbing the protein requires greater energy than digesting other macronutrients. Thus drinking a protein shake helps people burn more calories as they sleep, resulting in weight loss.
Drinking a protein shake before going to bed also makes people feel fuller. This prevents them from giving in to any late-night cravings they might have. The protein shake also makes them consume fewer calories during their dinner, which further enhances weight loss.
However, to get the best benefits of using protein shakes for weight loss, it is important to pair them with a healthy diet and exercise routine. 
Consuming some extra protein before going to bed helps promote restful sleep. The protein helps push the amino-acid tryptophan into the body. This specific amino acid releases melatonin, a sleep-inducing hormone, and the happy hormone serotonin.
Both these hormones help transform the body from its stressful and tired state to a more refreshing and relaxed one. One way to increase the level of tryptophan is by making the protein shake using soy milk, plain milk, or yogurt. All these foods are a rich source of this amino acid and thus help to enhance the sleep-inducing abilities of the protein shake.
One of the lesser-known benefits of consuming a protein shake before going to bed is that it helps regulate the body's metabolism. The protein thus consumed helps stabilize the blood sugar levels by increasing them slightly as they tend to drop during the night. Lower blood sugar levels work to slow down the metabolism and weaken the rate of energy consumption.
A higher metabolic rate ensures that the protein is better digested and absorbed in the form of energy rather than getting stored as fat. By consuming just enough protein before going off to sleep at night, people can ensure that their metabolism rate is perfect. This prevents them from gaining weight besides making them feel relaxed and energetic.
Types Of Protein Powder
Consumers can choose from different powders in equally diverse flavors to be consumed as protein shakes right before bed. The most common types of these powders include the following.
Whey 
Whey is the most popular protein powder preferred by athletes and bodybuilders. It is a water-soluble milk protein and contains all of the amino acids required by the human body from food. It is absorbed quickly and easily by the body and drinking a whey protein shake before bed is known to offer various health benefits.
Casein
Casein is another popular protein derived from milk and is a rich source of glutamine. Glutamine is an amino acid that helps improve muscle recovery speed after exercising. It is digested and absorbed slowly by the body, making it an excellent choice for consuming in shake form before going to bed.
Soy
Soy protein has gained popularity over the past several years, especially among vegans and lactose-intolerant people. The protein contains all the essential amino acids and is cholesterol-free. It is derived from plants and is suitable for people looking to increase their muscle mass or suffering from heart problems.
Pea
Pea protein is the most popular choice among people seeking a 100% vegetarian source of protein. It is derived from yellow peas, legumes, and pulses and is a rich source of amino acids and fiber. It is a much-preferred alternative for soy- and dairy-based proteins. Pea protein is exceptionally suitable for women in their pre or post-menopausal phase and vegans and vegetarians.
Hemp
Hemp is one of the best protein powders vastly preferred by vegans. It is derived from hemp seeds and is a complete source of protein with all the essential amino acids. It is also a rich source of fiber and is 100% plant-based protein. However, the body cannot easily absorb the protein, and its protein content is way lower than whey, casein, or soy powders. This protein powder is suitable for heart patients, vegans and vegetarians.
Egg
Egg protein powder is a great choice for people looking to lose weight. Derived from the dried egg whites, the protein is cholesterol-free and does not contain any fat. Its absorption rate is somewhere between whey and pea. It is a good alternative to a full-time dinner meal and offers excellent weight loss benefits when consumed before bedtime. It is also a great option for athletes following a strict diet and who need to maintain their calories.
Best Natural Sources Of Protein
There are countless natural sources of protein that can offer benefits similar to a protein shake. The most common of these sources include the following.
Egg And Avocado
Both egg and avocado are considered superfoods as they are rich sources of key nutrients, including protein. Both these food items are highly versatile and can be prepared in various ways. Eating two whole eggs mixed with two ounces of mashed avocados makes for a tremendous protein-rich late-night snack. 
Milk And Banana
A combination of milk and banana is another great source of protein and various other nutrients. Both these food items make for a healthy and filling evening meal or late-night snack. Eating two bananas and washing them down with a glass of milk before bed can keep the consumers satiated besides offering a wide range of health benefits.
Greek Yogurt And Chia Seeds
In addition to being a great source of protein, Greek yogurt is also known to improve gut health. Combining it with fiber and antioxidant-rich chia seeds containing omega-3 fatty acids and high-quality protein makes for a healthy snack. Add one tablespoon of chia seeds to one cup of Greek yogurt to enjoy it as a tasty and healthy pre-bedtime snack.
Cottage Cheese And Almonds
Cottage cheese is a great source of both whey and casein proteins and hence offers the combined benefits of both. Almonds are rich in healthy fats and effectively slow down the digestive process and regulate blood sugar. Consuming one cup of low-fat cottage cheese and an ounce of almonds before going to bed provides you with the protein boost to restore and repair your body through the night.
Conclusion
It is clear from the above discussion that consuming a protein shake before bed can significantly positively impact an individual's overall health and well-being. The choice between protein powder or a natural source of protein is based on the personal preferences of the individuals and the results they expect. So, finding the perfect option is not too difficult even with such a wide choice of options.
Disclaimer: This website does not offer medical advice nor professional medical services; rather, it is provided solely for educational, informational, and/or entertainment purposes. Individuals seeking medical advice should consult a licensed physician. The information provided should not be used for diagnosis or treatment of any condition, disease, or injury. When you have a medical condition, you should always talk to licensed doctor or other certified medical professional. You should never delay seeking professional medical advice or treatment based on the contents of this website. Call 911 or immediately go to the nearest emergency room if you think you may have a medical emergency. The contents of this website are provided "as-is", Dreamcloud Sleep and its parent, subsidiaries, affiliates, employees, contributors disclaim any warranty of the information contained herein. Please contact support@dreamcloud.com to report any errors, omissions, misinformation, or abuse.
Shop Our Most Popular Bedroom Must-Haves