Most people will agree that there's nothing close to the surreal feeling of sinking into a thick-and-plush mattress after a long, tiring day. But, how thick should a mattress be exactly to be able to render 'that' comfort? Well, it depends. 
Mattress thickness is essential because a mattress that's too thin may wear out soon or strain your back, while one that's too thick may negatively impact your sleep quality.
When purchasing a new, different size mattress, there are ample things to consider – bed base size, sleeping positions, body types, the available choices, and the overall desired bed appearance. This guide aims to break down all these details and give you an idea of which mattress thickness best complements your needs and what to consider when deciding on mattress thicknes
Mattress Thickness Chart
There is no 'one' universal size that suffices everyone's requirements when it comes to mattress thickness. Different people prefer (or need) different mattress thicknesses. However, most varieties of good-quality mattresses are somewhere between 8 and 14 inches in thickness.
The chart below summarizes the various thickness levels available in the market. It explains how they group mattresses:
| Thickness | Mattress Type |
| --- | --- |
| 2 to 5 Inches | Low Profile |
| 5 to 8 Inches | Slim Profile |
| 8 to 12 Inches | Standard Profile |
| 12 to 16 Inches | Deep, Thick, or Tall Profile |
| More than 16 Inches | Extra Deep, Extra Thick, or Extra Tall Profile |
2 To 5 inches
A mattress with a thickness of 2 to 5 inches is considered to be a low-profile mattress. It is an excellent choice for light sleepers and kids. A low-profile mattress is Ideal for stowaway beds and bunk beds.
5 To 8 inches
A mattress with a thickness of 5 to 8 inches counts as a slim profile mattress. Slim mattresses with layers of foam serve as great options for people with limited mobility.
8 to 12 inches
A mattress with a thickness of 8 to 12 inches is known to be a standard profile mattress. This is the average mattress thickness that works well with most adults.
12 to 16 inches
A mattress that has a thickness between 12 to 16 inches is called a deep, thick, or tall profile mattress. These are soft and durable and ideal for plus-sized individuals.
More than 16 inches
Mattresses with a thickness of over 16 inches are referred to as extra thick, extra deep, or extra tall profile mattresses. These types of mattresses are extremely comfortable but expensive and hard to get into for most sleepers.
Factors That Influence the Mattress Thickness
Before you make your choice, it's highly recommended that you be well-versed with what contributes to the thickness of your mattress. Most mattresses comprise two main layers (although high-quality mattresses may have up to four layers): the comfort and base layers. 
Each layer is specifically designed to provide cushioning and support for sleepers. These are composed of different materials that affect a mattress's overall durability and feel.
Comfort Layer 
The soft, topmost layer of a mattress makes up the comfort layer. This layer stays in direct contact with the sleeper, which is why it is plushy by default. Usually, materials like cotton, wool, or polyfoam, are used to make this layer so that the mattress contours to the curves of the sleeper's body.
Most mattresses come with comfort layers with an average thickness of 2 to 3 inches for adequate support. The firmness of this uppermost layer is responsible for features like pressure relief, cushioning, and contouring in a mattress. Some luxury beds come with additional comfort layers to enhance squishiness or include cooling features in them. Also, these added layers tend to increase the overall depth of a mattress. 
Base Layer
The base layer, or the support layer, refers to the mattress's bottom region that acts as its foundation. This layer determines the durability or lifespan of a mattress. Usually, this layer consists of materials like polyfoam, latex, or pocketed springs depending on the type of mattress. 
Thinner base layers can result in premature sagging in mattresses, whereas thicker base layers account for their higher durability. In most high-quality mattresses, the base layer contributes to at least 50% of the entire thickness of the mattress.
So, if the height of your bed is 10 inches, be sure that the base layer is no less than 5 inches thick. Without a thick enough base, your mattress will wear away quickly and start to sag in the high-pressure areas.
Mattress Thickness Breakdown
Depending on their thickness, mattresses can be classified into the following categories: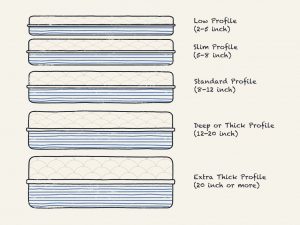 Low Profile
Low-profile mattresses are extremely thin beds or mattresses that range between 2 to 5 inches in depth. These are generally meant for toddlers or infants in their cribs. However, people who prefer to sleep on a low-level bed can undoubtedly go for these.
These mattresses typically adorn fold-away beds, murphy beds, trundles, camp cots, and air mattresses. Due to their thinness, it's not advisable for heavy occupants to use low-profile mattresses as they may have to compromise with comfort. 
Slim Profile
Slim profile mattresses are another kind of thin bed that measures between 5 to 8 inches. These are made of dense foam material and can be seen in rooms with limited space. 
Ideally, slim profile mattresses can be used in children's beds and by sleepers with limited mobility. Also, these are quite pocket-friendly.
Standard Profile 
Standard profile mattresses are the most commonly preferred size that offers a mattress height ranging between 8 to 12 inches. The standard mattress thickness works best for most adults. Due to its versatile nature, it is also compatible with most sleeping positions. 
Unlike thinner, low-profile ones, these mattresses feature various materials, including latex, memory foam, springs, and more.
Deep or Thick Profile
Deep or thick profile refers to the category of mattresses between 12 to 16 inches in height. Mattresses with such thickness are typically high-quality, soft, and durable. These are suitable options for both side sleepers and plus-sized individuals.
A list of materials goes into making these mattresses costlier than others. These medium-thick mattresses can also relieve people with sleep disorders, back pain, and other health concerns.
Extra Thick Profile 
Mattresses belonging to the extra-thick profile come with a thickness of more than 16 inches. These are premium quality mattresses that offer a thick comfort layer. While they may appear attractive, the heavyweight makes them challenging to handle and hard to get into.
Since these are not easily foldable, shipping them gets quite challenging too. Deeper mattresses undoubtedly give your bed a luxurious look with their fillings and constructions. However, this makes them the most expensive as well.
Mattress Type Vs Thickness
Mattress thickness is different from mattress type as mattress thickness refers to how thick a mattress is, such as low profile, slim profile, standard profile mattress, etc. However, mattress type refers to the construction and material of the mattress, i.e., memory foam mattress, hybrid mattress, latex mattress, etc. Let us understand the below in detail.
Memory Foam
A memory foam mattress has a memory foam layer on top of springs or support foam. Memory foam softens and molds to your shape using your body heat. This gives exceptional support and comfort. Once pressure is removed, memory foam will slowly rebound and recall your body form and best resting position over time, hence the name "memory."
Hybrid
Some mattresses have a hybrid construction containing springs and foam layers. Hybrid mattresses might be an excellent choice for those whose preferences fall somewhere between spring and foam mattresses.
Latex
​​When latex is aerated, bubbles are trapped within the material, providing soft and bouncy support equally across the mattress. Latex foam is soft and provides pressure relief similar to other foam alternatives; however, unlike memory foam, latex mattresses rebound faster and reduce the sensation of sinking into the mattress.
Latex is also a common material in hybrid mattresses such as the Wave. Incorporating a latex layer rather than a total latex foam mattress can be a terrific way to get the benefits of latex without the downsides.
Innerspring
The spring mattress is the most conventional type of mattress, consisting of a layer of coils surrounded by layers of comfort material that can include latex, natural fibers, or foam. Different types of spring mattresses use different coil types and layouts to produce distinct results.
Polyfoam
Polyfoam, or polyurethane foam, is a substance that is very similar to memory foam and is frequently used as one of the layers that encases the coils of a spring mattress. Polyfoam comes in three varieties, two of which are solely utilized in polyfoam layers of spring mattresses. The third variety, known as high resilience foam, is stiffer and more supportive and can thus be used alone.
The Wave mattress also has a layer of high resilience polyfoam, which works in tandem with the durable innerspring base, supportive latex layer, and soft memory foam layer to provide the full range of hybrid mattress benefits.
How to Choose the Right Mattress Thickness
While it's true that the thicker a mattress is, the softer it feels, it's not necessary that everyone feels comfortable on a huge mattress. It's essential to identify your personal needs and choices to simplify your quest for a perfect mattress. For choosing a mattress thickness that complies with your requirements, you must thoroughly acknowledge factors like sleeping position, body type, medical conditions, and bed base height. 
Take a look below to see the best recommendations as per your conditions and sleep preferences.
Sleeping Position
A person's sleeping position determines the pressure points their body creates as they sleep. Depending on that, there may be optimal mattress thicknesses for all sleepers:
Side Sleeping
People who prefer to sleep on their sides require extra cushioning to reduce pressure off their shoulders and hips. Thick mattresses between 12 and 14 inches are best suited for side sleepers since they come with additional comfort layers to relieve muscle pain in those areas. 
Back Sleeping 
Back sleepers need support at their backs to keep their spines naturally aligned. A mattress around 10 to 12 inches deep takes care of this since it comes with a thick base layer and a comparatively thinner comfort layer. It prevents the sleeper from sinking.
Stomach Sleeping
Stomach sleepers require a somewhat rigid surface to reduce the chances of spinal misalignment. It helps support their abdomen and ease the strain on their backs. Mattresses that are 10 inches tall work best since these possess thinner comfort layers that account for a firmer surface. 
Combination Sleeping 
Combination sleepers keep constantly tossing and turning throughout the night. They switch between multiple sleep positions and thus need a mattress that supports all their postures. They usually feel most comfortable on 12-inch thick mattresses since they balance softness and stiffness.
Body Type
Your body type and weight are essential factors in determining which mattress thickness is appropriate for you. That's why it's crucial to choose a mattress that supports your body correctly. You'll put high or low pressure on your mattress based on your weight. 
Lightweight Sleepers (weighing less than 130 pounds)
A mattress at least 12 inches thicker should work fine for petite sleepers. Its ultra-thick comfort layers provide pressure-point relief, contour their bodies, and reduce aches in high-pressure regions.
Average Weight Sleepers (weighing between 130 to 230 pounds) 
Average sleepers mostly feel comfortable in medium-firm mattresses that offer a height of 10 to 12 inches. However, one should make the final choice after considering their sleep position and checking the materials used to make the separate layers.
Plus-Sized Sleepers (weighing above 230 pounds)
It's recommended that plus-sized sleepers choose a mattress of 12 to 14 inches in depth. The added thickness prevents the mattress from wearing out prematurely. Also, make sure that the comfort layer is at least 6 inches thick to ensure extra plushness and provide sufficient give.
Sleeping Partner 
If you have a sleeping partner, there will undoubtedly be more pressure on your mattress than the one that bears the weight of a single person. The extra weight may cause premature sagging and make it less supportive over time. So, for couples, or people sharing their beds, it's usually suggested to use a mattress with a thickness of at least 10 to 12 inches. 
Health and Medical Conditions 
People with specific medical conditions or health concerns may have to customize the thickness of their mattress to ensure maximum support and comfort.
Individuals who have arthritis, pain in the shoulders and lower back, or fibromyalgia should opt for an extra-thick mattress that offers a height of around 12 to 14 inches. Owing to their excess thickness and softness, these mattresses provide the necessary cushion for the patients' bodies and relieve their pain due to their extra thickness and softness.
For back pain sufferers, it's better to opt for standard profile mattresses in the range of 8 to 12 inches. These come with a medium-firm feel and prevent mattress sinkage. Also, these are soft enough to conform to the curvature of their spines and hence enhance support.
Height of Your Bed Base
When selecting a particular thickness for your mattress, it's necessary to consider the height of your bed base. It will make sure that the combined height of your bed after introducing the mattress doesn't become inaccessible.
The overall height of your bed equals the foundation height plus the mattress thickness. It's recommended not to let this total depth go beyond 25 inches. For instance, if your mattress is 14 inches thick, your bed base shouldn't exceed 11 inches in height. This way, it would be easier to get in and out of your bed.
Benefits of Thick Mattress
Thick mattresses are typically premium quality mattresses with an ultra-plush sleeping surface. Investing in a thick mattress is a superb deal to achieve a luxury appearance for your bedroom. 
Let's take a look at its pros.
Thick mattresses are much preferred due to the various benefits they offer, the most important of which include the following.
Softer
These mattresses are softer and plush than regular mattresses, making them more comfortable.
Support
Thick mattresses tend to offer better support around the more sensitive body parts, including hips and shoulders.
Durability
The thicker base layers of these mattresses make them capable of resisting the wear and tear from everyday use more effectively.
Sagging
Thicker mattresses are better able to bear the weight of heavier people without much sagging, ensuring a longer life for the mattress. 
Drawbacks of Thick Mattress
Like most other things, thick mattresses also suffer from some drawbacks, which include the following.
Too Heavy
Most thick mattresses are made of multiple materials, which significantly adds to their bulk and weight.
Inconvenient
Given their excessive weight, thick mattresses can be quite challenging to move around.
Relatively Costlier
Since the mattresses use more material, they generally come with a hefty price tag making them less affordable.
Extra Tall
Some thick mattresses can be extremely tall, which may make them inconvenient for users with limited mobility to move in and out of bed. 
A mattress is a significant enough investment. That means it's remarkably essential to consider all the necessary aspects before purchasing it. And, you just can't skip the thickness part as you must have got to learn, "does mattress thickness matter?"
You must know which mattress thickness should be right to accommodate your body type and sleeping position and cater to your specific needs. Our mattress thickness guide tells you all of it in a sequence so that the process gets simpler than ever for you.
Disclaimer: This website does not offer medical advice nor professional medical services; rather, it is provided solely for educational, informational, and/or entertainment purposes. Individuals seeking medical advice should consult a licensed physician. The information provided should not be used for diagnosis or treatment of any condition, disease, or injury. When you have a medical condition, you should always talk to licensed doctor or other certified medical professional. You should never delay seeking professional medical advice or treatment based on the contents of this website. Call 911 or immediately go to the nearest emergency room if you think you may have a medical emergency. The contents of this website are provided "as-is", Dreamcloud Sleep and its parent, subsidiaries, affiliates, employees, contributors disclaim any warranty of the information contained herein. Please contact support@dreamcloud.com to report any errors, omissions, misinformation, or abuse.
Shop Our Most Popular Bedroom Must-Haves