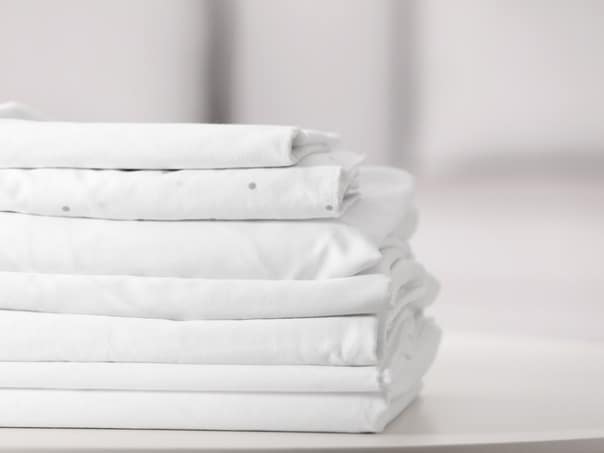 When it comes to choosing the right fabric for bedding, you might not want to compromise on comfort. And the first choice is always cotton or linen. Both fabrics are some of the oldest and have been used in the fabric industry for centuries with similar qualities and properties. Cotton fibers are softer than linen fibers. Cotton fabrics are versatile, comfortable, and gentle.  
So what makes linen different from cotton? Linen vs cotton, what should you choose and what are the pros and cons of each? Read on to find out the answers to these questions.
Linen vs. Cotton – A Detailed Comparison
| Features | Linen | Cotton |
| --- | --- | --- |
| Texture | Softer than cotton | Softer sheets that become comfortable after a wash |
| Thread Count | The avg. thread count is 80-150 | The avg. linen thread count is 300-400 |
| Durability | It lasts for decades | It lasts for few years |
| Breathability | Highly breathable | It depends on the type of weave |
| Cleaning & Care | Easy to wash and clean | Cotton becomes a bit heavy when wet |
| Shrinkage | It doesn't shrink after wash | It shrinks after 1st wash |
| Hypoallergenic | Linen is slightly better than cotton | Suitable for allergic people |
| Cost | It is a bit expensive | It is cheaper than Linen |
| Patterns & Styles | Limited choices are available | A wide range of patterns & styles available |
| Absorbency | It holds 20% more water than its weight | It holds 25% more water than its weight |
What is Linen?
Linen is a natural fiber of the flax plant. Natural linen fibers are twice as strong as cotton and are made from the cellulose fibers from the stem of the plant. The fabric produced is usually used in beddings, upholstery, and clothes. What makes Lenin a versatile fabric is its quality of being durable and strong. Lenin is super-absorbent and can absorb up to 20% of its own weight. 
Thread Count in Linen
Thread count is the number of threads woven per square inch of fabric. It is said, the higher the thread count, the better the quality of fabric. Linen is a naturally strong fabric, so weaving it can become problematic. 
The average thread count of Linen is somewhere between 80-150, while the thread count of cotton starts from 200. 
Read here about the best thread count sheets you can buy.
Pros and Cons of Linen Sheets
Linen is considered one of the most luxurious fabrics, and it has multiple advantages. Let's see the drawbacks & benefits of the Linen sheet.
Pros
Highly durable – Good quality Linen sheets can last for decades. Flax fibers are naturally strong in nature and get stronger when it gets wet. This strengthens and softens Linen with each wash making the most durable sheets for the years to come. 
Breathable – One of the characteristics of Linen is moisture-wicking makes it suitable for all weather conditions. The fabric doesn't irritate the skin and has a tendency to billow out instead of clinging to the body. This makes Linen the most worn fabric during summers. 
Antibacterial – These sheets are antibacterial in nature, making them suitable for people with allergies and sensitive skin. It is soft on the skin and doesn't cause any discomfort. It is not affected by fungi or bacteria easily, which also adds to the life of Linen sheets.  
Highly absorbent – These sheets absorb most of their weight when wet making them super light. It also dries up faster than other fabrics. Being highly absorbent also makes it the best choice for summers. 
Eco-friendly – Made from natural fibers, Linen sheets are considered to be eco-friendly. Linen quality lasts for decades and is easily biodegradable when you toss them out. 
Cons
Wrinkle Easy – Since Linen are made of natural fibers, these sheets tend to have more wrinkles than cotton, and getting rid of the wrinkles could be harder than imagined. 
Harder Surfaces – Freshly purchased Linen sheets can seem a little hard on the skin as it gets softer with multiple washes. 
Expensive – Even though with the many benefits of Linen, it is considerably more expensive than cotton sheets. 
Types of Linen
You'll see, in most of the stores, there are types of Linen sheets on display or a whole section of Linen sheets. As you compare the types, you can easily pick the best linen sheet for you. The most common types are: 
1. Flax Linen
These are 100% flax Linen sheets that come with the promise of durability and strength. 
2. Irish Linen
The Irish Linen is a beautifully rich fabric and is excellent for draping. It is highly breathable and comfortable and is considered the popular fabric in the world. 
3. Linen blends
These are combined with other fabrics that reduce the drawbacks in a pure Linen sheet. Hence, these sheets won't trouble you with visible wrinkles. 
What is Cotton?
Cotton is a soft, fluffy natural fiber that grows in the boll and belongs to the Gossypium in the mallow family Malvaceae. This natural material is spun and woven to create a durable fabric. It is the fabric industry's most used natural fiber, mainly used to make clothes & cotton bedding.
Did you know, cotton is the most used natural material used in the fabric industry.
Thread Count in Cotton 
The tread count in cotton is comparatively higher than in Linen. The normal thread count begins from 200. So, you'll find high-quality cotton sheets that will have a thread count of 300 or sometimes 400. Lower thread count tends to give the cotton sheets a rough texture. Hence higher count increases the softness and breathability of a sheet.
Pros and Cons of Cotton Sheets  
Cotton is a versatile fabric that has many benefits. It is the fabric industry's most used natural material. Being a popular choice, you might think there aren't any downsides to cotton sheets. Let's explore some pros and cons of cotton sheets. 
Pros 
Breathable – The cotton material is soft by nature; therefore, the sheets are softer and breathable, making them suitable for summers. 
Versatile – Cotton is widely used in the production of sheets, pillows, etc. know what type of sheet you are looking for; you'll definitely get one in cotton. 
Hypoallergenic – Cotton sheets are best known for their hypoallergenic properties. These do not irritate the skin and hence are proven to suit people with allergic or sensitive skin. 
Durability – Cotton sheets do not rip off, unlike polyester ones. Cotton is generally durable and withstands multiple washes. Made from pure cotton, these sheets also retain the colors very well over time. 
Adaptability – One of the best features of cotton is its ability to adapt the temperature to the changing seasons. It is perfect for summers and rainy seasons. 
Cons 
Not-moisture Wicking – Cotton absorbs moisture but unlink Linen it isn't moisture-wicking and takes more time to dry. If you are someone who sweats a lot then, you might wake up drenched. 
Easy Wrinkles – Cotton sheets are prone to wrinkles and require frequent ironing. This can give the sheets an untidy appearance, hence it becomes necessary to keep the sheets crisp. 
Shrinkage – Unfortunately, cotton sheets tend to shrink after being washed. So you might want to pick a bigger size for the bedroom. 
Types of Cotton 
Take a look at the different types of cotton sheets you can choose from.
1. Pima Cotton
Pima cotton is considered one of the finest cotton in the world. It is extra-long-staple cotton with a length of 1.5 inches. It was introduced in the 20th century by the Pima Native Americans. It is grown in South America and comes from the same breed of cotton as Egyptian cotton. 
2. Regular Cotton
Upland cotton or regular cotton is the most common cotton grown in the world. This cotton is more resistant to adverse weather conditions and is easier to grow. In addition, the fabric produced by this cotton is of high quality and is used for many common purposes. 
3. Egyptian Cotton
Egyptian cotton is long-staple cotton with at least 400 thread count. Originated in the Nile Valley, Egyptian cotton is the softest and luxurious cotton in the world. What's special about this cotton is its durable nature. Sheets made from this cotton are stronger than any other cotton fabric.  
What Should You Buy?
After the detailed comparison, it is still a personal choice! Whatever suits you the best should be your choice. While cotton is perfect for summers and most seasons, Linen has slightly better features and is more durable than cotton. If you are looking for cheaper options, then cotton is what you need. On the other hand, if you are comfortable paying a higher price for a luxurious bed sheet then, Linen is your choice. 
You Should Buy Linen Sheets if:
You have the budget. 
You don't want to change your sheet for at least a decade. 
You have sensitive skin or allergies.
You like limited patterns and styles. 
You want luxurious sheets. 
You Should Buy Cotton Sheets if:
You are looking for budget-friendly sheets. 
You are looking for bedsheets for a shorter duration. 
You like a variety of colors, patterns, and styles. 
You want premium sheets. 
You have sensitive or allergic skin.
Summing It Up
Hopefully, the comparison has helped you choose and understand each sheet's features and has given you a clear understanding of what you can expect from these fabrics. Coming to a conclusion, both the fabrics are versatile and durable and have distinguishing features. Choosing between the two would be a tough decision. It all depends on your choice, so, what would you choose? 
Disclaimer: This website does not offer medical advice nor professional medical services; rather, it is provided solely for educational, informational, and/or entertainment purposes. Individuals seeking medical advice should consult a licensed physician. The information provided should not be used for diagnosis or treatment of any condition, disease, or injury. When you have a medical condition, you should always talk to licensed doctor or other certified medical professional. You should never delay seeking professional medical advice or treatment based on the contents of this website. Call 911 or immediately go to the nearest emergency room if you think you may have a medical emergency. The contents of this website are provided "as-is", Dreamcloud Sleep and its parent, subsidiaries, affiliates, employees, contributors disclaim any warranty of the information contained herein. Please contact support@dreamcloud.com to report any errors, omissions, misinformation, or abuse.
Shop Our Most Popular Bedroom Must-Haves