Detailed Mattress Comparison
A split king mattress is a king size mattress split in half. While the dimensions of a king size mattress are 76 by 80 inches, a split king is 38 by 80 inches when measured as a single unit. A split king is only called so when it is used as one of the two mattresses on a king size bed placed side by side. Otherwise, a split king mattress is the same dimensions as a twin XL mattress.
We've put together all the information about king vs split king mattresses so that you can understand how they differ.
Parameters
King Mattress
Split King Mattress
Size

| | |
| --- | --- |
| IN: | 76" x 80" x 11" |
| FT: | 6.33′ x 6.67′ x 0.92′ |
| CM: | 193 x 203.5 x 27.94 |

| | |
| --- | --- |
| IN: | 38" x 80" x 11" |
| FT: | 3.25′ x 6.67′ x 0.92′ |
| CM: | 99.06 x 203.5 x 27.94 |

Price
$1199
$1299
Bed Size (Inches)
76″ x 79″
76″ x 79″
Ideal Room size (Feet)
12′ x 12′
12′ X 12′
Comfortably Fits

Couples with a child or a pet
Adults who like space

Couples with different sleeping preferences
Tall people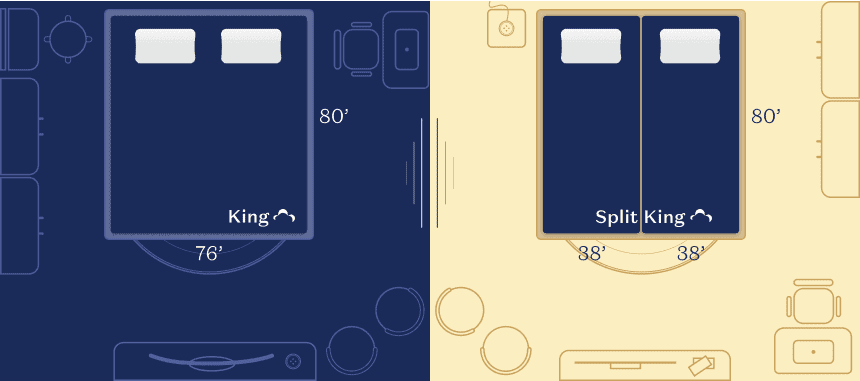 What is a King Size Mattress?
Also known as eastern king, a standard king mattress measures 76 inches wide and 80 inches long. King mattresses are ideal for couples as it offers a lot more space than other mattress sizes. It fits perfectly in a master bedroom or any room that is at least 10 feet by 12 feet or larger.
Pros
Perfect for couples who share the bed with kids
Ideal for spacious bedrooms
Cons
Expensive
Too wide for restricted spaces
Hard to move because of weight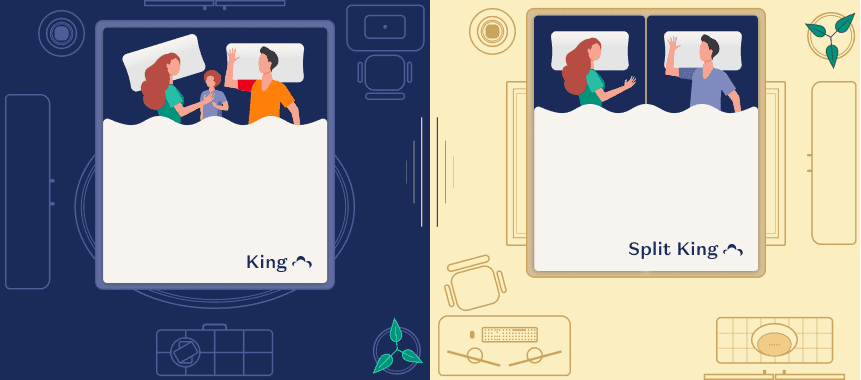 What is a Split King Size Mattress?
A split king mattress is similar to a king mattress. The only difference being that a split king has two split king or twin XL mattresses instead of one big mattress. A split king is the same dimensions as a twin XL and is only called a split king when used on a king size bed. First created for extra tall athletes, a standard split king bed mattress measures 38 inches by 80 inches.
In addition to that, split king mattresses allow individuals to adjust and customize the mattress to their liking. With the help of an adjustable base, a couple can share the bed while having the freedom to choose the position that is most comfortable for them.
Pros
Perfect for couples whose sleep preferences don't match
No motion transfer
Exclusive personal space of each sleeper
Adjustable base
Cons
Assembling the bed is complicated
Expensive than a standard king mattress
The gap may cause discomfort
---
Things to Consider Before Deciding Between King Size vs Split King Size Mattress
If you're confused between split king vs king, we've got you covered. Here is a list of things to consider before deciding between a king mattress and a split king mattress.
Who's Using the Mattress?
An important consideration while deciding between a king mattress and a split king mattress is who'll use the mattress. If you're a couple who like to cuddle or co-sleep with your baby or a pet, a king size mattress may be the better choice for you.
However, if you and your partner have different sleeping preferences and want mattresses with varied preferences, it's best to go with a split king mattress.
Size of the Room
Since both king and split king mattresses are used on a king size bed, the room size required is the same for both the mattress sizes. The minimum room size recommended for a king size mattress is 12 feet by 12 feet. Anything smaller can make the room feel cramped and limit the space you can furnish.
Budget
When compared to other mattresses, both king and split king mattresses are expensive. Split king is slightly more expensive than a king size. It is usually $100 more than a king size mattress.
If you and your partner are light sleepers and get bothered by the slightest movement, then spending the few extra dollars on a split king can ensure a night of peaceful sleep for you.
Extra Accessories
A king mattress can be accessorized with pillows, throw pillows, duvets, and covers as it provides ample surface area. The linen for split king mattresses may cost you more, depending on the material and brand you purchase from. The advantage of a split king mattress is that you can choose the accessories for your side of the bed. You can even choose a different mattress type if you and your partner don't have the same preferences.
Mobility
As split king mattresses come in a pair of two, one can easily move them from one part of the house to another. However, king size mattresses are harder to move as they are large and heavy.
Bed Size needed
Bed sizes are based on standard mattress sizes and vary from country to country. Moreover, they also vary according to the degree of ornamentation and size of the bed frame.
In the United States, a standard bed size needed for a king mattress and split king mattress is 193 cm x 202 cm or 76 inches x 79.5 inches.
For a split king, however, an adjustable bed frame is ideal since it will allow you to adjust the bed to your preference while sharing the bed with your partner.
---
More on Mattress Sizes
---
Choosing between King vs Split King
Both king mattress and split king mattress are great options for couples or individuals who like things grand along with their individual sleep space.
While a king mattress is known for its wider dimension and offers more personal space, a split king mattress allows couples to choose their sleeping preference and allows for more personalization.
Buying a new mattress requires thorough knowledge and understanding of your room size, sleeping temperature preferences, sleeping position, and mobility, amongst other things. Both king vs split king are excellent choices for a master bedroom.
---
How We compare to Other Brands?
We offer a 365-day trial period and a warranty that lasts forever! If you don't believe us go ahead and compare our offer to other brands. Apart from being one of the largest mattress sellers in the United States, we give you 9 reasons why Dreamcloud may be your best and the last mattress you purchase.
Sleep Trial
Warranty
Free Shipping *
Free Return
2 Free Pillows
Free Sheets
Free Mattress Protector
Price (Queen)
Total Price
DreamCloud Hybrid Mattress
365 Nights
Forever Warranty™
$999
$999
Shop Mattress
Casper Wave Hybrid
100 Nights
10 Years
$178
$139
$95
$1,095
*$1,507+
Purple Hybrid
100 Nights
10 Years
$196
$99
$1,149
*$1,444+
Shop Mattress
*Price reflects the subtotal of mattress protector, sheets and two pillows (Single pillow for twin/twinxl) compared to the current promotion on Dreamcloud. Additional shipping fees may apply in AK and HI. Price may not reflect any current promotions or discounts. Last Updated: Mar 2021.
---
FAQs
Are split twin and split king the same?
No. A split king mattress is the same as two twin XL mattresses put together, not two twins. A split king gives extra length compared to a twin mattress.
Are two twin XL mattresses the same as a split king?
Yes, two twin XL mattresses put side by side are the same as a split king.
What other options do I have in a split mattress?
Other mattress options that work well for couples include flippable mattresses, manually adjustable firmness mattresses, and electronically controlled adjustable firmness mattresses.
Want to know more about other foam mattress sizes?
Here's a quick comparison guide that will compare all sizes like the queen size mattress, the full size bed, the twin size mattress and all other standard mattress sizes to help you make the best decision