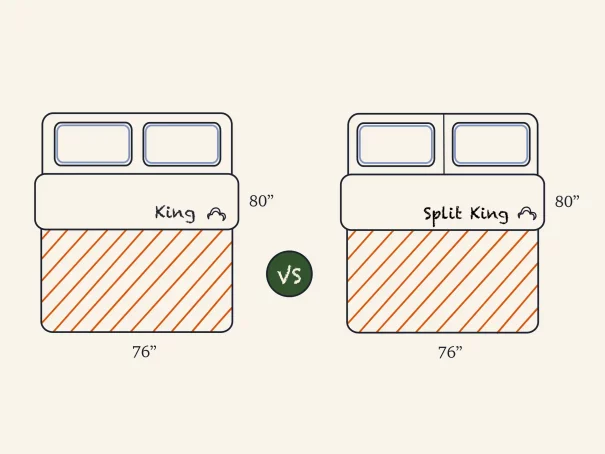 If you have often noticed your partner getting all the kicks, punches, and whatnot due to your gymnastic positions during sleep, then it's time you consider a split king bed. But you're in a dilemma between split king vs king bed. As anticipated from the name, a split king is exactly the split or the divided version of a king-sized bed to simplify the difference. It is a great way to offer independence to the sleepers and have their own space while sleeping - especially if the other is a restless sleeper.
Differences Between Split King vs King
King vs Split king offer similar dimensions measuring 76 inches wide and 80 inches long. A split king bed is originally a blend of two twin XL mattresses. Look further at the table of dimensions to know the difference between the two.
| Parameter | Split King | King |
| --- | --- | --- |
| Length | 76 inches | 76 inches |
| Width | 80 inches | 80 inches |
| Surface Area | 6080 sq. inches | 6080 sq. inches |
| Price Range | $700-$4000 | $800-$3000 |
| Occupancy | 2 adults | 2 adults + 1 kid or a pet |
| Ideal for | Couple | Family |
| Minimum Room Size | 12 feet by 12 feet | 12 feet by 12 feet |
| Other names | - | Eastern King bed |
What Is a Split King Bed?
The demand for Split king mattresses has always been high in European hotels. But now, the appeal of this bed is immense because of the diverse options for adjustable bases. The only difference between a split king vs king is the composition; whereas the king bed is a single piece of mattress, the split king is composed of two twin XL mattresses instead of one uniform bed. 
The split king bed is an excellent choice if you sleep with a combination sleeper. It is also quite effective if your partner needs to work during the night when you need to sleep as the bases are adjustable. Split king beds are comfortable like the king size mattress. You don't have to compromise your sleep by sleeping next to your loved one; poor sleep quality results in numerous health issues. The best solution is opting for a split king that will not make you feel any difference in your mattress. 
Split King Bed: Pros and Cons 
The difference between a king and split king is not much, but there are specific pros and cons that are exclusive only to the latter. Let us study the drawbacks and benefits of a split king bed.
Pros: 
This bed is most suitable for couples who need their own space 

Perfect for restless sleepers who like a complete bed to themselves

It is pretty easier to move considering the abundant space on each twin XL mattress

It isolates motion-transfer
Cons:
It comprises separate bedded sheets. This means you need to spend more on the accessories, unlike the king size bed.

For some rooms, it can be pretty bulky. You definitely cannot move to a bigger room to accommodate your split king bed, right?

If you are looking for length, you might opt for the California King bed for the extra length. 
What Is a King Bed?
Quite a common name in the mattress industry, a king size mattress or an Eastern King bed is the apt choice for couples out there. This bed offers two people to reside in their own personal space while resting (not everyone is a cuddly sleeper). 
If you have a 12 feet by 12 feet bedroom, this mattress size would be more than perfect. You can even include a couple of nightstands alongside a walking space considering this room size. One good thing about having a king bed is that you can also accommodate your child or pet on a single bed. You will also find accessories for a king size bed widely available in all the stores. 
King Bed: Pros and Cons 
It might take an endless amount of hours to decide between king and split king. Understanding the detailed process, we have curated some significant pros and cons of the king size bed to ease it down.
Pros:
It is quite huge in size offering plentiful space for a couple as well as their kid or pet

You will come across diverse options while choosing for a king size bed. Moreover, you can also experiment with various accessories, and for home-decor enthusiasts, it will be perfect.

The king size bed is the most appropriate choice for watching Netflix and chilling. The bed is perfectly big where you with your family or friends can watch movies and enjoy.

Chances are high that your king size bed will adjust to any bed frames you buy. Compatibility with bed frames will never be a problem.
Cons:
It might be a bit bulky to adjust to your room, especially around the corners and stairs. For a smaller room, this might not be the best option.

It can be a bit more expensive than the queen mattresses

If you are using an adjustable base, the whole mattress is moved which might cause discomfort to the other sleeper if they prefer to sleep in a different angle.
Split King vs California King
A California King bed is a bigger version of the king bed, specifically in terms of the length. If you and your partner are taller, you might want to consider a Cal King instead. While a split king bed measures 76 inches wide and 80 inches long, a California King mattress measures 72 inches wide and 84 inches long. As it can be noted, the split king bed prioritizes width, whereas the Cal king bed offers a greater length. 
Cal King bed can accommodate a 7 feet person, which means an average NBA player can also sleep peacefully without worrying about their feet dangling off the bed or bumping their head.
The good news is that you can opt for a split California king bed. If you do so, you can relish the extra length and reliance that an adjustable split king mattress provides. 
Is split king better than King?
Picking a new mattress involves factors like your sleeping position, size of your room, number of furniture in your room, number of sleepers, budget, etc. The above details about split king vs king will give a helpful insight into whether to buy or not to buy. If you are someone who requires their own space and freedom while sleeping, the split king bed is the perfect option. Whereas, or someone who likes to cuddle while sleeping with their partner, the king size bed is appropriate
Disclaimer: This website does not offer medical advice nor professional medical services; rather, it is provided solely for educational, informational, and/or entertainment purposes. Individuals seeking medical advice should consult a licensed physician. The information provided should not be used for diagnosis or treatment of any condition, disease, or injury. When you have a medical condition, you should always talk to licensed doctor or other certified medical professional. You should never delay seeking professional medical advice or treatment based on the contents of this website. Call 911 or immediately go to the nearest emergency room if you think you may have a medical emergency. The contents of this website are provided "as-is", Dreamcloud Sleep and its parent, subsidiaries, affiliates, employees, contributors disclaim any warranty of the information contained herein. Please contact support@dreamcloud.com to report any errors, omissions, misinformation, or abuse.
Shop Our Most Popular Bedroom Must-Haves