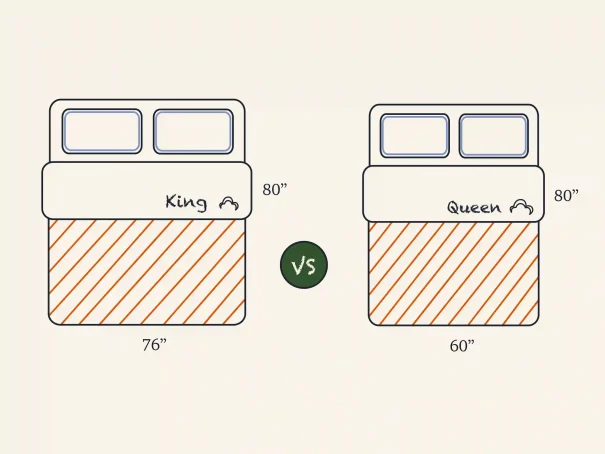 When in need of a new mattress, people often wonder which one to pick between a queen vs king bed when buying a bed. It is crucial to understand that there is a stringent bifurcation between the king vs queen bed, and the utility is also unique. The King mattress is 76 inches long and 80 inches wide, while the Queen mattress is 60 inches long and 80 inches wide. Choosing between king or queen sizes could be intimidating, but we've made it simpler for you.
Read more below to know the differences between King vs Queen Bed and how they meet your family needs.
Difference Between Queen and King Size Mattress
Bringing in a significant difference in width, the King size mattress is 16 inches wider than the Queen mattress while both have the same length.
The King mattress is 76 inches long and 80 inches wide, while the Queen mattress is 60 inches long and 80 inches wide. The queen vs. king mattress's decisive factor is none but the size. Hence, a comparative view can help you better understand the nooks and corners of these two products.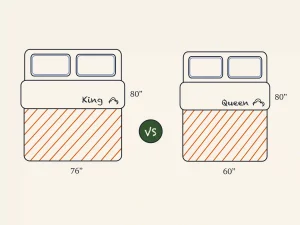 Queen and King Size Comparison Chart
| Parameters | Queen Mattress | King Mattress |
| --- | --- | --- |
| Length | 80 inches | 80 inches |
| Width | 60 inches | 76 inches |
| Surface Area | 4800 square inches | 6080 square inches |
| Price | $450-$2000 | $600-$2500 |
| Occupancy | 1 taller adult and a pet | 2 adults |
| Ideal for | Couples | Taller adults / Couples / People with fur-babies |
| Recommended Room Size | 10 feet by 14 feet | 13 feet by 13 feet |
Factors To Consider While Buying King or Queen Size Bed
1. Comfort
One of the most important things that need to be condemned while purchasing a bed is comfort. After your entire day at work, if your bed is not comfortable, it does not matter whether you have chosen the best standard king mattress from the most expensive shop.
Hence before you make a purchase, try to go for a trial and assess whether it gives you comfort and if the sleep that you will have is good enough. It does not matter if you buy a standard queen mattress or a king mattress. Comfort should be the ultimate factor that has to be considered in this respect.
2. Price 
Next comes the price or the affordability of the mattress that you will be choosing. Most people would agree with me when I say that a mattress is an investment that tends to reap long-term results. In the king vs queen comparison chart, we have already mentioned that the latter is cheaper than the former. 
However, if you have the time and resources, we suggest that you go through multiple shops and sites to compare the price points. It will allow you to make a better decision and ensure that you do not have to pay a large amount of money which could be easily purchased with lesser money.
3. Size Of the Room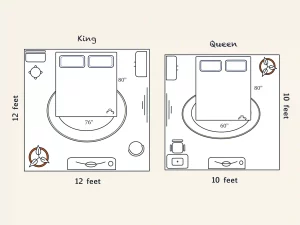 The next thing to consider other than mattress sizes is the size of the room where you will be keeping the bed. If that is not done correctly, it will be a big problem to fit the bed in your room. We already discussed that the queen-size mattress is perfect for those who do not have a massive bedroom space to spare for the king-size bed.
Hence if you think that the room is small, you can easily go in for the equally comfortable queen beds. However, these are a bit smaller than the king-size beds. It is the perfect option for a small family that does not require a huge space to sleep in.
4. Sleeping Partner 
Although it might sound weird, your sleeping partner also plays a significant role in deciding which bed you should choose. Understanding their requirements is equally important if you tend to sleep with a partner. However, if you stay alone, that is not something that you need to be worried about, and in that case, we would suggest that you go for a queen bed. 
However, if you sleep with a pet or a partner who doesn't like to cuddle much and have a personal space while sleeping, nothing is better than the king bed. It is spacious and thus the best choice. 
5. Sleeping Positions 
If you tend to toss and turn in the bed a lot, then your sleeping patterns have to be paid special attention to. If you are a combination sleeper, then go for the king-size bed because it allows you much more space to move your body around. 
However, if you do not move around much and are a peaceful sleeper, the queen size bed will be adequate. The sleeping position factor is essential because otherwise, the complaint of partners kicking each other in sleep becomes an everyday reality for you.
6. Your Height 
Your height also plays a significant role in choosing the right bed size for yourself. You have to note your height so that your leg does not go out of the bed space while sleeping. 
People who purchase beds often forget to get the height measured, resulting in them sleeping with their feet sticking out of bed. Try to make sure that you do not end up with the same problem, as it is pretty uncomfortable. 
7. Movability 
Before you purchase a bed, it is vital to ensure that the movability factor is guaranteed. When people buy king beds, they do not wonder how they can move them in times of need. Because of this, we often see movability becoming a big issue. 
If you are not supposed to move anywhere very soon or do not have a job where the probability of shifting is very high, then the King bed is ideal. However, if you tend to relocate very often or like to mix and match your rooms once in a while, then the queen-size bed can be a better option due to the easier movability. 
Disclaimer: This website does not offer medical advice nor professional medical services; rather, it is provided solely for educational, informational, and/or entertainment purposes. Individuals seeking medical advice should consult a licensed physician. The information provided should not be used for diagnosis or treatment of any condition, disease, or injury. When you have a medical condition, you should always talk to licensed doctor or other certified medical professional. You should never delay seeking professional medical advice or treatment based on the contents of this website. Call 911 or immediately go to the nearest emergency room if you think you may have a medical emergency. The contents of this website are provided "as-is", Dreamcloud Sleep and its parent, subsidiaries, affiliates, employees, contributors disclaim any warranty of the information contained herein. Please contact support@dreamcloud.com to report any errors, omissions, misinformation, or abuse.
Shop Our Most Popular Bedroom Must-Haves