Detailed Mattress Comparison
Cal kings are longer and narrower compared to the standard king size mattress. A king mattress is 76 inches by 80 inches, and a California king is 72 inches by 84.
A California king is 4 inches longer but 4 inches narrow compared to a regular king size mattress. That's the reason tall sleepers or couples with smaller master bedrooms prefer California king over standard king.
Some people assume that California kings are larger than regular king mattresses. As shown above, the difference between California king and king is more in the length as well as the width.
In this article, we will discuss the difference between a king and California king, its pros and cons, available sizes, and more – for you to decide which size is best for your good night's sleep.
Parameters
King
California King
Size

| | |
| --- | --- |
| IN: | 76″ X 80″ X 11" |
| FT: | 6.33' X 6.67' X 0.92' |
| CM: | 193.04 X 203.2 X 27.94 |

| | |
| --- | --- |
| IN: | 72″ X 84″ X 11" |
| FT: | 6.33' X 7' X 0.92' |
| CM: | 182.88 X 213.36 X 27.94 |

Price
$1199
$1199
Bed Size (Inches)
76 X 80
72 X 84
Ideal Room size (Feet)
12 X 12
13 X 15
Comfortably Fits

Couples who love to stretch out
Couples with a small child
Adults with large bedrooms

Taller adults and couples
Couples with a pet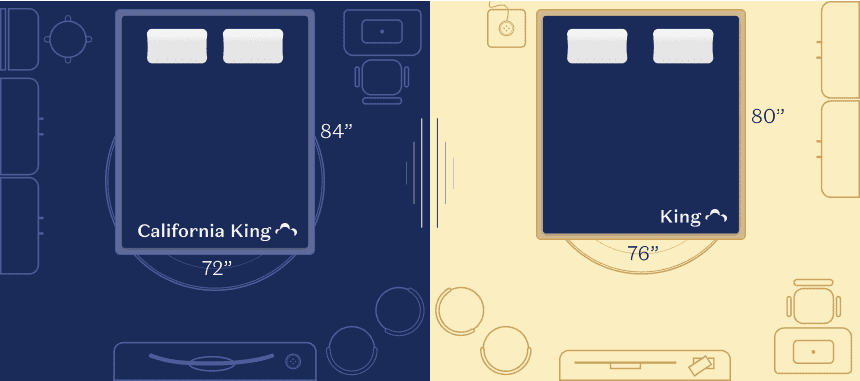 What Is a King Size Mattress?
A king-size mattress (also known as Eastern king) is 76 inches wide and 80 inches long. It's the same dimensions as two twin XL beds placed next to each other. A king-size bed is designed for two sleepers but has enough space to accommodate kids who like to snuggle with their parents at night.
Covering a total surface area of 6,080 inches the standard king size bed is the largest mattress size available on the market. It's a perfect choice for couples or side sleepers and fits well in large master bedrooms that are 12 feet by 12 feet or bigger.
Pros
Ideal for couples who prefer more personal space,
Can accommodate kids as well
Good for spacious bedrooms
Accessible widely
Cons
Expensive
Too wide for restricted spaces
Hard to move because of height and weight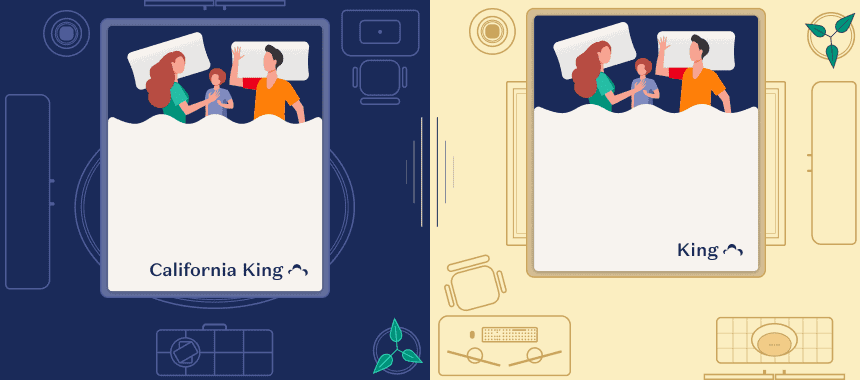 What Is a California King Size Mattress?
A California king size mattress (also called Western king) measures 72 inches by 84 inches and is similar to two twin XL mattresses placed together.
Cal king is 4 inches longer than a standard king mattress. So, how should this affect your buying decision?
Well, if you're someone with an average height, it won't affect your sleep much. But, if you're very tall, you'd probably want a Cal king size mattress.
Cal king mattresses are perfect for couples, especially those who are over 6 feet tall. Master bedrooms measuring 12 feet by 12 feet can easily accommodate cal king beds.
Pros
Best for sleepers taller than 6 feet
Ideal for couples who enjoy sleeping closer to each other
Fits well in large Bedrooms
Cons
Expensive
Difficult to find
Hard to move due to its bulky size
---
Things to Consider Before Deciding Between King Size vs California King Size Mattress
Bedroom Dimensions
A king-size bed would fit better in a wide bedroom, and cal king in a narrow but long bedroom. Rooms that are 12 by 12 feet can comfortably fit both sizes.
Both cal king and king mattress can appear too large in smaller rooms and take up most room space. If your bedroom is spacious enough, all you need to consider is whether the room is broad or narrow.
Generally, it's recommended to leave 24 inches of space clear on all sides of your bed and the bedroom's surrounding walls. If you want a more spacious feel, you can go up to 36 inches or more.
Height
If you're tall, go for California king – if not, both California king and king will work well. If you share the bed with a partner, you'll prefer the standard king because it is wider than a California king. Similarly, parents sharing their bed with kids could have more space in a standard king than California king. If your pet sleeps at the foot of the bed, a Cal king will likely be the better choice for the extra length.
Bed Size
A California king fits on a bed that is 72 inches wide and 84 inches long. A king size mattress fits on a bed that is 76 inches wider and 80 inches long. Make note of the design of your bed and the brand that you choose from as the size may vary slightly.
Cost and Accessibility
Although both king and Cal king's cost around the same, Cal kings are less popular and thus, difficult to find. They may often turn out to be more expensive. For instance, purchasing its spare parts like bed frames, box springs, and bedding accessories are priced higher than standard king beds. So, if you're looking for an affordable option, you should choose the standard king.
---
More on Mattress Sizes
---
Choosing Between King vs California King Mattress
A cal king is longer than a king making it suitable for individuals or couples taller than 6 feet. A king size mattress is wider and has more space for couples to sprawl out on the sides.
As you can see for yourself, when choosing between a California king vs. king, there is a small but defining distinction. You can avoid the confusion of choosing from the many bed sizes available with this article.
---
How we compare to other Brands?
We offer a 365-day trial period and a warranty that lasts forever! If you don't believe us go ahead and compare our offer to other brands. Apart from being one of the largest mattress sellers in the United States, we give you 9 reasons why nectar may be your best and the last mattress you purchase.
Sleep Trial
Warranty
Free Shipping *
Free Return
2 Free Pillows
Free Sheets
Free Mattress Protector
Price (Queen)
Total Price
DreamCloud Hybrid Mattress
365 Nights
Forever Warranty™
$999
$999
Shop Mattress
Casper Wave Hybrid
100 Nights
10 Years
$178
$139
$95
$1,095
*$1,507+
Purple Hybrid
100 Nights
10 Years
$196
$99
$1,149
*$1,444+
Shop Mattress
*Price reflects the subtotal of mattress protector, sheets and two pillows (Single pillow for twin/twinxl) compared to the current promotion on Nectar. Additional shipping fees may apply in AK and HI. Price may not reflect any current promotions or discounts. Last Updated: Mar 2021.
---
FAQs
What size is suitable for a couple/family with growing children/ with or without pets?
There are many standard mattress sizes in the market. A standard king is preferable for couples or families with growing children, with or without pets. It has enough space to accommodate kids who like to snuggle with their parents at night.
When to go for a king over a queen size bed?
Generally, couples are comfortable sharing a queen size mattress which is 60" X 80". However, those who love to stretch out or want more space can upgrade to a king size memory foam mattress. Couples sharing a bed with kids or pets should choose a king to ensure ample sleeping space. If you are a single sleeper, check out twin size mattresses as an option.
When is a king or California king size too big?
A king-size bed is perfect for those who are 6 feet and shorter. For taller people, a king size bed can cause the feet hang syndrome! For them a California king bed is the better choice between the two.. Do look at the bedroom design before choosing a mattress, as both these mattresses are quite large.