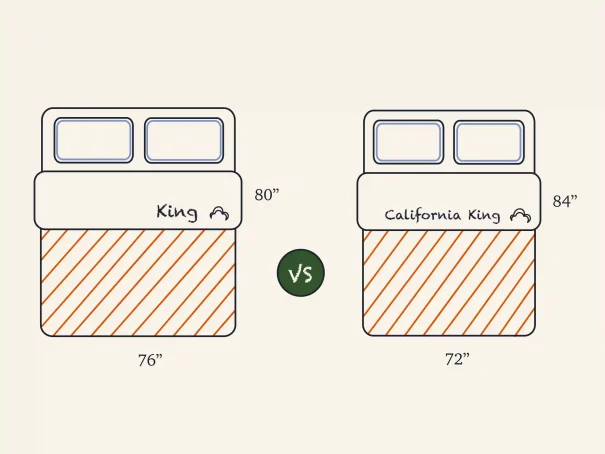 California King Vs King Size Mattress : What Is the Difference?
Written by Dreamcloud Editorial Team
Last Updated on Mar 13, 2023
Who doesn't want large beds to sprawl on? Especially people with huge families who always love to co-sleep and big beds. That's where the confusion between California King and King arises. Many people believe that a California King is larger than a regular king mattress. But, that's not the case. 
Read further to know what actually is the difference!
Difference Between alifornia King vs King Mattress
The difference between the California king and the regular king is that- King mattresses are 4 inches longer and 4 inches smaller widthwise than the California king beds.
A Regular King Mattress is 76 inches long and 80 inches wide, whereas the California King Mattress is 84 inches wide and 72 inches long. This article walks you through the exact differences between California king vs king and their pros and cons to decide which one should work best for you.
California King vs King Mattress Size Comparison Chart
| Parameters | California King | King |
| --- | --- | --- |
| Length | 72 inches | 76 inches |
| Width | 84 inches | 80 inches |
| Surface Area | 6,048 sq. inches | 6,080 sq. inches |
| Other Names | Western King | Eastern King |
| Price | $900-$3000 | $600-$2000 |
| Occupancy | 3 people without squishing | 2 People |
| Ideal for | Tall People | Couples |
| Room Size | 13 by 12 feet | 13 by 13 feet |
What Is a King Size?
A king-size mattress (sometimes called an Eastern king) is the largest mattress size available in the market in terms of width and surface area. A king-size mattress is virtually the same as two twin-sized combined. It offers a total area of 6080 square inches, slightly more than a California king.
King-size mattresses are the best choices for couples with average height who seek more personal sleeping space while still being in proximity of their partners. The extra width also makes enough room to accommodate kids who sleep next to their parents or even pets who like to snuggle with their owners. But it comes with its own set of advantages and disadvantages. Read further to know-
Pros
Easily accommodates two sleepers plus provides room for children or pets.

Suitable for standard-sized bedrooms.

Readily available in a split-king form for couples with different mattress-material preferences. 
Cons
Not long enough to accommodate taller folks. 

Too wide for limited spaces. 

Difficult to move owing to bulky sizes.
What is a California King Size?
A California king mattress (sometimes called a Western king) is again one of the largest standard mattress sizes on the market. With a total surface area of 6048 square inches, it offers almost the same space as two twin XL mattresses put together. 
The extra four inches in length makes the Cal king mattress a perfect option for tall sleepers over 6 feet. Being longer and narrower than a king-size bed, a cal king bed is excellent for narrow bedrooms. However, this size is not recommended for couples who sleep with children since they may feel too cramped due to its lesser width.
Pros
Provides extra legroom for tall sleepers over 6 feet in height. 

Great options for couples who like to snuggle and sleep. 

Fits in narrower rooms. 
Cons
Difficult to find bedding and accessories. 

Not commonly available as split cal king. 

Difficult to move due to size and weight. 
What to Consider When Choosing Between a King or California King Size Mattress?
When choosing between a king and a California king mattress, there are ample things to consider. Although both these mattresses will add a luxurious touch to your bedroom, there's much more to it. In addition to understanding the difference between king and California king, you must consider your sleeping environment, budget, and similar things before making your choice.
Room Dimensions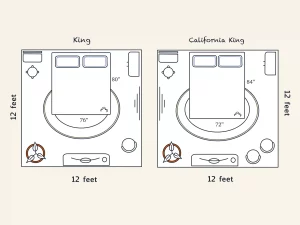 The dimensions of your room are the first thing to consider when looking for a new mattress. After all, you want to pick a mattress size that comfortably fits inside without being jam-packed in your room. There should be a minimum spacing of 2 feet on the three open sides of your mattress to move around easily or make room for other furnishings.
For narrow spaces, a cal king may work better, whereas, for more expansive rooms, a king bed may be more appropriate. Master bedrooms with 12 by 10 feet can easily fit in a king-size mattress. However, 13 by 13 feet would leave enough space to walk around the bed. California king beds are ideal for bedrooms measuring around 12 by 12 feet. Although, 12 by 14 feet shall make more room for the extra length.
Cost
Even though both king and California king mattresses have a similar price tag, a cal king may generally cost you more than the regular king. It is because it is not as commonly available as the standard king-size. Due to their lesser demands, you will have limited options in terms of bed accessories too for cal kings, which again makes them a more expensive choice. 
However, both have the highest price on the market owing to their large sizes and the number of materials used. A king mattress will be a more feasible option if you have a tighter budget. 
Height
When it comes to the cal king vs king battle, the one thing you cannot compromise with is your height. Because you certainly don't want to hang your feet off the edge of your mattress while sleeping. So, if you're over 6 feet tall, go for a cal king mattress designed to be longer. However, for people under 6 feet, a king-size mattress would provide sufficient space to spread out. 
Sleeping Partner
Another thing to consider is your sleeping style and your partner's preferences. If you and your partner tend to snuggle and sleep closer, the Cal king being narrower will serve you the best. Or, if you both like to spread out and prefer a more personal sleeping space, you may opt for the comparatively wider king mattress. The extra width will provide you with much-needed comfort. 
Mattress Foundation
Before bringing a new mattress home, taking your mattress foundation into account is an important step. But, your foundation is more concerned with the mattress type you're opting for and not its dimensions. Both kings and cal kings can be used with all bed bases – adjustable base, box springs, foundations, platform beds, etc. You only need to be sure that the base is compatible with your mattress type so that the mattress doesn't sag over time.
Our Dream Cloud Mattresses
Our Dream Cloud mattresses come in all shapes and sizes and do just what they say – offer you the much-loved dreamlike experience and the comfort that takes you on cloud nine. 
Dreamcloud Hybrid Mattress
Our Dream Cloud hybrid mattress lets you experience the dreamy mix of memory foam and innerspring coils to provide the coolest sleep and maximum comfort. Dream Cloud hybrid mattresses strive to revamp your sleep quality with a thickness of 14 inches, a 365-night home trial, a lifetime warranty, and a free shipping and return facility. 
Dreamcloud Premier Mattress 
With our Dream Cloud Premier Mattress, you get easy access to deeper sleep each night with an aesthetic touch of luxury. These come with a plush cashmere Euro Top, a 14-inch height, an exceptional 6-layer hybrid design, 365-night trial, free shipping and return facility, and a forever warranty to give you the best experience. 
Dreamcloud Premier Rest Mattress 
The Dream Cloud Premier Rest Mattress is the plushest member of our Dream Cloud family and the most luxurious option you can go for. With a 16-inch thickness, luxury cashmere-blend cover, 7 layers of premium materials, necessary cushioned support, pressure relief therapy, 365-nights trial, lifetime warranty, and free shipping and return facility, it's designed to introduce you to the most ethereal nightly routines.
Conclusion
Before investing in a mattress for your bedroom, you ought to take notes of all the necessary aspects to ensure you make the right decision. And, choosing the correct size is just something you can't skip. 
If you're particularly in search of a mattress that fits in a large-sized bed, the two most significant choices you have are the kings and the cal kings. Our king vs California king comparison guide will help you understand the differences between them clearly and know exactly what you need.
Disclaimer: This website does not offer medical advice nor professional medical services; rather, it is provided solely for educational, informational, and/or entertainment purposes. Individuals seeking medical advice should consult a licensed physician. The information provided should not be used for diagnosis or treatment of any condition, disease, or injury. When you have a medical condition, you should always talk to licensed doctor or other certified medical professional. You should never delay seeking professional medical advice or treatment based on the contents of this website. Call 911 or immediately go to the nearest emergency room if you think you may have a medical emergency. The contents of this website are provided "as-is", Dreamcloud Sleep and its parent, subsidiaries, affiliates, employees, contributors disclaim any warranty of the information contained herein. Please contact support@dreamcloud.com to report any errors, omissions, misinformation, or abuse.
Shop Our Most Popular Bedroom Must-Haves