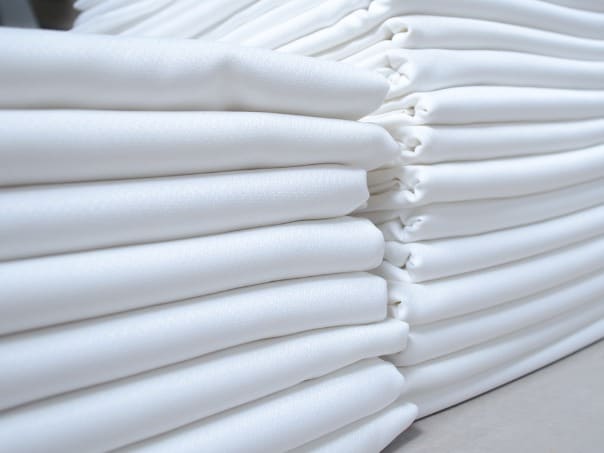 What Are the Best Hypoallergenic Sheets?
Written by Mehran Uzair
Last Updated on Jul 21, 2023
One fine morning if you wake up coughing and sneezing all of a sudden, you might be allergic to your bedsheet! More than 50 million Americans experience different types of allergies every year. A product that can provide you with some relief from these environmental allergens is hypoallergenic sheets. Your bedsheets can house various allergens like pollen and dust mites.
What Are Hypoallergenic Sheets?
Due to its nature, bedding is a sanctuary for dust mites, pollen, animal dander, and other environmental allergens found in your homes. Prolonged exposure to such allergens can lead to headaches, sore throats, sneezing, or coughing.
This is where hypoallergenic bed sheets come into play. Hypoallergenic bedding consists of materials and fabrics that help keep these allergens at bay. The tightly woven structure of a hypoallergenic sheet creates a harsh environment for the allergens to live and reproduce. It also creates a barrier between the allergens residing in your mattress and your skin.
While these sheets are not a foolproof solution, they reduce your chances of exposure to these allergens and hence allergic reactions.
Best Hypoallergenic Sheet Types
The best hypoallergenic sheets are made from natural fibers. While synthetic fiber like microfiber is also hypoallergenic material, it is not as breathable. It can also aggravate any preexisting dry or itchy skin problems. The best sheets for people with allergies are:
Bamboo Sheets
Bamboo sheets are becoming increasingly popular in today's market. Bamboo sheets, as the name implies, are made from bamboo fibers. Bamboo is one of the most sustainable and environment-friendly crops in the world.
Bamboo is naturally hypoallergenic and is known for its antimicrobial properties. It means that it is difficult for a microbe to flourish in the fabric. It also has superb moisture-wicking properties that help keep the sheets cool and dry.
However, most bamboo sheets available in the market are a blend of rayon which uses the viscose process. This process uses chemicals that can destroy most of the natural properties of bamboo and cause environmental harm.
So, if you are buying a bamboo sheet, make sure to check that the tag says '100% natural bamboo'.
Silk Sheets
Silk is a protein-based natural fiber produced by the larvae of a moth. It is naturally hypoallergenic and non-irritating to even the most sensitive skin types. While spinning the fiber, Silkworms produce a protein that keeps the environmental allergens away. This makes silk sheets one of the best sheets for anti-allergies.
But the thing is - silk is expensive. It takes around 3000 cocoons to make one yard of silk, and most silkworms die in their cocoons before maturing into a moth. Silk sheets can also be a little challenging to take care of, but if you can give them proper care, then you can enjoy a silky night's sleep.
Tencel Sheets
Tencel is the brand name for two fibers: lyocell and modal. The brand is owned by Lenzing, an Austrian firm. It is made using sustainably sourced eucalyptus wood and ecologically friendly procedures.
Tencel lyocell fibers can be combined with a wide range of textile fibers such as cotton, silk, and others. The fabric is strong, gentle to the skin, and embodies moisture-wicking properties.
Tencel is produced using a closed-loop system. Due to this system, the chemicals used in the production process are not released into the environment. Instead, these chemicals are returned to the production process as raw materials.
Cotton Sheets
Cotton is a natural fiber derived from the seed of a cotton plant. Cotton sheets are breathable and easy to take care of, making cotton one of the most popular fabrics for bedsheet manufacturing.
However, you need to be aware of different types of cotton fibers. The quality and durability of cotton depend on its type. Generally, sheets with higher thread counts are considered better quality than others. Thread count means the number of horizontal and vertical threads found in one square inch of fabric. And since the sheets are tightly woven, the chances of allergens dwelling in them are minor. The extra-long staple (ELS) or long-staple cotton is much smoother and more durable than short-staple cotton.
You can buy a luxurious cotton sheet set made with 100% long-staple cotton at Dreamcloud.
How to Fight With Bedroom Allergens
Aside from hypoallergenic sheets, you can also follow these tips to fight your allergies:
Keep pets away from your bedroom.

Always shower before bed.

Wash your bed sheets regularly(at least once a week). Also, replace your pillows every couple of years.

Invest in a dehumidifier.

Buy hypoallergenic mattress and pillow covers.
If you have sensitive skin or a problem with allergens, you should consider investing in hypoallergenic bed sheets. At Dreamcloud, we have just the kind of products you would need. Also, follow the tips we provided to fight your allergies. Who knows, you might just experience the best sleep of your life?
Disclaimer: This website does not offer medical advice nor professional medical services; rather, it is provided solely for educational, informational, and/or entertainment purposes. Individuals seeking medical advice should consult a licensed physician. The information provided should not be used for diagnosis or treatment of any condition, disease, or injury. When you have a medical condition, you should always talk to licensed doctor or other certified medical professional. You should never delay seeking professional medical advice or treatment based on the contents of this website. Call 911 or immediately go to the nearest emergency room if you think you may have a medical emergency. The contents of this website are provided "as-is", Dreamcloud Sleep and its parent, subsidiaries, affiliates, employees, contributors disclaim any warranty of the information contained herein. Please contact support@dreamcloud.com to report any errors, omissions, misinformation, or abuse.
Shop Our Most Popular Bedroom Must-Haves