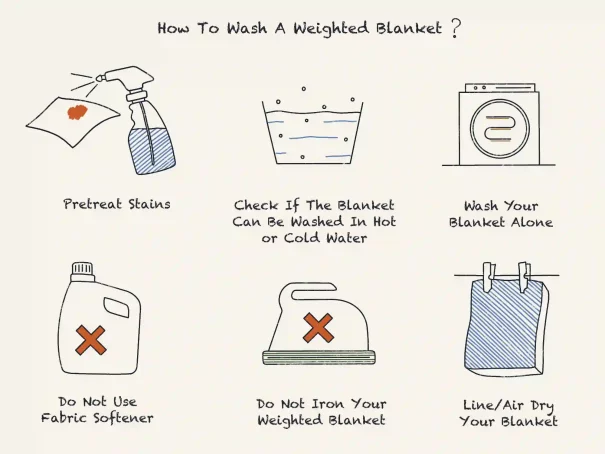 How to Wash a Weighted Blanket Step by Step?
Written by Mehran Uzair
Last Updated on Jul 21, 2023
A weighted blanket is the talk of the town because of its innumerable benefits. Starting from helping with anxiety to stress and also insomnia, and how to forget the extreme comfort it gives - you don't feel like waking up. But imagine the sweat, oil, dust, and whatnot the blanket draws. It's time you wash that weighted blanket of yours - but you don't know how to wash a weighted blanket! 
Worry not; we have got you covered with step-by-step instructions on how to clean a weighted blanket. Can you wash a weighted blanket similarly to a regular blanket? No! There are specific instructions and guidelines that every weighted blanket carries. The washing and caring details are given in the manual itself.
How to Wash a Weighted Blanket
We don't leave any stone unturned in our sleep regime - pillows, comforters, silk sheets, eye masks, and it continues. Similarly, a weighted blanket is also a great addition to your bedroom essentials. But the main struggle starts when it comes to washing a weighted blanket - it is pretty complicated. Imagine throwing a 25-pound blanket into the washing machine just like that - you will probably go mad considering the heft.
The best way to wash a weighted blanket is to be specific with the care instructions provided with the weighted blanket. The washing technique depends wholly on the fill and the fabric material.  
Step 1: Consider the Bulk of your Weighted Blanket
The method of how to wash a weighted blanket depends significantly on the bulk. If your blanket weighs 20 pounds or more, it should be taken to the laundromat and washed in a commercial-sized machine. However, let's not put the hefty blanket in your home machine as it will only offer wear and tear.
Step 2: Track it Up by Following Care Instructions for Machine Washing
If your blanket measures 15 to 20 pounds, you can wash your blanket simply in the comfort of your home. Just put it in a gentle mode, mild detergent, and cold water. Blankets comprising glass microbeads and plastic Poly pellets generally are safe in the machine. However, frequent washing of the blankets is never recommended; therefore, fixing a removable duvet cover is a great substitute. 
Step 3: Check if you Require Spot Cleaning
An important step in knowing how to wash a weighted blanket is to be aware of whether you need to wash it all or simply spot cleaning would do. Use a mild soap, detergent, or stain cleaner for spot cleaning. Then proceed by drying it with cold or warm water and air drying. If you have a duvet cover, get it rolling by washing and drying only after following the care instructions. 
Step 4: Mandatory Washing Instructions Both for Machine and Hand
Coming to the main part of how to wash a weighted blanket if it needs complete cleaning. You can do it either in the washing machine or using your own hands. The mandates are mild detergent, cold or warm water (max) because specific weighted blankets cannot handle the hot water and might wear out pretty early because of the rigorous rinsing. So here is the deal about drying a weighted blanket: lay it out smoothly and keep on shaking it repeatedly.
Step 5: What Not To Use While Washing a Weighted Blanket
If you wish to remove some oil or grease stains, then pretreat it with a mix of dish soap and water. You must never use fabric softeners, bleach, hot water, iron, and more. It will rip off the goodness of your costly weighted blanket. While fabric softeners tend to amplify and result in a scratchy texture, on the other hand, bleach can conk out the fibers over time.
How to Machine Wash a Weighted Blanket
The evergreen dilemma about whether to use warm or cold water while washing the weighted blanket in the washing machine can be resolved by checking the heaviness and fabric of the blanket. The easiest way to find it is to check the blanket's care instructions. Since most weighted blankets are made of cotton with poly pellets, the following are steps on how to wash them:
Fill in the laundry counter with your preferred laundry detergent


Place your pretreated weighted blanket into the machine


Press the gentle cycle and see your blanket getting washed



Instantly remove the weighted blanket once your washing is complete
How to Hand Wash a Weighted Blanket
You may own a blanket that is not suitable for machine washing. In that case, follow the oldest and the most sustainable method- hand washing. You need to know how to wash a weighted blanket by hand because the washing approach will be under your control. 
Fill in the bathtub or any preferred water container with cold or warm water


Follow it up by disseminating the laundry detergent exhaustively


Throw the pretreated weighted blanket into the water 


Start kneading the blankets using your hands


After the passage of some minutes, replace the water with fresh water


Place the drenched weighted blanket in the drying area



Wring out any excess water

 
Weighted Blanket Care Instructions for Different Fabrics
The fabric of a weighted blanket differs from cotton to flannel and many more. Each has specific care instructions; let us delve into the facts.
Cotton:

Wash cotton weighted blankets separately in cold water. Don't put other cotton items while washing it since it may distress the fabric. To retain the color, mix ½ cup of vinegar with chlorine-free detergent.

Flannel:

Quite a popular choice for weighted blankets because of its sensory-sensitive factor; flannel can be washed in cold or warm water but never hot water as it will wear out pretty quickly. Tumble dry the blanket in your house washing machine on low heat.

Fleece:

Fleece blankets can be washed in warm water. To remove stains, soak the blanket in the machine for about 45 minutes before proceeding with washing. Use a mild detergent, though fleece can also endure fabric softener. Dry it out on a dryer on low heat, or preferably air drying.

Minky:

One of the bestseller materials for weighted blankets, minky can be washed with non-chlorine bleach diluted in the water. No usage of hot water or even high heat settings as Minky is a polyester material that can't survive the heat.

Rayon-Linen Blend

This material needs to be dry cleaned separately, and air-dried.

 

Silk:

Though relatively uncommon for a weighted blanket, silk blankets need to be only dry cleaned.

Wool:

Use mild-detergent, cold or warm water, and a low or medium dryer.
Washing Instructions for Different Filler Materials
Weighted materials comprise diverse filler materials, and each needs to be washed precisely. 
Micro Glass Beads

Washable in warm or cold water and tumble dried at low temperature

Sand:

You cannot thoroughly wash the sand out of the weighted banker but only spot clean with the aforementioned washing mix

 

Plastic Poly Pellets:

Only washable in cold water, then air dry by spreading the blanket smoothly in a well-ventilated area

 

Steel Shot Beads:

Hand wash only in mild detergent and cold or warm water then air dry by spreading the blanket out

 

Organic Fillers like Beans and Rice:

Not washable, only spot clean
How Often Should You Wash a Weighted Blanket?
If you use the weighted blanket regularly, you might need to wash it every three weeks or whenever you feel it's dirty. On the other hand, if you are not a recurring user of the weighted blanket, then washing it every three to four months will be perfect. Moreover, you can save yourself the struggle of washing it by purchasing a removal duvet.
How to Remove Stains From a Weighted Blanket
Coffee stains 
Mix one ounce of liquid laundry detergent and one ounce of distilled white vinegar with 10 ounces of vinegar.

Put it on the stain

Scrub it with a washcloth or toothbrush

Keep the solution on for 5 to 10 minutes

Rinse it with water

Keep repeating till the stain disappears
Red Wine Stains 
Apply 2 ounces of distilled white vinegar to the stain and let it sit for 5-10 minutes

Blot the stain first with a wet towel and then with a dry towel

If the stain is not resolved by vinegar, apply enzyme stain removal. Apply the stain remover on the stain, keep it for 30 minutes, then blot with a wet towel.

Once the stain starts dissipating, start washing it with cold water
Urine stains 
For urine stains that have not yet set in, wash with soap and water

An enzyme laundry stain removal needs to be put on the stain or diluted in the washing machine for set-in stains.

If the pungent smell still persists, repeat the process
Blood Stains 
Put hydrogen peroxide over the bloodstain or rub bar soap 

Scrub it in cold water

Apply pre-treater or rub in laundry detergent

Wash the remaining stain in warm water 
Nobody wishes to sleep in a messed-up environment and a dirty weighted blanket of that sort. Now that you know how to wash a weighted blanket, half your work is done. It is time you start rolling!
Disclaimer: This website does not offer medical advice nor professional medical services; rather, it is provided solely for educational, informational, and/or entertainment purposes. Individuals seeking medical advice should consult a licensed physician. The information provided should not be used for diagnosis or treatment of any condition, disease, or injury. When you have a medical condition, you should always talk to licensed doctor or other certified medical professional. You should never delay seeking professional medical advice or treatment based on the contents of this website. Call 911 or immediately go to the nearest emergency room if you think you may have a medical emergency. The contents of this website are provided "as-is", Dreamcloud Sleep and its parent, subsidiaries, affiliates, employees, contributors disclaim any warranty of the information contained herein. Please contact support@dreamcloud.com to report any errors, omissions, misinformation, or abuse.
Shop Our Most Popular Bedroom Must-Haves