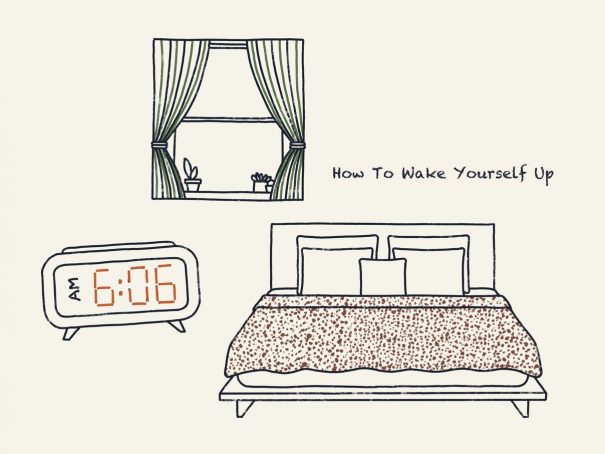 How to Wake Yourself Up? - 10 Ways to Wake Yourself Up Quickly
Written by Dreamcloud Editorial Team
Last Updated on Jan 23, 2023
These days, you notice that it has become quite a struggle to wake up in the morning. You feel tired, cranky, scream at your spouse, and reach the office agitated. In fact, post-reaching office, you feel even more tired when the clock strikes 3 P.M. You feel like napping on the office chair itself, but you get notified of a meeting within 5 minutes, and you rush with droopy eyes. 'How to wake yourself up?' - quite a common question asked by thousands of people every day. Waking up when tired or during work can be done by following specific measures. Some of them include stopping yourself from pressing the snooze button and drinking some water or coffee or orange juice. Are you interested in knowing? Keep reading.
Why Is It So Hard To Wake Up
The reason behind why waking up is so hard has been adequately illustrated by Michael J. Breus or popularly known as the Sleep Doctor. Our body's sleep cycle is regulated by two factors: Circadian Rhythm and Biological Clock - though these are different things but are interrelated. According to him, the circadian rhythm manages the 24-hour sleep cycle of every organism. On the other hand, the biological clock is further responsible for managing the cycle of the circadian rhythm and adjusting it, focusing on the time of the year, the age of the person, and the environment they are present in. 
Both these elements are responsible for informing you about your body's status- when you feel refreshed, tired, sleepy, and so on. It also informs you about your chronotype - if you are an early bird or late-night owl. 
Now, if you are someone who is struggling with waking up, and constantly finding answers to 
How to wake yourself up?' or 'how to wake yourself up when tired?', or 'how to wake yourself up at work?' should know that they function against their circadian rhythm. To explain this further, an early bird who sleeps at 2 a.m. in the midnight will not be able to wake up at 5 a.m. as their melatonin or the sleep hormone will not wear off till 7 or 8 in the morning. 
All in all, you need to schedule your sleep, paying heed to your circadian rhythm. 
10 Ways To Wake Yourself Up Quickly
How to wake up in the morning not feeling cranky? This is an answer that most of us need to know. Most of us always tend to stay tired, especially after waking up. And we often question ourselves - 'how to wake yourself up when tired?'. Some also question 'how to wake yourself up without alarm?' If you have found yourself reading these ways, consider yourself lucky because we will discuss some of the top ways stating how to wake yourself up in the morning, or at work, or when tired, and so on.
1. STOP Pressing the SNOOZE Button
You saw that coming, right? Won't lie, we all have done this countless times, and then proceeded by clicking on 'how to wake yourself up'. The extra 10 to 15 minutes of sleep doesn't gift you any superpower. It doesn't affect you psychologically or mentally. Instead, it simply makes you feel crankier and more agitated. Tips for waking up in the morning include fixing the alarm only once, instantly waking up, and practicing some waking up exercises.
2. Take a Stroll Outside
Everything appears and feels pleasant when you wake up early in the morning. The second way how to wake yourself up includes instantly waking up and going for a walk. According to Rachel Salas, go for a walk, get the fresh air, and smell the roses. It will all give your brain a rest.
3. Mediation Works
Meditation works like wonder and practicing it just for 2 minutes daily results in recharge. According to Taz Bhatia, if you can manage to meditate for 2 minutes at your workplace, it will give amazing results. In addition, it will help emit positivity in your mind.
4. Take a Break
How to wake yourself up at work? This is the question that drives you crazy when it's 3 pm, you have had your lunch, and you're almost going to snooze. Your mind needs a break after all the staring at the computer or laptop screen. Take a break, and indulge in some coloring a book, knitting, journaling, and reading a book. 
5. Drink Water First
Water is our savior, and the best source of hydration. Therefore, when you question how to wake yourself up, one of our answers would be to drink two glasses of water and rehydrate yourself. Since our body doesn't consume water for around 6 to 8 hours of sleep, we become dehydrated, and that leads to tiredness when we wake up.
6. Making the Bed
You know how to wake yourself up when tired, making the bed. No matter how swamped you are, making the bed will provide a feeling of accomplishment, and thus pump you up for the day. This feeling will not let you fall asleep again.
7. Sip on Some Orange Juice
Sipping on some orange juice after waking up will provide a sugar rush but also the bright color will refreshen you and stimulate concentration. Therefore, one of the most colorful ways how to wake up in the morning is by sipping on some orange juice.
8. It's Coffee Time
This will be the favorite approach for coffee lovers to question 'how to wake yourself up?' Caffeine boosts serotonin and dopamine levels, provides energy, and amps up concentration power. Even if you don't have coffee, drink black or green tea.
9. Do Some Stretching
Our bodies stay idle for around 6 to 8 hours, and performing some stretching activities post waking up gives way to motion, and reduces stiffness. It releases the buildup of connective tissues in our muscles. Therefore, put on your favorite music, and do some stretching. You can watch youtube videos as they are quite self-explanatory and also contain diverse types of exercises. 
10. Try Some Aromatherapy
One of the most refreshing tips for waking up in the morning is trying some aromatherapy. Certain scents like eucalyptus, citrus, rosemary, and peppermint, are beneficial in providing an energizing effect. Try having a grapefruit or lemon tea after waking up.
Tips to Fix a Sleep Schedule
We find the maximum solace while we sleep, and sabotaging your sleep cycle is the worst thing possible. Therefore, there are certain tips that will help you fix your sleep schedule. 
1. Opt for a Pleasant Sleep Temperature
According to National Sleep Foundation, the ideal temperature for sleeping is 60 to 67 Fahrenheit. Therefore, you will be able to get a comfortable sleep when sleeping in this range.
2. Avert Blue Light Exposure
It is often said that we should limit our blue light exposure, like using the phone or laptop before sleeping. This is because blue light affects our body's circadian rhythm negatively, preventing us from sleeping calmly. 
3. Deter Sugary Items
Food is made to provide you with fuel, and consuming sugary items like ice creams or sweets will keep you awake for the longest time possible. Therefore, consume sleep-promoting foods like bananas. 
4. Environmental Sounds
Dogs in neighborhoods can be painstaking, or if your house is located near the main road - whatever it is, you are unable to sleep. This is why investing in a sound machine is worth all the money. 
The aforementioned ways will significantly help people trying to know how to wake themselves up. You can try the ones you feel most comfortable with. One thing that needs to be present apart from trying all these ways is
Disclaimer: This website does not offer medical advice nor professional medical services; rather, it is provided solely for educational, informational, and/or entertainment purposes. Individuals seeking medical advice should consult a licensed physician. The information provided should not be used for diagnosis or treatment of any condition, disease, or injury. When you have a medical condition, you should always talk to licensed doctor or other certified medical professional. You should never delay seeking professional medical advice or treatment based on the contents of this website. Call 911 or immediately go to the nearest emergency room if you think you may have a medical emergency. The contents of this website are provided "as-is", Dreamcloud Sleep and its parent, subsidiaries, affiliates, employees, contributors disclaim any warranty of the information contained herein. Please contact support@dreamcloud.com to report any errors, omissions, misinformation, or abuse.
Shop Our Most Popular Bedroom Must-Haves