Mattress toppers are an excellent choice when one's bed feels too soft or firm to their liking. Without investing in another mattress, a simple trick of adding another layer would do the magic. 
If one sleeps hot, the mattress topper with breathable material will cool down the body. The topper also aids in extending the mattress' life and removing any premature sags and lumps. 
However, one may not require the mattress topper throughout the year. You can bust it out in a specific season or keep it aside for some special guests. In any case, it needs to be stowed away carefully. Storing away haphazardly may ruin its condition and decrease its life. So, you have to know how to store mattress toppers.
We have an answer to your needs. In the following sections, find a complete guide to keep away your storable mattress topper for good!
What You Will Need to Store Mattress Topper
Before starting with the process of how to store a foam mattress topper or any other kind, a complete list of equipment, tools, and materials is needed. 
The tools required are:
Vacuum with hose attachment

Protective storage bag

Cloth or scrub brush
Other material requirements:
Mild detergent or stain remover

Paper towels

Two ratchet straps

Baking soda

Duct tape
Step 1: Clean the Mattress Topper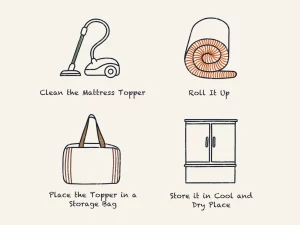 First, you need to clean and dry the topper properly. The cleaning aspect would ensure that your topper does not retain any bacteria that can harm it in the long run. Drying would seep out all the moisture and prevent fungus from breeding.
In the following subsection, find a thorough outline to clean your topper. It'll help in safely dealing with the needs of memory foam, latex, or any other mattress topper. 
Here's how the you can efficiently and thoroughly clean the mattress topper. 
Take Off All the Bedding
Before cleaning, one has to remove the bedding, including the sheets and mattress protectors. 
Vacuum it
Use the vacuum cleaner with the hose you've procured and run it on the topper. Be sure to remove debris, dirt, dust, and other foreign particles. 
Remove the Stains
Any well-loved topper is bound to have stray stains present on them. Use stain remover or mild liquid detergent to clean these spots. For stubborn stains, rub the area gently with a washcloth or a brush with soft bristles, like a toothbrush. In the end, a towel can be used to blot the spot. 
As an added precaution, be careful with how much liquid soap and water are poured into the foam. If the excess amount becomes trapped inside the topper, it can form fungus, mold, or mildew. 
Treat the Odor
With continuous use, the topper picks up foul odors to remove them and freshen them up. Use baking soda and sprinkle it on its top. Let it sit around for 1 to 2 hours before carefully vacuuming. 
If certain stains have a particular odor, then treat them with baking soda and water paste. Rub the area gently with your hands or soft brushes and remove it using a washcloth. 
Let it Air Dry
After thoroughly cleaning the topper, let the mattress topper dry for 24 hours. If it needs more time, let it hang for more time but ensure it is completely dry. A topper stored without removing the moisture may cause mildew and mold growth. 
Even if you haven't used soap or water while cleaning the topper, it is recommended to let it air dry for a day.
Step 2: Roll It Up
Now that the topper is cleaned and dried, it is time to roll it up. Wondering why it cannot simply be folded and set aside? This is because the folding can cause permanent damage to the topper and even make it lose its original shape, making it unusable. Plus, it is an excellent way of storage – it takes less space and fits in tight places.  
You can invest in a roll-up mattress topper to save yourself some extra work. They are made solely to whip out on short notice and quickly roll again. These toppers come with built-in fastening clips & straps for convenient pack-up. 
However, if instead of rolling, you prefer folding, then a foldable mattress topper is an excellent alternative. This foldable mattress pad has creases where it is supposed to be folded. Specially constructed, they won't break in the crease points, and the topper will be safe.
Step 3: Place the Topper in a Storage Bag
After rolling it up and securing it, how to pack a mattress topper?
Secure the topper with ratchet straps, and place it in a mattress topper bag. The protective bag will prevent any contamination and damage during storage. Use a vacuum seal bag for mattress topper, whether it is the original bag it came with or a new vacuum one. 
A vacuum seal bag would ensure that the package takes less space and remains protected. It will keep any liquids, dirt, dust, dust mites, and other contaminants from collecting on top of it. 
If you do not have the original bag, simply use a plastic mattress bag and seal it up using a vacuum hose. Alternatively, the topper can be wrapped in the mattress bag and secured with duct tapes.
Step 4: Store it in a Cool and Dry Place
Finally, the sealed mattress topper is secured and ready to be stored. But where to store mattress toppers?
It has to be stored in a cool and dry place – in a controlled environment. Keeping it in such areas prevents the growth of mold and mildew. It is better to avoid any place that can get hot and humid, like your attic or garage. 
The ideal spaces for storage are:
Under the bed

Cabinet or drawer

Closet

Storage unit with the right temperature

Guest room
Conclusion
A relaxing sleep or a cozy book read on the bed does not necessarily have to be expensive. Instead of throwing away the old mattress, simply line it up with a mattress topper. Besides adding comfort and removing any back, spine, or legs, the topper is also beneficial in protecting the mattress and elongating its life. And it promises to do this at the lowest price possible!
Disclaimer: This website does not offer medical advice nor professional medical services; rather, it is provided solely for educational, informational, and/or entertainment purposes. Individuals seeking medical advice should consult a licensed physician. The information provided should not be used for diagnosis or treatment of any condition, disease, or injury. When you have a medical condition, you should always talk to licensed doctor or other certified medical professional. You should never delay seeking professional medical advice or treatment based on the contents of this website. Call 911 or immediately go to the nearest emergency room if you think you may have a medical emergency. The contents of this website are provided "as-is", Dreamcloud Sleep and its parent, subsidiaries, affiliates, employees, contributors disclaim any warranty of the information contained herein. Please contact support@dreamcloud.com to report any errors, omissions, misinformation, or abuse.
Shop Our Most Popular Bedroom Must-Haves