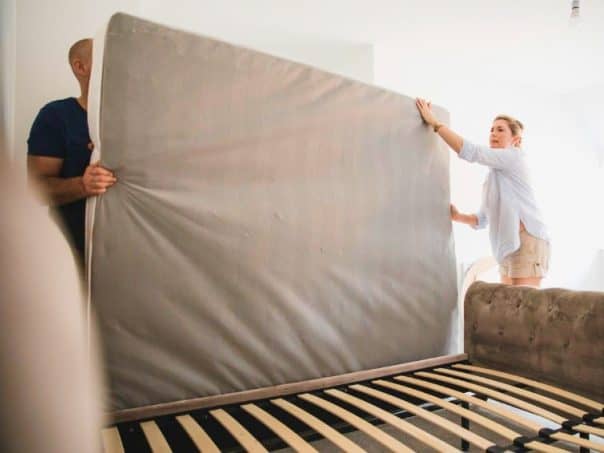 It doesn't matter if you've bought a new bed or have moved somewhere; your bed height needs to be correct. You might ask, why is that? If your bed doesn't have the right height, getting in or out of the bed can become a problem. In such cases, you should know how to make your bed higher. 
From DIY-ing to hiring help, there are various ways through which you can increase bed height. Read on to find out the ideal bed height and some ways to adjust bed height if needed.  
What Is the Best Bed Height?
The standard bed height ranges from 16 to 25 inches from the ground. Even if you do not have the time to measure the height of the bed, you can still find out the ideal bed height. How? Try sitting on the bed and check if your feet are touching the floor and if your legs are at a 90-degree angle. If yes, then you've got the right bed height. If your legs do not make a 90-degree angle, then it's not the right height for you. 
The important thing to remember is the height of the bed shouldn't be too high or too low. Another thing to remember is that everyone's height is different and so are their needs. You don't need a tall bed frame to increase the height of the bed, but adjusting the height can help you better. The best way to measure your bed's height is to sit down and see what angles your knees make. 
Now that you know how high a bed should be, let's explore how you can increase your bed height.
6 Best Ways to Make Your Bed Higher
Mattress Recycling
Landfill space is filling up rather quickly, especially with bulky items. One obvious thing that takes a lot of space in landfills are mattresses, which makes it really important to know how to dispose of your mattress properly.
More than 50,000 mattresses end up in landfills each day.
(That number doesn't even include fold-out sofa beds, couches, recliners, and the like.) An average mattress takes up about 40 cubic feet of space. Fortunately, around eighty percent (80%) of most mattress' components can be recycled. Once you have decided that it is time to upgrade or replace your mattress, consider recycling and not disposal at your local landfill.
Disclaimer: This website does not offer medical advice nor professional medical services; rather, it is provided solely for educational, informational, and/or entertainment purposes. Individuals seeking medical advice should consult a licensed physician. The information provided should not be used for diagnosis or treatment of any condition, disease, or injury. When you have a medical condition, you should always talk to licensed doctor or other certified medical professional. You should never delay seeking professional medical advice or treatment based on the contents of this website. Call 911 or immediately go to the nearest emergency room if you think you may have a medical emergency. The contents of this website are provided "as-is", Dreamcloud Sleep and its parent, subsidiaries, affiliates, employees, contributors disclaim any warranty of the information contained herein. Please contact support@dreamcloud.com to report any errors, omissions, misinformation, or abuse.
Shop Our Most Popular Bedroom Must-Haves