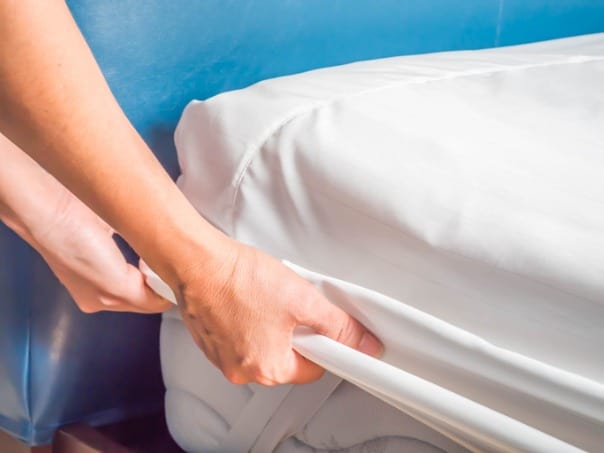 Breaking into a new bed sheet set and realizing it doesn't stay put on your bed can be your worst nightmare. You can neither throw them away nor wake up rolled in crumbled sheets every day.
So what's the solution here? Learning how to keep sheets on the bed can be a total game-changer. Even the bedsheets that seemed impossible to fit your bed can stay put all night with the correct technique. 
So today, we will discuss how to keep sheets on the bed throughout the night with eight super easy hacks. 
Why Do Sheets Come Off the Bed?
Even if you know how to make a bed well, the sheets might still slip off the corners. 
One of the common causes of ill-fitted sheets could be their incompatibility with your mattress size. For instance, if the pocket depth of your fitted sheets does not match your mattress's thickness, it will slowly roll off the corners.
If you are unsure which size works best for your mattress, you can check out this comprehensive bedsheet size and dimension guide. 
If the size issues are off the table, the following factors can also cause your sheets to slip:
1. Mispositioned Bedsheets
Positioning the bed sheet right is the first step to keeping your sheets on the bed. Place it precisely at the center with an equal amount of fabric hanging loose on each side. Tucking equal corners under the mattress is an effective way to hold the sheet in place.  
2. Lack of Grip
There should be enough friction between your bed and the bedsheet for your sheets to stay in place. While smooth silk sheets are soft and comfortable, there won't be enough friction from your mattress to hold it down.
For better grip, go for materials like cotton that are comfortable yet slip-free. And if you want to stick to satin sheets, use a mattress topper to add an extra layer of comfort and increase the friction between your mattress and sheets.
8 Easy Ways to Keep Sheets on Bed
If you already have taken care of the sheet placement and friction and yet it keeps slipping off, it's time to learn to keep sheets on the bed with a few simple hacks. 
1. Start from the Top
If you are using fitted sheets, start tucking from the top. Usually, the top corners of the sheet are hard to stretch, especially when the rest of it has already been tucked under the mattress. But if you start from the top, it will be easier to fit the bottom corners. 
Remember not to pull the sheets too hard, it might come off the corners, and you will have to start over. 
2. Use a Rough Undersheet 
If the top sheet keeps slipping off no matter how well you tuck them, consider increasing the friction with a rough undersheet.
A rough-textured undersheet will add friction between the bedsheet and mattress, keeping the corners from slipping off even if you pull a little harder. 
However, skip this hack if you have sensitive skin or struggle with hot flashes at night. 
3. Use Suspenders
Even after you learn to keep sheets on the bed, sometimes you cannot go without additional accessories like sheet suspenders. Suspenders clipped on and connected to the mattress will keep everything in place even if you twist and turn nightlong.
Since these straps are adjustable, you can choose how tight or loose you want the fit to be. You can also criss-cross the sheet straps for better grip.
4. Secure the Sheets With a Rubber Hugger
If using a suspender seems too complicated, go for a rubber hugger. It looks like a giant elastic band that can wrap around the whole mattress perimeter.
Whether it's a fitted sheet or flat sheet, stretch a rubber hugger around it once you are done making the bed, and everything will be in place.
5. Use Non-slip Rug Corners
Getting your sheets to hold onto the corners of your mattress is the biggest challenge while making your bed. If your sheets and mattress corners do not get along, try using non-slip rug corners. 
These accessories increase friction and hold onto whatever surface they are placed on. Just slip it under your sheet in each corner to secure it. If you are not a fan of rugs, you can also use a foam base on the corners. 
6. Pin it Down
Just a few pairs of safety pins will undoubtedly get sheets to stay in bed all night. Consider pinning them if you want a quick fix to keep flat sheets on the bed. Just make sure the fabric doesn't put too much pressure on the pin, else it might tear through it. 
7. Zip it Up
Zipped sheets are one of the best ways to keep sheets on the bed. It's usually designed for kid's beds, but you will easily find some models for adult mattresses as well.
These sheets go around and under the mattress, enveloping it entirely in its fabrics. Once everything is in place, you can pull up the zipper on the side. 
Since zipped sheets do not need tucking, you don't have to worry about poor fitting.
8. Upgrade
If nothing manages to keep fitted sheets on the bed, it's time to upgrade your bedsheets. When these sheets lose their elasticity over time, it becomes impossible to stop fitted sheets from coming up. 
Sometimes, the sheet might be too small to hold onto each corner of the mattress at the same time or too old and stretchy to fit snugly. 
Conclusion
Learning how to keep sheets on the bed isn't the tricky part. The real challenge is finding a bedsheet that fits your mattress and bed. If that job is done well, you already won half the battle. From there on, you just need these easy and affordable hacks to keep your sheets in place throughout the night. 
Disclaimer: This website does not offer medical advice nor professional medical services; rather, it is provided solely for educational, informational, and/or entertainment purposes. Individuals seeking medical advice should consult a licensed physician. The information provided should not be used for diagnosis or treatment of any condition, disease, or injury. When you have a medical condition, you should always talk to licensed doctor or other certified medical professional. You should never delay seeking professional medical advice or treatment based on the contents of this website. Call 911 or immediately go to the nearest emergency room if you think you may have a medical emergency. The contents of this website are provided "as-is", Dreamcloud Sleep and its parent, subsidiaries, affiliates, employees, contributors disclaim any warranty of the information contained herein. Please contact support@dreamcloud.com to report any errors, omissions, misinformation, or abuse.
Shop Our Most Popular Bedroom Must-Haves
| Bedding Type | Wash Frequency |
| --- | --- |
| Pillows | Once every 4-5 months if they are washable |
| Blankets | Once every 2-3 months if you use them often |
| Comforters | Once every three months or more frequently |
| Pillow Covers | Preferably once a week |