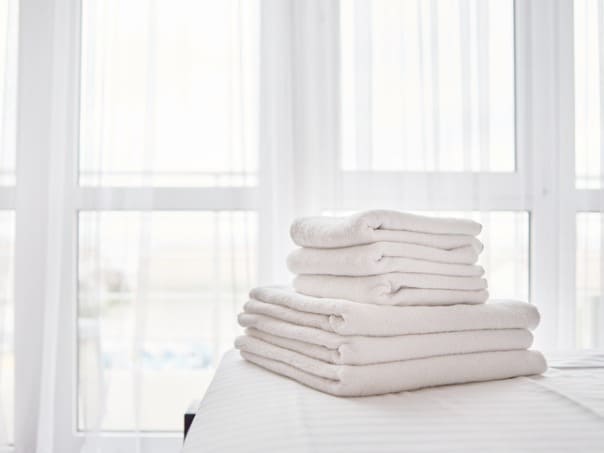 How to Choose Bed Sheets: Ultimate Bed Sheets Buying Guide
Written by Mehran Uzair
Last Updated on Jul 21, 2023
The relaxing time before sleep plays a major role in preparing you for the next day's tasks. The last thing you would want is an uncomfortable bed sheet to lie down and relax after a hard day's toil. Buying a bed sheet might not seem to be very basic stuff but you would spend every week and even months using that. So, the purchase has to be cost-effective and super comfy. Then, how to choose bed sheets that will help you sleep well? This bed sheets buying guide will help you! Read this best sheet buying guide before investing in your next perfect buy and you will surely feel the difference.
What Does Thread Count Mean and How Does It Matter?
If you are searching for a durable cotton sheet that feels super smooth against your skin, try and understand what is a good thread count for sheets. Thread count is the barometer of the bed sheet's durability and smoothness. 
The measurement depends on the number of threads woven into a single fabric square. You might have heard - the more the thread count, the more comfy the sheets are. 
However,  it is not the case every time as many manufacturers manipulate the count with silicone softeners that evaporate right after washing the sheet. Besides, there are other tricks to manipulate the count. Weaving with multiple yarns twisted together is one of the most common practices. Watch out for the red flags as they don't improve the fabric quality and might even disrupt the comfort and durability.
So, despite looking for a 1000-thread count, look for a 100% cotton bedsheet. The high thread count is the factor but the kind of cotton plays a much more significant role. When you are wondering how to choose bed sheet thread count, consider the points mentioned below-
Flannel- 80 to 120 

Linen- 80 to 140

Microfiber- 140 to 180

Jersey - More than 150 

Cotton- 200 to 400

Percale weave - 200 to 400

Santeen - 300 to 600

Silk- More than 400
For your information, a low thread count never means that the bed sheet is low quality. As per the experts, the thread count of an ideal bedsheet must range between 300-400 range. You can also opt for a range anywhere between 200 to 800. 
Now. let's move on to how can you choose the best material and fabric for your sheet. 
Choose Fabric and Material
Choosing the materials for your bedsheet is a completely personal choice.  You need to figure out which fabric texture you want and how warm or cool you want it to be while sliding into the bed. The experts recommend having at least two sets of sateen or percale sheets to use throughout the year. 
 If you are one of them who wants to buy Tencel or flannel sheets check out how warm or cold your room gets during every season. You can also mix and match different kinds of sheets based on your mood and comfort level. 
Wondering about how to choose the best material for sheets? Let's discuss different kinds of fabric and their weave types first. Though the manufacturing method and fabric weave won't be the key factor while you are choosing your sheets, it's better to know about a few technical things. Keep in mind, these details don't appear on the packaging!
It is a durable, crisp, and plain weave of fabric with a thread count of at least 200 that provides a breezy and light feel. 
It is a cotton cloth, backed up by a satin weave that provides you with a very lustrous, soft, and smooth feel. However, sateen sheets are somewhat less durable than a tighter weave. 
You might ask what are the best type of sheet?  Sateen or Percale? The right answer would be, it is just a matter of your taste. If you are buying sheets offline, touch the fabrics to feel and compare before laying your grounds.
If you want something light, cotton-poplin sheets would be the perfect fit whereas you can also choose cotton-polyester for a wrinkle-free, less cooling, and less pricey option.
These would be the best options for the winter nights that give you chill and shivers. Flannel sheets will keep you perfectly toasty and warm but you won't sweat! 
The introduction of Tencel fiber happened quite later in the world of fabric. Wondering which latest features do it provide? Fabric craftsmen weave sustainably sourced materials like wood pulp while manufacturing the Tencel fibers. As a result, your Tencel sheets are: 
Breathable 

Cool 

Lightweight

Sustainable 

Soft 
So, if you need your sheets to allow the maximum airflow for deep sleep, Tencel microfiber sheets would be the best pick for you. Plus, if you are trying to change your regular cotton sheet, switch to Tencel. 
Weave Types
While we are in the middle discussing how to choose bed sheets, how can we miss some important details on the weave styles? By weaves, we mean the texture of your bedsheets and that also influences the wrinkle resistance. 
Let's get into the details:

If you are choosing percale bed sheets, they are tightly woven with one thread crossed under while another one crossed over. These very durable sheets last for a long time due to the close weave type.
The artisans run a fine-toothed brush over the combed cotton sheet thread before creating the fabric. It helps to remove the shorter fiber and straightens up the remaining fibers. As a result, you get a strong yet soft bedsheet.
Sateen cotton clothes are simply made of sateen weave that offers a very lustrous and soft feel.  Are you craving supreme softness and smoothness?  A sateen sheet set would be the perfect fit. 
Consider Your Sleeping Needs
So, now you have got a rough idea of different types of cotton, fabric, weave, and thread counts. Does it feel more overwhelming instead of feeling like you know what you want? Relax, this step-by-step guide will help you to finetune your preferences.  
So, which type of sleeper are you?  Do you sweat through the night or are you scared of the thought of shivering while getting out of your bed? What do you prefer the most? A luxurious feel or a touch of soft cotton against your skin while you sleep? Make a note of the following points:
Cold Sleeper 
The Flannel sheets will be the right fit for a chilly, winter night. 
Hot Sleeper 
Do you get too hot during the nights of summer? The percale sheet or the Tencel fiber sheet helps to increase the airflow and breathability and hence keeps you cool when you are sleeping. 
Decide the Right Sheet Size
Buying the best type of sheets largely depends on choosing the right size according to your bed. Making a perfect bed has been the top-most priority behind a good sleep since ancient times. So, you don't want them to tangle around and hang loosely whereas you don't want them so tight that it becomes uncomfortable to use, set and remove. 
Ensuring a proper sheet fit needs you to measure two things like the depth and mattress size. However, the typical sizes include:
Twin Sheets – 38" W x 75" L

Twin XL Sheets – 38" W x 80" L

Queen Sheets – 60" W x 80" L

King Sheets – 76" W x 80" L

Full Sheets – 54" W x 75" L

California King Sheets – 72" W x 84" L
Consider the depth of your mattress when you are searching for how to choose bed sheet size?
Usually, a mattress depth ranges from eight to fourteen inches.  If you feel that you need more fluff, add a mattress topper and increase the fluffiness to at least four inches. Don't forget to measure your mattress before choosing your sheets. 
Coordinate With Your Bedding
Now that choosing bed sheets got easier as you know which will be the most comfortable option to provide you with a night of good sleep. But don't skip the aesthetic appeal as a basic thing like a bed sheet also impacts your interiors largely. So, your sheet must compliment the pattern and color of your bedroom aesthetic. 
Solid color sheets 
Choosing an eye-soothing solid colored sheet has been a trend lately as modern style interiors are often minimal and one-colored bed sheets bring the perfect luxury look and feel. 
Conclusion
Knowing how to choose bed sheets for your ideal sleep episodes takes nothing but paying a little attention to the detail. You don't have to spend a fortune to elevate your bed's comfort level and quality of sleep, just keep the above-mentioned points in mind while you make your next buy! 
Disclaimer: This website does not offer medical advice nor professional medical services; rather, it is provided solely for educational, informational, and/or entertainment purposes. Individuals seeking medical advice should consult a licensed physician. The information provided should not be used for diagnosis or treatment of any condition, disease, or injury. When you have a medical condition, you should always talk to licensed doctor or other certified medical professional. You should never delay seeking professional medical advice or treatment based on the contents of this website. Call 911 or immediately go to the nearest emergency room if you think you may have a medical emergency. The contents of this website are provided "as-is", Dreamcloud Sleep and its parent, subsidiaries, affiliates, employees, contributors disclaim any warranty of the information contained herein. Please contact support@dreamcloud.com to report any errors, omissions, misinformation, or abuse.
Shop Our Most Popular Bedroom Must-Haves