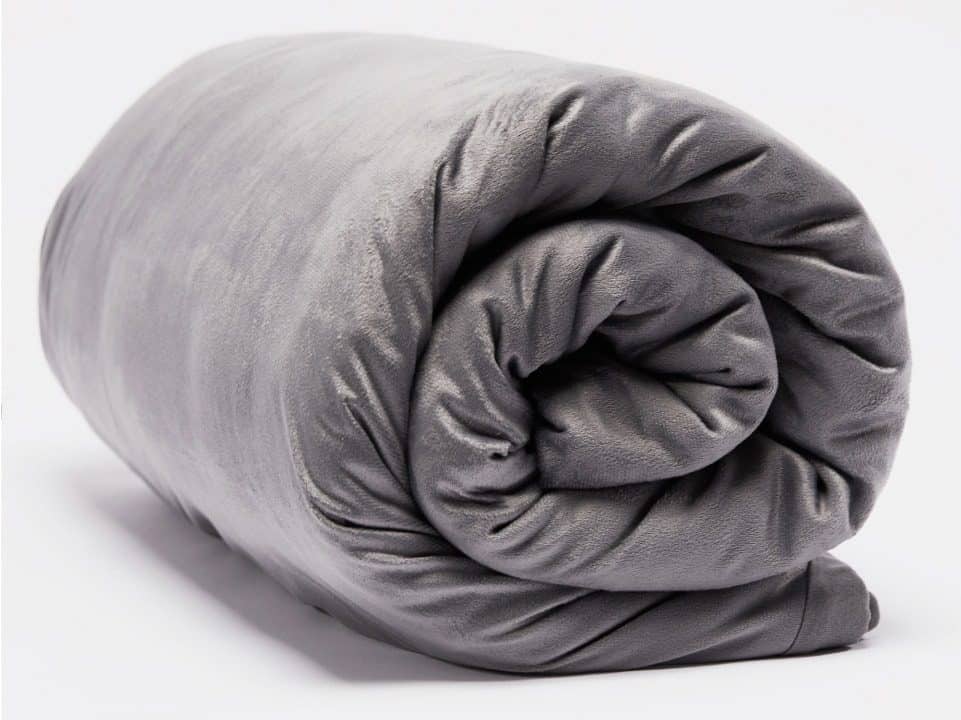 Did you know that 70 million Americans have chronic sleep issues? A weighted blanket, an innovation meant to calm the nervous system down, can help us fall asleep. Before picking one, what are the things to keep in mind, benefits, disadvantages, and more? 
This article covers the weighted blanket buying guide, what to look for in a weighted blanket, and how to buy a weighted blanket. Read on to know all about weighted blankets. 
How Heavy Should a Weighted Blanket Be?
You might be thinking, What is a weighted blanket? 
Weighted blankets are heavy blankets, usually weighing between 10-20 pounds. These are also called gravity blankets and are super comfortable, which help resolve some sleep issues. 
There is a percentage rule about how much these blankets should weigh. According to it, the best weight for a weighted blanket is 10% of your body weight. You might think, why 10%? When you use a blanket that is 10% of your weight, it feels like someone is hugging you, not putting too much weight on you. 
And to understand this 10% blanket weight, let's explore the different weights of weighted blankets according to your body weight. 
Who Is Going to Use It?
Everyone can use a weighted blanket except for infants under two. Before you buy them, you must know who is buying them. As with age, the needs and uses of a weighted blanket change. Let's explore How a weighted blanket can help couples, children, and adults.
Weighted blankets for Kids 
When buying a weighted blanket for a child, size and weight should be important. These blankets are beneficial for many reasons, like, weighted blankets for anxiety are helpful for children who have anxiety issues or even have autism. They should be used for children who are over the age of two years old. 
A blanket that weighs under 10 pounds would be most appropriate for children. Make sure they can't breathe and move freely under the weighted blanket before buying one for them.
Weighted blankets for Couples
Couples can also use weighted blankets for sleep, but there are a few things to keep in mind before buying one. Most couples are different in height, size and preferences, and in some cases, a weighted blanket for couples can become heavy for one or the other person. For example, if you weigh 120 pounds and your partner weighs 200 lb, then getting a perfect weighted blanket for both of you might not be the best-case scenario.
The best way would be to get a weighted blanket that is 7.5% of your combined body weight. This way, a weighted blanket won't be heavy for anyone.
Weighted blankets for Adults
Adults mostly have insomnia issues, and weighted blankets in adults reduce anxiety and insomnia. There are various weighted blankets available in the market for adults. Just keep in mind to note their weight, height, and size of the bed before picking out a correct weighted blanket.
What weighted blanket should I get?
Now that you know the 10% rule while choosing a weighted blanket, you should be more concerned about choosing the correct size. You don't want a blanket that doesn't entirely cover your body or that drips off the side of the bed.
Generally, while choosing a weighted blanket, keep in mind that the size of the mattress and the bed should match the blanket. For example, if you sleep on a twin or full-size mattress, you should buy a weighted blanket that is similar in dimensions. 
When it comes to height, you should buy a blanket that is one or 2 inches longer than your height, or it doesn't matter even if you choose the blanket of the same height. Just make sure it should be big enough to cover you entirely.
Which Filling Should You Choose?
Weighted blankets are made up of several types of fillers. The popular ones are micro glass beads, plastic Poly pellets, and steel shorts beats. Let's have a look at which ones you should choose and which you should ditch. 
Micro Glass Beads: 

These are eco-friendly and a great alternative to poly pets. These pits are hypoallergenic and can be washed in a washing machine easily. 


Plastic Poly Pellets: 

These pallets are made from a hundred percent prop polypropylene and are completely safe for the environment. These are considered cheaper beads among the others and are safe to wash. 


Steel Short Beads:



Steel shot beans are heavier and larger than the other two and highly durable. Because of their size, only a few beads are used to match the desired weight. This makes them a cost-effective option and is great for affordable weighted blankets.
Are Weighted Blankets Safe?
Weighted blankets are generally safe; however, only a few instances can pose risks to the users.
Weighted blankets are not to be used on children under the age of two years. 
Children who have breathing problems, epilepsy, heart or blood circulation problems should not be using weighted blankets. 
People who have claustrophobia, asthma, chronic health conditions, breathing problems, or sleep apnea should avoid using weighted blankets as it can only worsen their conditions.
Do Weighted Blankets Need a Removable Cover?
Choosing a removable cover for a weighted blanket makes a lot of sense. As you all notice, weighted blankets are heavy, and it will not be easy to wash them. Keeping them covered seems like a smart idea.
A removable cover for a weighted blanket would help you keep the blanket clean and reduce the need to wash it again and again. But when you have a removable cover for a weighted blanket weighing 20 lb or more, it helps you to keep the blanket clean without putting in much effort. 
The bottom line is, having a duvet cover is a good safeguard to keep your blankets away from spills and mess. It will also save you a lot of energy and time to wash a weighted blanket. 
Where to Buy a Weighted Blanket?
You can buy weighted blankets from either a brick or mortar store or online stores. Both have different experiences, and each offers you different benefits while choosing to buy a weighted blanket. For example, if you visit a brick-and-mortar store, you get to experience the blanket before buying it. While this might not be possible when purchasing online.
On the other hand, if you are looking for great deals on weighted blankets, you might find better deals online as compared to offline stores. You can also explore DreamCloud websites to find the perfect weighted blanket you are looking for.
How Much Do Weighted Blankets Cost?
Weighted blankets start from $100  and can go up to $400. At the same time, some models are pricey or cheap, depending on many factors. These factors can be the material used, the types of beads, making, and the features.
Other factors can increase or decrease the price of a weighted blanket or the shipping charges. Before you buy a weighted blanket, make sure to check these charges, as some stores might not give you free delivery after all.
How to Choose the Best Weighted Blanket?
How to buy a weighted blanket majorly depends on what features you are looking for. The best-weighted blanket would be the one that gives you maximum benefit. And for that reason, let's explore some of the weighted blanket benefits.
It eases anxiety and stress

Improves sleep quality

Provides security and comfort

Comes the nervous system
Understanding the benefits of weighted blankets is one thing but knowing what fabric or material is used to make them is also important. Weighted blankets can be made from different fabrics such as Saturn flat in polyester, velvet, cotton, and more. You can choose which fabric feels comfortable before buying any.
If you break out or sweat during the night, choosing a lightweight fabric would be great. Another thing to consider is how much pressure you would want your weighted blanket to imply. You can compare the different beats and see how much pressure you can bear. 
Conclusion
The information mentioned above answers the question, how to pick a weighted blanket. Whether you want to soothe your insomnia or to look for a blanket that hugs you back, a weighted blanket is all that you need. Now that you know how weighted blankets work, you can choose the one that fits your needs. 
Disclaimer: This website does not offer medical advice nor professional medical services; rather, it is provided solely for educational, informational, and/or entertainment purposes. Individuals seeking medical advice should consult a licensed physician. The information provided should not be used for diagnosis or treatment of any condition, disease, or injury. When you have a medical condition, you should always talk to licensed doctor or other certified medical professional. You should never delay seeking professional medical advice or treatment based on the contents of this website. Call 911 or immediately go to the nearest emergency room if you think you may have a medical emergency. The contents of this website are provided "as-is", Dreamcloud Sleep and its parent, subsidiaries, affiliates, employees, contributors disclaim any warranty of the information contained herein. Please contact support@dreamcloud.com to report any errors, omissions, misinformation, or abuse.
Shop Our Most Popular Bedroom Must-Haves