The feel of snuggling into clean and fresh bedding is sublime. So, we change our bedsheets regularly for this luxurious feel. But what about the mattress protector? Should you wash it? How often should you wash your mattress protector? 
If such queries plague you, look no further than this write-up, where we share all you must know about washing your mattress protector. Stay hooked!
Why Should You Wash Your Mattress Protector?
Generally, mattress protectors are a fitted sheet and a protective barrier over your expensive mattress. They protect your mattress and extend its lifespan by protecting it from spills and stains, dust mites, bacteria, allergens, etc.  
But while they offer a perfect fabric force shield to your mattress, they withstand plenty of abuse. They take all the wear and tear, the assault of sweat absorption, dust, mites, allergies, spills, etc. 
If not washed, all the dirt and grime will accumulate and gradually impact your sleep hygiene. Hence, cleaning the mattress protector is as essential as washing your bedsheets. 
How Often Should You Wash a Mattress Protector?
You can wash your mattress protector every two months by the thumb rule. However, it is not a hard and fast rule. The washing frequency depends on several factors and situations. Here, we share a brief insight into it.  
The guest bedrooms are often empty. Hence, you can wash the mattress protector quarterly, which will keep it fresh and grime-free. However, you must always wash your mattress protector before guests arrive and after they depart.  
Allergy sufferers are highly vulnerable to even traces of dust and allergens. Given that you spend 8-10 hours on the bed, the mattress protector seamlessly collects sweat, hair, dead skin cells, dust, and other grime. All these easily trigger allergic reactions like runny nose, cough, red eyes, itchy eyes/throat, etc., to make you highly uncomfortable.  
Depending on how sensitive you are to allergens, you can wash your mattress protector every fortnightly or monthly to remain healthy and comfortable.  
Cold or Flu Sufferers/ Post Sickness 
If you have been caught in the grip of a cold, flu, or any other disease, you must wash the mattress protector as soon as you are well. The move is regardless of the last time you cleaned the protector. Washing it post any sickness will eliminate all bacteria and disease infections that the protector might have absorbed.  
You cannot escape accidents like spilling water/other drinks or food portions on the bed by accident/ children. Generally, we only wash the bedsheets then. However, you must also wash the protector to avoid stains and damage. It also prevents mushrooming of any mold or bacteria.  
However, if you have spilled plain water, you can merely dab the mattress with a towel to absorb as much water as possible. Let the top cover of the protector air dry well. Since the underside of the mattress protector has a waterproof lining, your mattress would not get damaged.  
You must also attend to any stain immediately and dab it with water or talcum powder. It will prevent the stains from setting in and eliminate them post-wash. 
How to Wash a Mattress Protector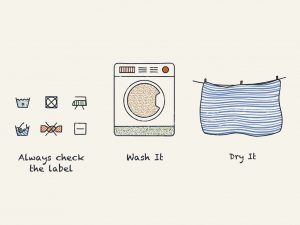 Finally, Let's understand the proper protocol for washing your dirty mattress protector.
Read the Care Label Before Washing  
Most mattress protectors are machine-washable. However, you must always read its care label to understand how to clean it correctly. In fact, you must read the care label when purchasing the protector.
A few mattress protectors might have plenty of dos and don'ts attached to their cleaning. However, a prior reading ensures that you do not face any inconvenience in cleaning and maintaining it.  
The mattress protector must always be washed with similar materials or soft clothing. While washing, you must use cold water and set the washer to a delicate cycle. Using hot water or a more rigorous cycle might damage the protector by destroying its waterproof lining.  
Using a mild detergent with no bleach or chlorine helps keep the integrity of the protector's material intact. It also keeps the protector soft and supple. Remember to rinse the protector well to eliminate all traces of soap.  
Finally, tumble dry on a low-heat setting or air dry under the sun to make the protector ready for reuse. Remember never to iron the protector since it would damage it. 
Wrapping up
A mattress protector is an intelligent investment you make to protect your expensive mattress and extend its longevity. It also makes your life more comfortable and hassle-free while lifting your sleep-quality quotient.  
We hope that after reading this, you can get the most out of your mattress protector and reap its benefits to the full.
Disclaimer: This website does not offer medical advice nor professional medical services; rather, it is provided solely for educational, informational, and/or entertainment purposes. Individuals seeking medical advice should consult a licensed physician. The information provided should not be used for diagnosis or treatment of any condition, disease, or injury. When you have a medical condition, you should always talk to licensed doctor or other certified medical professional. You should never delay seeking professional medical advice or treatment based on the contents of this website. Call 911 or immediately go to the nearest emergency room if you think you may have a medical emergency. The contents of this website are provided "as-is", Dreamcloud Sleep and its parent, subsidiaries, affiliates, employees, contributors disclaim any warranty of the information contained herein. Please contact support@dreamcloud.com to report any errors, omissions, misinformation, or abuse.
Shop Our Most Popular Bedroom Must-Haves