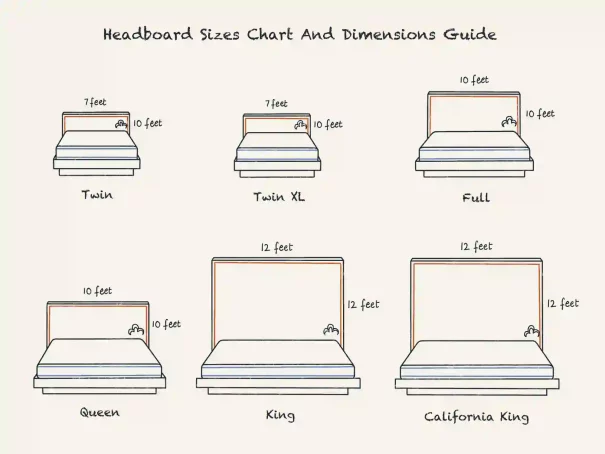 Headboard sizes chart and dimensions guide
Written by Mehran Uzair
Last Updated on Jul 21, 2023
Headboards are the bed supports present on one side of your bed. They avoid your pillows from falling, protect the wall, support your bed to stand, and support your head and back if you sit against it. Most beds come with headboards, except divans, Ottoman-style beds, and a few others. 
Similar to beds, the dimensions and designs of headboards vary on a large scale. To choose an appropriate headboard for your bed, you need an in-depth understanding of the same. This headboard sizes chart equips you with enough headboard information to help you make a wise choice. 
Headboard size chart
This headboard size chart provides you with the sizes of both beds and headboards. 
| Bed size | Headboard widths | Mattress dimensions (inches) | Recommended room size (inches) | Recommended room size (CM) |
| --- | --- | --- | --- | --- |
| Twin & Twin XL | 41 | 38 by 75 | 7 by 10 ft | 213.36 cm by 304.8 cm |
| Full | 56 | 53 by 75 | 10 by 10 ft | 304.8 by 304.8cm |
| Queen | 62 | 60 by 80 | 10 by 10 ft | 304.8 by 304.8cm |
| King | 80 | 76 by 80 | 12 by 12 ft | 365.76 by 365.76 cm |
| California king | 74 | 72 by 84 | 12 by 12 ft | 365.76 by 365.76 cm |
Headboard widths
Your headboard's width should always be compatible with the width of your mattress. The above chart guides you with the headboard dimensions and the sizes of beds. It will help you choose the headboard that perfectly aligns with your bed's width.
Some beds, which come with headboards, usually have a slightly wider headboard. Hence, choosing slightly wider headboards is not usual, but it shouldn't be more than 2 inches on each side. Anything more than two inches looks asymmetrical and unaligned, disturbing the entire look of the bed. 
Typical headboards perfectly align with the width of the bed or are 2 to 3 inches wider, but not more than that. While buying a bed or a new headboard, remember to consider the width of the headboard too to avoid cluttering your bedroom if it is small. 
Twin size headboard dimensions: 
A typical headboard is 41 inches wider, approximately 3 inches wider than the width of a twin size bed. The width of both twin headboards and twin size beds is the same. Hence, the twin headboard perfectly aligns with the width of these beds. The recommended room size for twin headboards is 7 by 10 ft. 
Full size headboard dimensions 
A standard full-size headboard width starts at 56 inches. The width of a full-size bed is 53 inches. Hence, full-size headboard width complies with the width of the full-size mattress. Although the full headboard is 1.5 inches wider on each side, it rather complements the look of a full-size bed. A 10 by 10 ft room can accommodate full-size beds well. 
Queen size headboard dimensions 
The standard queen headboard is 62 inches, which is 2 inches more than the width of the queen size bed. It leaves one inch on either side of the bed, which is not a big deal. The ideal room size that fits a queen-size bed perfectly should be 12 by 12 ft. 
King Size headboard dimensions 
The width of a king bed is 76 inches, whereas the width of a king-size headboard is 80 inches. However, it doesn't matter as the pillows and bedsheets cover the extra inches of the headboard. A room with 12 by 12 ft dimensions fits king-size beds. 
California king size headboard dimensions 
A standard size of at least 72 inches width of headboard fits a California king size bed perfectly well. A cal king headboard is 74 inches in width, complementing the 72 inches width of the California king bed. The suggested room size for the California king-size bed is 12 by 12 ft. 
Headboard heights
 A headboard's height is as crucial as its width. The height of a standard headboard is 14 inches for twin beds, 28 inches in case of queen mattresses, 58 inches for both king and California king beds. You can find different headboard heights in the market to fit different types of beds. 
Tall headboards 
A tall headboard is 65 to 70 inches higher than the base of the bed, which covers a significant part of the wall. These headboards align well with king, California king, and queen-sized beds. People who prefer back support often prefer tall headboards because they support your entire back when you sit straight up. 
Short or low headboards 
Short or low headboards are at least 10 inches taller than the bed's surface. Short headboards are perfect for twin, twin xl, or even full-size beds. They don't occupy much space. So, they are smaller and spacious and make innovative use of limited spaces. 
Adjustable headboards 
Are you confused about the desired height of your headboard? You can go with this adjustable headboard. Adjustable headboards allow you to adjust the height of a headboard. Hence, you can customize it in terms of height. It is recommended to keep your headboard height shorter to balance the height and not shadow the wall. 
Types of headboards
Besides headboard dimensions, there are a lot of other factors to consider. The design and style of the headboard majorly influence the look of your bed. Hence, prior information about types of headboards helps you make an informed decision. Here is a list of different types of headboards for you to choose from. 
Wood headboards 
Wooden headboards are the most commonly used headboards. Wooden headboards usually come in different colors, finishes, and designs. They are a popular choice for many manufacturers because they give a rustic look to the bed, which suits almost any bed. 
Pine, maple, or oak are some natural finish wooden boards that suit nearly all beds. Unlike metal headboards, wooden headboards have a soft and smooth finish with a warm look that accentuates your bed and bedroom vibe. 
Still confused between metal and wooden headboard? You can even customize and order the manufacturers to customize the same according to your needs and requirements. These are less heavier, easy to move around, and can be easily fitted. They are easily customizable, just in case you change your mind. Wooden headboards are available for all sizes, designs, and types of beds, unlike other headboard types.
Metal headboards 
Metal headboards are not as widely available, but they are voguish. They are sleek, classy, and shiny. Metal headboards might be made of brass, stainless steel, and wrought iron materials. They are highly durable but are heavy at the same time. They are relatively expensive compared to other types of headboards. 
Upholstered headboards 
Upholstered headboards are the most coveted headboards. People who prefer to sit straight up with smooth back support usually prefer upholstered headboards. 
The headboards are pinned or covered in materials like fabric, suede, velvet, or leather for a soft, plush, and smooth back support. They also come in countless designs, styles, patterns, and colors. 
Upholstered headboards are a bit expensive compared to other types of headboards. You can choose from a wide variety of upholstered headboards as they come in different designs like buttons, thread designs, and paint patterns. 
You can find wooden upholstered headboards or metal headboards, but metal costs you more and is highly durable. 
Storage headboards 
A Storage headboard is a headboard with in-built storage units like shelves and drawers. Storage headboards are an innovative solution to space-restricted rooms. However, they occupy more space compared to other types of headboards. 
Storage headboards come in different materials like wood or metal. Hence, you can get them customized if you want a space-saving solution. 
Conclusion
Headboards are mainly fixed to the beds and come along with beds. But some don't. If you're going to add a headboard or fix a damaged headboard, this guide is perfect for choosing an appropriate headboard. 
You cannot choose a random headboard because not all headboards look nice with every bed. You need to clearly understand the headboard widths, types, designs, materials, and mattress dimensions to make the right pick. You can go for a wall-mounted headboard or a frame-mounted headboard if you are indecisive. 
You can change the entire look of your bed and bedroom by just changing your headboard. That is the significance a headboard holds. Even though beds come with headboards, buying a new headboard separately can be affordable. If you are confused about choosing a headboard, quickly glance through this guide to obtain enough information about the thickness of your headboard, its dimensions, and types, and make the right choice. 
Disclaimer: This website does not offer medical advice nor professional medical services; rather, it is provided solely for educational, informational, and/or entertainment purposes. Individuals seeking medical advice should consult a licensed physician. The information provided should not be used for diagnosis or treatment of any condition, disease, or injury. When you have a medical condition, you should always talk to licensed doctor or other certified medical professional. You should never delay seeking professional medical advice or treatment based on the contents of this website. Call 911 or immediately go to the nearest emergency room if you think you may have a medical emergency. The contents of this website are provided "as-is", Dreamcloud Sleep and its parent, subsidiaries, affiliates, employees, contributors disclaim any warranty of the information contained herein. Please contact support@dreamcloud.com to report any errors, omissions, misinformation, or abuse.
Shop Our Most Popular Bedroom Must-Haves